St. Louis Rams vs. Arizona Cardinals: Live Score, Highlights and Analysis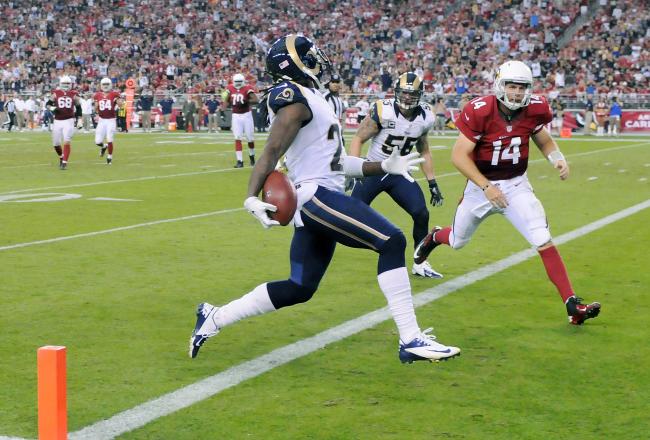 St. Louis Rams rookie CB Janoris Jenkins did something Sunday that no one else in franchise history had done.
Norm Hall/Getty Images
St. Louis Rams 31, Arizona Cardinals 17
In a tale of two halves, the Cardinals with rookie quarterback Ryan Lindley looked to be in control of things heading into halftime with a 17-14 lead.
Lindley completed 17-of-24 passes (70.1 percent) in the half, looked poised in the pocket behind strong play from his offensive line, and despite throwing a pick-six to Rams rookie CB Janoris Jenkins, played a very good half.
Then, the second half began, and everything changed. The Rams started bringing more pressure on the rookie—especially up the middle—and after being shut out of the sack department in the first half, got to him twice in the third and fourth quarter.
–Lindley completed 31-of-52 for 312 yards, no TD and four INT for a 44.7 QB rating in the loss.
–RB Beanie Wells was responsible for both Cardinals touchdowns and totaled 48 yards on 17 carries (2.8 YPC).
–QB Sam Bradford completed 8-of-17 passes (47.1 percent) for 205 yards, two TD and one INT for a 106.3 rating. He beat Arizona twice this season despite completing 15-of-38 (39.5 percent) for 346 yards in the two matchups.
His completion totals of seven and eight passes versus Arizona this season are the two lowest totals of his career. He will tell you all that matters is getting the win, and he is right.
–RB Steven Jackson broke out of a season-long slump, carrying 24 times for 139 yards (5.8 YPC). He opened the second half with a 46-yard run to set the tone for the Rams' offense, and it was all St. Louis from then on.
–WR Chris Givens had a career day for the Rams, with five receptions for 115 yards and a touchdown—his 100-yard performance is the first such game of his career.
–CB Janoris Jenkins set a franchise record, becoming the first Rams player to return two interceptions for touchdowns in a game. A pick-six had happened 100 times since 1960 (the first year available in the database) without it occurring twice in the same game by the same player.
Cards turn it over on downs, as Lindley hits Michael Floyd short of the first-down marker on fourth down.
They will drop to 4-7; Rams improve to 4-6-1.
The Arizona Cardinals are in last place in the NFC West, having lost seven games in a row. How many excuses will coach Whisenhunt make in the post-game presser? Over/under?
Rams sack Lindley for just the second time today. Everything else working well for them, however.
Cardinals are in the red zone, but there is little threat to score, it seems.
A good day all around for the Rams' D:
After five-game takeaways drought, #Rams have four today. All interceptions.

— St. Louis Rams (@STLouisRams) November 26, 2012
Who would have figured play-calling would come into play late in a Cardinals attempt at a come-back?
That's bad stuff, right there. A wide-receiver screen on 4th-and-6.
The Cardinals' offense is moving the ball well on this drive—all out of a no-huddle.
Big day from a rookie:
I apologize if this already was tweeted, but Janoris Jenkins first Ram to have two INTs for TDs in single game in franchise history.

— Bernie Miklasz (@miklasz) November 26, 2012
Kerry Rhodes comes up big on a 3rd-and-short, stopping Jackson and forcing a fourth down.
Zuerlein comes on for a short field goal.
Big-time drive by Bradford and the Rams here. Eating a lot of clock. The Cards defense is gassed and frustrated.
Big play on 3rd-and-1 upcoming for Cards defense, and they allow Jackson another big gain.
Time is slipping away on the Cardinals' season. Whisenhunt as well.
Big problems for the Cards offense mean big success for the Rams defense:
#Rams defense turning it up in second half. Have allowed 55 yards, three first downs with two picks and a TD in a quarter plus.

— St. Louis Rams (@STLouisRams) November 25, 2012
That should have been pass interference. Contact after the pass was thrown.
Referees let it go, and the Rams get the ball back after another three-and-out from the Cardinals.
Lindley has missed receivers deep twice that I have seen. The deep ball looks flat today.
He has to get more air underneath it to allow his players to run and get them.
A three-and-out forced by Arizona's defense. Early in the fourth, this would be the time for a quarterback to turn it on and get something done.
This is how good the Rams were in the third:
Cardinals have no first downs in last four possessions

— Kent Somers (@kentsomers) November 25, 2012
Another three-and-out forced by the Rams defense. They have clamped down and really looked good in the third quarter.
Touchdown!
Instead, Ryan Lindley throws a back-foot pass that results in rookie Janoris Jenkins' second pick-six of the game.
Look for more of Beanie Wells early in this Cardinals drive. They need him to get going again to take pressure off Lindley and the pass protection.
The Cards' defense holds for a second straight drive, getting solid pressure from the front seven.
Hekker on for another punt to Peterson.
Follow that up with another missed tackle from Kerry Rhodes.
More missed tackles from Arizona leads to eight yards from Richardson on first down.
Arizona goes three-and-out after the missed field goal. The offense has been stagnant this half so far.
Rams are bringing more pressure on Lindley and have recorded their first sack of the day.
Following the INT, St. Louis can't get anything going in the red zone—penalties hurt—and rookie kicker Greg Zuerlein shanks a short field goal attempt.
Cardinals dodge a bullet.
Great play from Quentin Groves, who comes back into the game to force a sack-strip of Bradford.
Rams lucky that wasn't a turnover.
Lindley is pressing now. Throws his second interception of the game.
That's a pass that had no business being thrown. Safety Craig Dahl thanks Lindley for the gift.
Lindley shows good escapability on the first play after the touchdown and hits Andre Roberts for 12 yards.
This article is
What is the duplicate article?
Why is this article offensive?
Where is this article plagiarized from?
Why is this article poorly edited?