Josh Hamilton Rumors: Analyzing Pros and Cons of Signing with Each Top Suitor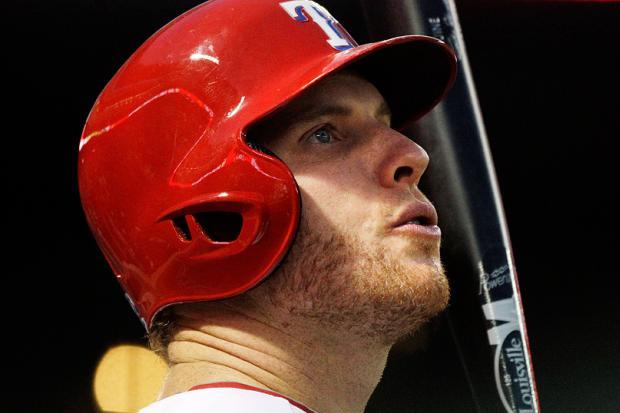 Josh Hamilton has many factors to consider as he decides where to sign this offseason. AP Photo
Josh Hamilton possesses transcendent talent that makes him very desirable in 2013 MLB free agency. Seven teams have been seriously linked to the outfielder, but which one of them should he commit to?
Obviously, finances will influence Hamilton's decision. We learned in early November that agent Michael Moye wants a seven-year, $175 million contract for his client. Some interested clubs aren't comfortable making such a substantial guarantee to an oft-injured player entering his age-32 season.
His troubled past also serves as a deterrent. The former No. 1 overall draft pick spent years battling drug and alcohol addiction.
Though Hamilton has learned to suppress his urges for contraband, he struggled with other drugs this past season—tobacco and caffeine. A midsummer slump coincided with his "anti-dip" campaign.
Meanwhile, coffee and energy drinks dried out the slugger's corneas, leading to vision problems and ugly swings in September.
He seeks a team that can trust him to overcome temptation, but surround him with supportive individuals just in case. Moreover, the All-Star wants to compete for a championship and play in front of large, passionate crowds.
From Hamilton's perspective, these are the pros and cons of signing with each top suitor.
Begin Slideshow

»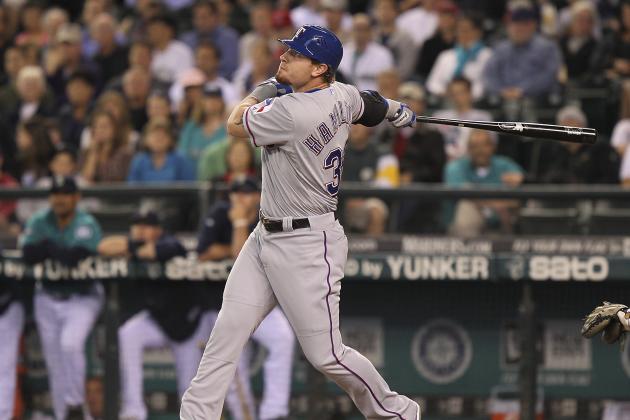 Otto Greule Jr/Getty Images
Josh Hamilton would benefit from Safeco Field's modified dimensions.
Pros
Josh Hamilton can forget about his mediocre past performance at Safeco Field. Beginning in 2013, its fences will stand closer to home plate. As somebody who hits with power to all directions, he'll take advantage.
The Seattle Mariners are devoid of established position players, so Hamilton would immediately be at the center of attention.
Cons
Travel is always a hassle for the M's, who fly at least 800 miles for every road game. For Hamilton, that means more time on planes and less with his family.
Being in the Pacific Northwest, the phenom would have to resign himself to 10:10 p.m. ET start times and limited national exposure.
Poor trades and ill-advised free-agent signings have taken their toll on the Mariners. They are more than a decade removed from the postseason and currently operating with a pretty barren roster.
Hamilton must recognize that his contributions won't be nearly enough to elevate Seattle from doormat to contender.
GM Jack Zduriencik reportedly has second thoughts about pursuing him, anyway (via Greg Johns, MLB.com).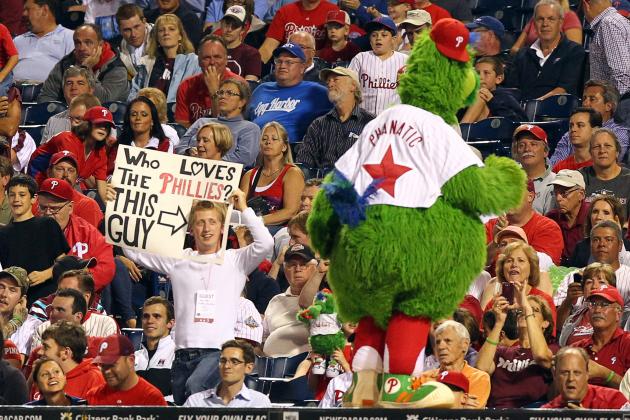 Hunter Martin/Getty Images
Philadelphia has some of the league's most passionate fans.
Pros
Philadelphia Phillies fans come out in droves on game days. Citizens Bank Park led Major League Baseball in attendance each of the past two seasons (via ESPN.com). The venue's 257-game regular-season sellout streak ended in August when only 41,548 filled the stands.
Josh Hamilton could feed off the energy of passionate crowds.
Left-handed swings suit the park's dimensions. Chase Utley is a comparable batter and you can see at Baseball-Reference.com how his production is superior at home.
Cons
Because the city is rabid about its sports teams, athletes find it most unpleasant when they underachieve (e.g. the Philadelphia Eagles).
Philadelphia views Hamilton as an option in center field. It's a more demanding defensive position than left and may lead to additional wear and tear for the fragile veteran.
ESPN.com's Jayson Stark hears that the Phillies are out of the running due to financial restrictions. But general manager Ruben Amaro Jr. says it's too soon to determine what the 2013 budget will be.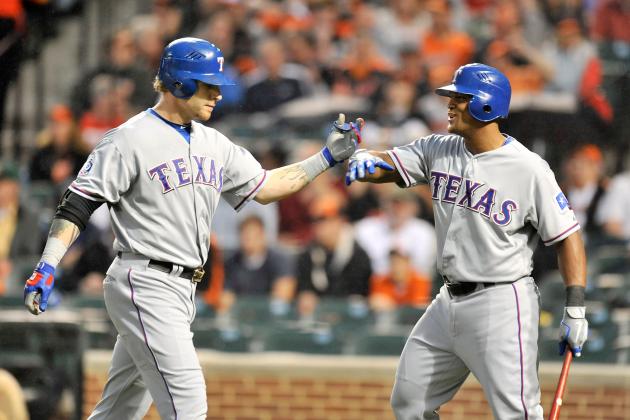 Mitchell Layton/Getty Images
The O's may have won the AL East had Hamilton not done so much damage.
Pros
Josh Hamilton has a pretty impeccable personal history at Camden Yards, highlighted by a four-homer game in May. Via Baseball-Reference.com, he has maintained a .370/.427/.741 triple-slash line in 89 lifetime plate appearances there.
The Baltimore Orioles play 19 games apiece against the Boston Red Sox and New York Yankees under the new MLB schedule. There will plenty of eyes and ears following along, which is great for Hamilton if he's truly confident in his abilities.
Cons
Last fall's miracle run to the postseason seemed fluky. The O's relied on extra-inning excellence to amass 93 victories and finished the year with an unconvincing plus-seven run differential. Hamilton should consider whether they are legitimate threats in a stacked AL East.
Bleacher Report Lead Writer Ian Casselberry writes about how he might—or might not—co-exist with Baltimore's Buck Showalter. The latter's reputation as a "joyless, militant manager" is a bit exaggerated, but Casselberry notes that Hamilton is accustomed to Ron Washington's laid-back approach.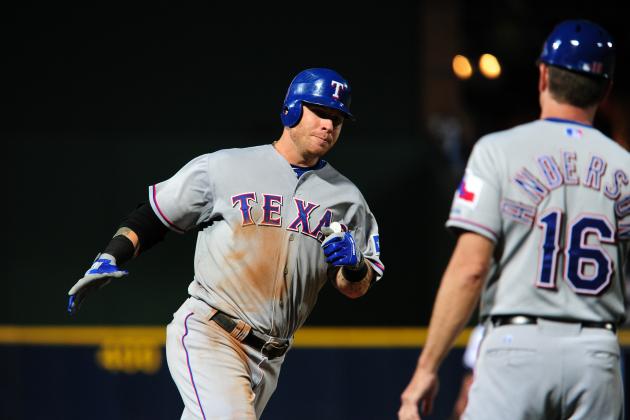 Scott Cunningham/Getty Images
Hamilton would more than likely patrol center field for the Braves
Pros
Of all the top Josh Hamilton suitors, the Atlanta Braves seem closest to contention.
Their starting rotation? Deep. The bullpen? Dominant.
Rangy right fielder Jayson Heyward would flank Hamilton, so he wouldn't have to cover too much territory. Shortstop Andrelton Simmons is also particularly athletic. He can sprawl to get a glove on scorching grounders up the middle, further allowing the superstar to save his energy.
Cons
Regardless of his total fielding chances, Hamilton will be exposed to injury when defending. He started at DH an average of 11 times per year during his tenure with the Texas Rangers. But even with interleague play, it will be impossible for him to get that many "half days" on an NL team.
Signing with the Braves would mean joining Heyward, Freddie Freeman and Brian McCann in the lineup. Opponents could deploy relief specialists to mow down the four power-hitting lefties in the middle of the order.
Even during his 2010 MVP season, Hamilton's platoon splits showed he was a lesser slugger against southpaws. Sandwiched between those aforementioned Braves, he would be forced to face them in late-game situations.
Atlanta's Turner Field is rarely a electric atmosphere. Local fans historically settle for the broadcasts, so the Braves haven't cracked the top five in National League attendance since 2000.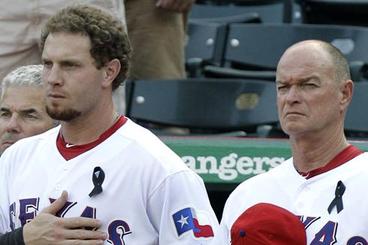 Johnny Narron was by Hamilton's side from 2007-2011. AP Photo/Tony Gutierrez
Pros
Josh Hamilton has an important contact in the Milwaukee Brewers organization.
Hitting coach Johnny Narron served as his mentor and accountability partner as he overcame addiction to rebuild his baseball career. The pair was together in Cincinnati and Texas, ultimately splitting in November 2011 when the Brew Crew hired Narron.
ESPN Insider Buster Olney notes that the club travels the fewest miles of any MLB team during the season.
Unable to commit to him long-term, the mid-market Brewers would probably sign him to a front-loaded deal (think two years/$55 million or three years/$75 million). That way, Hamilton could get the average annual value he seeks and re-enter free agency with plenty left in the tank.
Cons
If Ryan Braun is Derek Jeter, Hamilton is—unfortunately—Alex Rodriguez.
In Milwaukee, he would always be viewed as the over-priced news magnet that fans loves to hate. And yeah, he's inconsistent in the postseason (.227/.295/.424 in 149 PA).
The Brewers can't lock up Hamilton into his late 30s, so signing with them comes with considerable risk. Regression or injuries could really damage his market value by the time his deal expires.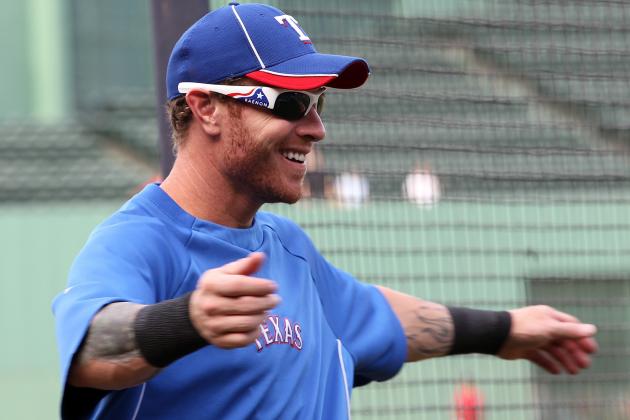 Jim Rogash/Getty Images
The Red Sox are pursuing power-hitting free agents.
Pros
The Boston Red Sox have a huge international presence, second only to the New York Yankees. Deserving or not, fan support would make Josh Hamilton a shoo-in to start the MLB All-Star Game every July.
Last summer's salary dump freed up hundreds of millions of dollars. If the Red Sox had the desire, they could meet or even exceed his exorbitant asking price.
Boston's lineup is shaping up to be pretty deep in 2013. Manager John Farrell would most likely slot Hamilton behind Jacoby Ellsbury and Dustin Pedroia. The team has David Ortiz and, if all goes according to plan, Mike Napoli to protect him.
Cons
Boston's media is notoriously invasive and critical (Remember what happened to Bobby Valentine?!). One slip-up—involving alcohol, women, on-field performance, anything—and Hamilton would never hear the end of it.
The Red Sox are a championship-or-bust franchise and he hasn't played under that kind of pressure before.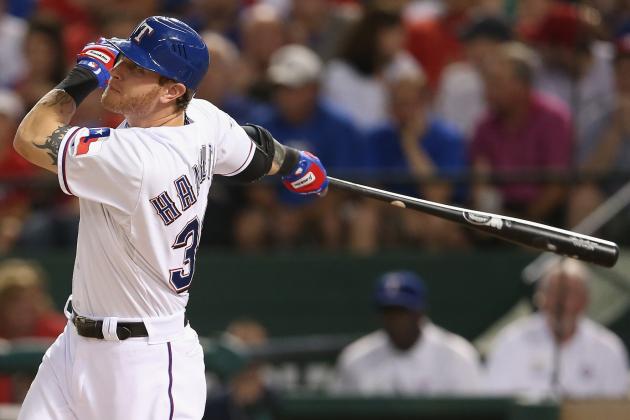 Ronald Martinez/Getty Images
The Rangers were disappointed with Hamilton's inconsistency in 2012.
Pros
You can't put a price on familiarity.
Josh Hamilton has spent the past five seasons in Arlington. In that time, he has become comfortable with everything from local restaurants to the height of the left-field wall. Ian Kinsler is just one of several close friends Hamilton can look forward to joining on the Texas Rangers.
Let's consider his career batting splits.
The slugger owns a .965 OPS in his career at Rangers Ballpark compared to a .913 OPS overall. He's dangerous during night games (.318/.376/.579), but an unremarkable .260/.326/.462 hitter under the sun. Conveniently, Texas annually plays a predominantly late schedule (h/t ESPN.com).
Cons
This past season ended on a sour note. Including the AL Wild Card Game, Hamilton struck out in 20 of his final 48 plate appearances of 2012. Also, his embarrassing dropped pop-up in Game 162 ignited an Oakland Athletics rally that put the division title out of reach.
He would be returning to a franchise and fanbase that seems fed up with his inconsistency and off-the-field issues.
Every other top suitor would welcome Josh Hamilton with unbridled joy. In Texas, however, his return would be met with skepticism.