Stock Up, Stock Down for NFL Draft Prospects, NFL Week 12 Edition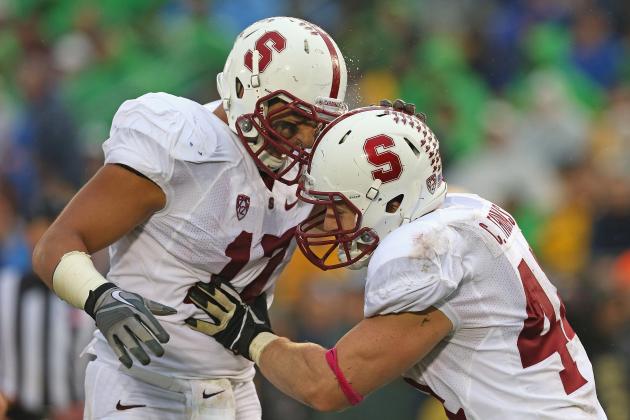 Jonathan Daniel/Getty Images

With another week of college football in the bag, fan attention continues to turn to the upcoming 2013 NFL draft. Which players are moving up and down the board this week?
Our weekly stock watch isn't always based on just the last week. Some players may move up after several strong weeks, while others can topple after one bad game or many. There's no set criteria here, but the idea is to give the reader a snapshot look at five players moving up and five players moving down. This is by no means an all-inclusive list of the top players, just those who make notable moves in this week's rankings.
So who had a worthwhile week to move up or down?
Begin Slideshow

»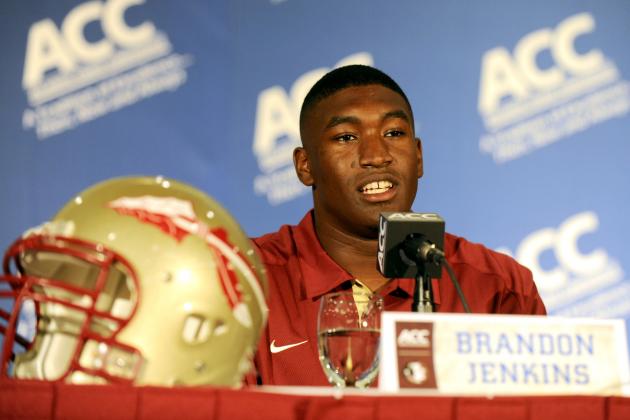 Sam Sharpe-US PRESSWIRE

Last Week: Not Ranked | This Week: No. 46
The announcement this week that Florida State defensive end Brandon Jenkins would not seek a medical redshirt and would instead enter the 2013 NFL draft sent the first small shock wave through the 2013 class order.
Jenkins entered the year as a legitimate first-round contender, but a broken foot suffered in September held him back. It was assumed by many that Jenkins would return to FSU. That assumption is now gone with Jenkins' plans to go to the NFL made public.
The FSU defensive end has ideal height and weight for a 3-4 outside-linebacker transition, but his actual draft stock will rank more on health than game film. If healthy, Jenkins could be a late first-rounder. Here's hoping we'll see him running at the Senior Bowl and/or NFL Scouting Combine.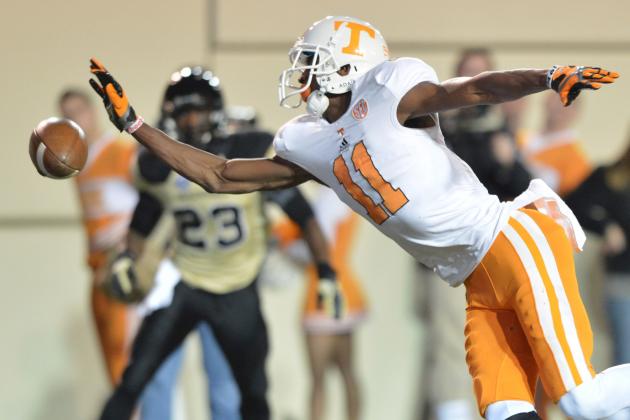 Don McPeak-US PRESSWIRE

Last Week: No. 26 | This Week: No. 40
After a week of watching Tennessee Volunteer games to break down Tyler Bray's potential, one thing kept nagging at the edges of my notes: Justin Hunter is no longer the best receiver in this offense.
Hunter has never looked the same this season since coming back from a torn left ACL. While Hunter has a first-round body and production, his inability to accelerate away from defenders this season is concerning. Maybe he'll shake off the rust when he's a full year removed from rehab, but the player on film right now isn't worth a first-round pick in April.
Hunter will have a chance to reverse the drop in his stock with a strong pre-draft showing. He needs to dominate the three-cone drill and other tests of agility at the Scouting Combine in February. If he can do that, he'll be back in the first-round discussion.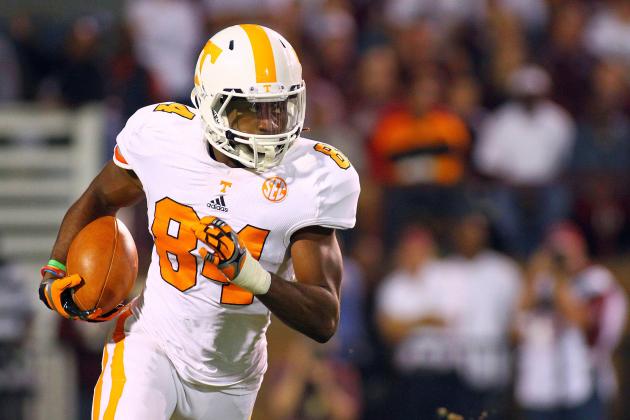 Spruce Derden-US PRESSWIRE

Last Week: No. 46 | This Week: No. 33
If Justin Hunter isn't the best wide receiver on the Tennessee roster, who is?
That would be Cordarrelle Patterson. The Volunteer wideout has been a dominant figure in the offense this season, showing the deep speed to get past defenders and stretch the field, while also showing the short-area agility to separate within a route.
Patterson isn't a flawless prospect—he's rail thin and has limited FBS experience after transferring from a JUCO—but his upside as a receiver and return man makes him the most dangerous receiver coming out of the Tennessee offense this season.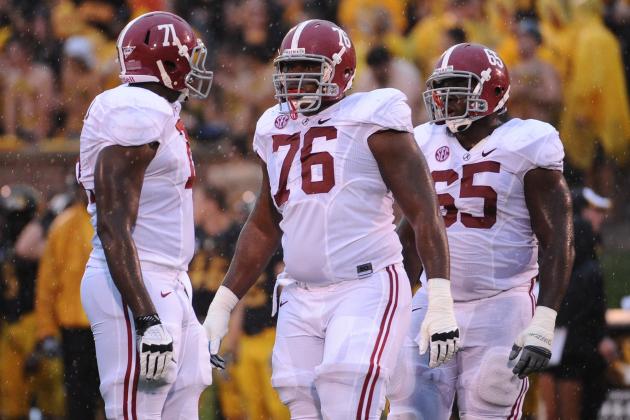 Dak Dillon-US PRESSWIRE

Last Week: No. 22 | This Week: No. 44
D.J. Fluker is a talented, athletic offensive tackle, but he's purely a right tackle at the next level. That alone pushes him down the board this week.
I spent considerable time watching Fluker and Texas A&M tackle Jake Matthews this week to see if either of them had the ability to switch over to the left side. Matthews has it, and he could see a shift there if he returns to A&M next season. Fluker, on the other hand, is strictly a right tackle.
The difference comes in a lack of athleticism and flexibility. Fluker can be slow off the snap, which affects the timing on him getting ready in a pass set. That second is the difference between a block and a sack in the NFL.
Greg McWilliams/Getty Images

Last Week: No. 33 | This Week: No. 26
As the NFL moves to a league based on 3-4 defenses and hybrid sets that require more athleticism and versatility from the defensive line, players like Alabama's Jesse Williams are becoming more and more valuable.
The Alabama defensive lineman can give NFL teams scheme versatility—meaning that he can play multiple positions depending on the scheme or front used by the defense. Williams can line up anywhere from a 5-technique in a 3-4 defense, a 3-technique splitting the guard/tackle gap in a 4-3, or even over the center as a nose tackle in either a three- or four-man look.
Williams' ability to play multiple alignments—not to mention his rugby-inspired athleticism—will make him a must-have for many general managers on draft day.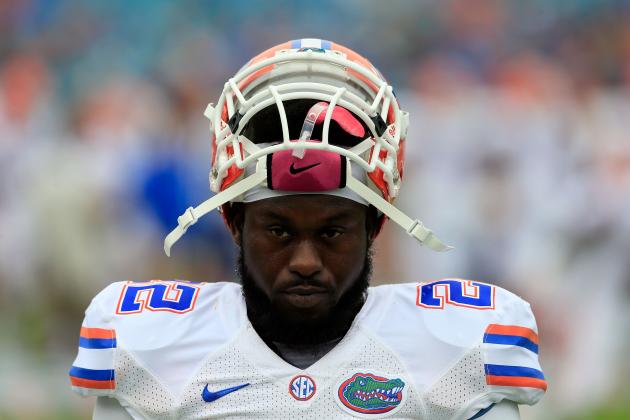 Sam Greenwood/Getty Images

Last Week: No. 24 | This Week: No. 31
Florida strong safety Matt Elam is a favorite of mine, but a few things combine to bring his stock down this week.
First is Elam's assertion that he'll return to Florida for his senior season. While players have been known to say one thing in November and do another in January before the underclassman deadline, it is still something worth noting.
Also factoring into the equation is that Elam's not an elite-level player in terms of coverage. He's a bone-crushing hitter, but when asked to man up with a tight end, Elam will find himself oversized and outmatched.
A first-round safety, no doubt, but closer to Harrison Smith than Mark Barron.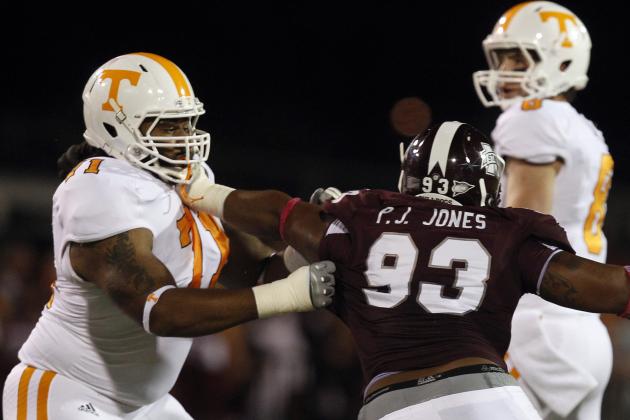 Butch Dill/Getty Images

Last Week: No. 44 | This Week: No. 24
The Tennessee Volunteer offense is loaded with potential NFL draft stars. Quarterback Tyler Bray, wide receivers Justin Hunter and Cordarrelle Patterson, and offensive lineman Dallas Thomas are a few worth mentioning. It's Thomas who sees his stock soar 20 spots this week.
Thomas' biggest asset is his versatility. He's playing the 2012 season at guard, but he's played tackle in the past and has the athletic ability to do so again in the NFL. Thomas is quick, has a powerful base and shows the strong hand-use to dominate in space.
Teams drafting later in Round 1 that are looking for offensive line help—hello, Chicago—should take a look at the Tennessee O-line.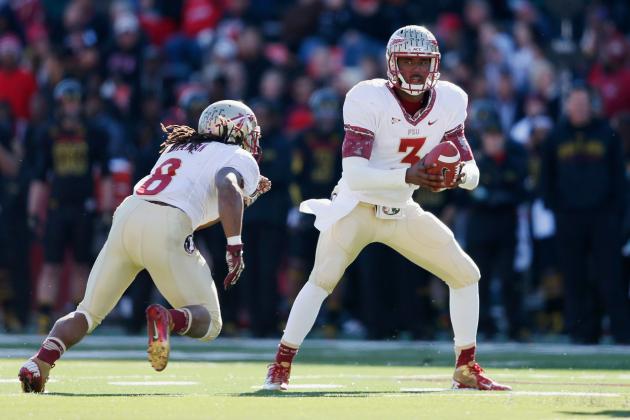 Rob Carr/Getty Images

Last Week: No. 41 | This Week: No. 54
When evaluating college quarterbacks, I'm generally looking at two things—accuracy and arm strength.
Being able to throw the ball 70 yards in the air isn't a requirement, but being able to throw with velocity and accuracy are. More than any two aspects of the position, these are the two you cannot compromise on when drafting a QB.
Florida State quarterback EJ Manuel is an exciting athlete with a big, pro-ready arm. The issue comes in his accuracy. Manuel is completing nearly 69 percent of his passes, but few of these are NFL-level passes. Too many of Manuel's completions are horizontal throws and checkdowns.
For an NFL quarterback, I want to see him throw with command in the 10- to 20-yard range to all areas of the field. Manuel hasn't shown me that, which is why he's taking a dip down the board.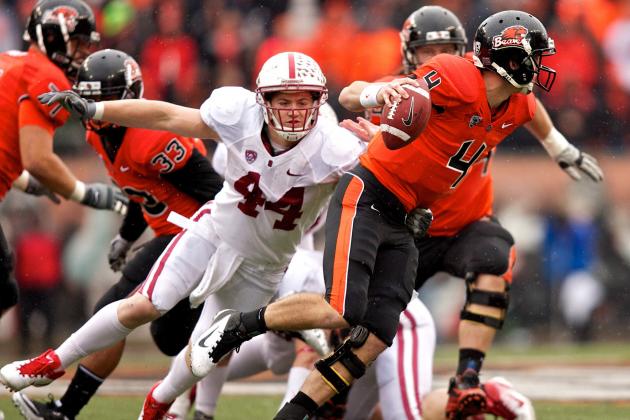 Craig Mitchelldyer/Getty Images

Last Week: No. 54 | This Week: No. 43
A big riser this week and all season, Stanford's Chase Thomas has been an excellent perimeter defender from the linebacker position all season. NFL teams will be taking note.
Thomas has the look of a 3-4 OLB, but he's an underrated athlete who will wow scouts with his quickness and burst. He could play in a 4-3 defense as a strong-side linebacker—where he would be able to stop the run, rush the passer or drop into coverage—or line up in a 3-4 set as a pass-rusher and three-down player.
Thomas' experience and production will be big parts of his NFL scouting report, but don't sleep on his athletic ability and versatility.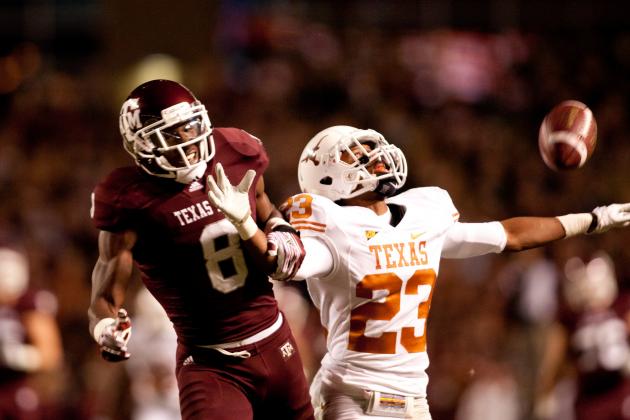 Darren Carroll/Getty Images

Last Week: No. 64 | This Week: No. 77
If you read this series each week, you've undoubtedly seen mention of scouting on potential versus production. Texas cornerback Carrington Byndom is a classic example of this.
Byndom looks and moves like an NFL starter at cornerback, and his 2011 film showed that potential. But in the 2012 season, he's yet to take the step from great prospect to great cornerback. That's solid reasoning for a drop down the board this week.
Byndom is still a draftable prospect, and based on his size and speed, it wouldn't be a surprise to see an NFL team over-draft him after a strong offseason. However, with another year of eligibility left at UT, Byndom would be wise to return to Austin and work on perfecting his craft as a man-cover corner before testing the NFL waters.