2012 WBC: Potential USA Dream Team Is the Sexiest Roster in Sports History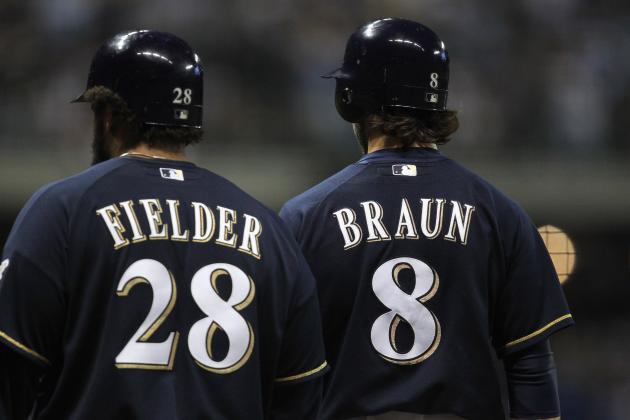 Jonathan Daniel/Getty Images

Whether or not you're a basketball fan, NBATV's documentary The Dream Team is absolutely amazing. So much in sports relies on imagination, and the 1992 USA Men's Olympic Basketball Team was probably the most ridiculous roster any sport could conjure during the 1990s.
Fast-forward to today's talent in Major League Baseball, and the United States of America's potential roster for the 2013 World Baseball Classic mirrors the '92 Basketball team—perhaps even eclipses it.
Come on this magic journey of dreaming with me...enjoy.
Begin Slideshow

»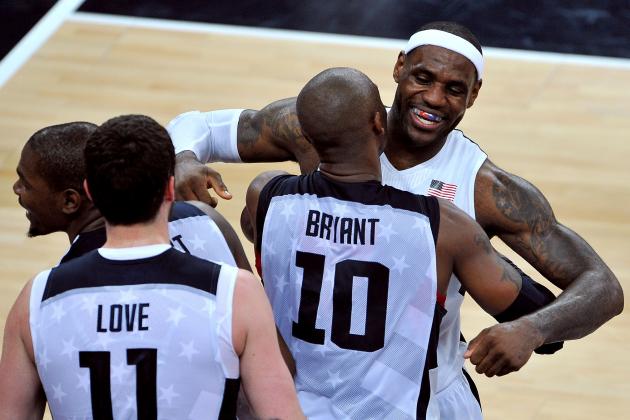 Pascal Le Segretain/Getty Images

I broke down the best-possible roster for USA's 2012 Men's Basketball Team long before the Olympics and yes, that was a true Dream Team as well:
With a starting five of Derrick Rose (PG), Kobe Bryant (SG), LeBron James (SF), Kevin Durant (PF) and Dwight Howard (C), no country had a chance of taking the Gold Medal away from America. The bench would include the likes of Dwayne Wade, Chris Paul, Russell Westbrook, Kevin Love and Carmelo Anthony (among others).
While this dreaming was all fun and games, it took a true test of these professionals to step up and participate in the Olympics.
While it seems rather childish to claim that LeBron and company were doing us a favor by playing in the 2012 London Olympics, especially given the fact that most Olympians spend a lifetime training for Olympic roster spots, keep in mind that the entire NBA was in the fast lane from Christmas through the championship.
Following a tight 66-game schedule, the NBA played out a full playoff series that finished in late June—leaving America's elite hoopers with less than a month before jumping the pond for the Olympics.
With baseball, it's an extremely similar story in terms of timing; however, the mere importance of the event is not even close to an Olympic level—ultimately teasing every baseball fan's mind until the rosters are announced.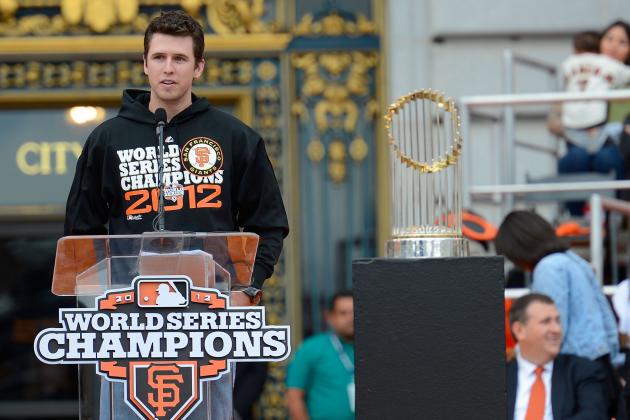 Thearon W. Henderson/Getty Images

Catcher - Buster Posey
Buster Posey has won seemingly every award possible in his three-year MLB career, one year of which he spent on the sidelines treating a broken ankle. After another magical San Francisco Giants World Series run in which Posey proved he is an elite leader, I wouldn't doubt that he is No. 1 on the list for American catchers.
Another catcher that immediately comes to mind is St. Paul, Minnesota's own Joe Mauer. Mauer has averaged 118 games per season over his eight year big league career after dealing with numerous injuries. What's great about Mauer—and Posey for that matter—is that both have plenty of big league-level games at first base under their belts as well.
If Mauer or Posey declines, 2009 WBC team member Brian McCann is likely to get a call.
1B - Prince Fielder
I would love to see Prince as America's starting first baseman; however, the other possibilities at first base include Mark Teixeira and Eric Hosmer. If Posey and Mauer are both accepted and agree to play first base, the committee can stock up on catchers or other infielders to make up for a lack of "true" first baseman.
2B - Dustin Pedroia
Like McCann, 2008 AL MVP Dustin Pedrioa joined the WBC ranks in 2009 as the starting second baseman. Personally, I would like to see Ian Kinsler starting at second with Darwin Barney and Rickie Weeks as other potential targets as well.
3B - David Wright
As far as superstar third baseman go, David Wright, Evan Longoria and Michael Young top the list. I think we can all agree that passing on Pay-Rod is ideal; however, his "social status" might earn him a roster spot for marketing purposes.
SS - Troy Tulowitzki
When healthy, there's no American shortstop quite like Tulo. However, that's not exactly the case for the Rockies franchise cornerstone as he's still recovering from rehab. Should Tulo skip the WBC, I'd like to see 2009 team member Jimmy Rollins or Cincinnati's Brandon Phillips.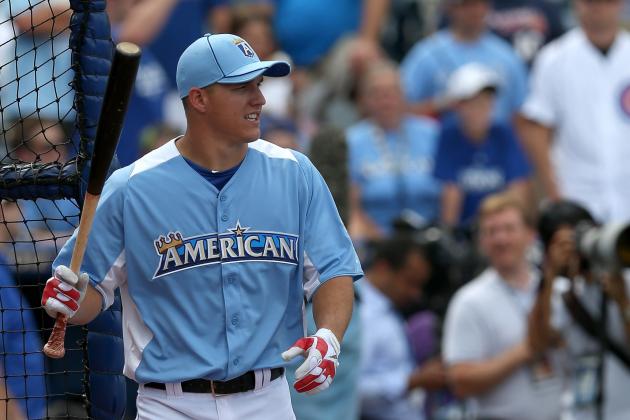 Jonathan Daniel/Getty Images

Pretty spectacular infield, eh? Check out this potential outfield for America:
Mike Trout, Josh Hamilton, Matt Kemp, Ryan Braun*, Curtis Granderson*, Andrew McCutchen, Bryce Harper, Giancarlo Stanton.
Purely amazing. These players round out one of today's best possible outfields.
Last season, Hamilton and Granderson hit 43 home runs each, while Braun slammed 41. Young studs like Trout, Harper and Stanton add five-tool talent to this already-loaded roster.
Should any of these skip a likely invite to America's roster, the likes of Mark Trumbo, Jason Heyward and Jay Bruce will certainly be welcomed to join the team.
*2009 WBC team member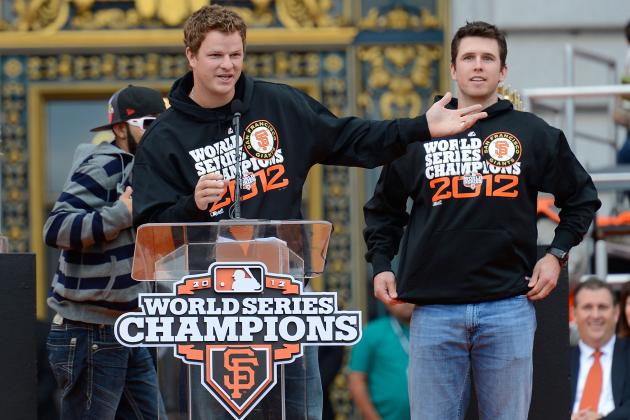 Thearon W. Henderson/Getty Images

Is it possible that a four or five-man rotation can be as sexy as America's potential offensive lineup?
In 2009, America sent Jake Peavy and Roy Oswalt as the potential ace(s) for the World Baseball Classic.
Potentially, America's best possible starting five for the 2013 WBC would include Justin Verlander, C.C. Sabathia, Clayton Kershaw, Matt Cain and Stephen Strasburg.
If Posey is the catcher, America might throw other Giants pitchers on the roster with Matt Cain for added benefit.
Unfortunately, if the Washington Nationals did not feel like pitching Stephen Strasburg in the MLB playoffs, I doubt they'll let their ace join the World Baseball Classic.
Not to worry, America, because the potential substitutes would be former Cy Young winners R.A. Dickey, David Price, Zack Greinke, Roy Halladay, Cliff Lee and Tim Lincecum, or even studs like Chris Sale, Cole Hamels and Jered Weaver.
Bullpen
What if there were no egos involved and we could throw more of MLB's nastiest starting pitchers in the bullpen as relievers?
How could other teams prepare if we could add some of baseball's best starting pitchers in the bullpen?
If Verlander, C.C., Kershaw and Cain all agree, is there any potential that Halladay, Lincecum, Lee and/or Sale can be used as relievers?
If this actually happens, America would run the table and never lose a game, just like the 2012 Men's Olympic Basketball team.
Seeing as how these bullpen questions are likely to be shot down, the best possible American bullpen would include Jonathan Papelbon, Joel Hanrahan, Craig Kimbrel, Sergio Romo, Jason Motte and last season's save leader Jim Johnson.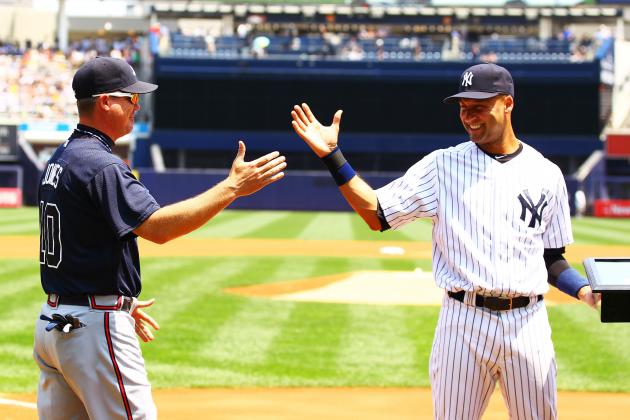 Al Bello/Getty Images

I believe the quickest way to sell this team to baseball's biggest stars is to immediately implement Derek Jeter and Chipper Jones as captains of the team.
Whether Jones and Jeter actually play on the team or not, there's no question that young stars like Trout and Harper would benefit from playing with future Hall of Famers like Derek Jeter and Chipper Jones.
I admired the 1992 USA basketball Dream Team for first naming Magic Johnson and Larry Bird to the team, immediately skyrocketing the potential for a true "Dream Team." Magic had retired from basketball due to the AIDS virus while Bird was on the tail end of his Hall of Fame career, meaning that every American basketball player knew this was the last possible chance to play on the same team as the legendary Bird and Magic.
While Chipper and Jeter do not have the same "rivalry" that Bird and Magic had, I believe a similar selling point would be effective in landing America's top stars.
@Kevry88 on twitter