A Sexy 2009 NFL Mock Draft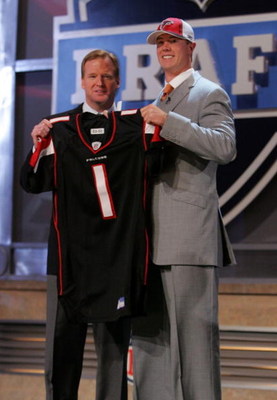 This is my take on the first round of the 2009 NFL Draft. This is not a cookie-cutter mock draft but a different look at what might happen. Though it is a different take, it is a valid mock and is not far from possible.
If you expect to see a mock draft that is the same as all the others go to NFL.com, if you want to see a mock draft that you have already seen a hundred times don't look at this mock draft.
If everyone is thinking alike no one is thinking at all. I tried to take that into account when making this Mock, I hope you enjoy it.
1. Detroit Lions: Mark Sanchez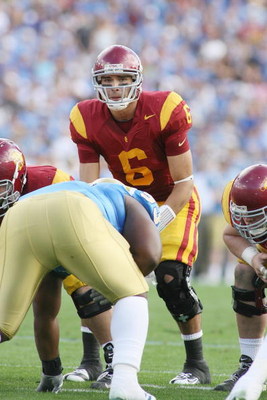 With the first pick in the NFL Draft The Detroit Lions select Mark Sanchez. While most Mock Drafts have have Matthew Stafford going here, the Lions will eventually decide that Mark Sanchez is there man.
He'll back up Culpepper until Culpepper gets injured. In other words, Sanchez will be starting for the Lions soon.
2. St. Louis Rams: Jason Smith, OT, Baylor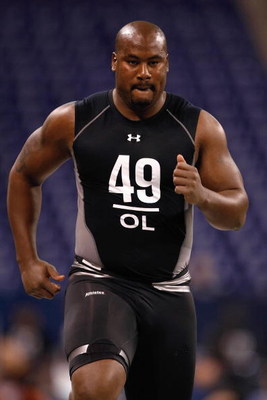 No surprise here, the Rams will take the best OT on the board after missing out on Jake Long last year.
3. Kansas City Chiefs: Brian Orakpo, DE, Texas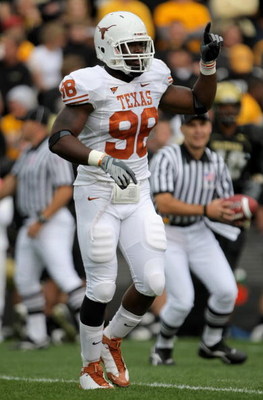 The Chiefs had the worst pass-rush in NFL history, they are desperate for a DE after trading Jared Allen. Orakpo will help them more than Aaron Curry.
4. Seattle Seahawks: Aaron Curry, LB, Wake Forest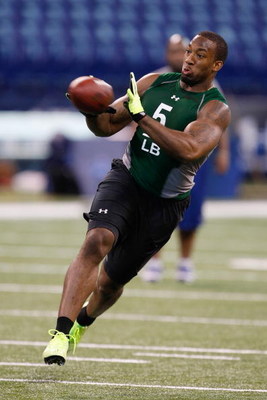 Seahawks take Curry to replace Julian Peterson. Curry comes in and, barring injury, records a 100-tackle season.
5. Cleveland Browns: Everette Brown, DE, Florida State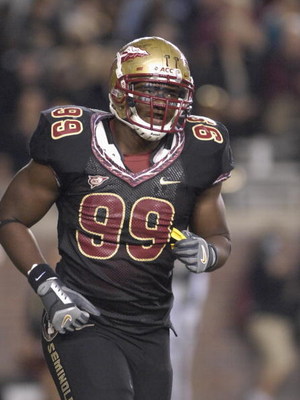 The Browns need some help on defense and they go for a boom or bust prospect in Everette Brown. Brown comes in as an explosive pass-rusher. Will he be a bust though? Eric Mangini doesn't think so.
6. Cincinnati Bengals: Eugene Monroe, OT, Virginia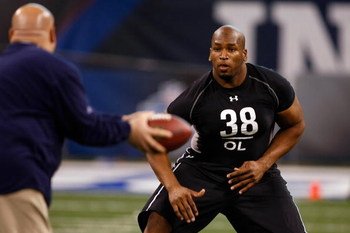 In 2008, the Bengals ranked 29th in rushing and 30th in sacks allowed, and after losing Stacy Andrews to the Eagles the Bengals need serious help on the line, they will take the best OT available.
7. Oakland Raiders: Darrius Heyward-Bey, WR, Maryland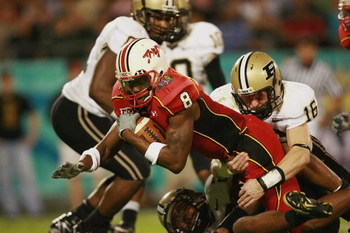 Not Maclin, not Crabtree, Heyward-Bey's 4.3 second 40-yard dash at the Scouting Combine earn him the top spot on Al Davis' big board. That, and Darrius' favorite player is Terrell Owens.
8. Jacksonville Jaguars: Michael Crabtree, WR, Texas Tech
Michael Crabtree falls to the Jaguars because of his injured foot. The Jaguars forget about past WR mistakes (Williams, Jones) and take Crabtree because of his immense potential, and the release of oft-arrested WR Matt Jones.
9. Green Bay Packers: Tyson Jackson, DE, LSU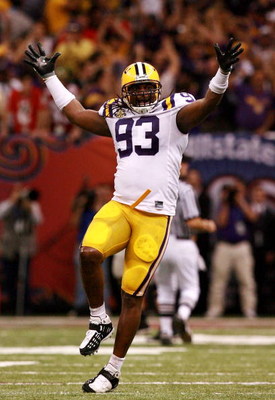 The Pack Attack grab a true 3-4 Defensive End to start opposite Aaron Kampman in their new 3-4 defense. The Pack will think about taking a pass-rushing outside linebacker but have Jackson too high on their board, especially since Everette Brown is gone.
10. San Francisco 49ers: Josh Freeman, QB, Kansas State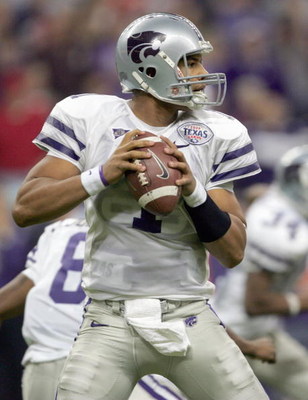 The 49ers made it clear they wanted a QB when they brought in Kurt Warner for a physical, after a little evaluating the 49ers decide Freeman is their guy.
11. Buffalo Bills: Aaron Maybin, DE, Penn State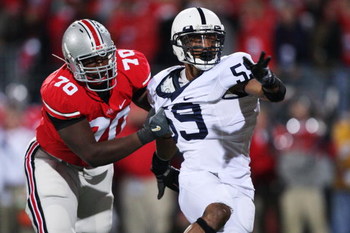 The Bills need help with their pass-rush, Aaron Maybin seems most likely here if Everette Brown and Brian Orakpo are both gone. Larry English could also be a possibility.
12. Denver Broncos: Matthew Stafford, QB, Georgia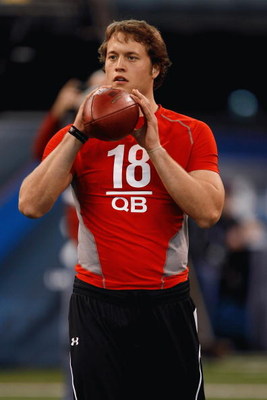 After trading Jay Cutler for a few stud players, the Broncos are in need of a Quarterback. With Matthew Stafford falling to them they decide to make him the new QB for Josh McDaniels.
13. Washington Redskins: B.J. Raji, DT, Boston College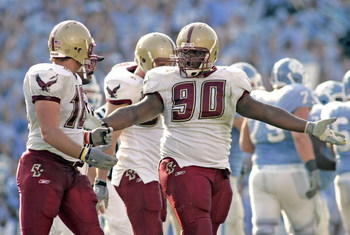 With the 13th overall pick the Redskins select B.J. Raji. From day one the Redskins plug him in next to Albert Haynesworth, and instantly they have a stellar run defense.
14. New Orleans Saints: Vontae Davis, CB, Illinois
The Saints need help at CB and with the inevitable signing of Darren Sharper that is yet to come they will be drafting a cornerback in the first round. With questions surrounding Malcolm Jenkins, they will draft Vontae Davis.
15. Houston Texans: Ray Maualuga, LB, USC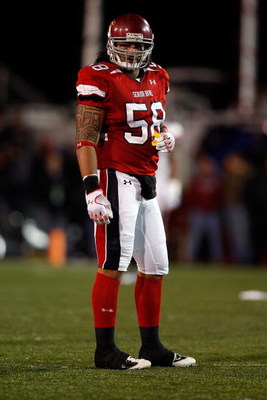 With the all the speculation that the Chargers will take Maualuga the Texans grab him instead. Maualuga will play from day one and record a hundred tackles his first season.
In my opinion, Maualuga will be a better pro than Aaron Curry.
16. San Diego Chargers: Brian Cushing, LB, USC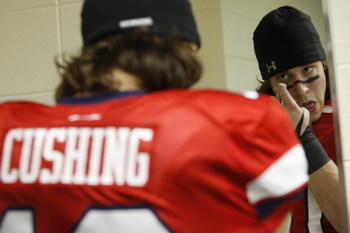 Most have Ray Maualuga going to the Chargers here, but with Shawne Merriman's health in doubt they pick up a different linebacker with the potential to be great.
17. New York Jets: Jeremy Maclin, WR, Missouri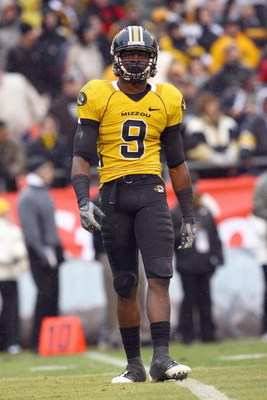 After releasing Coles the Jets need a little help on WR. Maclin would help, but don't expect Jets fans to be happy with anyone the Jets pick. Rex Ryan will probably want a Defensive player but need will outweigh that.
18. Chicago Bears: Michael Oher, OT, Ole Miss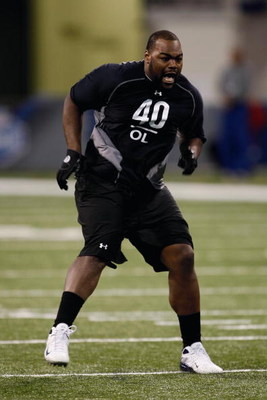 If Michael Oher falls to the Bears they would be ecstatic, that is unless Ebon Britton is their guy. Andre Smith will be lucky to get into the first round with all his shenanigans.
19. Tampa Bay Buccaneers: James Laurinaitis, LB, Ohio State
The Bucs are trying to infuse the team with talented youngsters. James Laurinaitis fits the bill.
20. Detroit Lions: Chris Wells, RB, Ohio State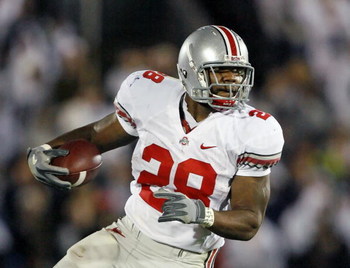 With the second pick in the first round, the Lions nab another young RB to put next to Kevin Smith and help out their new QB Mark Sanchez.
21. Philadelphia Eagles: Kenny Britt, WR, Rutgers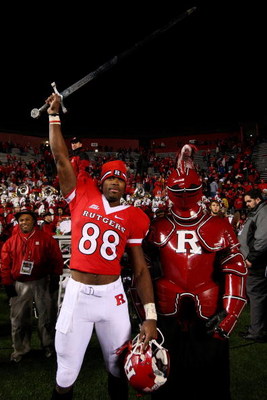 The Eagles grab Kenny Britt so Donovan McNabb will stop whining about wanting a No. 1 WR. Teamed up with an improved O-line and receivers Desean Jackson and Kevin Curtis the Eagles offense will improve.
22. Minnesota Vikings: Percy Harvin, WR, Florida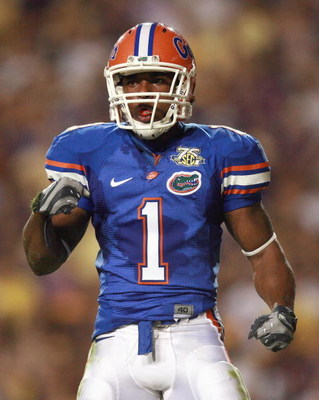 The Vikings need a dynamic playmaker besides Adrian Peterson. Harvin could give them that. Everyone else has Harvin going here, including me.
23. New England Patriots: Malcolm Jenkins, CB, Ohio State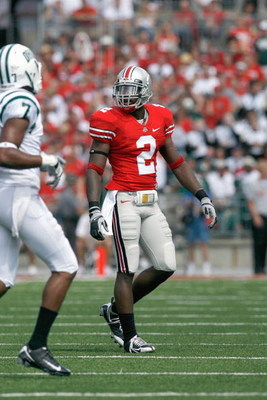 Even with all their Free Agent signings at this position, it's well known that the Patriots aren't scared of stacking a position.
24. Atlanta Falcons: Clay Matthews, LB, USC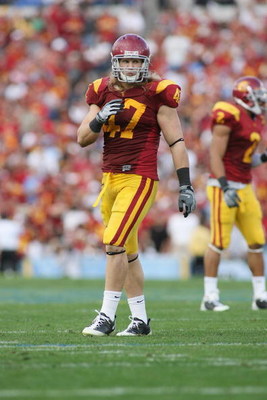 The Falcons lost Keith Brookings and Michael Boley, so LB is a key position for them. They wont let a player with Clay Matthews potential slip by.
25. Miami Dolphins: Robert Ayers, DE, Tennessee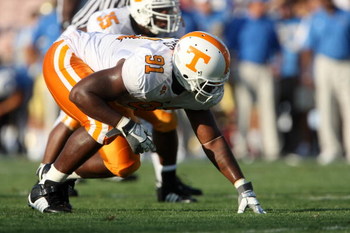 Robert Ayers is a player that is climbing up draft boards and by the time draft comes he could even be gone by pick 15. At this point, he would be a steal.
26. Baltimore Ravens: D.J. Moore, CB, Vanderbilt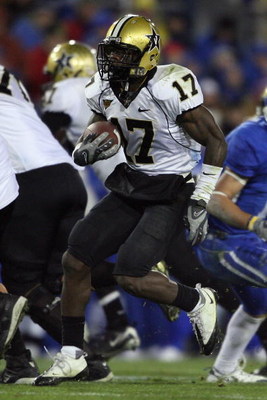 D.J. Moore is a solid Corner as well as a dynamic playmaker. The Ravens need a CB so this is the perfect fit.
27. Indianapolis Colts: Peria Jerry, DT, Mississippi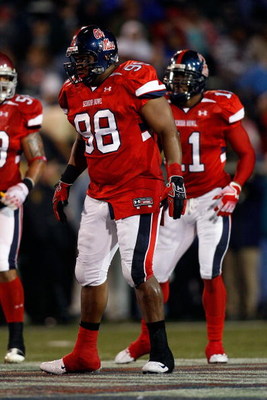 The Colts wouldn't mind a good LB either, but Peria Jerry would be a good value at this point. The Colts have always been able to pick up solid players late in the first round and this year should be no difference.
28. Philadelphia Eagles: Knowshon Moreno, RB, Georgia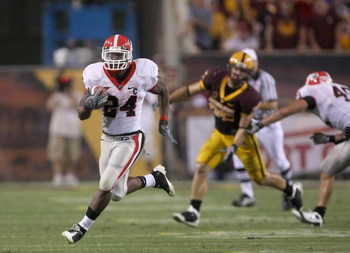 The Eagles would be ecstatic to get two playmakers in the draft. Donovan McNabb would be a happy camper with Westbrook and Moreno in the backfield.
29. New York Giants: Brandon Pettigrew, TE, Oklahoma State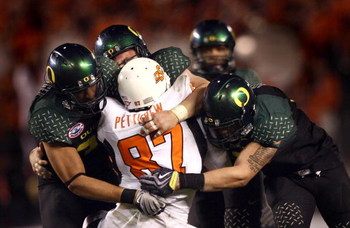 The Giants will be bringing back Plaxico Burress after how much the offense suffered without him. With Pettigrew, the Giants would be getting a solid player, that would help out Eli Manning.
30. Tennessee Titans: Sean Smith, CB, Utah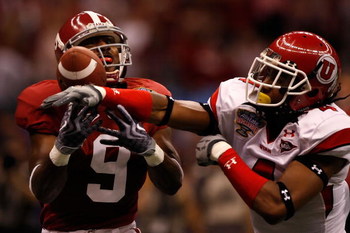 Sean Smith is a freak of nature at 6'4", 214, and would be able to help out the Titans' already stellar defense.
31. Arizona Cardinals: Andre Smith, OT, Alabama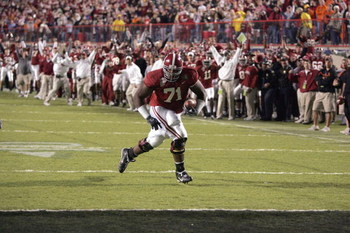 The Cardinals grab the best player on their board late in the first round. Though it might not be their biggest need, Andre Smith is a good value here, even with all the doubts that he's brought upon himself.
Andre Smith may not want to go in the early part of the round because he may not be able to handle the pressure, but going to the Cardinals might be a blessing in disguise.
32. Pittsburgh Steelers: Larry English, DE/OLB, Northern Illinois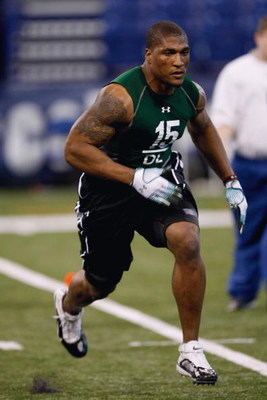 Larry English is a good pass rusher that will fit into the Steelers' defense as a situational pass-rusher from the OLB position. He could make the Steelers even better than they are, which is a scary thought.
Keep Reading