Setting Early Odds for the 2013 American League MVP Award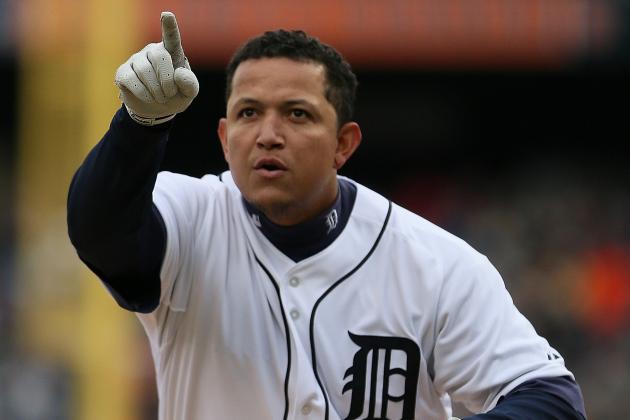 Dave Reginek/Getty Images
What are Miguel Cabrera's odds of repeating as the AL MVP in 2013?
Gather around, friends. It's time to talk about the American League MVP award.
Don't worry, we're not looking back here. The 2012 AL MVP race is over, and there's nothing left to say about it that hasn't already been said a million times. I suspect we could all use a long break from it.
We're here to look forward instead, to the land of the great beyond known as the 2013 MLB season.
Regardless of what you make of the end result of the 2012 AL MVP race, the one thing everyone can agree with is that the 2013 AL MVP race is going to have a very, very hard act to follow. Even if all of us live forever, I doubt we'll ever see anything like Mike Trout vs. Miguel Cabrera ever again, for good or ill.
The stars of the Junior Circuit will most certainly be out in force in 2013, however. Here's a super early look at which players have the best odds of coming away with the MVP a year from now.
Note: Traditional stats are courtesy of Baseball-Reference.com. Sabermetric stats courtesy of FanGraphs.
Begin Slideshow

»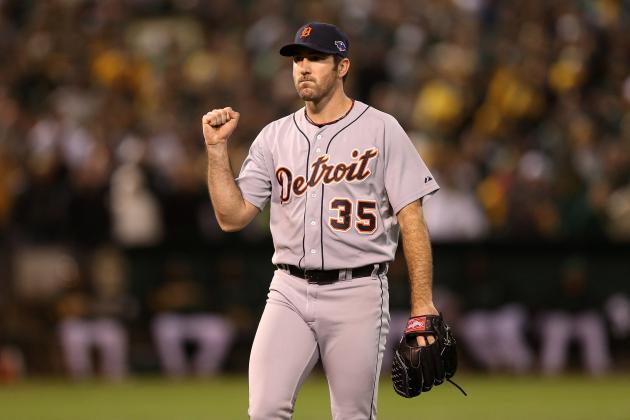 Ezra Shaw/Getty Images

If there's a pitcher in the American League who's a legit threat to win the MVP in 2013, it's Justin Verlander.
Part of the reason we know this is because Verlander actually won the award in 2011 when he went 24-5 with a league-best 2.40 ERA and league-high totals in innings and strikeouts. He got extra points for captaining the Tigers' playoff push.
The other reason we know that Verlander is an MVP threat is because the man is a freakin' machine. Over the last four seasons, only Felix Hernandez has pitched more innings, only six pitchers have compiled lower ERAs and nobody has racked up more strikeouts.
Among all major league pitchers, Verlander is clearly the best bet to have a superb season in 2013. And if he finds a way to repeat his 2011 performance, he'll surely be a strong contender for his second MVP.
And believe it or not, a year similar to 2011 may be in the cards. It may seem like Verlander regressed in 2012, but he actually upped his strikeout rate and was able to keep his BAA in the low .200s despite seeing his BABIP shoot up from .236 to .273.
I'm fully aware that Tigers fans don't want to hear too much about sabermetrics these days, but they may be glad to know that things like FIP (Fielding Independent Pitching) and xFIP (a homer-oriented variation of FIP) tell us that there was very little change in Verlander's performance from 2011 to 2012.
In 2011, Verlander's FIP and xFIP were 2.99 and 3.12. In 2012, his FIP and xFIP were 2.94 and 3.31. Since these metrics essentially measure what a pitcher's ERA should have looked like once certain variables are accounted for, we're looking at a situation that suggests Verlander didn't do much differently in 2012 than he did in 2011. Only his results changed.
The indication here is that better luck will lead to better results. Ideally, we're talking about more wins.
If Verlander wins over 20 games while posting dominant numbers across the board as he did in both 2011 and 2012, the voters will take notice. If there is no dominant hitter from a postseason team in the mix for the award, as there wasn't in 2011, Verlander could take home his second MVP in three years.
Odds: 40:1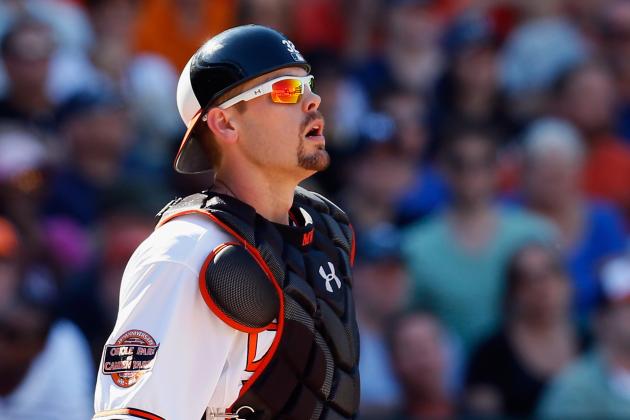 Rob Carr/Getty Images

I figure there has to be at least one player from the Baltimore Orioles on here, as they roared to life with a vengeance in 2012, and they have enough good players in place to make another run at the AL East title in 2013.
Picking out a potential MVP candidate from the Orioles is tough. Theirs was a true team effort in 2012, with no one player doing any particularly heavy lifting.
Adam Jones stands out as a possibility, but I don't think he was that much better in 2012 than he was in 2011. His walk and strikeout rates stayed consistent, and his BABIP jumped up only slightly. He did hit 32 home runs, but that was largely thanks to a HR/FB rate early in the season that was too high to maintain.
Matt Wieters is a better bet for a couple key reasons.
One, Wieters is one of the game's elite defensive catchers. He rated right up there with Yadier Molina as far as the sabermetric stats were concerned, and Wieters' reputation is beginning to approach Molina's with two Gold Gloves in his collection. Since we're talking about awards voting, a rep like this can't hurt.
Two, Wieters still has plenty of untapped potential at the plate. He hasn't yet gotten his OPS over the .800 threshold, but it bodes well for him that he upped his home run total once again and that he also upped his walk rate. He hasn't put it all together yet, but his approach is certainly getting there.
And goodness knows Wieters has shown flashes. He had a .937 OPS in April in 2012 and a .930 OPS in September. Had he found a way to be similarly productive in the months in between, he would have been a top MVP candidate for sure.
If Wieters does put it all together, he'll definitely get the attention of the voters. They love catchers who can hit and play defense, especially if they play for postseason-bound teams.
Odds: 30:1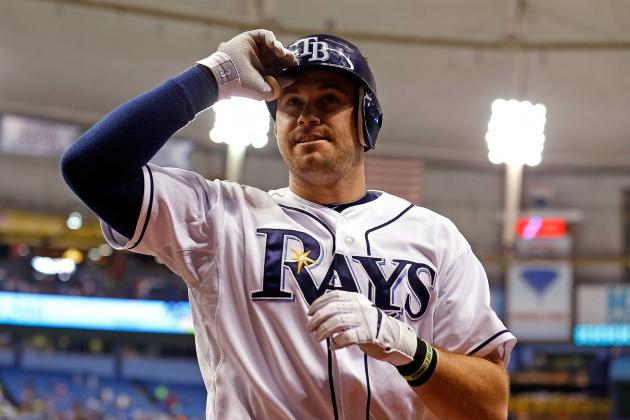 J. Meric/Getty Images

It was easy to overlook what Evan Longoria did in 2012; he only played in 74 games, and he spent a lot of time serving as a DH after he came back from a long injury absence in August.
But his 2012 production is nothing to scoff at. Longo managed an .896 OPS, 17 homers and 55 RBI in those 74 games. Over a full season, production like that would have equated to right around 40 homers and 120 RBI.
What's really impressive is that Longo was able to stay productive down the stretch even though his health was less than 100 percent. He managed an .853 OPS in his final 51 games, with 13 homers and 36 RBI. Average that out, and you get a 42-homer, 115-RBI season.
Whether or not Longo is going to be able to stay healthy in 2012 is a risky bet given the amount of time he's missed over the last two seasons, but we should all recognize that he's one of the game's elite players when he's healthy. Third basemen who can hit, field and run are rare, and that's what Longo is.
If he manages to stay healthy for 150 games, a fair expectation for Longoria is an OPS near or over .900 with around 30 homers and 100 RBI. This is assuming that his walk and strikeout rates stay right at his career norms and that his BABIP stays above .300 (and it should).
Then you have to add in defense. Longo won much-deserved Gold Gloves in 2009 and 2010, and he had a legit case for one in 2011 when he posted a 10.7 UZR and a plus-22 DRS.
If he tacks on 15 or so stolen bases, he'd be in line to post an fWAR in the 7.0 to 8.0 range, as he did in 2009 and 2010.
If he does this while leading the Rays to the postseason, the voters are going to have to think long and hard about giving him MVP votes. After all, it's not as if Tampa Bay's offense is as rich with superstars as other offenses around the AL. Especially not now with B.J. Upton poised to leave.
Odds: 28:1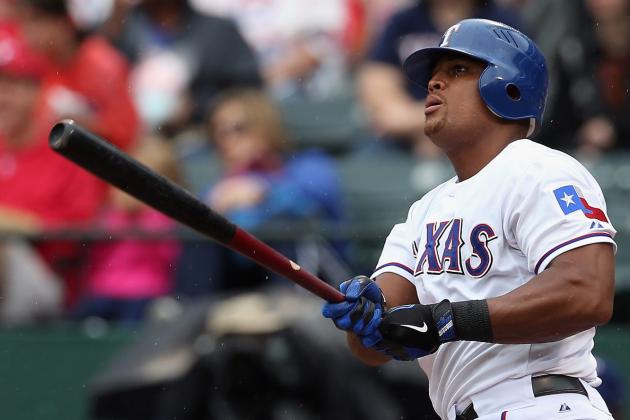 Ronald Martinez/Getty Images

Hey, at least one BBWAA member thought Adrian Beltre was more deserving of the 2012 AL MVP than Mike Trout.
I won't comment on the validity of that, but I will say that this goes to show how much respect writers have for Beltre. He seems to be a favorite of theirs.
And there's absolutely nothing wrong with this. Beltre is in pretty much the same boat as Longo in that he's a very good hitter who plays very good defense at the hot corner. Another thing that writers love about him is that he's tough as nails.
Beltre is coming off a monster year with the Rangers in which he posted a .921 OPS with 36 homers and 102 RBI. He started garnering MVP love when his bat caught fire in August, and he didn't let up through the end of the season. In his last 38 games, Beltre hit 17 homers with a 1.232 OPS. He was Hamilton-esque.
With the exception of the slight uptick in home runs, Beltre's final numbers ended up looking pretty familiar. He's posted an OPS over .890 in each of the last three seasons, driving in 100 runs each year and hitting no fewer than 28 home runs.
There's also been the defense. Beltre's won Gold Gloves each of the last two years, and he doesn't seem to be losing a step at the hot corner even as he's getting into his mid-30s. He's posted impressive UZR and DRS totals each of the last five seasons.
So let's say Beltre does it all over again in 2013, in which case he'll have an OPS around .900 with 30 homers and 100 RBI while playing excellent defense. He'll be a top MVP candidate by default.
The likely difference in 2013 is that Beltre won't have Josh Hamilton around to steal votes from him. And if there are no Trouts or Cabreras to hog all the first-place votes, he could easily sneak in and snatch an MVP award that will feel long overdue.
Odds: 24:1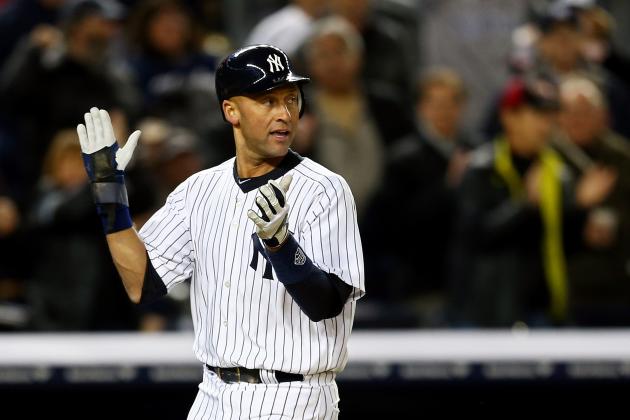 Elsa/Getty Images

Speaking of odd MVP votes, it took me by surprise that Derek Jeter actually got two third-place votes this year. It also took me by surprise that he got more MVP love than Prince Fielder, Justin Verlander, Edwin Encarnacion and Yoenis Cespedes.
Again, I'm done for the moment with complaining about the voting, but what I will note here is that this is a pretty clear indication that the voters are still in love with batting average and storylines.
Jeter certainly had both going for him in 2012. He came back from a rough couple of years (for him) and hit .316 with a league-high 216 hits. Not bad for a guy who turned 38 in June, and writers and fans were quick to play up how much of an example Jeter was for the rest of the Yankees.
If Jeter was fully healthy at the moment, I wouldn't see any reason why he wouldn't be able to do this all over again. His walk and strikeout rates remained relatively constant in 2012, and he didn't get much of a BABIP spike. He just got a ton of plate appearances, took a ton of hacks and got a ton of hits. Same old Jeter, really.
However, Jeter is not fully healthy at the moment. He broke his ankle in the ALCS, and Joe Girardi admitted on Thursday, via The Star-Ledger, that Opening Day is a question mark.
What we have here are the seeds for Jeter's first MVP season.
If Jeter comes back and hits over .300 and surpasses the 200-hit plateau again, all the usual Jeter rhetoric will be in play. But since he'll be doing all this fresh off a serious injury, and since he'll be pushing 40 by July, the Jeter love will be more intense than ever.
The Yankees can do Jeter's MVP chances a favor by crumbling around him like they did in 2012. If he carries a crumbling Yankees team filled with geezers into the playoffs on a surgically repaired ankle, people will be drooling over him.
Add in a few sympathy votes, and you've got a probable MVP.
Odds: 22:1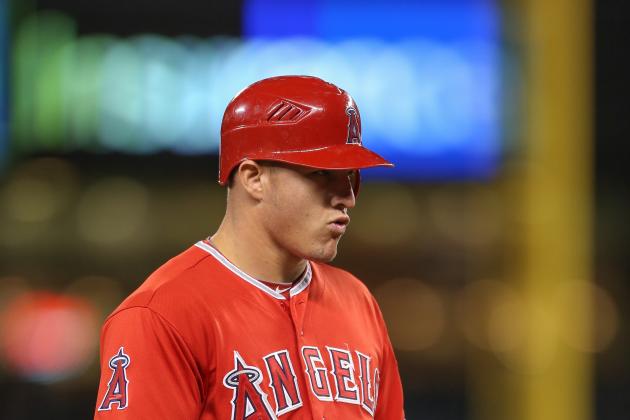 Otto Greule Jr/Getty Images

Wait, what? Mike Trout is all the way down at No. 5?
Yup, and this is where he belongs. Trout had an absolutely tremendous season in 2012, and it's pretty clear that he's going to be a good player for a long time, but nobody can expect him to be as brilliant as he was in his rookie year all over again in 2013.
Trout gave us a sneak peak of what's to come in August and September. He didn't go into a slump, as some say he did, but a .287/.383/.500 line simply doesn't look that great when one ends July with a .353/.411/.608 line.
Trout's decline was largely the result of two things: an elevated strikeout rate and a huge decrease in his BABIP. The BABIP decline was the bigger killer of the two, as it went from being over .400 to being .353. Hence the drop in batting average.
The bright side is that a .353 BABIP is still very good. And given Trout's speed, it's sustainable.
Trout's .287/.383/.500 hitting line in August and September is probably a sign of what's to come in 2013, and that's not necessarily a bad thing. An .883 OPS is a lot better than average, and Trout will be getting on base enough to steal bases, score runs and do all the things he does.
I'm going to presume that he won't lose a step on defense either, though his impact is likely to be lessened since he'll be moving from center field to left field with Torii Hunter out of the equation. There will be fewer plays for him to make, especially seeing as how he'll be sharing an outfield with Peter Bourjos.
Even still, Trout will still end up being a sabermetrics poster boy, as he'll rate well across the board in hitting, baserunning and defense. He could take a few steps back in 2013 and still end up leading the league in WAR.
That obviously doesn't mean an MVP vote by default, but 2013 could bring a situation where the traditional-minded voters agree with the geeks if Trout leads the Angels to the playoffs and there are no other obvious choices.
Odds: 16:1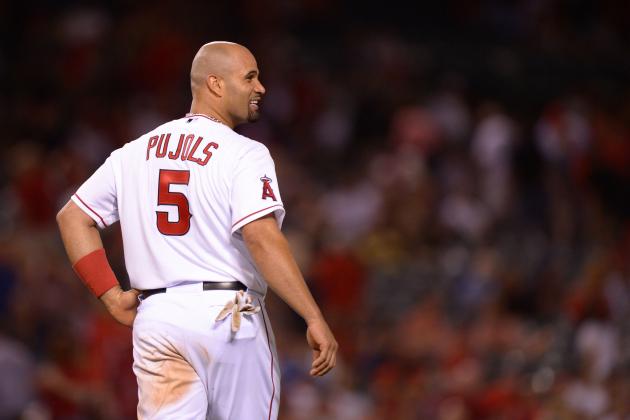 Jake Roth-US PRESSWIRE

Yes, Albert Pujols over Mike Trout.
Pujols doesn't have Trout's talent, but he is undeniably a better slugger. The one thing that very clearly hasn't changed over the years is that voters love sluggers.
His final numbers left much to be desired, but Pujols did prove that he's still one of the game's elite sluggers in 2012. He only managed an .859 OPS and 30 homers, but what's significant is that he managed a .959 OPS and 29 of his 30 homers in his final 118 games.
Average that production out, and you get a 40-homer, 125-RBI season. Those are numbers that make voters spit coffee all over their iPads.
It's a little concerning that Pujols didn't up his walk rate all that much during his hot finish to the season, but his strikeouts weren't out of control, and he posted a very sustainable .297 BABIP. He should, in theory, be able to pick up where he left off in 2013.
You can expect good defense at first base from Pujols regardless of what his offensive numbers are like. He's not as brilliant defensively as he once was, but he still rates as an above-average defender at first base as far as UZR and DRS are concerned.
If Pujols hits like he did over his final 118 games and plays good defense at first base, he'll satisfy both the sabermetrics crowd and the old-school crowd.
It's hard to see him being the most valuable player in the league from a statistical standpoint, as those days are likely long done, but he'll be near the top and worthy of extra consideration if the Angels make the postseason.
Then it's just a matter of the voters sticking to their guns and going for those 40 homers and 125 RBI.
Odds: 15:1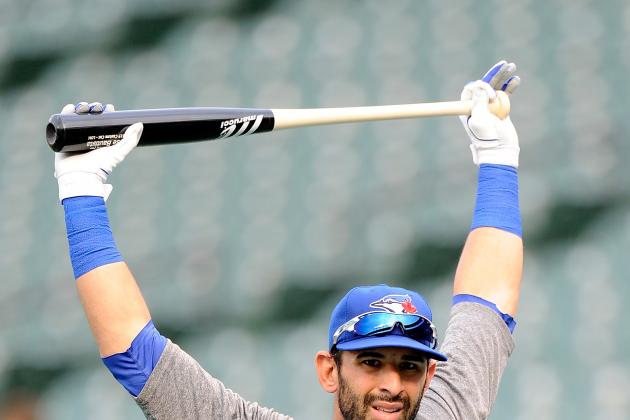 Greg Fiume/Getty Images

Remember this guy?
Jose Bautista finished fourth in the AL MVP voting in 2010 and third in 2011, and the stars are all aligned for him to win it in 2013.
Now that the Blue Jays have totally revamped their roster with their big trade with the Miami Marlins and their signing of Melky Cabrera, they look like a contender ready to make some noise in the AL East. Their big star will stand to get some MVP love, and that's Bautista.
Your first gripe may be that Bautista hit only .241 in 2012 and only .260 in 2010, so his .302 average in 2011 looks like a pretty obvious fluke.
But you can't look at average where Bautista is concerned. He's a pure slugger, and that means he's always going to be hard-pressed to keep his average up.
He can, however, keep his on-base percentage high. That's something he did better than a lot of people realized in 2012, as his .358 OBP was over 100 points higher than his batting average. Tack on a .527 slugging percentage, and you've got a respectable .886 OPS.
Bautista actually had an .894 OPS at the time he hurt his wrist in July, and he was also sitting on 27 homers and 65 RBI. At the rate he was going, he was going to finish the season with 49 homers and 118 RBI.
We can expect more of the same from Bautista if he stays healthy in 2013 because his plate discipline really didn't change all that much in 2012. He saw 4.27 pitches per plate appearance a year after seeing 4.28 pitches per plate appearance, and he actually dropped his strikeout rate. His walk rate was consistent with what it was in 2010, when he hit 54 homers.
Bautista is never going to be a high BABIP guy, but the .215 BABIP he managed in 2012 is a little low. If he can get it closer to .300, he'll give his average a boost and help his OPS climb closer to 1.000.
Assuming he doesn't lose any of his power, Bautista can be expected to flirt with 50 homers again. And since he's going to have two very good table-setters hitting in front of him in 2013 in the likes of Jose Reyes and Melky Cabrera, he could collect a ton of RBI.
If he hits close to 50 homers while collecting over 125 RBI to help lead the Blue Jays to their first playoff berth in 20 years, Bautista is going to look awfully attractive to the voters.
Odds: 13:1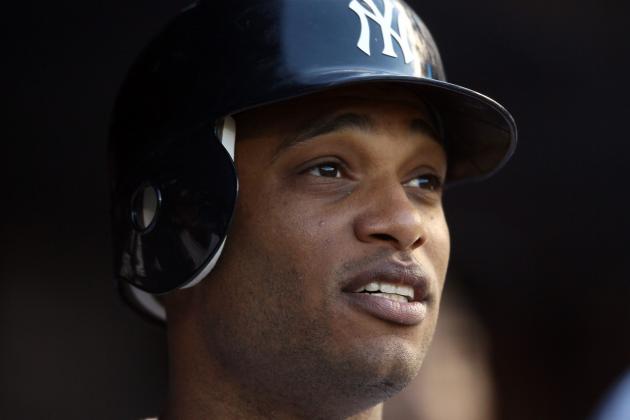 Elsa/Getty Images

No player was more overlooked in the AL MVP race than Robinson Cano. He was never going to win, but there was surprisingly little talk about where he fit into the race.
As such, I wonder how many people really noticed that the 2012 season was the finest of Cano's career.
Cano set new career highs with a .929 OPS and 33 home runs. Perhaps the most encouraging aspect of his season was the fact that he showed more discipline at the plate than ever before, setting new career highs by seeing 3.53 pitches per plate appearance and by compiling a walk rate of 8.8 percent.
It's no wonder he hit for more power, as he gave himself more chances to drive the ball. That's not a happy thought for AL pitchers, as Cano was scary enough when he was more of a free-swinger.
And though he seemed to be careless or even indifferent at times in the field, Cano had a very good year defensively. He very much deserved to win his Gold Glove.
If Cano can maintain his fine defensive work and keep improving at the plate, he's in for a monster year in 2013. In addition to his customary .300-plus batting average, he could finish with 35-plus homers and an OPS much closer to 1.000.
And though the competition in the AL East has gotten tougher with the rise of the Blue Jays this week, I fully expect Cano to have a monster year in 2013. He kinda has to if he wants to get paid.
Yup, it's a contract year for him. And if he does well, he stands to earn a contract worth over $200 million, the likes of which is only reserved for premier sluggers. Cano will join them if he proves himself worthy.
And he might just pick up an AL MVP along the way.
Odds: 12:1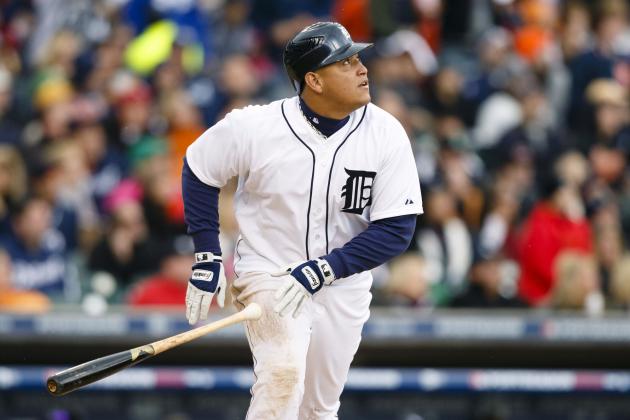 Rick Osentoski-US PRESSWIRE

Too easy?
Yeah, a little bit. But honestly, who else could have possibly gone here?
The fact that Miguel Cabrera just won the AL MVP is part of my reasoning for putting him at No. 1 on this list, but that's not all there is to it. He should be considered the man to beat for the award simply because he can do all the things that MVP voters love, and because he's the surest bet you're going to find in baseball.
For all the negative things that were said about Cabrera's defense and his baserunning this season, nobody ever accused him of being a bad hitter. Whether you consult old-school stats or sabermetrics, he is indeed an elite hitter. The game's best, in my opinion (yours too, I'm guessing).
Over the last three seasons, no hitter has compiled a higher batting average, slugging percentage or OPS than Cabrera. Nobody's racked up more RBI, and only Jose Bautista has launched more homers. He also leads the field in sabermetrics stats like wOBA and wRC+.
So how do we know he's going to do it all over again in 2013?
Well, because he's Miguel Cabrera, for one. Two—and this is going to sound weird—he actually had something of a down year in 2012.
For all his brilliance, Miggy saw his walk rate take a dive from over 15 percent in 2011 to 9.5 percent in 2012. He was taking more hacks than usual, and his batting average dropped from .344 to .330 in part because not as many hits were falling. His BABIP dropped 34 points.
So, let's assume that Miggy ups his walk rate again and that he tacks a few points onto his BABIP. What then?
Put simply: He'll be himself.
That doesn't necessarily mean he's in for another Triple Crown season, as that's not the kind of thing that's going to happen twice in a row after not happening for 45 years. But it will mean that he'll put up absurd numbers that will grab the attention of the voters.
As long as the Tigers also make the playoffs, Cabrera will be right where he needs to be to win another MVP.
Odds: 9:1
If you want to talk baseball, hit me up on Twitter.