2012 MLB Draftees Ready to Make an Impact Next Year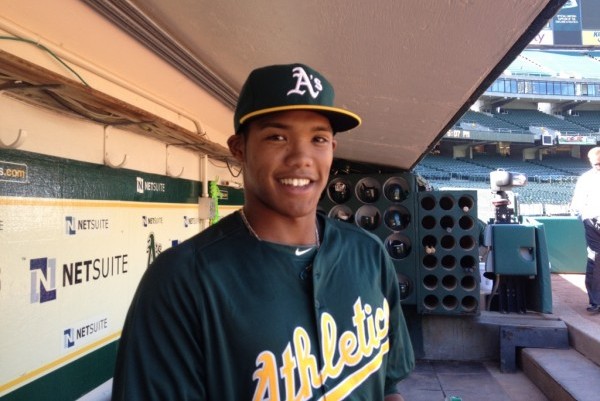 SS Addison Russell (Athletics) // Courtesy of SFGate.com
Over the course of the minor league regular season and even since its conclusion, I've written extensively about the noteworthy professional debuts (both good and bad) of 2012 draftees. As a result, my coverage has primarily focused on a majority of the first-rounders such as Byron Buxton, Mike Zunino, David Dahl, Kyle Zimmer and Michael Wacha.
Having said all that, I thought that I'd share some thoughts on six other 2012 draft picks—all of whom were selected in the top 10 rounds—who are seemingly poised for big things in 2013.
Begin Slideshow

»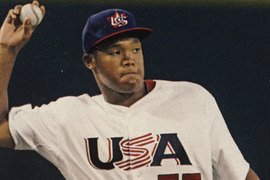 Courtesy of MiLB.com
2012 Stats (R, SS, A-): .369/.432/.594, 26 XBH (7 HR), 45 RBI, 16 SB, 48/23 K/BB (55 G)
Overview: Finished the season at Low-A Burlington after opening in rookie-level Arizona League; all five tools are at least above average with potential to improve; has quickness and instincts to stick at shortstop; possesses quick, strong wrists that lend to his impressive bat speed and raw power.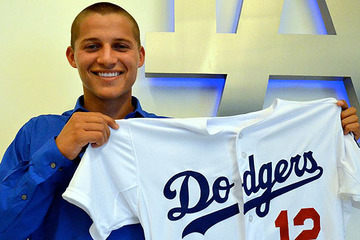 Courtesy of MLB.com
2012 Stats (Rk): .309/.383/.520, 19 XBH (8 HR), 33 RBI, 8 SB, 33/21 K/BB (46 G)
Overview: 6'3", 195-pounder played 44 of 46 games at shortstop and was expectedly raw; has present above-average range and arm strength; will likely have to slide over to third base as he fills out, but has athleticism to remain there for now; fluid and direct left-handed swing allows him to see the ball deep and use the whole field; wouldn't be surprised if he gets bumped a level to start 2013 season.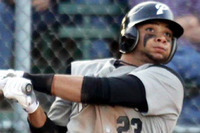 Courtesy of PerfectGame.org
2012 Stats (Rk, SS): .280/.330/.397, 21 XBH (7 3B), 34 RBI, 29/19 K/BB (62 G)
Overview: Although he didn't showcase the power that made him a supplemental-third round draft pick, Copeland still excelled at the plate is his professional debut.
The 6'0", 190-pound outfielder failed to jump the yard in 56 Gulf Coast League games this past season; however he did pace the league in triples (six) and RBI (34). Furthermore, the left-handed hitter demonstrated advanced plate discipline which, in turn, enabled hard contact to all fields.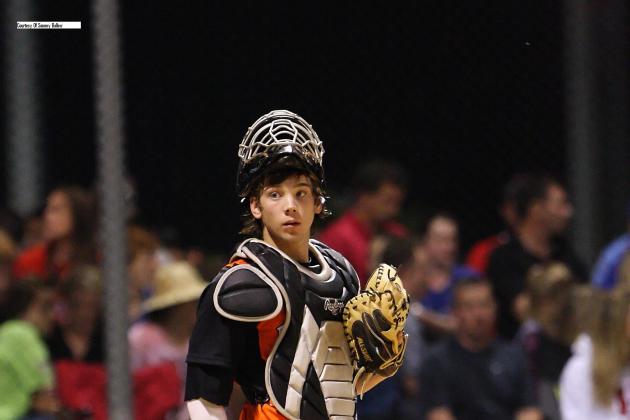 Courtesy of dfwsportssource.com
2012 Stats (Rk): .200/.325/.285, 9 XBH, 43/23 K/BB (39 G)
Overview: A supplemental first-round selection of the St. Louis Cardinals, Bean struggled in his initial assignment to the Appalachian League, posting a .476 OPS with 32 strikeouts in 24 games. However, the left-handed hitting catcher thrived following a demotion to the Gulf Coast League, posting an .824 OPS with 11/8 K/BB in 15 games.
While his defensive actions are understandably raw behind the plate, Bean possesses both the athleticism, aptitude and arm strength to stick at the position. He has an impressive knowledge of the strike zone relative to his age, and as he fine-tunes his swing, he should begin to tap into his raw power.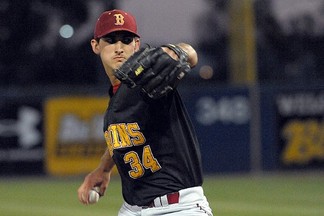 Courtesy of ESPN.com
2012 Stats (Rk): 12 IP, 1.50 ERA, 0.67 WHIP, 15/1 K/BB (6 G)
Overview: After drawing first-round consideration all spring, DeJong was ultimately drafted in the second round by the Blue Jays and opted to sign rather than honor his commitment to USC. At 6'4", 185 pounds, the lanky right-hander has a highly projectable frame and an advanced feel for his arsenal.
With a fastball that ranges anywhere from 87-93 mph, DeJong figures to add velocity in the coming years as he irons out some issues with his mechanics. His curveball flashes plus potential with late, downward bite, and he has exhibited a feel for his potentially above-average changeup. As of now, he's one of many high-upside arms on the Blue Jays' growing list of pitching prospects.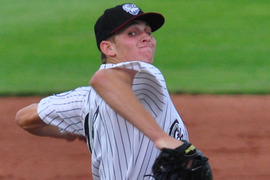 Courtesy of MiLB.com
2012 Stats (Rk): 5-4, 60.1 IP, 2.09 ERA, 1.11 WHIP, 89/22 K/BB (13 G; 12 GS)
Overview: Despite a less-than-impressive showing at Vanderbilt, Selman was a second-round draft pick due to his projectability and power arsenal. At 6'3", 165 pounds, the left-hander excelled in the Pioneer League—as you might have inferred from his stats—and was ultimately named its pitcher of the year.
Headlining Selman's arsenal is a plus fastball that registers between 92-95 mph, but has been known to scrape 96. His slider has the makings of a plus pitch, especially when he's locating it in relation to his fastball. He carved up hitters with the two-pitch mix, but will need to make substantial progress with his changeup in order to remain a starter at higher levels.