MLB Free Agency 2013: Pros and Cons of Top 25 FAs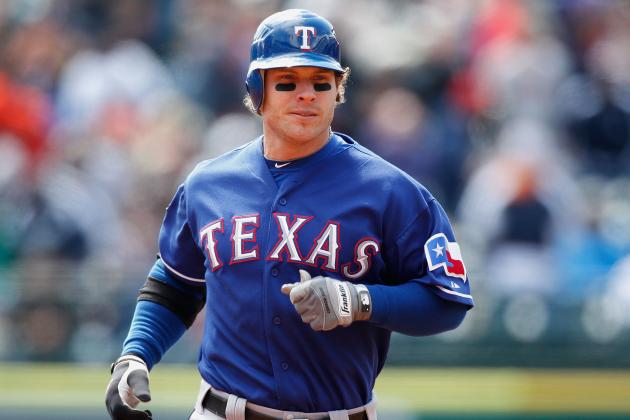 Gregory Shamus/Getty Images

The 2013 class of MLB free agents features a group steeped in a diversity of skills. From power pitchers to power sluggers to speedsters to defensive specialists, the entire gamut of tools are covered.
In assessing the skills of each player, each general manager throughout MLB needs to weigh each player's strengths against perceived weaknesses. Oftentimes, the strengths far outweigh the flaws, giving GMs an easier decision.
However, in some cases those perceived flaws can be enough to give baseball executives much more to think about in terms of length of contract and amount of dollars.
Ahead, Bleacher Report will take a look at the pros and cons of the top 25 free agents available this offseason.
Note: All statistics courtesy of baseball-reference.com unless otherwise noted. Salary information courtesy of Cot's Baseball Contracts.
Begin Slideshow

»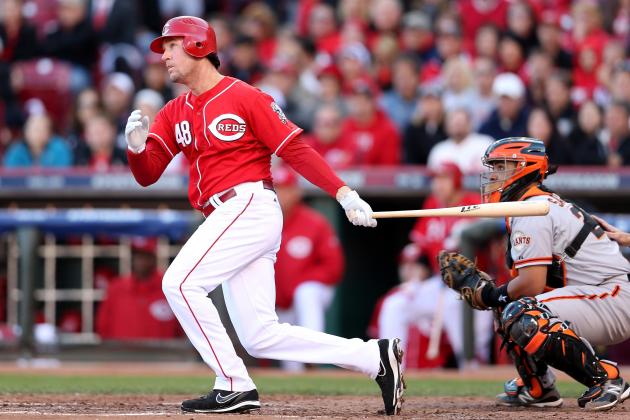 Andy Lyons/Getty Images

Pros:
Solid power hitter, .877 OPS in 2012.
Numbers on the road (.282/.351/.505) almost equal to those at Great American Ballpark (.268/.341/.555).
Cons:
While 2012 was a solid season, Ludwick still didn't come close to his breakout year in 2008. Has he reached his plateau at the age of 34?
Defensively, Ludwick is somewhat of a liability, posting a UZR of minus-4.7 in 2012.
Ludwick will draw interest, including from the Cincinnati Reds. The Reds went low-risk and got high reward from Ludwick last season. That won't happen again, as Ludwick will likely command a much higher paycheck than the $2 million received last year.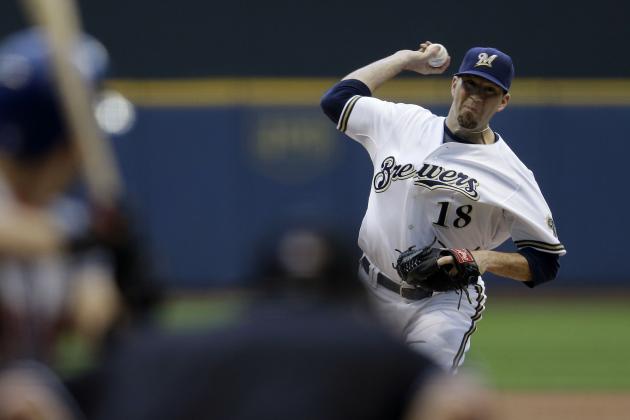 Mike McGinnis/Getty Images

Pros:
Ability to pitch at or near top of any rotation with good command of pitches.
Sub-3.75 ERA in each of last four active seasons.
Cons:
Must use the phrase "when healthy."
Shut down with elbow stiffness in 2012, three years removed from Tommy John surgery.
With elbow concerns, salary will be an issue.
There's no question Shaun Marcum can pitch. The question is the durability. Marcum missed over two months last season with elbow stiffness. That this is occurring after Tommy John surgery in 2009 has to have general managers a bit worried.
The $7.75 million contract last season might also be of concern because of perceived worry about health issues. While Marcum could receive that in annual value, the length of contract will definitely be the biggest factor for general managers to contend with.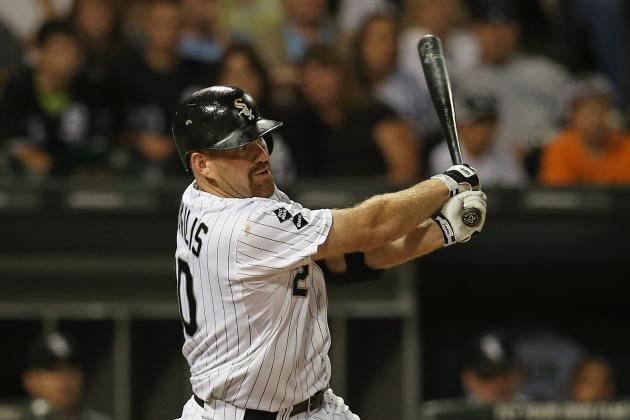 Jonathan Daniel/Getty Images

Pros:
On-base machine with career .384 OBP.
His versatility—ability to play third base, first base and DH—is a huge asset.
Cons:
Injuries in past three seasons raise questions about durability.
Is he a clubhouse nuisance? You be the judge.
Youkilis will continue to draw interest in a free-agent market largely devoid of top-flight third basemen. However, the four-year, $40.6 million contract he just completed is likely a pipe dream at this point in his career.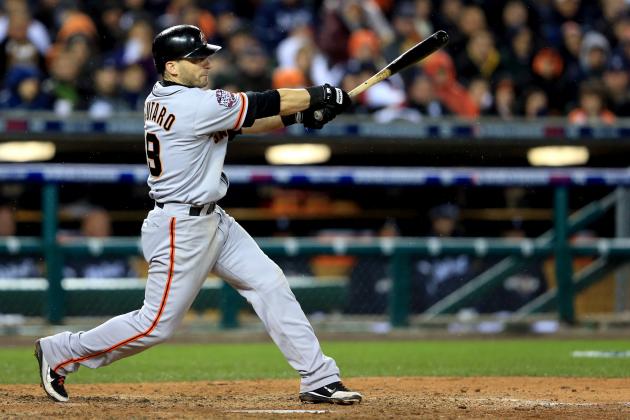 Doug Pensinger/Getty Images

Pros:
Will get paid after second-half and postseason performance with San Francisco Giants.
Can play three infield positions (second, third, short) with equal aplomb.
Cons:
Age (37) could be factor.
There aren't many cons when looking at infielder Marco Scutaro—he's as steady as they come. With his .362 average in the final 61 games of the regular season and NLCS MVP award, Scutaro will have plenty of suitors this offseason.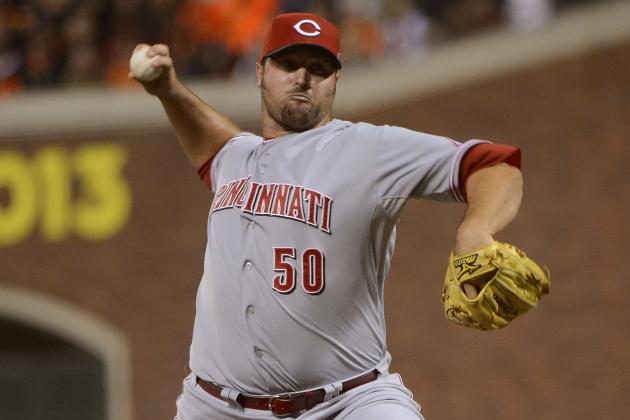 Thearon W. Henderson/Getty Images

Pros:
Stands tall in a market short on elite closers.
Can pitch effectively in seventh and eighth innings as well.
Cons:
Diminished velocity in 2012. Can he sustain performance without blazing fastballs?
Jonathan Broxton certainly had a bounce-back year in 2012 with the Kansas City Royals and Cincinnati Reds. He impressed the Reds enough that they'd like to have him back in order to move closer Aroldis Chapman into the starting rotation.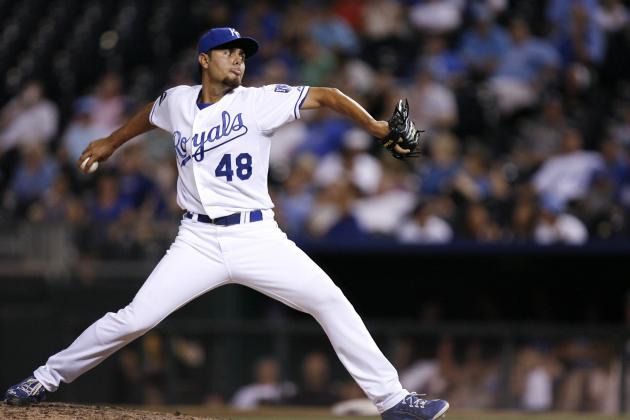 Ed Zurga/Getty Images

Pros:
Collected 143 saves in last four active seasons.
Career 2.40 ERA and 9.7 K/9 rate.
Stingy—gives up only 6.9 hits per nine innings.
Cons:
Coming off second Tommy John surgery. Chris Capuano did it successfully, but can Soriano do it as well?
The biggest issue for closer Joakim Soria is the big con: coming back from a second Tommy John surgery.
While there's no doubt of his closing abilities, can he come back and be that same pitcher?
Soria has indicated he wouldn't mind setting up for New York Yankees closer Mariano Rivera, but in a market short on closers, Soria will likely get looks from those teams needing shutdown help in the ninth inning.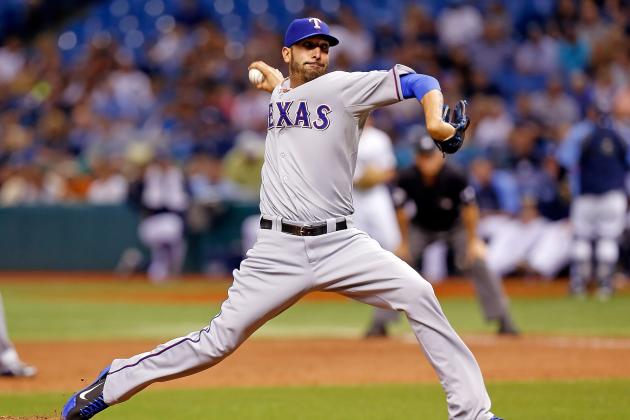 J. Meric/Getty Images

Pros:
Most consistent right-handed reliever in baseball the past five seasons.
Transitioned well to American League (2.88 ERA in one-plus years with Texas Rangers).
Tied for best ERA in majors among right-handed relievers from 2008-2011 (Mariano Rivera).
Cons:
The only thing that might earn reliever Mike Adams a little less money is the above surgery, performed in late October after he experienced neck stiffness and other symptoms during the final weeks of the 2012 season.
If fully healed, Adams is one of the best in the business.
Josh Hedges/Getty Images

Pros:
Versatility in outfield.
Stole a career-high 39 bases in 2012.
Above-average defender with great range.
Cons:
Hit just .229 against right-handed pitching in 2012 with a career-high 80 strikeouts overall.
His .321 OBP in 2012 was 20 points lower than career average.
Outfielder Shane Victorino will find a home in 2013. Whether or not that home comes with a lucrative long-term contract remains to be seen.
Victorino absolutely has to show that he can rebound against right-handed pitching in 2013, or a platoon situation could be in his future.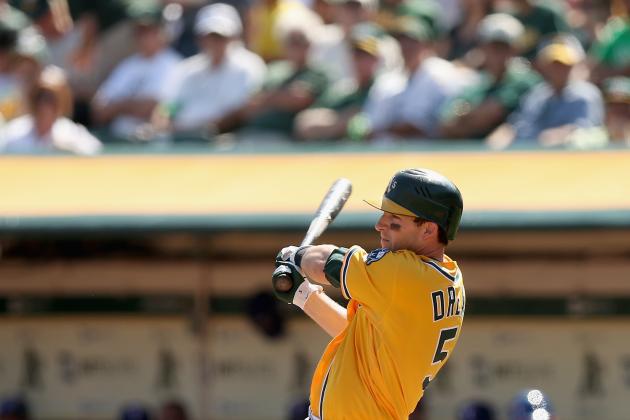 Ezra Shaw/Getty Images

Pros:
Seemed to finally settle in following trade to Oakland (.250 BA, 5 HR, 16 RBI in 39 games).
Excellent defender at demanding position.
Cons:
Can he fully return to form after lengthy layoff following gruesome ankle injury?
In a market devoid of quality shortstops, Stephen Drew is likely to earn a nice paycheck. Whether or not that paycheck comes from the Oakland Athletics remains to be seen.
There are indications that the A's would like Drew back after turning down his $10 million option for the 2013 season. But with a weak market and Scott Boras for an agent, that may be problematic.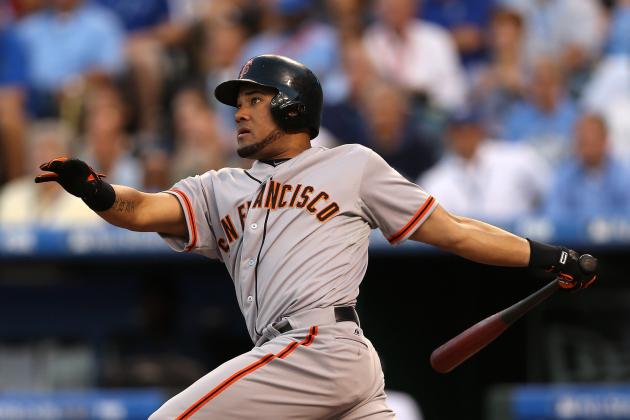 Jonathan Daniel/Getty Images

Pros:
Took major step forward in past two years offensively.
Ability to play both center and left field.
Can provide pop as well as speed.
Cons:
Was the offensive surge PED-fueled?
Can he show he can do it without the juice?
In looking at Melky Cabrera without knowing what happened in mid-August of last season, general managers would jump at the chance to sign him.
However, GMs do know what happened, and now Cabrera needs to prove that the improved offense of the past two seasons wasn't because of elevated testosterone levels or any other enhancements.
Update: Cabrera has reportedly agreed to a two-year, $16 million contract with the Toronto Blue Jays, pending a "rigorous" physical examination, according to CSNBayArea.com.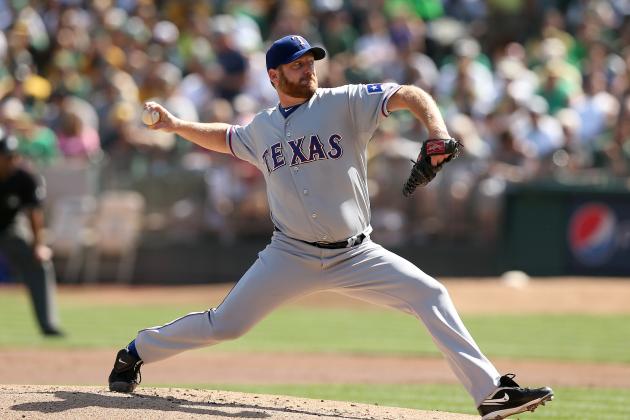 Ezra Shaw/Getty Images

Pros:
Rotation stalwart—logged 200-plus innings pitched from 2008-2011.
Still has strikeout stuff—over 8.0 K/9 rate four of last five seasons.
Cons:
Can he adjust to American League? Small sample size in 2012; 5.09 ERA in 12 starts.
Looking for multi-year contract at 35, teams could shy away.
Ryan Dempster is coming off a four-year, $52 million contract, and he would love one more multi-year deal to close out his career.
However, at 35 years of age, another four-year deal may be a bit of a stretch. The Chicago Cubs have been in contact with Dempster about the possibility of returning next season, but it certainly won't be for the contract he previously signed with the Cubs.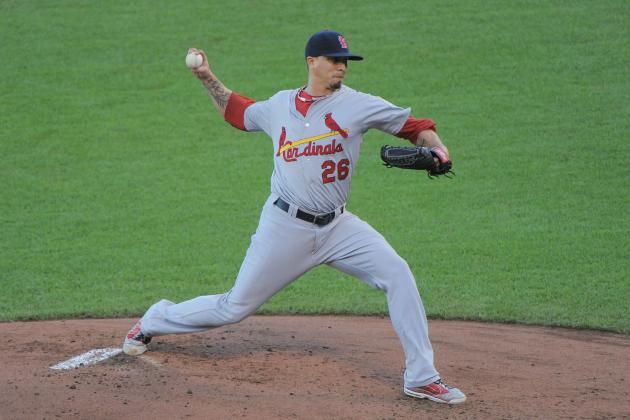 Kyle Terada-USA TODAY Sports

Pros:
30-11 record and 3.11 ERA over past two seasons.
Not overpowering, but excellent control.
Cons:
Can he continue getting hitters out with mid- to high-80s fastballs?
The big question concerning starting pitcher Kyle Lohse is the con listed above: How much longer can he continue retiring hitters without a true fastball?
Well, he's done pretty well the last couple of seasons, and teams will be more than happy to take that kind of production regardless of the lower velocity.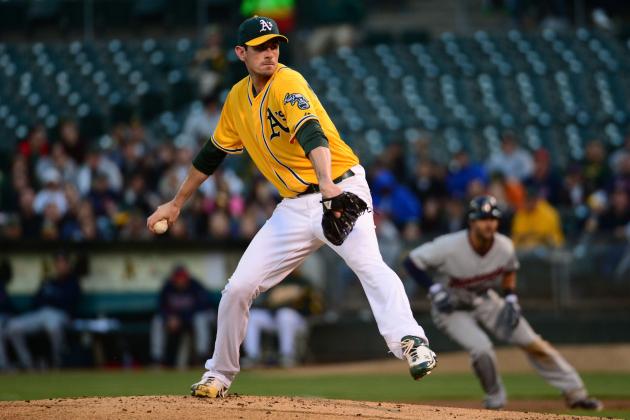 Kyle Terada-US PRESSWIRE

Pros:
Developed superb control over last two seasons.
Stuff is electric.
Cons:
Obvious injury history, specifically shoulder.
Is he next Kerry Wood or Chris Carpenter?
Brandon McCarthy will undoubtedly attract much attention this winter. With his terrific array of pitches that feature movement, it's hard not to be enamored.
But the injury bug bit McCarthy early and often, and it's still nibbling. That will certainly detract teams from offering multi-year deals.
The question above certainly applies. Can he build a solid career after early injuries like Carpenter, or will he continue to endure injury like Wood?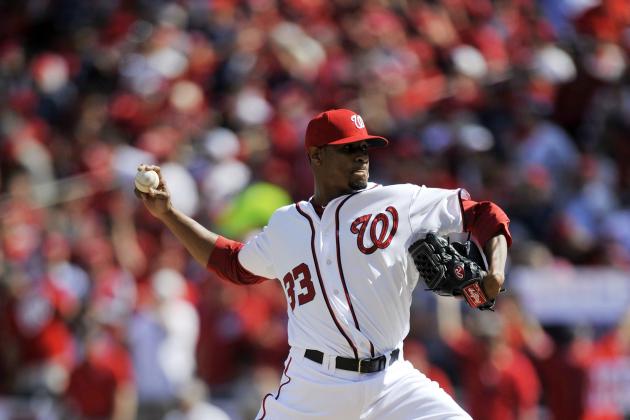 Joy R. Absalon-US PRESSWIRE

Pros:
Career-best 8.0 K/9 rate in 2012.
Career-low 1.218 WHIP in 2012.
Solid and durable—six straight seasons of 30-plus starts.
Cons:
Is Jackson worth $12-$15 million annually for a .500 record and ERA north of 4.00?
There's nothing better than having a starter who can guarantee 30 starts a year and close to 200 innings. In any rotation, that's a plus.
However, with Edwin Jackson, that also comes with a sub-.500 record and career 4.40 ERA. I've never been quite sure how that equates to $12-$15 million per season.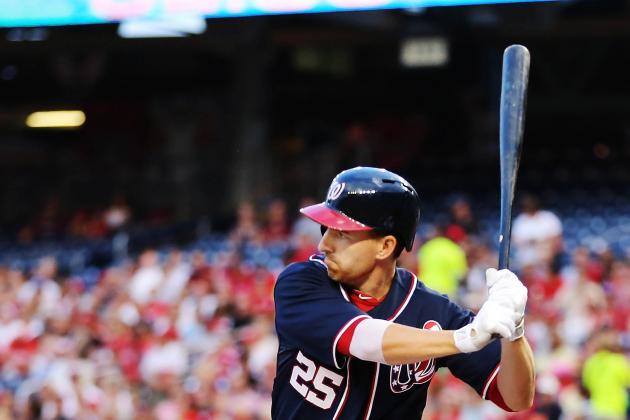 Kevin Jairaj-US PRESSWIRE

Pros:
Huge bounce-back year after delicate labrum surgery.
Improved defense at first base resulted in first-ever Gold Glove Award.
Cons:
Age (33) could be factor in later seasons of multi-year contract.
With his decision to decline his mutual option on his 2013 contract for $10 million, Adam LaRoche catapulted himself to the top of the charts for free-agent first basemen. And his services will be in demand this offseason.
After the year LaRoche had, there's not much to pick on in terms of his game. He certainly proved he could bounce back from a major surgery and produce his best season in terms of home runs (33) and RBI (100).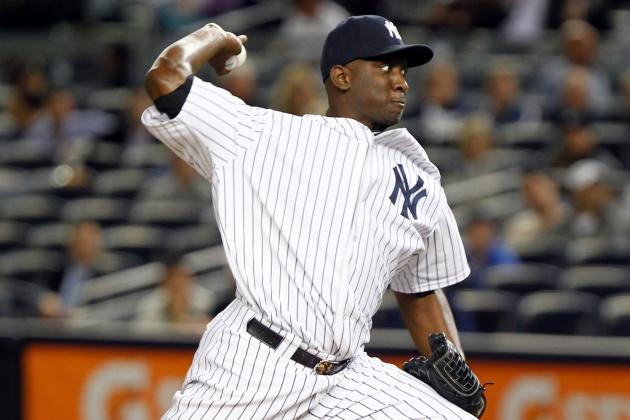 Debby Wong-US PRESSWIRE

Pros:
Overpowering stuff shined through in 2012.
87 saves in last two years as full-time closer.
Improved K/9 rate by one strikeout per inning in 2012.
Cons:
In opting out of the final year of his contract with the New York Yankees, closer Rafael Soriano instantly became one of the elite names on the free-agent market.
Soriano re-established himself as a premier closer with his performance in place of Mariano Rivera last season. Smart move opting out of the last year of his deal; he will earn a big payday.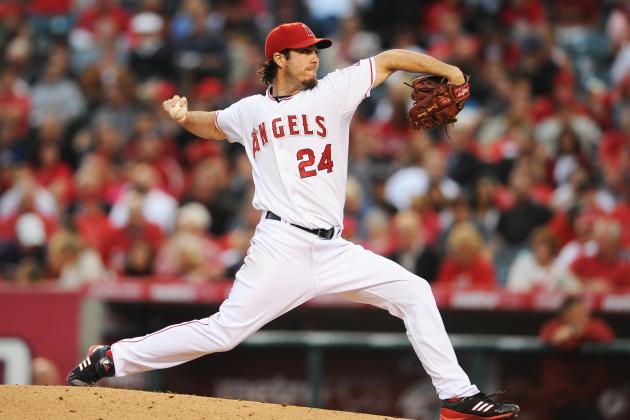 Kelvin Kuo-US PRESSWIRE

Pros:
Impeccable control.
Led league in K/BB rate three times.
Cons:
Diminished velocity in 2012.
Back issues put Haren on DL for first time in career.
Dan Haren certainly had a year that was disappointing in a few ways. His velocity was clearly down in the first half of the season. Back issues then landed him on the DL. While he returned to post respectable numbers in the second half, it still wasn't Haren-esque, if you will.
The Los Angeles Angels declined the 2013 option on Haren's contract for $15.5 million. Teams will have to decide whether or not Haren's back issues last season will be a hindrance moving forward.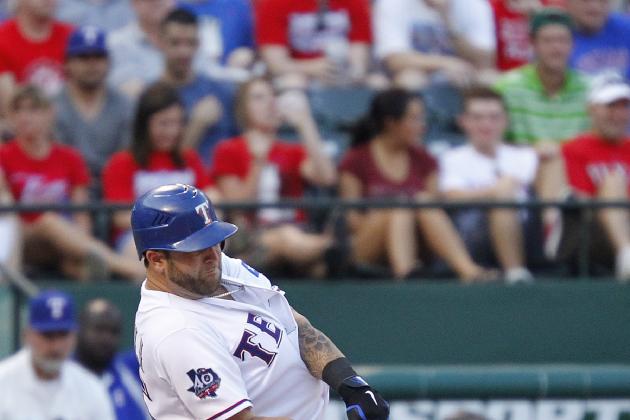 Rick Yeatts/Getty Images

Pros:
Versatility—ability to catch and play first base.
Solid power from right side.
Cons:
Were 2012 injuries an aberration?
Can he play full-time behind the plate?
Mike Napoli played in just 108 games in 2012, as knee and quad injuries limited his production. Teams will have to decide whether or not Napoli can be a full-time option behind the plate; he has yet to log at least 100 games as a backstop in any one season.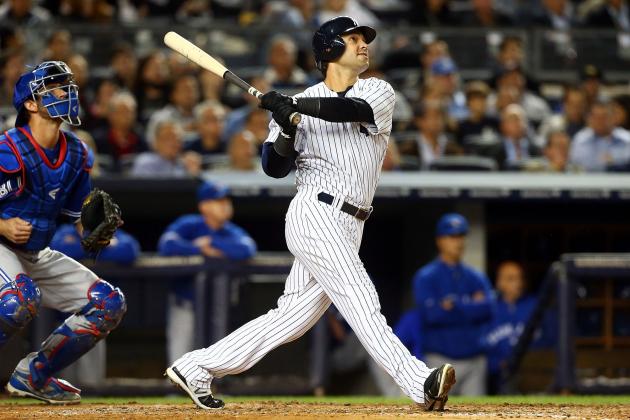 Jim McIsaac/Getty Images

Pros:
Remarkably consistent production year after year.
Positive clubhouse presence.
Cons:
Are teams scared off by possible Jayson Werth-type contract?
Postseason career .169 batting average.
If you're looking for a right fielder who can deliver roughly 25 home runs and 85 RBI every regular season, then Nick Swisher is the guy.
However, the horrible postseason average certainly has to be a factor. Swisher's complete ineptitude in meaningful October games will likely take away from what could be a lucrative deal.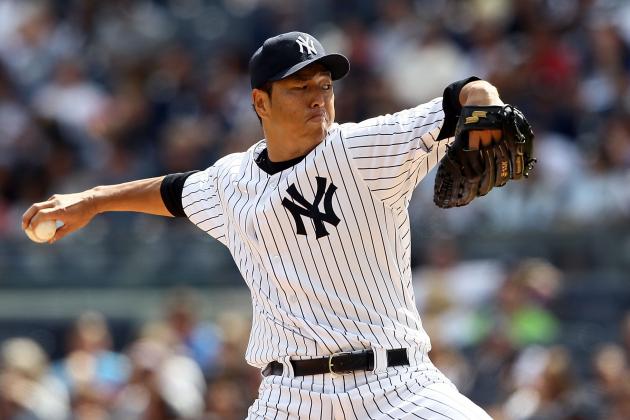 Alex Trautwig/Getty Images

Pros:
Consistency year after year—a sub-3.80 ERA each of the last five seasons.
Throws a ton of ground balls.
Cons:
Will be 38 before next season; any chance of regression?
Honestly, there's not much to dislike about Hiroki Kuroda. He shined on the grand stage with the New York Yankees, and he is willing to take on a one-year contract.
What GM wouldn't want that?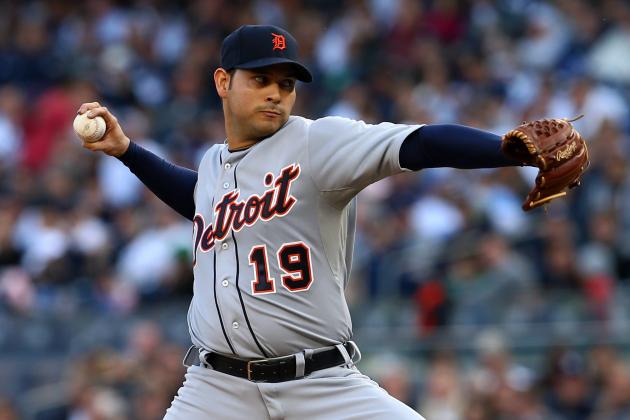 Alex Trautwig/Getty Images

Pros:
Stepped it up big-time in first-ever postseason.
Durability—three straight seasons with 30-plus starts.
Cons:
A .500 pitcher during his career—was the end of the 2012 season a step forward or an anomaly?
With Anibal Sanchez's stellar end-of-season performance in 2012, he catapulted himself to the top of this year's free-agent pitching crop.
He's reportedly looking for a six-year, $90 million contract. However, is that way too much to ask after a stellar two months considering the rest of his resume?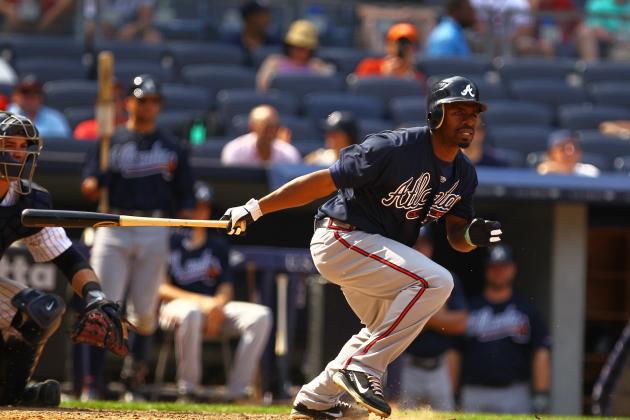 Al Bello/Getty Images

Pros:
Prototypical leadoff hitter—ability to get on base, great bunter, blazing speed.
One of the best defensive center fielders in the game.
Cons:
At 30 years old, how much longer can his greatest asset (his legs) carry him?
Teams seeking center field help certainly have some options this winter with Michael Bourn, B.J. Upton and Josh Hamilton, who all offer different skill sets.
Bourn's speed and ability to handle leadoff duties with aplomb will certainly earn him a big payday.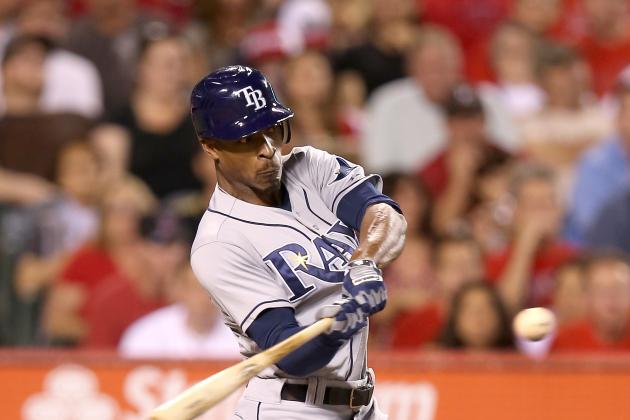 Stephen Dunn/Getty Images

Pros:
Terrific blend of power and speed.
Age (28) gives him major edge.
Cons:
High strikeout rate (26.7 percent) and low on-base percentage (.298).
Still hasn't quite reached potential despite seven full seasons in majors.
I keep waiting for B.J. Upton to take his game to the next level. He did hit a career-high 28 homers in 2012, but the strikeout rate increased as well. At 28 years of age, Upton is one of the youngest free agents on the market; presumably, his prime years are still ahead of him.
That's what teams who bid for his services will be counting on.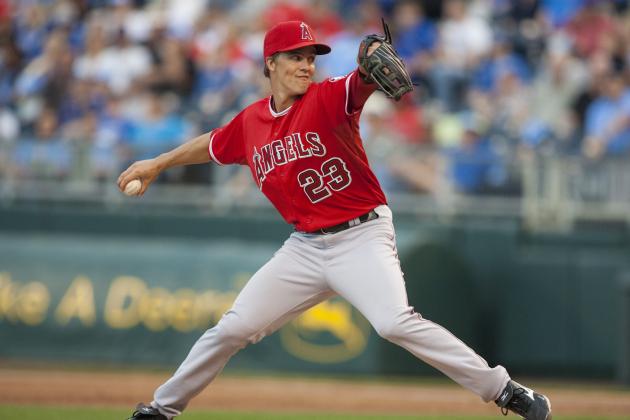 Tim Umphrey/Getty Images

Pros:
Obvious ace potential.
Electric fastball and terrific secondary pitches.
Cons:
Zack Greinke is the premier pitcher on the free-agent market, and rightfully so. Greinke brings a terrific five-pitch repertoire with the ability to use any one of them as a strikeout pitch.
The Los Angeles Angels have already unloaded Ervin Santana and said goodbye to both Dan Haren and Torii Hunter in the hopes of re-signing Greinke. They'll likely need every penny they saved.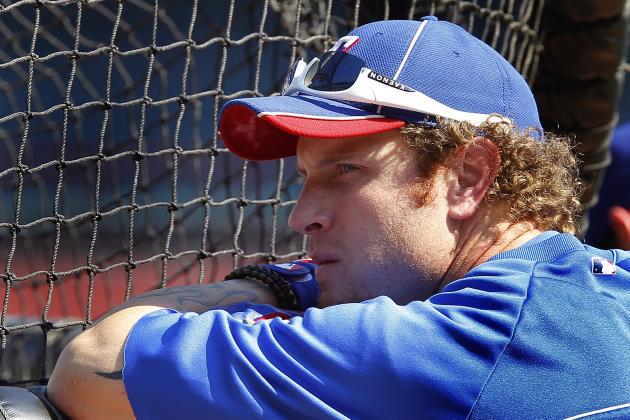 Rick Yeatts/Getty Images

Pros:
Ability to completely carry an offense.
Power to all fields.
When on, doesn't miss a bad pitch.
Cons:
Substance abuse history.
Injury history.
Streaky nature of play.
There may be no free agent in recent history that brings the type of intrigue supplied by outfielder Josh Hamilton.
Despite two incredibly bad months (June and July), Hamilton still hit 43 home runs with 128 RBI in 2012. He stayed largely injury-free this season, logging more than 140 games for only the second time in his career.
The obvious substance abuse history will be a factor in his new contract as well. Those issues alone could prevent Hamilton from getting a contract anywhere close to that of either Albert Pujols or Prince Fielder last year. The talent is comparable, but the issues will get in his way.
Doug Mead is a featured columnist with Bleacher Report. His work has been featured on the Seattle Post-Intelligencer, SF Gate, CBS Sports, the Los Angeles Times and the Houston Chronicle.