MLB MVP 2012: AL and NL Winners, Voting Results and Analysis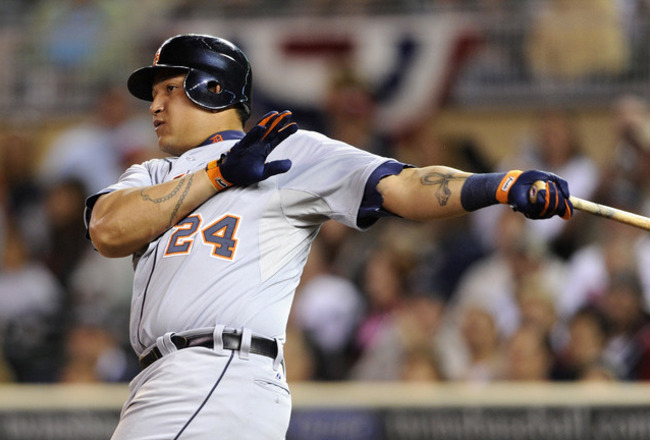 2012 AL MVP Miguel Cabrera is the first-ever Venezuelan winner. Hannah Foslien/Getty Images

Bleacher Report congratulates Miguel Cabrera and Buster Posey, the 2012 AL and NL MVP award winners as selected by the Baseball Writers' Association of America.
Cabrera spent the summer as the Detroit Tigers' third baseman. Posey played catcher and first base for the world champion San Francisco Giants. Both competed deep into the playoffs, but were chosen solely based on their regular-season accomplishments.
Keep on clicking! There's much more to discuss about these individuals, their main competition and the BBWAA voting results.
American League MVP: Miguel Cabrera, Detroit Tigers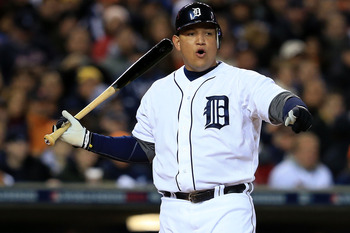 Cabrera broke away from his competition in September.
Doug Pensinger/Getty Images
2012 stats: .330/.393/.606, 44 HR, 139 RBI, 165 OPS+, 6.9 WAR (via Baseball-Reference.com).
Miguel Cabrera led the American League in a host of offensive categories. By finishing atop the three traditional ones—batting average, home runs and runs batted in—he became the first AL Triple Crown winner since 1967.
In an act of selflessness, he moved across the infield to third base to accommodate Prince Fielder. Though defense isn't his forte, Cabrera slimmed down and didn't make as many mistakes as expected.
Miggy showed consistency and durability. He drove in at least 20 runs each month and started 161 games.
However, the 29-year-old saved his best for last with a .333/.395/.675 triple-slash line in September as the Detroit Tigers fought for the AL Central title.
Without his terrific success down the stretch, the team would've likely missed the postseason. Without him for the entire season, Detroit might have finished below .500.
AL MVP Voting Results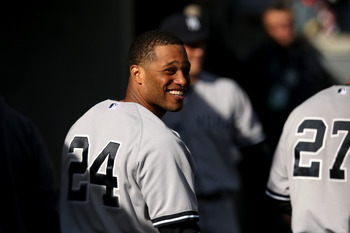 Robinson Cano struggled in the playoffs, but excelled during the regular season.
Jonathan Daniel/Getty Images
Two tenured writers from each of the 14 AL cities (28 total) gave their input.
To reiterate, players were only judged by what they contributed during the regular season. Voting ended on Oct. 4, but the BBWAA cruelly kept the results hidden ever since to build suspense.
A 14-9-8-7-6-5-4-3-2-1 scoring system translated the ballots into point values.
Click here for a detailed breakdown of the AL MVP voting results.
AL Ballots of Interest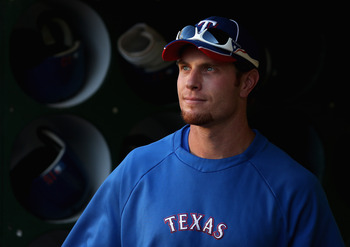 Josh Hamilton got as many fourth-place votes as ninth-place votes.
Ezra Shaw/Getty Images
Every writer is entitled to his/her own opinion. These individuals strayed from the pack when choosing the American League's top players:
Sheldon Ocker, Akron Beacon Journal
1. Miguel Cabrera, 2. Adrian Beltre, 3. Mike Trout, 4. Robinson Cano, 5. Josh Hamilton, 6. Albert Pujols, 7. Adam Jones, 8. Fernando Rodney, 9. Alex Rios, 10. Prince Fielder
Unlike the other BBWAA voters, Ocker did not consider Trout a top-two player.
Mark Gonzalez, Chicago Tribune
1. Miguel Cabrera, 2. Mike Trout, 3. Derek Jeter, 4. Adrian Beltre, 5. Alex Rios, 6. Prince Fielder, 7. Josh Hamilton, 8. Robinson Cano, 9. Adam Jones, 10. Edwin Encarnacion
Jeter, the MLB hits leader, slid further down other ballots because of his below-average defense. Chicago's Alex Rios spent the year overshadowed by Adam Dunn's bounce-back season and his team's solid starting pitching.
Evan Grant, Dallas Morning News
1. Miguel Cabrera, 2. Mike Trout, 3. Robinson Cano, 4. Adrian Beltre, 5. Justin Verlander, 6. David Price, 7. Prince Fielder, 8. Adam Jones, 9. Yoenis Cespedes, 10. Josh Hamilton
No local love for Hamilton?
Grant slotted the power-hitting outfielder behind nine other AL stars. Among them, two starting pitchers and Cespedes, whose injuries caused him to miss 30-plus games and serve as designated hitters 26 times.
National League MVP: Buster Posey, San Francisco Giants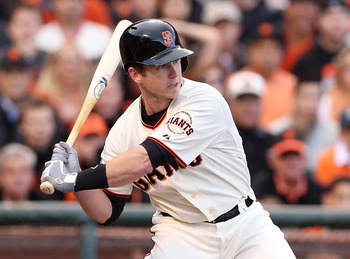 Posey wins NL MVP in his first full MLB season.
Christian Petersen/Getty Images
2012 stats: .336/.408/.549, 24 HR, 103 RBI, 172 OPS+, 7.2 WAR (via Baseball-Reference.com).
No disrespect to Atlanta's Kris Medlen, but Buster Posey was baseball's best second-half player. His .385/.456/.646 line and 60 RBI following the All-Star break allowed the San Francisco Giants to pull away in the NL West division.
Posey played home games at AT&T Park, where strong winds and pitcher-friendly dimensions kept well-hit balls from reaching the stands. His 2012 splits indicate that he wasn't immune (courtesy of Baseball-Reference.com).
The NL Comeback Player of the Year led all batters in OPS+, a stat that took those harsh conditions into consideration.
He gunned down better than 30 percent of would-be base-stealers and showed versatility in working 29 games at first base.
Posey got a ringing endorsement from Matt Cain earlier this season. The right-hander threw a dominant perfect game in June and admittedly followed his catcher's signs every step of the way.
NL MVP Voting Results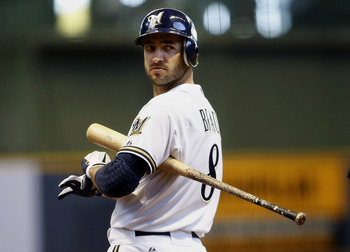 2011 NL MVP Ryan Braun fell a few votes short of repeating.
Mark Hirsch/Getty Images
In all, 32 writers weighed in because the National League occupies 16 cities. San Francisco's Buster Posey was their near-unanimous choice.
Only two teams—the Colorado Rockies and Houston Astros—didn't have any of their players receive top-10 votes.
Again, the BBWAA used the 14-9-8-7-6-5-4-3-2-1 scoring system to determine the winner.
Click here for a detailed breakdown of the NL MVP voting results.
NL Ballots of Interest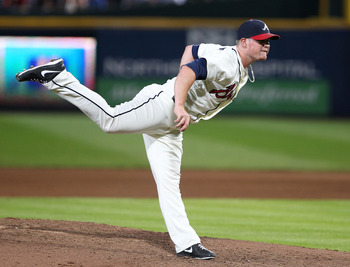 One BBWAA writer was very impressed with Craig Kimbrel's season.
Mike Zarrilli/Getty Images
BBWAA writers generally agreed about the top couple players, but deviated from there.
In total, 35 NL players received some name recognition:
Tracy Ringolsby, Fox Sports
Ballot: 1. Buster Posey, 2. Craig Kimbrel, 3. Ryan Braun, 4. Matt Holliday, 5. Ryan Zimmerman, 6. Brandon Phillips, 7. Andrew McCutchen, 8. David Wright, 9. Gio Gonzalez, 10. Yadier Molina
Ringolsby placed Kimbrel and Holliday at least two spots higher than any of her peers. She undervalued Molina and concluded that Zimmerman's defense and intangibles compensated for a pedestrian .824 OPS.
Jon Heyman, CBS Sports
Ballot: 1. Buster Posey, 2. Ryan Braun, 3. Yadier Molina, 4. Andrew McCutchen, 5. Adam LaRoche, 6. Craig Kimbrel, 7. Kris Medlen, 8. Aramis Ramirez, 9. Bryce Harper, 10. Aroldis Chapman
San Diego Padres third baseman Chase Headley didn't even crack Heyman's top 10. Meanwhile, three pitchers—none of whom exceeded 140 innings this past season—were No. 7 or better.
Is Miguel Cabrera Deserving?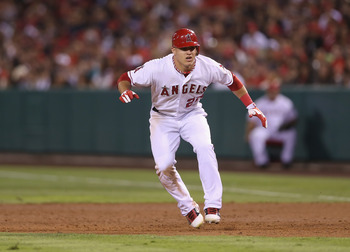 The BBWAA snubbed Mike Trout, the true AL MVP.
Jeff Gross/Getty Images
Not really.
Miguel Cabrera's season was terrific by every measure, but he didn't come close to matching Mike Trout in terms of overall value.
The Los Angeles Angels' rookie excelled in all facets following his late-April call-up from Triple-A. He outperformed Cabrera by the aforementioned OPS+ tool and crushed him in Wins Above Replacement, 10.7 to 6.9 (via Baseball-Reference.com).
The popular counterpoint, "But Trout's team missed the playoffs," doesn't hold water. He wasn't responsible for Albert Pujols' slow start or L.A.'s bullpen deficiencies. Here's what matters—he made a far greater impact than anybody else in 2012.
Miggy should have been contending for second place with Adrian Beltre of the Texas Rangers and Robinson Cano of the New York Yankees.
Instead, the old-school writers glorified his Triple Crown. What seemed destined to be a hard-fought battle between sabermetricians and traditionalists went decidedly to the latter.
Is Buster Posey Deserving?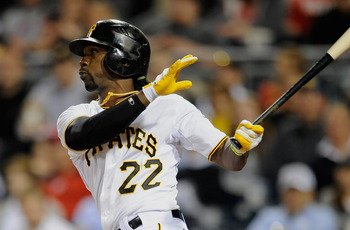 McCutchen faded down the stretch, while Posey continued to amaze.
Joe Sargent/Getty Images
Yeah, you could say that.
The NL finalists posted similar offensive numbers across the board, but Buster Posey kept pace at the most physically demanding position.
He also had the edge in strikeout rate. Ryan Braun, Chase Headley and Andrew McCutchen each whiffed 128 times or more (compared to Posey's total of 96). Contact ability contributes to productive outs and shouldn't be overlooked.
Neither of those qualifications discredited Yadier Molina of the St. Louis Cardinals. MLB.com lists his numerous defensive honors, and all of them were well-earned. Molina's development into an intimidating, middle-of-the-order batter put him legitimately in the MVP conversation.
Ultimately, Posey deserves the nod because of his superior late-season performance.
Keep Reading