2013 NFL Draft: Ranking College Football's Top Prospects Heading into Week 12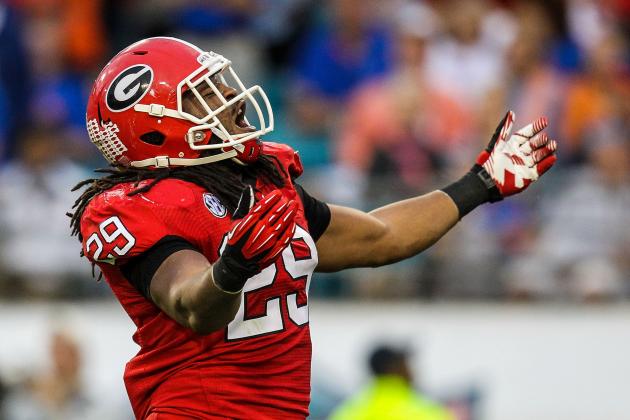 Daniel Shirey-US PRESSWIRE
Georgia LB Jarvis Jones has put together another sensational season in 2012
There are just three weeks left in the college football regular season, but things are still far from settled in the battle to be the No. 1 overall pick of the 2013 NFL draft. So far this season, we've seen plenty of high-profile players rise to the occasion and gain the trust of NFL scouts with their outstanding performances. Yet we've also seen more than a few well-known prospects who received a ton of preseason publicity falter and fail to live up to early expectations.

As we head into the 12th weekend of the 2012 season, it's clear that there's still a lot to be settled in the coming months leading up to next April. The 2013 draft class doesn't have a surefire No. 1 overall pick like Andrew Luck or Sam Bradford. At this point, no quarterback prospect has even proven that he is undoubtedly worth a top-10 pick, let alone the No. 1 pick in the draft.

Due to the lack of true standout prospects at the offensive skill-positions, the first round of the 2013 draft will likely be dominated by defensive players, especially defensive linemen, given the abundance of potential star pass-rushers who will be available.

It's still too early to tell just exactly how things will play out next April. Nevertheless, here's a look at how college football's top 25 prospects for the 2013 NFL draft stack up at this point in the season.
Begin Slideshow

»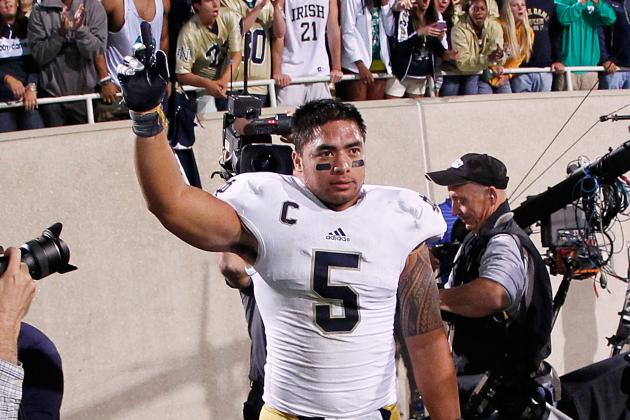 Gregory Shamus/Getty Images
Manti Te'o
Manti Te'o showed a lot of loyalty to the Notre Dame football program when he decided to pass up the chance to be a first-round pick in the 2012 NFL draft to return to South Bend for his senior year. It's turned out to be a wise decision for Te'o, as he's developed into the most dominant defender in college football this season.
The intimidating inside 'backer has been the linchpin of an Irish defense that currently ranks in the Top 10 nationally in scoring defense, total defense and rushing defense.
Te'o has fought through the adversity of losing both his grandmother and his girlfriend in the middle of the season and managed to still play at a remarkably high level. He's played with the type of passion, intensity and determination that you want to see from a true defensive leader.
The 6'2'', 255-pound senior is on pace to easily rack up over 100 tackles for the third straight season. He's also shown great improvement in pass coverage in 2012, as he's picked off six passes and broken up another four throws.
Now that the NFL has become such a pass-heavy league, inside linebacker may not be a priority position that's valued as highly as it once was. However, it still surely helps to have a rock-like run-stuffer in the middle of your defense.
This year, Te'o has proven that he is truly an elite defender by putting together a Heisman-caliber senior season. Not only has the star linebacker solidified his status as a top-10 pick for the 2013 draft, he's shown that he deserves serious consideration to be the No. 1 overall selection.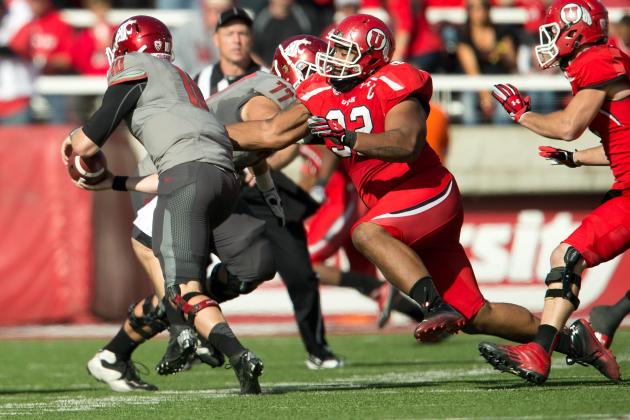 Russ Isabella-US PRESSWIRE
Star Lotulelei
When Haloti Ngata came out of Oregon back in the 2006 NFL draft, he was considered to be the type of defensive lineman who could come in and instantly solidify a team's run defense. The same thing was said about Ndamukong Suh when he came out of Nebraska for the 2010 draft.
Now, there is another top defensive tackle prospect, Utah's Star Lotulelei, who belongs in that same category as Ngata and Suh in terms of his potential to instantly strengthen the interior of an NFL defense.
Lotulelei is a massive tackle who possesses rare strength and power. Not only is the 6'4'', 320-pound senior big and strong, he's also surprisingly agile for his immense size, which is why he's such a nightmare to try to block.
There's a reason that Utah has one of the top run defenses in the country this season. The reason the Utes are allowing just 3.3 yards per carry in 2012 is because they have one of the best run-stuffing defensive tackles of the last decade in the middle of their defense.
There will surely be plenty of teams in the 2013 NFL draft that would like to acquire Lotulelei's valuable services.
Jamie Sabau/Getty Images
Johnathan Hankins
Last year, Johnathan Hankins stepped into the starting lineup for the Ohio State defense, and he turned out to be one of the most disruptive defenders in the country. Hankins notched 67 tackles, including 14 tackles for loss, as well as three sacks.
The 6'3'' 322-pound junior has once again been the Buckeyes' most valuable defender in 2012. So far this season, he's totaled 50 tackles, and he's constantly created chaos in the trenches.
Hankins bears a strong physical resemblance to Vince Wilfork of the New England Patriots. Like Wilfork, he's a big, agile, powerful and tough tackle who loves to battle, and he's adept at shedding blocks, penetrating into the backfield and making key stops.
There's really nothing that Hankins can't do, as he's got the strength and size to shut down an opposition's running game, and he's also explosive enough to break off blocks and rush the passer.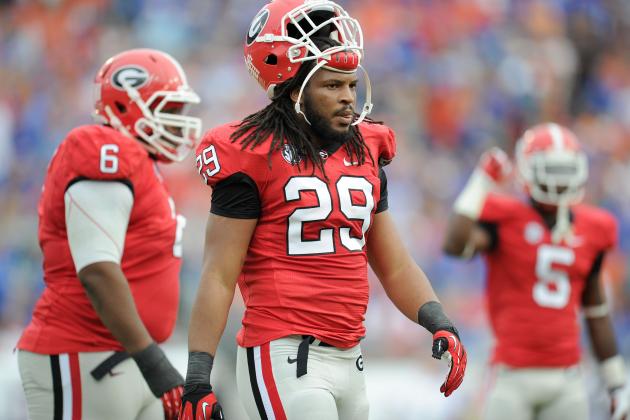 Kevin Liles-US PRESSWIRE
Jarvis Jones
Following a season in which he set the SEC on fire during his debut campaign in the conference, Jarvis Jones has managed to take his game to an even higher level in 2012.
Jones, who transferred to Georgia following his freshman year at USC, has proven to be a perfect fit as a rush linebacker in the Bulldogs' 3-4 defense. A year after leading the league with 13.5 sacks and 19.5 tackles for loss, the explosive edge-rusher is now on pace to surpass those totals this season.
In just eight games of action, Jones has already racked up 10.5 sacks, 56 total tackles, including 17 tackles for loss, 13 quarterback hurries, five forced fumbles and an interception
The 6'3'', 241-pound junior has displayed a knack for creating game-changing plays, and he's proven that he can be a constant disruptive menace for opposing quarterbacks.
Although he would be best-suited for a role as a 3-4 outside linebacker in the NFL, Jones would likely be able to succeed in any type of defensive system at the pro level, given his type of size, speed and natural instincts.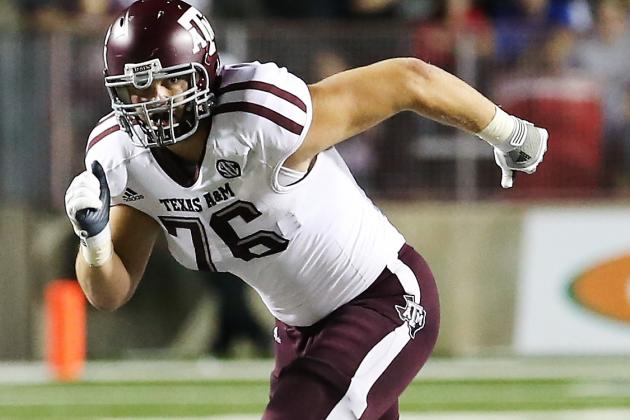 Kevin Jairaj-US PRESSWIRE
Luke Joeckel
In the past five NFL drafts, there have been a total of eight offensive tackles taken in the top 10. The next tackle who appears destined to join that illustrious group is Texas A&M's Luke Joeckel.
Just like recent franchise tackle prospects Jake Long, Joe Thomas and Matt Kalil, Joeckel has all the physical tools that scouts are looking for in a potential Pro Bowl bookend. The 6'6'', 310-pound junior is extremely athletic and nimble for his size, and he's shown the type of power and physicality to overwhelm opposing defenders in the running game.
Joeckel has started every single game since arriving at Texas A&M as a heralded high school recruit back in 2010. He's been the Aggies' undisputed leader in the trenches since his freshman year.
Just like every other college tackle, Joeckel still has to get stronger and work on his fundamentals in order to compete with the type of defensive ends he'll face at the NFL level. Still, during his time spent in College Station, he's shown that he has the total physical package and proper work ethic to develop into a standout blocker early in his pro career.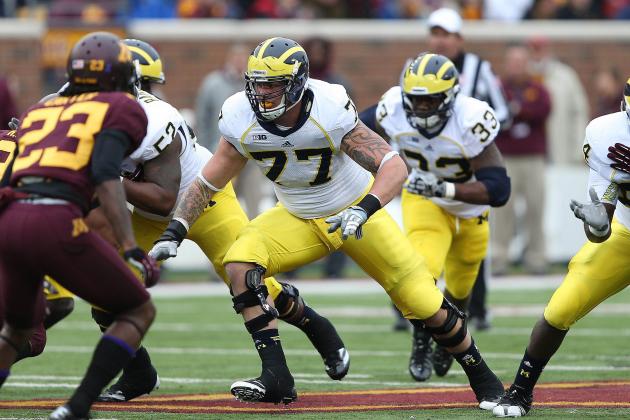 Jesse Johnson-US PRESSWIRE
Taylor Lewan
Michigan's offense has been a big disappointment this season, but one player who certainly hasn't disappointed is left tackle Taylor Lewan. After showing signs of struggle in the season opener against Alabama, Lewan has rebounded and looked like the top-level tackle prospect that many were expecting him to be.
The 6'8'', 309-pound junior is a gigantic lineman who can simply engulf and overpower any defender that gets in his way. What's so impressive about Lewan, however, is that he's incredibly athletic for his size, which is why many have compared him to former Wolverine great Jake Long.
Long isn't actually the NFL tackle that Lewan compares most favorably to, though. Oakland's Jared Veldheer is the player that he resembles the most in terms of physical makeup and playing style.
Like Veldheer, Lewan has the chance to develop into the leader of an NFL offensive line very early in his pro career.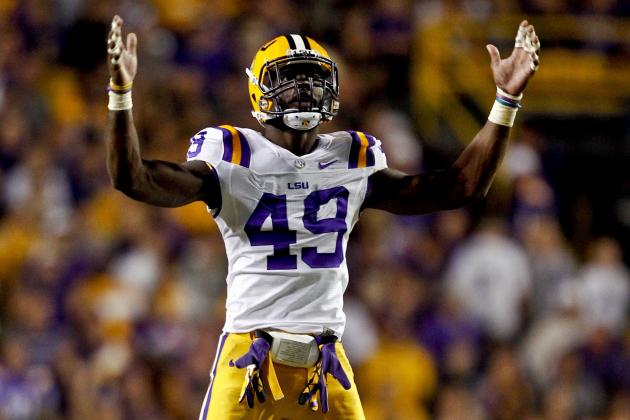 Derick E. Hingle-US PRESSWIRE
Barkevious Mingo
Drafting a collegiate player based on his potential instead of his proven production can be a bit of a risky strategy. But when that risk does pay off, it usually pays off in a big way, and that could be what we see with Barkevious Mingo in three or four years.
Mingo has not produced at the high rate that many were expecting this season following his sensational sophomore campaign in 2011. The 6'5'', 240-pound junior has totaled just 29 tackles and four sacks in 10 games. However, if you've actually watched LSU play this year, then you know why he's such an easy prospect to become enamored with.
Admittedly, Mingo is still very raw and unrefined at this point in his development, but that's to be expected since he didn't start playing organized football until midway through high school.
What makes the former 4-star recruit so intriguing is his rare physical gifts and natural ability. The freakishly athletic edge-rusher possesses the speed and burst to fly up the field and victimize slower offensive tackles, and he's also got a long wingspan to disrupt passing lanes.
He's the type of long, lean and athletic defensive end who seems perfectly built to excel as a 3-4 rush linebacker in pros.
The NFL player that Mingo most closely resembles from a physical standpoint is Tennessee's Kamerion Wimbley. However, he ultimately has the chance to develop into an Aldon Smith-caliber difference-maker once he reaches his peak in the pros.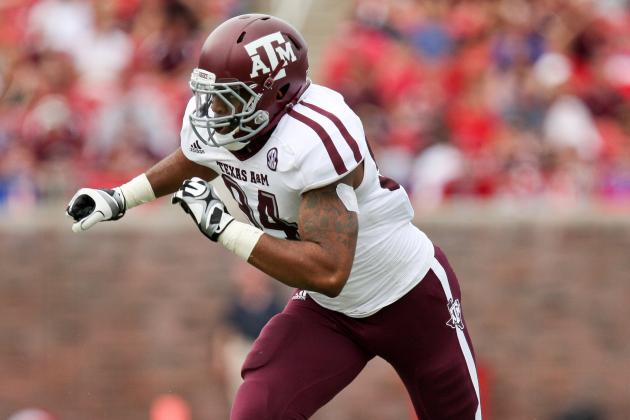 Thomas Campbell-US PRESSWIRE
Damontre Moore
Star freshman quarterback Johnny Manziel has gotten pretty much all of the credit for Texas A&M's surprising success this season. But another Aggie who deserves a ton of recognition for his efforts in 2012 is DE Damontre Moore.
After moving from his hybrid Joker linebacker position to defensive end in the team's new 4-3 system during the offseason, Moore has looked like a natural in his new role, exploding out of a 3-point stance.
The 6'4'', 250-pound junior has been one of the most productive defenders in the country this year. He currently leads the nation with 20 tackles for loss, and he's tied for first with 12.5 sacks.
Moore may not be an elite athlete like former teammate Von Miller. However, he possesses the same type of pass-rushing instincts, and he knows how to burst into the backfield and come up with key negative stops.
Ultimately, Moore should develop into an impact edge-rusher as either a 4-3 defensive end or a 3-4 rush linebacker at the next level.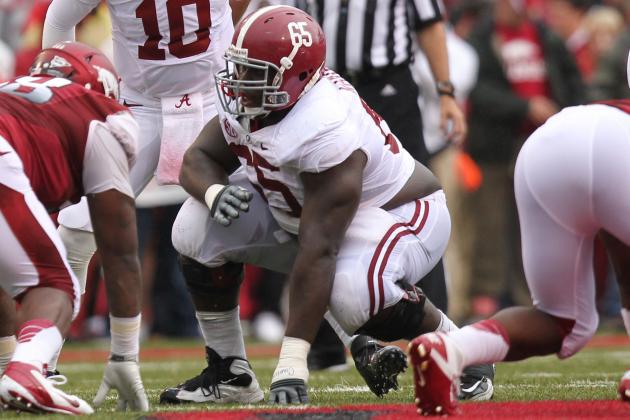 Nelson Chenault-US PRESSWIRE
Chance Warmack
It's very rare to see an offensive guard selected in the top 10 of the NFL draft. Chris Naeole was the last guard to crack the top 10 when he was picked No. 10 overall by the New Orleans Saints in the 1997 draft.
Chance Warmack is definitely capable of ending that drought in 2013, though. He's the type of rare guard prospect who is worthy of such a high pick.
Warmack is good enough to start for a number of NFL teams right now. His run-blocking skills are at an advanced level that you just don't see very often from college linemen.
The 6'3'', 320-pound senior is a three-year starter who has opened up huge holes for notable backs like Mark Ingram and Trent Richardson during his time in Tuscaloosa. Now, he's paving the way for the dynamic duo of Eddie Lacy and T.J. Yeldon to shine this season.
If he lives up to his potential in the pros, Warmack has the chance to develop into a similar type of Pro Bowl guard as another former SEC standout, Ben Grubbs of the New Orleans Saints.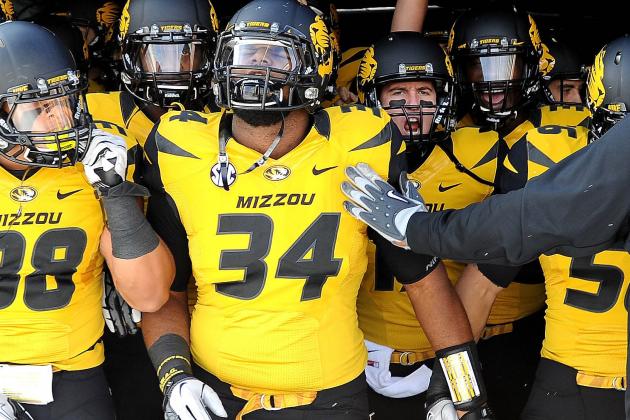 Dak Dillon-US PRESSWIRE
Sheldon Richardson
Missouri certainly hasn't looked properly prepared for life in the SEC this season. However, one player who has been flourishing against the conference's tough competition is DT Sheldon Richardson.
After looking solid in his first season following his transfer from the JUCO ranks in 2011, many were expecting Richardson to have a big breakout season in 2012, and he's delivered just that.
The 6'4'', 295-pound junior has already racked up a team-leading 70 tackles, including 9.5 tackles for loss, and he's forced three fumbles. He's also had four sacks and seven quarterback hurries,
Richardson is incredibly quick and athletic for his size. What makes him so valuable is that he's the type of defensive lineman that could end up being equally as effective in either a 3-4 defensive system or a 4-3 scheme. He's truly got the versatility to flourish in basically any type of defensive front in the NFL, and that should only serve to enhance his already soaring stock.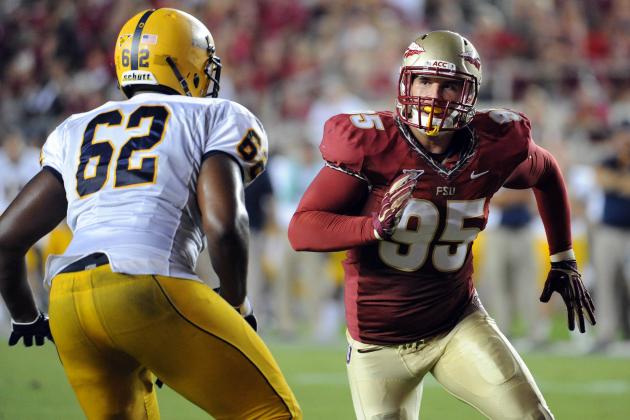 Melina Vastola-US PRESSWIRE
Bjoern Werner
Unfortunately, Florida State lost DE Brandon Jenkins, one of the ACC's best defenders, in the first game of the season. However, luckily for the Seminoles, their other starting end, Bjoern Werner, has stepped up and put together a true breakthrough campaign in 2012 to make up for Jenkins' absence.
Werner has been an absolute force in 2012, and he's been one of the toughest defensive ends to contain in the country. The 6'4'', 255-pound junior has racked up eight sacks, 12.5 tackles for loss and broken up six passes this season.
The native of Germany is still rough around the edges, but he has the prototypical frame, strength, quickness and overall toughness to develop into a dangerous defensive end at the NFL level.
If he continues to get bigger and stronger, Werner has a chance to one day become the same type of dominant difference-maker as J.J. Watt of the Houston Texans.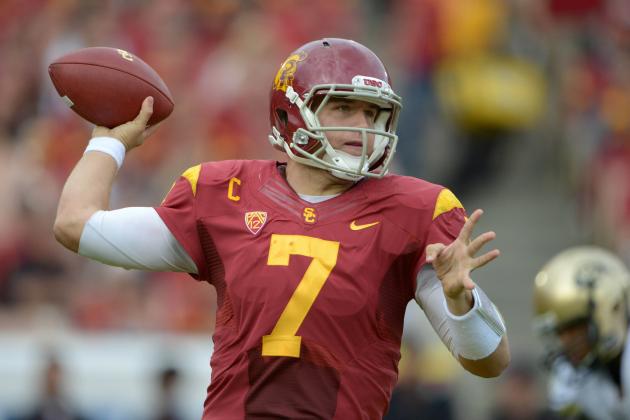 Kirby Lee-US PRESSWIRE
Matt Barkley
When Matt Barkley announced that he was going to return to USC for his senior year, the media instantly declared him the early favorite to win the Heisman Trophy and the frontrunner to be the No. 1 overall pick in the 2013 draft.
It didn't take long for Barkley to quickly lose both of those labels, though. The Trojans have not come close to living up to expectations this season, going just 7-3. The senior signal-caller has gone from the golden boy of the offseason to the face of the most disappointing team of 2012.
While his team has not lived up to the hype, Barkley certainly hasn't had a bad season by any means. He's actually been one of the most efficient passers in the country, completing 64 percent of his passes for 2,972 yards and throwing 33 touchdowns.
Barkley may not have the prototypical size or rocket for an arm that you'd expect to see from an NFL franchise quarterback. But he makes up for his shortcomings with his accuracy, high football IQ, intangibles and his determination to succeed.
Although he may not be on the same level as recent celebrated quarterback prospects such as Andrew Luck, Robert Griffin III and Cam Newton, Barkley definitely has the tools to develop into a successful starter that you can build a winning team around.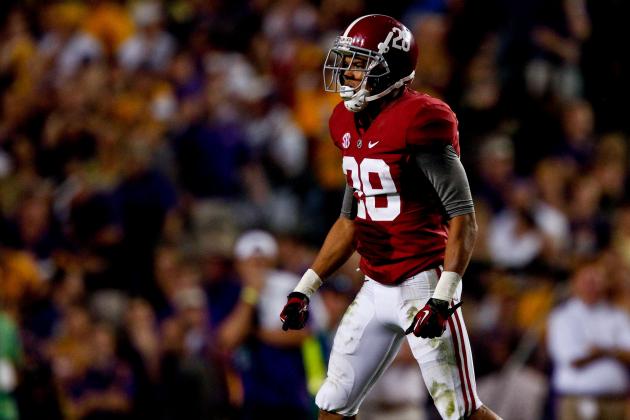 Derick E. Hingle-US PRESSWIRE
Dee Milliner
Dee Milliner arrived at Alabama back in 2010 as one of the most highly touted prospects of the 2010 recruiting class following an outstanding career at Stanhope Elmore High School. After waiting his turn behind Dre Kirkpatrick and DeQuan Menzie, Milliner's finally gotten the chance to be a full-time starter for the Tide's top-ranked defense this season.
So far, he's certainly made the most of the opportunity.
The 6'1'', 199-pound junior has been one of Alabama's most consistent performers throughout the season. Milliner has totaled 44 tackles, including 27 solo stops, two interceptions and 1.5 sacks, and he's broken up an SEC-leading 14 passes.
The big, athletic corner has displayed terrific coverage ability and superior ball skills this season, and he's given scouts every reason to believe that he's the best cornerback prospect in the 2013 draft class.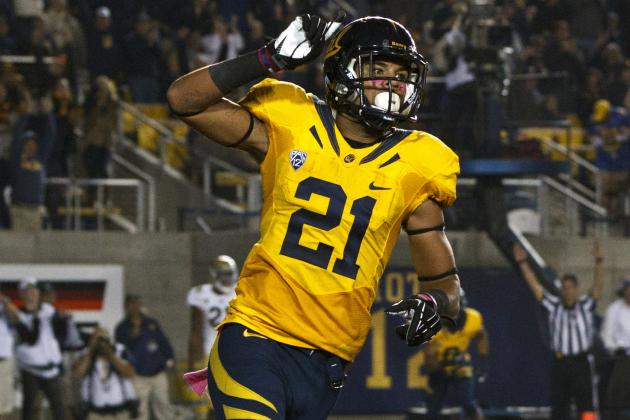 Jason O. Watson/Getty Images
Keenan Allen
Many recruiting analysts initially expected Keenan Allen to line up at safety for Cal when he arrived in Berkeley as a 5-star rated recruit out of North Carolina's Northern Guilford High School. However, the Golden Bears coaching staff quickly saw that Allen's talents would best be used on the offensive side of the ball.
The decision to stick Allen at wide receiver turned out to be a very wise choice.
After an encouraging freshman debut season, Allen quickly emerged as one of the most dangerous receivers in the country as a sophomore in 2011 when he caught 98 passes for 1,343 yards. Although injuries and inconsistent quarterback play have hindered his production this season, the 6'3'', 210-pound junior has still managed to catch 61 passes for 737 yards and six touchdowns in just nine games.
Allen may lack true blazing deep speed, but he has every other trait—size, hands, explosiveness, fluid and route-running, leaping ability and overall playmaking skills—that you look for in a potential go-to No. 1 receiving target in the NFL.
If his knee injury heals and doesn't linger for much longer, Allen has done enough in his collegiate career to deserve being the first receiver selected in the 2013 draft.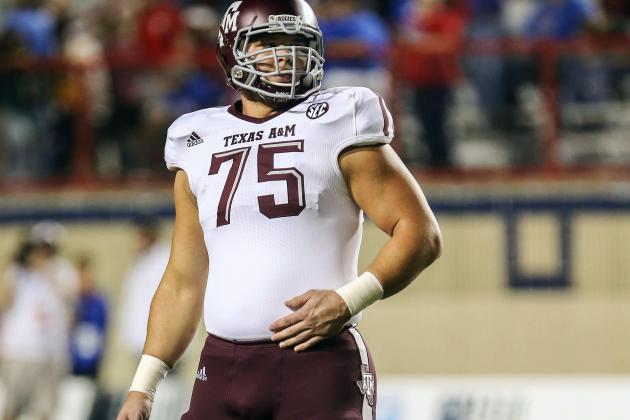 Kevin Jairaj-US PRESSWIRE
Jake Matthews
Luke Joeckel isn't the only Texas A&M tackle who could end up being a top-20 NFL draft pick next April.
Joeckel's teammate, Jake Matthews, also happens to be one of the most gifted offensive linemen in the country.
Matthews, the son of Hall of Fame tackle Bruce Matthews and the cousin of Packers linebacker Clay Matthews, obviously has the type of bloodlines and DNA that will have scouts very excited.
The 6'5'', 305-pound junior is NFL-ready right now. Matthews is a complete offensive tackle who should develop into a cornerstone of an NFL offensive line for years to come, whether he stays on the right side or makes the switch over to left tackle in the pros.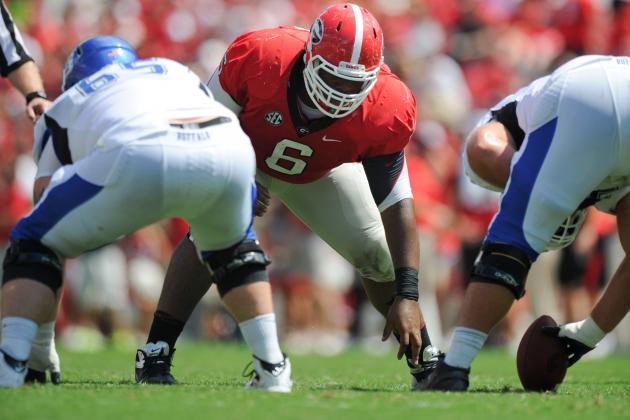 Kevin Liles-US PRESSWIRE
John Jenkins
One quick look at John Jenkins is all it takes to realize why any NFL team that employs a 3-4 defense would love to add him to the mix.
At 6'3'', 350-plus pounds, Jenkins is a mountain of a man, who combines a monstrous frame with outstanding pure power to create an ultimate run-stopping beast.
Jenkins is the type of nose tackle who can force double-teams and clog up running lanes on every snap.
Although he may not fly around the field and make a ton of flash plays, the big middle man helps free up his fellow defenders to make tackles by causing havoc in the interior and disrupting opposing blockers.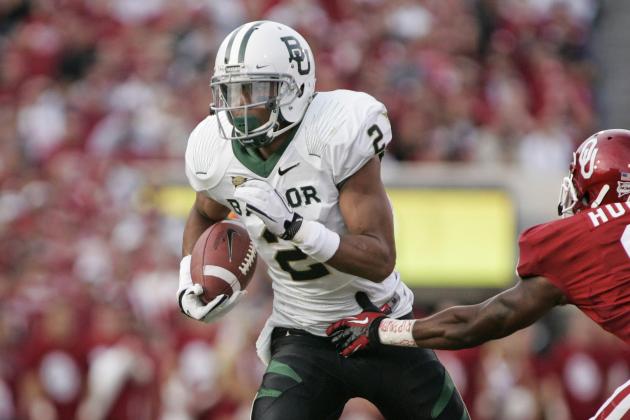 Brett Deering/Getty Images
Terrance Williams
Baylor may have lost star Heisman-winning quarterback Robert Griffin III and Kendall Wright, the school's all-time leading receiver and the 20th overall pick in the 2012 NFL draft. However, the Bears have still managed to put together one of the most potent and productive passing offenses in the country yet again this season, even without RG3 and Wright.
The star of the team's powerful passing attack has been WR Terrance Williams, who has made a seamless transition, taking over for Wright as the team's new go-to receiving weapon in 2012.
Williams has hauled in 77 passes for 1,431 yards and 10 touchdowns, and he's proven that just like Wright, he has legitimate big play ability.
The 6'2'', 205-pound senior has a tremendous size-speed combination that makes him a real matchup nightmare for any cornerback who unfortunately has to try to cover him.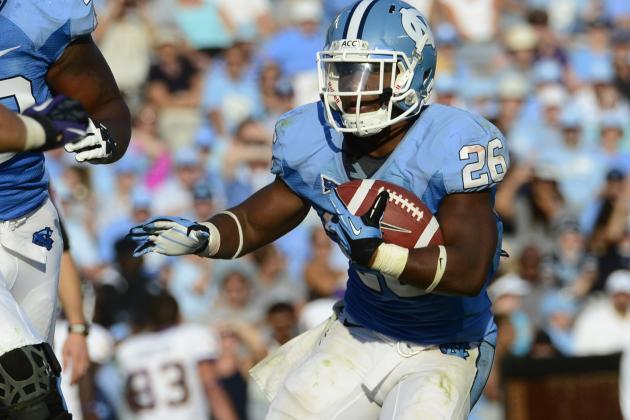 US PRESSWIRE
Giovani Bernard
There likely won't be a running back selected in the top 10 of the 2013 NFL draft. But there are definitely a few young rushers who have first-round potential. The best of them is North Carolina's Giovani Bernard.
Bernard has been a versatile and highly productive playmaker for the Tar Heels since he returned from a knee injury that kept him out for his entire freshman season in 2010.
After totaling 1,615 yards of offense and scoring 14 touchdowns last year, the 5'10'', 205-pound redshirt sophomore has managed to take his game to the next level in 2012. Bernard currently leads the nation with an average of 177 yards from scrimmage per game, and he ranks eighth with 15 total touchdowns scored, even though he missed two games due to injury.
The dynamic triple-threat is the type of dangerous weapon who can do major damage as a runner, a receiver or a returner. Bernard may not be the biggest back in the country, but he possesses elusive speed and a tremendous feel for creating big plays.
If his knee checks out with NFL doctors, there's no reason that the explosive home run-hitting sophomore star shouldn't be the first running back selected in the 2013 NFL draft if he decides to declare.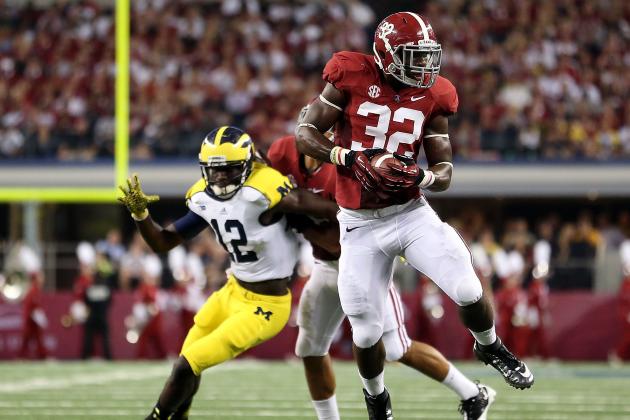 Ronald Martinez/Getty Images
CJ Mosley
Over the last few years, Alabama has produced plenty of big-name linebacker prospects, such as Dont'a Hightower, Courtney Upshaw, Rolando McClain and Demeco Ryans.
Now, it looks like C.J. Mosley will be the next coveted linebacker that the Tide will send off to the NFL. Mosley has stepped into a leadership role this season and become the true centerpiece of the Tide's dominant defense.
The 6'2'', 232-pound junior currently leads the team with 83 tackles, including 51 solo stops, and he's also racked up four sacks and picked off two passes.
Mosley has the size, athleticism, instincts, pass-coverage ability and recognition skills to handle playing either inside or outside at the next level. But no matter where he ends up lining up, he should develop into a defensive star in the NFL.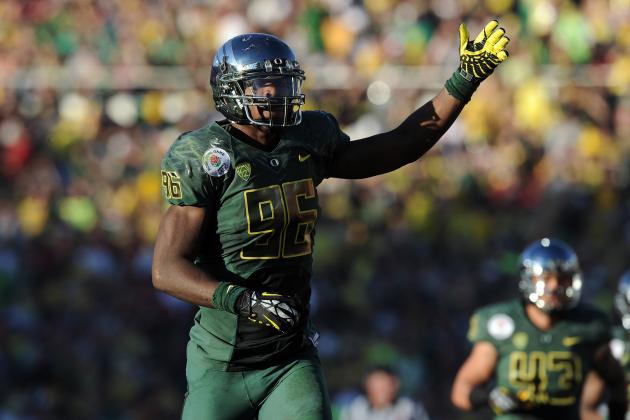 Harry How/Getty Images
Dion Jordan
Oregon's high-powered offense, led by QB Marcus Mariota and running backs Kenjon Barner and De'Anthony Thomas, has received all of the credit for the Ducks' success this season. However, if you're looking for the team's best NFL prospect, then you're going to have to look on the defensive side of the ball to find him.
That's where hybrid defensive end-outside linebacker Dion Jordan has been causing some serious havoc this season.
Jordan has followed up last year's breakout junior campaign, for which he earned All-Pac-12 honors after racking up 7.5 sacks and 13.5 tackles for loss, with another outstanding effort in 2012. The 6'7'', 243-pound senior has totaled five sacks, 8.5 tackles for loss and forced three fumbles.
The highly athletic converted tight end is still getting used to all the nuances of being an edge-rusher, but he's clearly got the explosiveness, instincts and strength it takes to make a huge impact.
If he continues to get stronger and add some more muscle to his lengthy frame, there's no telling just how good Jordan could be at the next level.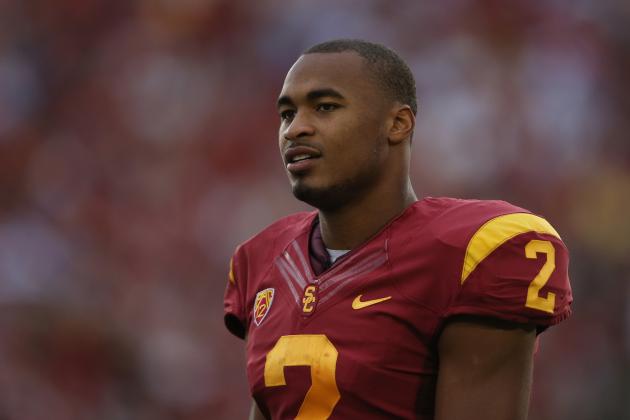 Jeff Gross/Getty Images
Robert Woods
Robert Woods has been overshadowed by fellow wide receiver Marqise Lee, who has put together a Heisman-worthy campaign in 2012. However, Woods has still managed to go about his business and have a solid season of his own.
The 6'1'', 190-pound junior has once again been a dependable and reliable receiving target for QB Matt Barkley. Woods has caught 61 passes for 653 yards and 10 touchdowns this season.
He may not possess one truly special trait that sets him apart and makes scouts turn their heads in amazement. However, the Trojan pass-catcher is still about as solid of a receiver as you're going to find in college football.
Woods may never develop into one of the top five wide receivers in the NFL, but he still has what it takes to handle a role as a team's No. 1 receiving option. Ultimately, the impressive former 5-star recruit should develop into a similar type of steady playmaker in the pros as Colts WR Reggie Wayne, a player with whom he shares many physical attributes.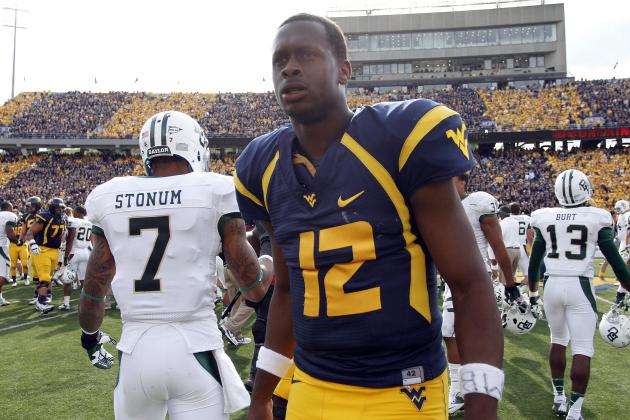 Justin K. Aller/Getty Images
Geno Smith
Geno Smith started off the 2012 season as the hottest player in the country, and he was the top performer throughout the month of September. After watching him put up gaudy passing numbers in his first five games, many started talking about Smith as the early Heisman frontrunner and a candidate to be the No. 1 overall pick in the 2013 draft. However, those days seem like a distant memory now.
West Virginia has lost four straight games, three of them blowouts, and Smith has not looked like the consistent and highly accurate passer we saw in the first month of the season.
Still, even though the strong-armed senior signal-caller has gone into a slump, he's shown flashes of his explosive arm talent, mobility and pinpoint accuracy at certain times. Plus, it's hard to put the Mountaineers' recent losing streak squarely on his shoulders, since West Virginia's defense has been absolutely putrid.
Smith clearly has all the physical tools to be a successful starter in the NFL, and he definitely deserves to be a first-round pick next April. In order to repair his damaged draft stock, however, he's going to need to rebound and finish the season strong, and that starts this weekend with a big matchup against Oklahoma.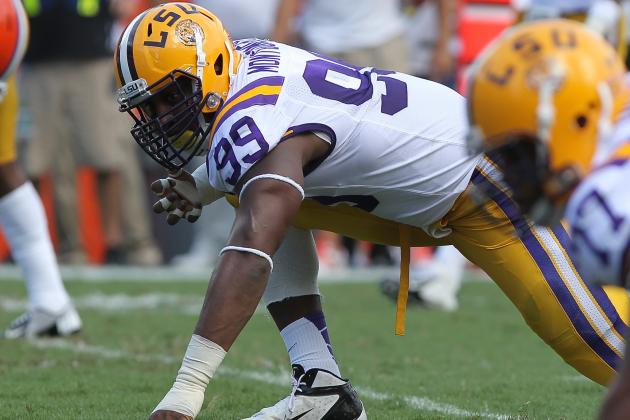 Kim Klement-US PRESSWIRE
Sam Montgomery
Sam Montgomery may not be the same caliber of elite athlete as his teammate and fellow defensive end Barkevious Mingo. However, Montgomery doesn't necessarily have to be a great athlete, given the way he plays the game.
The 6'4'', 260-pound junior is an aggressive edge-rusher who has a motor that never stops, and he plays the game with type of mean streak and intensity that coaches love to see.
Montgomery may not have the highest ceiling out of the deep group of pass-rushers in the 2013 draft class. But scouts pretty much know exactly what they're going to get from him.
He's the type of safe prospect that teams will feel confident spending a mid-late first-round draft pick on. The talented and tenacious Tiger should ultimately develop into a solid starter and have a long and productive career in the NFL.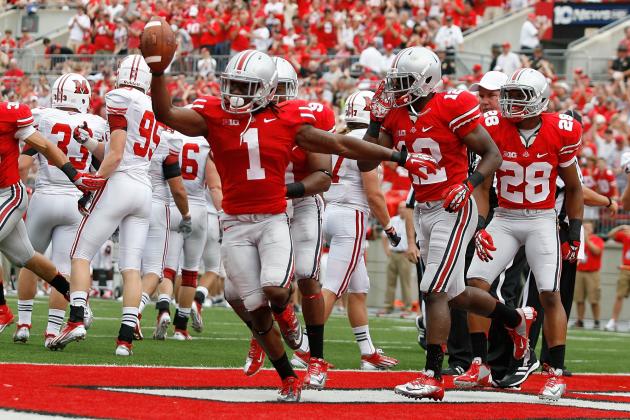 Kirk Irwin/Getty Images
Bradley Roby
North Carolina RB Giovani Bernard isn't the only redshirt sophomore who will have to consider leaving school early and declaring for the 2013 NFL draft. Like Bernard, Ohio State CB Bradley Roby has already established himself as one of the top players in the country at his respective position.
Although he hasn't received nearly the same amount of fanfare and national publicity this season as former LSU cornerback Tyrann Mathieu did last year, Roby is arguably having an even better campaign in 2012 than Mathieu did in 2011.
The 5'11'', 190-pound sophomore has totaled 47 tackles, including 30 solo stops, two interceptions, a sack and a blocked punt, and he's broken up 16 passes, which is the second highest total in the nation. What's really so impressive, however, is that he's scored three touchdowns in three different ways—one on an interception return, one on a punt block return and one on a fumble recovery return.
Stats only tell part of his story, though. Roby is one of the most athletic defensive backs in the country, and he's managed to really improve on his coverage skills during his second year as a starter in 2012.
Ultimately, it would probably be a wise decision for the Buckeye corner to return for one more year and continue to develop. However, Roby has already proven that he clearly has the skills and the ability to be a solid starter for an NFL secondary.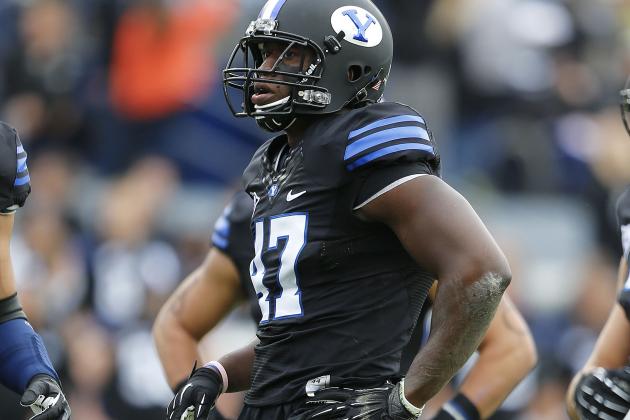 George Frey/Getty Images
Ziggy Ansah
There may be no other prospect in the 2013 draft class who has helped himself as much this season as BYU's Ezekiel Ansah.
Ansah came into the 2012 season as an off-the-radar, relatively unknown prospect since he had totaled just seven tackles as a primarily special teams player in 2011. However, he's become one of the fastest rising breakout stars this year. The 6'6'', 270-pound senior has totaled 47 tackles, including 12 tackles for loss, to go along with four sacks and six quarterback hurries.
Those stats are certainly impressive. But regardless of what Ansah has accomplished on the field in his final season, what will really wow scouts is what he's going to do during workouts in the offseason. He possesses simply incredible natural speed and athleticism for his size. The native of Ghana originally started out as a track athlete at BYU before joining the football team in 2010.
Considering how little experience he has on a football field, Ansah is still obviously very raw, and he still has a long way to go before he can be a starter in the NFL. Nevertheless, his potential is definitely intriguing.
If he performs like he's capable of during offseason workouts, there's a good chance that a team will take a chance on Ansah in the first round, knowing that he's type of freak athlete that can be molded into a special player.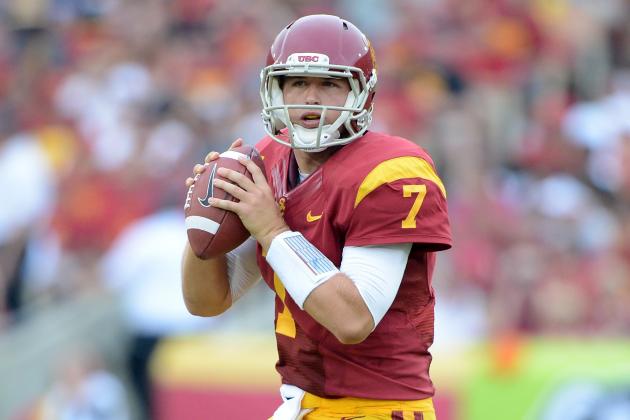 Harry How/Getty Images
Matt Barkley
1. Matt Barkley, USC — Senior
2. Geno Smith, West Virginia — Senior

3. Tyler Wilson, Arkansas — Senior
4. EJ Manuel, Florida State — Senior
5. Aaron Murray, Georgia — Junior
6. Tajh Boyd, Clemson — Junior
7. Tyler Bray, Tennessee — Junior
8. Landry Jones, Oklahoma — Senior

9. Collin Klein, Kansas State — Senior
10. Logan Thomas, Virginia Tech — Junior
11. Mike Glennon, NC State — Senior

12. Zac Dysert, Miami (Ohio) — Senior

13. Matt Scott, Arizona — Senior

14. AJ McCarron, Alabama — Junior

15. Seth Doege, Texas Tech — Senior

16. Ryan Nassib, Syracuse — Senior

17. Keith Price, Washington — Junior

18. Casey Pachall — Junior

19. Sean Renfree, Duke — Senior

20. James Franklin, Missouri — Junior

21. Brad Sorensen, Southern Utah — Senior

22. Colby Cameron, Louisiana Tech — Senior

23. Connor Shaw, South Carolina — Junior

24. Nick Florence, Baylor — Senior

25. Jordan Rodgers, Vanderbilt — Senior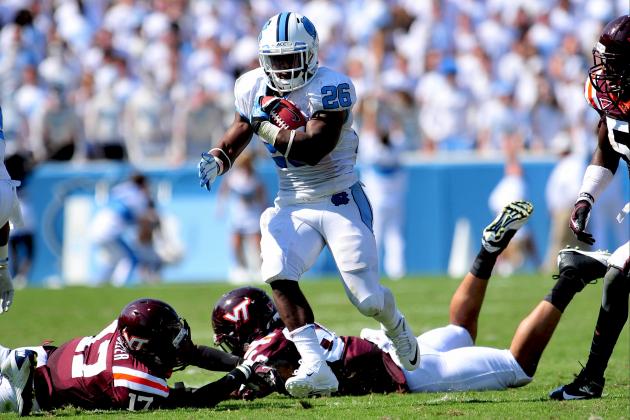 Lance King/Getty Images
Giovani Bernard
1. Giovani Bernard, North Carolina — Redshirt Sophomore

2. Andre Ellington, Clemson — Senior
3. Jawan Jamison, Rutgers — Redshirt Sophomore
4. Le'Veon Bell, Michigan State — Junior

5. Eddie Lacy, Alabama — Junior
6. Stepfan Taylor, Stanford — Senior

7. Montee Ball, Wisconsin — Senior
8. Kenjon Barner, Oregon — Senior
9. Ray Graham, Pittsburgh — Senior
10. Joseph Randle, Oklahoma State — Junior

11. (QB) Denard Robinson, Michigan — Senior
12. Mike Gillislee, Florida — Senior

13. Dennis Johnson, Arkansas — Senior
14. Michael Dyer, Arkansas Baptist — Junior

15. Christine Michael, Texas A&M — Senior

16. Rex Burkhead, Nebraska — Senior

17. Johnathan Franklin, UCLA — Senior

18. Silas Redd, USC — Junior

19. Zac Stacy, Vanderbilt — Senior

20. Cierre Wood, Notre Dame — Junior
21. Knile Davis, Arkansas — Junior

22. Chris Thompson, Florida State — Senior

23. John Hubert, Kansas State — Junior

24. Theo Riddick, Notre Dame — Senior

25. Kerwynn Williams, Utah State — Senior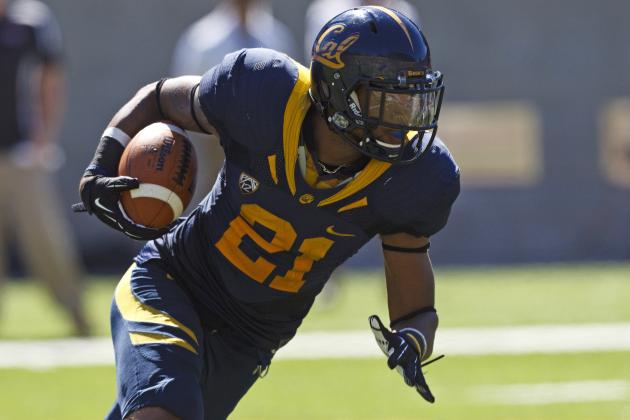 Jason O. Watson/Getty Images
Keenan Allen
1. Keenan Allen, California — Junior

2. Terrance Williams, Baylor — Senior

3. Robert Woods, USC — Junior

4. Tavon Austin, West Virginia — Senior

5. Justin Hunter, Tennessee — Junior
6. Cobi Hamilton, Arkansas — Senior
7. Josh Boyce, TCU — Junior

8. Quinton Patton, Louisiana Tech — Senior

9. DeAndre Hopkins, Clemson — Junior

10. Stedman Bailey, West Virginia — Junior

11. Da'Rick Rogers, Tennessee Tech — Junior

12. Ryan Swope, Texas A&M — Senior

13. Cordarrelle Patterson, Tennessee — Junior

14. Markus Wheaton, Oregon State — Senior

15. Dan Buckner, Arizona — Senior

16. Marquess Wilson — Junior

17. Aaron Mellette, Elon — Senior

18. Rodney Smith, Florida State — Senior

19. Aaron Dobson, Marshall — Senior

20. Conner Vernon, Duke — Senior
21. Marcus Davis, Virginia Tech — Senior

22. Kenny Stills, Oklahoma — Junior

23. Jordan Matthews, Vanderbilt — Junior

24. Cody Hoffman, BYU — Junior

25. Chad Bumphis, Mississippi State — Senior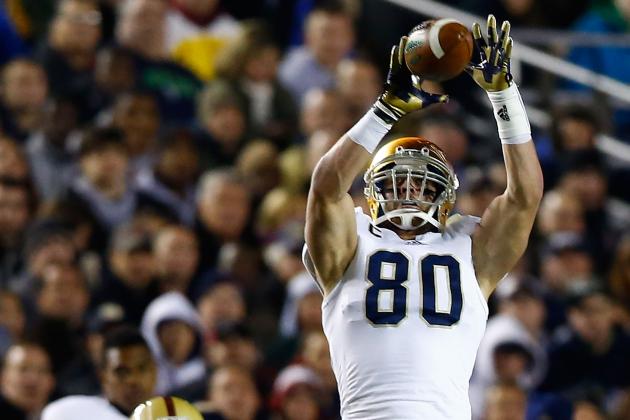 Jared Wickerham/Getty Images
Tyler Eifert
1. Tyler Eifert, Notre Dame — Junior

2. Gavin Escobar, San Diego State — Junior

3. Zach Ertz, Stanford — Junior

4. Jordan Reed, Florida — Junior

5. Jake Stoneburner, Ohio State — Senior

6. Levine Toilolo, Stanford — Junior

7. Dion Sims, Michigan State — Junior
8. Joseph Fauria, UCLA — Senior
9. Ryan Griffin, Connecticut — Senior

10. Michael Williams, Alabama — Senior

11. C.J. Fiedorowicz, Iowa — Junior

12. Philip Lutzenkirchen, Auburn — Senior

13. Ryan Otten, San Jose State — Senior
14. Chris Gragg, Arkansas — Senior

15. Jake McGee, Virginia — Redshirt Sophomore
16. D.C. Jefferson, Rutgers — Senior

17. Kyler Reed, Nebraska — Senior
18. Blake Jackson, Oklahoma State — Junior

19. Jack Doyle, Western Kentucky — Senior

20. Jacob Pedersen, Wisconsin — Junior

21. Xavier Grimble, USC — Redshirt Sophomore

22. Ben Cotton, Nebraska — Senior

23. Travis Tannahill, Kansas State — Senior

24. Mychal Rivera, Tennessee — Senior

25. Crockett Gillmore, Colorado State — Junior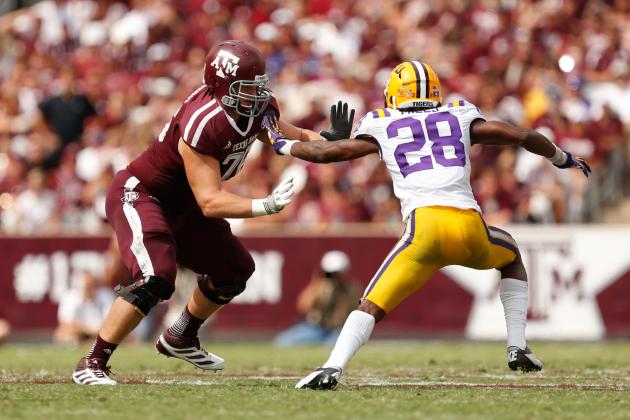 Thomas Campbell-US PRESSWIRE
Luke Joeckel
1. Luke Joeckel, Texas A&M — Junior

2. Taylor Lewan, Michigan — Junior

3. Jake Matthews, Texas A&M — Junior

4. Eric Fisher, Central Michigan — Senior

5. D.J. Fluker, Alabama — Junior

6. Brian Winters, Kent State — Senior

7. Oday Aboushi, Virginia — Senior

8. Ricky Wagner, Wisconsin — Senior

9. LaAdrian Waddle, Texas Tech — Senior

10. Brennan Williams, North Carolina — Senior

11. Tanner Hawkinson, Kansas — Senior

12. Zack Martin, Notre Dame — Junior

13. Justin Pugh, Syracuse — Junior

14. Morgan Moses, Virginia — Junior

15. Matt Summers-Gavin, California — Senior

16. James Hurst, North Carolina — Junior

17. John Wetzel, Boston College — Senior

18. Mark Jackson, Glenville State — Senior

19. Seantrel Henderson, Miami — Junior

20. Oscar Johnson, Louisiana Tech — Senior

21. David Bakhtiari, Colorado — Junior

22. Braden Brown, BYU — Senior

23. Alex Hurst, LSU — Senior

24. Xavier Nixon, Florida — Senior

25. Emmett Cleary, Boston College — Senior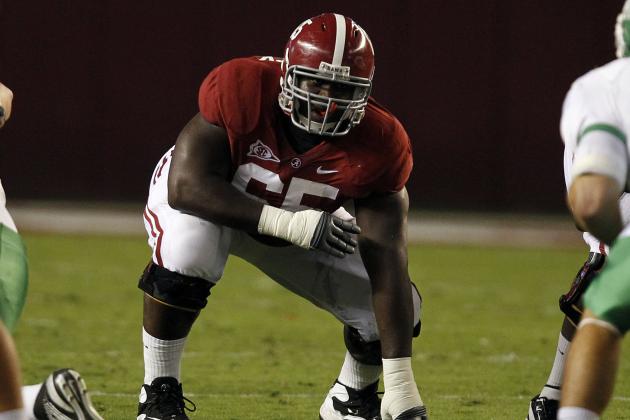 Butch Dill/Getty Images
Chance Warmack
1. Chance Warmack, Alabama — Senior

2. Jonathan Cooper, North Carolina — Senior
3. Barrett Jones, Alabama — Senior

4. Dallas Thomas, Tennessee — Senior

5. Omoregie Uzzi, Georgia Tech — Senior

6. Larry Warford, Kentucky — Senior

7. Cyril Richardson, Baylor — Junior

8. Khaled Holmes, USC — Senior

9. Gabe Ikard, Oklahoma — Junior

10. Hugh Thornton, Illinois — Senior

11. Alvin Bailey, Arkansas — Junior

12. Mario Benavides, Louisville — Senior

13. Gabe Jackson, Mississippi State — Junior

14. Braden Hansen, BYU — Senior

15. Travis Frederick, Wisconsin — Junior

16. Lane Taylor, Oklahoma State — Senior

17. Chris Barker, Nevada — Senior

18. Brandon Vitabile, Northwestern — Redshirt Sophomore

19. Earl Watford, James Madison — Senior

20. Tyler Larsen, Utah State — Senior

21. Travis Bond, North Carolina — Senior

22. T.J. Johnson, South Carolina — Senior

23. Jonotthan Harrison, Florida — Junior

24. Andrew Norwell, Ohio State — Junior

25. Dalton Freeman, Clemson — Senior
Russ Isabella-US PRESSWIRE
Star Lotulelei
1. Star Lotulelei, Utah — Senior

2. Johnathan Hankins, Ohio State — Junior

3. Sheldon Richardson, Missouri — Junior

4. John Jenkins, Georgia — Senior

5. Sylvester Williams, North Carolina — Senior

6. Kawann Short, Purdue — Senior

7. Sharrif Floyd, Florida — Junior

8. Jesse Williams, Alabama — Senior

9. Louis Nix, Notre Dame — Redshirt Sophomore

10. Dominique Easley, Florida — Junior

11. Everett Dawkins, Florida State — Senior

12. Josh Boyd, Mississippi State — Senior

13. Jamarkus McFarland, Oklahoma — Senior

14. Bennie Logan, LSU — Junior

15. Will Sutton, Arizona State — Junior

16. Cory Grissom, South Florida — Senior

17. Baker Steinkuhler, Nebraska — Senior

18. George Uko, USC — Redshirt Sophomore
19. Quinton Dial, Alabama — Senior

20. Akeem Spence, Illinois — Junior

21. Kelcy Quarles, South Carolina — 3rd Year Sophomore

22. Aaron Tipoti, California — Senior

23. Anthony Rashad White, Michigan State — Senior

24. Brandon Williams, Missouri Southern — Senior
25. Chris Jones, Bowling Green — Senior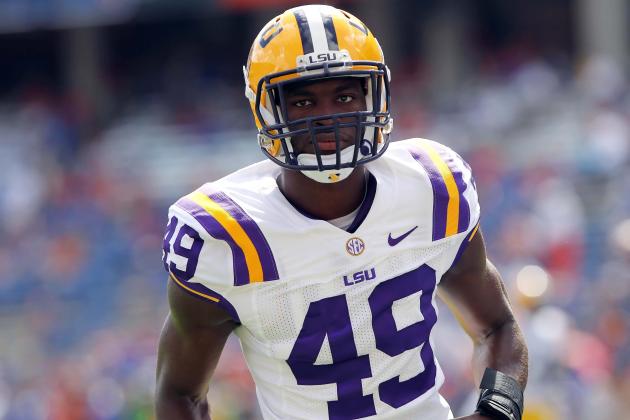 Kim Klement-US PRESSWIRE
Barkevious Mingo
1. Barkevious Mingo, LSU — Junior
2. Damontre Moore, Texas A&M — Junior

3. Bjoern Werner, Florida State — Junior

4. Dion Jordan, Oregon — Senior

5. Sam Montgomery, LSU — Junior

6. Ziggy Ansah, BYU — Senior

7. Alex Okafor, Texas — Junior

8. Tank Carradine, Florida State — Senior

9. Michael Buchanan, Illinois — Senior

10. Jackson Jeffcoat, Texas — Junior

11. Margus Hunt, SMU — Senior

12. Datone Jones, UCLA — Senior

13. William Gholston, Michigan State — Junior

14. Scott Crichton, Oregon State — Redshirt Sophomore

15. John Simon, Ohio State — Senior

16. Brandon Jenkins, Florida State — Senior

17. Corey Lemonier, Auburn — Junior

18. Jamie Collins, Southern Miss — Senior

19. Devin Taylor, South Carolina — Senior

20. Kony Ealy, Missouri — Redshirt Sophomore

21. Travis Long, Washington State — Senior

22. Morgan Breslin, USC — Junior

23. Malliciah Goodman, Clemson — Senior

24. James Gayle, Virginia Tech — Junior

25. Trevardo Williams, Connecticut — Senior
Jonathan Daniel/Getty Images
Manti Te'o
1. Manti Te'o, Notre Dame — Senior

2. Jarvis Jones, Georgia — Junior

3. C.J. Mosley, Alabama — Junior

4. Chase Thomas, Stanford — Senior

5. Arthur Brown, Kansas State — Senior

6. Alec Ogletree, Georgia — Junior

7. Khaseem Greene, Rutgers — Senior
8. Kevin Minter, LSU — Junior

9. Michael Mauti, Penn State — Senior

10. Shayne Skov, Stanford — Senior

11. Kyle Van Noy, BYU — Junior

12. Sean Porter, Texas A&M — Senior

13. Yawin Smallwood, Connecticut — Redshirt Sophomore

14. Kevin Reddick, North Carolina — Senior

15. Nico Johnson, Alabama — Senior

16. Gerald Hodges, Penn State — Senior

17. Anthony Barr, UCLA — Junior

18. Jelani Jenkins, Florida — Junior

19. DeVonte Holloman, South Carolina — Senior
20. Jake Knott, Iowa State — Senior
21. Jonathan Brown, Illinois — Junior

22. Kiko Alonso, Oregon — Senior

23. Jake Ryan, Michigan — Redshirt Sophomore

24. A.J. Klein, Iowa State — Senior
25. Chris Borland, Wisconsin — Junior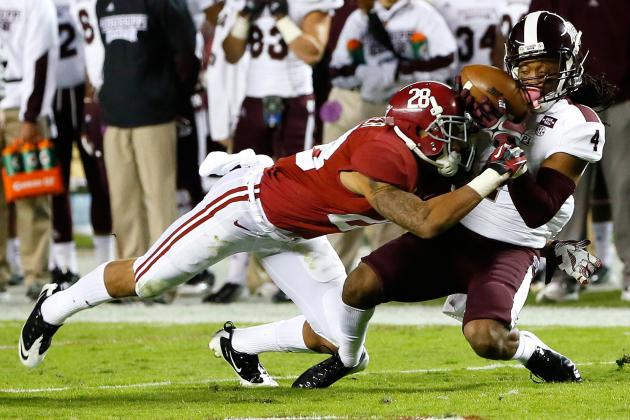 Kevin C. Cox/Getty Images
Dee Milliner
1. Dee Milliner, Alabama — Junior

2. Bradley Roby, Ohio State — Redshirt Sophomore

3. Johnthan Banks, Mississippi State — Senior
4. David Amerson, NC State — Junior

5. Leon McFadden, San Diego State — Senior

6. Jordan Poyer, Oregon State — Senior
7. Justin Gilbert, Oklahoma State — Junior

8. Xavier Rhodes, Florida State — Junior

9. Logan Ryan, Rutgers — Junior
10. Carrington Byndom, Texas — Junior

11. Terry Hawthorne, Illinois — Senior

12. Blidi Wreh-Wilson, Connecticut — Senior

13. Nickell Robey, USC — Junior

14. Tyrann Mathieu — Junior

15. Desmond Trufant, Washington — Senior

16. Johnny Adams, Michigan State — Senior

17. Marc Anthony, California — Senior

18. Rod Sweeting, Georgia Tech — Senior

19. Ricardo Allen, Purdue — Junior

20. Aaron Hester, UCLA — Senior

21. Terrance Mitchell, Oregon — Redshirt Sophomore
22. Dwayne Gratz, Connecticut — Senior

23. Micah Hyde, Iowa — Senior

24. Nigel Malone, Kansas State — Senior
25. Jason Verrett, TCU — Junior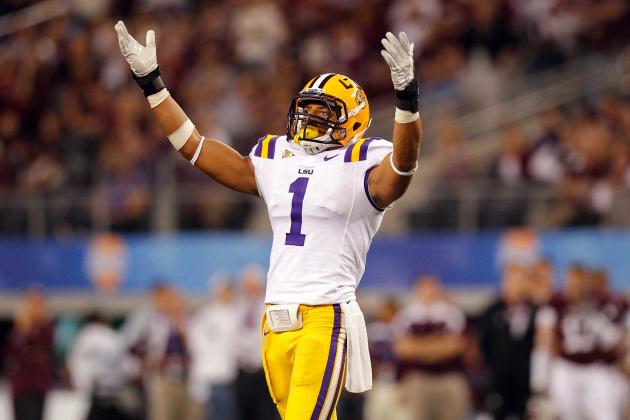 Derick E. Hingle-US PRESSWIRE
Eric Reid
1. Eric Reid, LSU — Junior

2. Matt Elam, Florida — Junior

3. Kenny Vaccaro, Texas — Senior

4. Duke Williams, Nevada — Senior

5. Tony Jefferson, Oklahoma — Junior

6. Shawn Williams, Georgia — Senior

7. T.J. McDonald, USC — Junior

8. D.J. Swearinger, South Carolina — Senior

9. Zeke Motta, Notre Dame — Senior

10. Daimion Stafford, Nebraska — Senior
11. Robert Lester, Alabama — Senior

12. Bacarri Rambo, Georgia — Senior

13. John Boyett, Oregon — Senior

14. Isaiah Lewis, Michigan State — Junior

15. Kemal Ishmael, UCF — Senior

16. Hakeem Smith, Louisville — Junior

17. Jonathan Cyprien, FIU — Senior

18. Isaiah Johnson, Georgia Tech — Junior

19. (LB) Kenny Tate, Maryland — Senior

20. Tre Boston, North Carolina — Junior

21. Nickoe Whitley, Mississippi State — Junior

22. Bradley McDougald, Kansas — Senior

23. Phillip Thomas, Fresno State — Senior

24. Lamarcus Joyner, Florida State — Junior

25. Dexter McCoil, Tulsa — Senior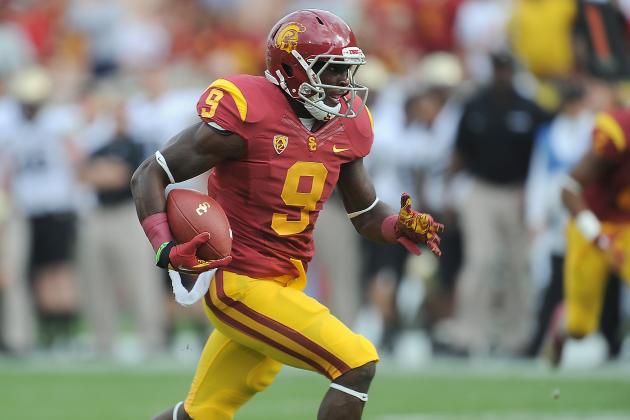 Jayne Kamin-Oncea-US PRESSWIRE
Marqise Lee
1. WR Marqise Lee, USC — Sophomore

2. DE Jadeveon Clowney, South Carolina — Sophomore

3. QB Johnny Manziel, Texas A&M — Redshirt Freshman

4. DE Stephon Tuitt, Notre Dame — Sophomore

5. RB T.J. Yeldon, Alabama — True Freshman

6. QB Marcus Mariota, Oregon — Redshirt Freshman

7. WR Sammy Watkins, Clemson — Sophomore

8. DE Devonte Fields, TCU — True Freshman

9. DT Anthony Johnson, LSU — Sophomore

10. RB Todd Gurley, Georgia — True Freshman
11. CB Quandre Diggs, Texas — Sophomore
12. QB Braxton Miller, Ohio State — Sophomore

13. TE Austin Seferian-Jenkins, Washington — Sophomore
14. CB Louchiez Purifoy, Florida — Sophomore

15. QB Teddy Bridgewater, Louisville — Sophomore

16. DT Tim Jernigan, Florida State — Sophomore

17. WR Odell Beckham Jr., LSU — Sophomore

18. LB Trey Depriest, Alabama — Sophomore

19. LB A.J. Johnson, Tennessee — Sophomore

20. RB Duke Johnson, Miami — True Freshman

21. CB Deshazor Everett, Texas A&M — Sophomore

22. RB De'Anthony Thomas, Oregon — Sophomore

23. WR Amari Cooper, Alabama — True Freshman

24. LB Ryan Shazier, Ohio State — Sophomore
25. WR Stefon Diggs, Maryland — True Freshman