Biggest Winners and Losers of Jose Reyes, Mark Buerhle, Josh Johnson Blockbuster
Jose Reyes is now a Blue Jay. Weird, huh?
Marc Serota/Getty Images
I have one word to describe the trade that the Toronto Blue Jays and the Miami Marlins have reportedly pulled off:
Whoa.
As reported by Ken Rosenthal and Jon Paul Morosi of FoxSports.com, the Blue Jays and Marlins have agreed to a trade that rivals the late-August deal between the Boston Red Sox and Los Angeles Dodgers in terms of "epicness." In it, the Blue Jays are basically going to get all the players the Marlins don't want to pay anymore.
Going to Toronto will be starting pitchers Mark Buehrle and Josh Johnson, shortstop Jose Reyes, infielder/outfielder Emilio Bonifacio and catcher John Buck.
Going to Miami will be shortstops Yunel Escobar and Adeiny Hechavarria, starting pitcher Henderson Alvarez, catcher Jeff Mathis and minor leaguers Justin Nicolino, Jacob Marisnick and Anthony DeSclafani.
So, I say again, wow. Or whoa. Whatever. Some sort of exclamation beginning with the letter "W" is in order.
Also in order: a discussion of the winners and losers of this trade. Let's take a look.
Note: Stats courtesy of Baseball-Reference.com unless otherwise noted. Salary figures courtesy of Cot's Baseball Contracts.
Winner: Toronto Blue Jays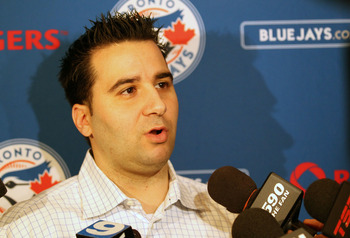 The man of the hour: Blue Jays GM Alex Anthopoulos.
Matthew Emmons-US PRESSWIRE
This one should be obvious, but I think everyone needs to stop and realize how huge of a win this trade is for the Blue Jays. Consider your attention demanded.
Heading into the offseason, Blue Jays GM Alex Anthopoulos had a long to-do list in his back pocket. He absolutely had to do something to shore up the club's starting rotation, and he needed to find bats for the middle of his infield and his outfield. Ideally, he'd find hitters who would add a little versatility to a lineup that was overly reliant on its power in 2012.
In this trade, the Jays are getting a pair of starting pitchers in Buehrle and Johnson who made 31 starts and posted ERAs in the 3.00s in 2012 and two top-of-the-lineup hitters in Reyes and Bonifacio who are both speedy switch-hitters. As a bonus, the Jays are getting a catcher in Buck who hit 20 homers for them back in 2010.
In exchange, the Blue Jays are giving up four major leaguers they won't miss and a handful of minor leaguers who aren't named Travis d'Arnaud.
There's no question that the Blue Jays are a better team after having made this trade. Their rotation now looks very strong with Buehrle and Johnson joining Brandon Morrow and Ricky Romero, who should bounce back in 2013 after a brutal 2012 season. Their offense was strong to begin with, and now it has an entirely new look to it with Reyes and Bonifacio joining the fray.
Did the Blue Jays just become a legit contender?
Shoot, is Canada in the North?
Loser: Miami Marlins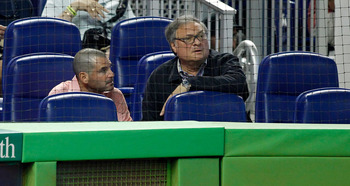 Marlins owner Jeffrey Loria (R) has some 'splaining to do.
Robert Mayer-US PRESSWIRE
A few short months ago, the Marlins were the cool new kids on the block. They had a brand-new stadium, they had Showtime cameras following them around, and they had a roster loaded with stars after an offseason spending spree.
Now look at them. The Marlins jettisoned a couple of stars in the middle of the season with a series of trades, and they've jettisoned a few more stars since the offseason began. Heath Bell was the first to go when he was dealt to Arizona, and now Buehrle, Johnson and Reyes are following him out the door.
In place of the stars the Marlins have lost are a few spare parts and a couple of youngsters that need a lot of work before they're ready to be productive, everyday major leaguers.
Whatever chance the Marlins had of contending in 2013 is gone. The club is now looking at a rebuilding process that will take years, and there will be plenty of growing pains between now and the brighter tomorrow the club is (hopefully) hoping for.
I suppose the Marlins could speed the process up by spending some money in the free-agent market this winter, but...Yeah, that's not happening. Depending on your point of view, team owner Jeffrey Loria either isn't going to make that mistake again, or he isn't going to risk running the same scam over again.
There's no way this team is going to be made pretty again in a hurry. They call themselves the Miami Marlins, but I'll be damned if they don't look a lot like the Florida Marlins all of a sudden.
Winner: Every Other Team in the NL East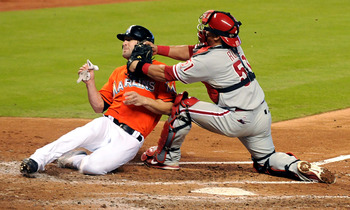 Jason Arnold/Getty Images
The Marlins finished dead last in the NL East in 2012, so the other teams in the division probably already had them pegged as a non-threat in 2013.
Now, the Nationals, Braves, Phillies and Mets should have the Marlins pegged as something else—fresh meat.
It's going to be ugly. The Nats, Braves and Phillies will all be looking to make the postseason in 2013, and the Mets could be right there with them if they hold on to R.A. Dickey and David Wright, and then somehow recapture the mojo they had in the first half of the 2012 season. As such, there's a chance that the Marlins could be the only non-contender in the division next season.
And given the way Miami's roster looks now after its big trade with the Blue Jays, the Marlins are likely looking at a very severe last-place finish. They could be the NL East's answer to the 2012 Houston Astros, who went a staggering 29-50 in NL Central play this past season.
This is probably just fine by the Nats, Braves, Phillies and Mets. Whenever they see a series with the Marlins coming up on the schedule, they'll raise a glass and drink to a "free sweep."
Yes, this little ceremony will happen beforehand.
Loser: Every Other Team in the AL East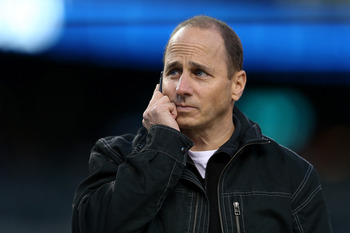 Sad Brian Cashman is sad.
Leon Halip/Getty Images
The only thing that saved the Blue Jays from a last-place finish in the AL East in 2012 was the awesome "suckitude" of the Boston Red Sox. Pretty much every other force in this world—from the injury bug to the baseball gods—was against them.
Spoiler alert: The same narrative will not unfold in 2013.
When they were fully healthy, the Blue Jays were actually a halfway-decent team in 2012. They went 43-43 in the first half of the season, and at the time, they ranked third in the AL with 430 runs scored at the break. They may not have been a true contender, but they were certainly a team that nobody looked forward to playing.
The 2012 Blue Jays got an upgrade on Tuesday. They now have two pitchers in their starting rotation they can rely on, which is two more than they had in 2012. Their explosive offense just got even more explosive and significantly more well-rounded. If everyone stays healthy, the Jays could end up being the top offensive team in the AL East. No joke.
The only team in the AL East that doesn't look like a contender now is the Red Sox. The Blue Jays were in the same boat as them before Tuesday's trade, but now they're in the same boat as the Orioles, Rays and Yankees. All four clubs will be vying for the AL East crown in 2013.
This is not good news for the O's, Rays and Yanks, as all three clubs padded their records by beating up on the Jays in 2012. They won't enjoy that same luxury in 2013, as the Jays now have the goods to return the favor.
Winner: Josh Johnson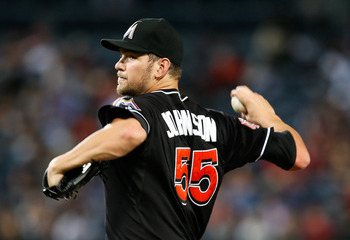 Game. Josh Johnson.
Kevin C. Cox/Getty Images
Typically, it's not such a good thing when a stud pitcher from the National League moves over to the American League. Indeed, the bats tend to be a little more dangerous in the Junior Circuit.
But the Blue Jays shouldn't be worried about the transition as far as their two new toys are concerned. We know from all his years with the Chicago White Sox that Mark Buehrle can pitch in the American League, and Josh Johnson has actually had a surprising amount of success against AL clubs in his career.
In 17 career interleague starts, Johnson has an 8-3 record and a 2.95 ERA. He went 2-1 with a 1.67 ERA in four interleague starts in 2012.
If these numbers are any indication, Johnson should handle himself just fine in American League play. And if he does, he stands to watch his free-agent stock go through the roof.
Look no further than Johnson's former teammate, Anibal Sanchez. He proved that he could pitch just as effectively in the American League as he could in the National League after joining the Detroit Tigers in a July trade, and now he's supposedly looking for a contract worth right around $100 million.
If Johnson succeeds where Sanchez succeeded, he, too, could be on the lookout for a huge free-agent contract when his current deal expires at the end of the 2013 season. And since he has a stronger career track record than Sanchez, it stands to reason his price tag will be well over $100 million.
If all goes well, it will be good to be Josh Johnson this time next year.
Winner: Henderson Alvarez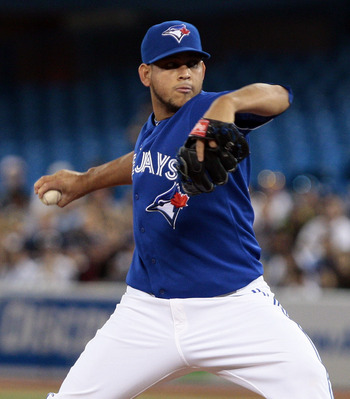 Henderson Alvarez is cool with heading to Miami.
Abelimages/Getty Images
If there's one player in this deal who should actually be glad to be heading to Miami, it's Henderson Alvarez. A switch to the National League is precisely what he needs right now.
After showing some promise in 2011, Alvarez had a brutal season in 2012. He went 9-14 in 31 starts with a 4.85 ERA and 1.44 WHIP. Opponents hit .290 against him with an .812 OPS.
Alvarez's biggest problem was the long ball. He's a ground-ball pitcher by nature, but he saw his HR/FB rate jump up to 18.1 percent in 2012, according to FanGraphs. Among qualified starters, only Ervin Santana posted a higher HR/FB in 2012.
A move to the NL should, in theory, help Alvarez get his "homeritis" under control. The fact that he's going to be pitching half his games at Marlins Park makes things even better. Per ESPN.com's Park Factors, Marlins Park was the fifth-worst homer haven in baseball in 2012.
If the move to Miami results in fewer long balls for Alvarez, he's going to get his numbers under control. If so, he stands to get a nice payday when he's ready for arbitration.
Of course, the Marlins will probably trade him before that time comes. I mean, if their recent activity is any indication...
Loser: Giancarlo Stanton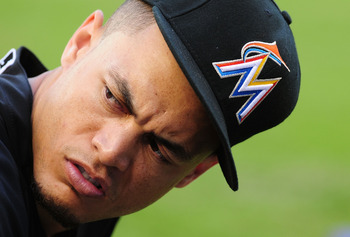 The Marlins shouldn't have made Giancarlo Stanton angry. They won't like him now that he's angry.
Jason Arnold/Getty Images
For the record, no, Giancarlo Stanton isn't going anywhere. The Marlins are hanging on to him, presumably because he's really, really good and still really, really cheap.
But don't be surprised if Stanton asks out in the near future. He didn't sound too happy when he opened up about Tuesday's trade on Twitter:
Alright, I'm pissed off!!! Plain & Simple

— Giancarlo Stanton (@Giancarlo818) November 13, 2012
Way to go, Marlins. You got rid of all your stars, and now the one star you have left is disgruntled.
Stanton has a darn good reason to be ticked off. A couple, in fact.
The first, obviously, is that the Marlins are now almost totally bereft of talent, which means that Stanton is going to have to endure plenty of losses in 2013 and probably beyond. The only way that's not happening is if the baseball gods bless the Marlins with some kind of miracle (i.e. better owners).
In addition, it's possible that this trade will hurt Stanton financially. With Reyes and Bonifacio out of town, it's likely that Stanton is going to be presented with fewer opportunities to drive in runs. If fewer RBI are indeed coming his way, that means Stanton will have one less leg to stand on when he goes to arbitration in 2014.
So yeah, I'd be ticked off, too.
Winner: Jose Bautista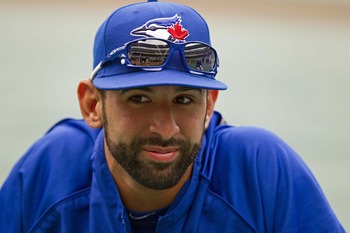 This is Jose Bautista's happy face.
Jesse Johnson-US PRESSWIRE
Giancarlo Stanton may not be happy about Tuesday's trade, but one guy who is very happy with the trade is his opposite number on the Blue Jays.
Here's what Jose Bautista tweeted on Tuesday evening:
Its a good day to be a bluejay!

— Jose Bautista(@JoeyBats19) November 13, 2012
Well, I suppose he of all people would know.
Bautista should be happier than most current Blue Jays. After all, Stanton's former table-setters are now his to enjoy.
It's obviously too early to tell what Toronto's 2013 lineup is going to look like, but it's safe to assume that Bautista will be in his customary No. 3 spot once again. Because the Blue Jays really don't have any better options, I'd say it's also safe to assume that Reyes and Bonifacio will bat first and second, just as they did in Miami's lineup early in the 2012 season when all the shiny pieces were still in place.
If so, Bautista should rack up a ton of RBI in 2013 and beyond. We're not just talking about over 100 on an annual basis, either. We're talking more like 130 or 140. He'll be in Miguel Cabrera territory.
Because Bautista is already signed through 2015 with an option for 2016, he doesn't necessarily stand to gain any extra dollars with all these extra RBI. He'll just pad his stats and be happy.
Loser: Mike Redmond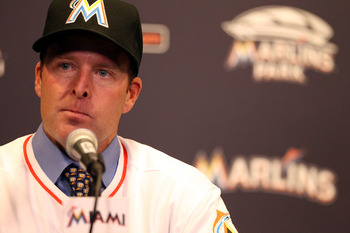 Mike Redmond's struggle face? For now, sure.
Marc Serota/Getty Images
Poor, poor Mike Redmond. He's been given a big break, and the very men who gave it to him just broke his roster.
When Redmond was hired to replace Ozzie Guillen as the Marlins' manager, he was probably planning on having a roster with at least some talent on it in 2013. Hanley Ramirez, Anibal Sanchez and Heath Bell had already left town, sure, but at least he still had a rotation with Buehrle and Johnson in it and a lineup that would feature two speedsters in front of Giancarlo Stanton and Logan Morrison.
Now, he has a rotation consisting of youngsters and reclamation projects and a lineup consisting of Stanton, Morrison and...uh, a few other guys.
To be fair, maybe Miami's stripped-down roster will actually suit Redmond better. He was a minor-league manager in the Blue Jays' organization in 2012, so he won't necessarily be out of his element managing a clubhouse full of no-names. It's not like the Marlins are taking Joe Torre and asking him to do the job they're asking Redmond to do.
Still, I just worry about the promise Redmond made to the fans at his introductory presser.
"To the fans," he said, via the Miami Herald, "things are going to get better."
It's a good thing he didn't tack on "in 2013" at the end of that promise. Now he can play the "Hey, I didn't say soon" card if need be.
Loser: Marlins Fans and Major League Baseball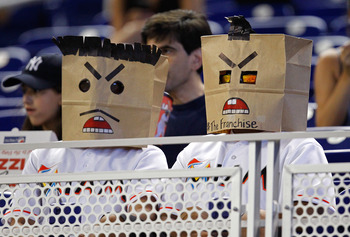 The Yankees fan in the background is more likely to pay for tickets in 2013 than the two guys in the foreground.
Sarah Glenn/Getty Images
The one thing about Redmond's promise to the fans that must be discussed is exactly how many fans he was trying to get on his side.
Probably not that many. The Marlins did see their attendance increase more than any other team in 2012, but overall, the club's attendance figures were a huge disappointment. Even despite their increased drawing power, the Marlins still finished in the middle of the pack of MLB in attendance.
And for good reason. Snazzy ballparks are great, but they alone can't keep the fans coming in droves on a daily basis. Fans want to see good baseball. At the very least, they want to see entertaining baseball.
The Marlins only played good baseball for a month in 2012, when they went 21-8 in May. Aside from that one outburst, they were hard to watch. The fans cannot be blamed for tuning out.
Oh, and it didn't help that Ozzie Guillen alienated a good chunk of the local populace by publicly declaring his love for Fidel Castro. Nor did it help when the Marlins decided to break up the band midway through the season.
The band has been completely destroyed now. I therefore hope the Marlins are ready for a huge decline in attendance, because that's what's going to happen.
But Miami fans aren't the only losers here. Major League Baseball was also hoping for great things from this Marlins franchise. It looked poised to become a new superpower, and goodness knows superpower franchises are good for business.
Bud Selig and his underlings can no longer hope for the best where the Marlins are concerned. They now have to plan for the worst.
If you want to talk baseball, hit me up on Twitter.
Keep Reading