Chicago Bears: 5 Players to Watch in Week 11
Jonathan Daniel/Getty Images

On paper, the Chicago Bears and the San Francisco 49ers could not be more alike. Both teams play ferocious defense, run the ball well, and both teams' quarterbacks had to leave their week 10 game because of a concussion.
The statuses of Jay Cutler and Alex Smith are both up in the air for Monday night, but the Bears will be out to prove that their 7-2 record is no joke while the 49ers are ready to put their tie against the St. Louis Rams in the past.
The Bears and 49ers last faced off in November of 2009, with the 49ers winning 10-6 in a game in which Jay Cutler threw five interceptions.
Here is my list of five players to watch this Monday night:
Begin Slideshow

»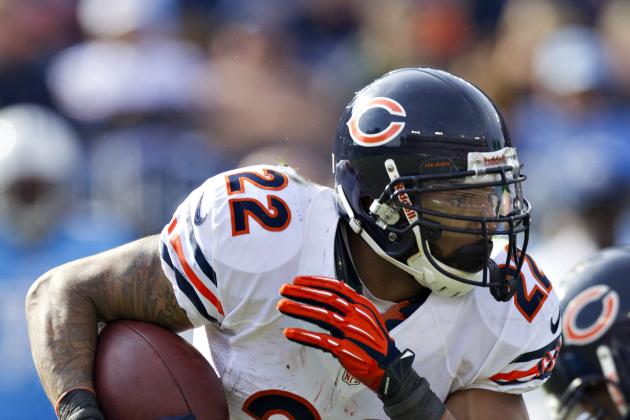 Wesley Hitt/Getty Images

Ever since his arrival in Chicago in 2008, Matt Forte has been nothing but productive when he gets the football in his hands.
Despite playing only 12 games last season before an injury, he led the team with 997 yards rushing and had 52 catches for 490 yards.
The Bears' acquisition of Brandon Marshall has made them more pass happy, but through eight games (one missed due to injury), Forte has racked up 578 yards rushing.
The 49ers' defense is tough against the run, allowing just 95.3 yards per game, good enough for seventh best in the league. With the unknown return of Jay Cutler to the lineup, expect Forte's touches to increase not only in the running game, but in the passing game as well.
The Bears will try to simplify their offense a bit for Jason Campbell, utilizing short passes and the screen game, something that Forte has excelled in throughout his career. The 49ers like to get after the quarterback, and the Bears and Forte could take advantage of that by trying to run more delays and draws to fight off the 49ers' heavy rush.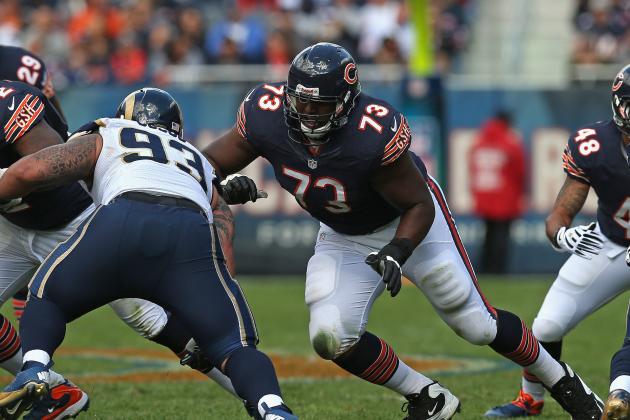 Jonathan Daniel/Getty Images

The Bears' offensive line continues to be a work in progress but left tackle J'Marcus Webb has made strides in recent weeks.
Webb has done a better job in recent weeks in both the running and passing game, and although there is still plenty of room for improvement, his improvement has been a pleasant surprise.
Monday night he will likely be matched up against a couple of different defenders. Justin Smith lines up at right defensive end, and although not much of a pass-rusher this season (zero sacks) he is stout against the run. Smith is simply a bull rusher with a high motor but tends to line up more to the outside shoulder of the left guard when outside linebacker Aldon Smith is asked to pass rush.
Aldon Smith had a terrific rookie season in which he sacked the quarterback 14 times and forced two fumbles. His primary responsibility last season was to get after the quarterback and he was not asked to do much in pass coverage. This season his role has increased but through nine games this season he has gotten to the quarterback 9.5 times.
Smith's speed and quickness will be tough for Webb to overcome but he will have to be creative in trying to slow Smith down by forcing him outside of his gap and allowing him to rush deep, and creating a lane for the quarterback to step up.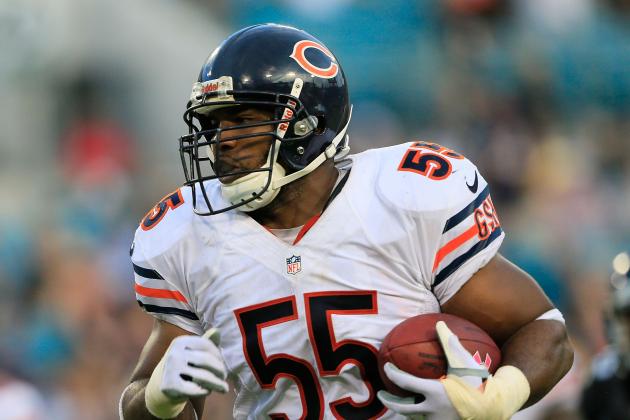 Sam Greenwood/Getty Images

Overshadowed throughout his career by Brian Urlacher and by cornerback Charles Tillman this year, Lance Briggs once again is proving he is one of the best 4-3 outside linebackers in the game.
Briggs leads the Bears in tackles with 52, has two forced fumbles, and has two interceptions that he has returned for touchdowns. He has been the most consistent tackler and is seemingly in on every play.
The 49ers are going to do their best to try and run the football against a Bears defense that is only allowing 92.3 yards rushing a game but has given up back to back 100-yard rushers (Chris Johnson and Arian Foster).
Frank Gore has great vision and the ability to hit the hole better than most backs in the league, he is tough to bring down and Briggs will have to be at the forefront of trying to slow him down.
Briggs has improved in coverage this season and will have to watch for the 49ers to throw short passes to Gore or screens to one of their quick wide receivers. With Alex Smith's health in question, backup Colin Kaepernick's strengths are with his feet and in the short passing game, and in order to slow down the 49ers offense, Briggs will need to be at the top of his game.
Jonathan Daniel/Getty Images

For the first time in his young career, defensive end Corey Wootton is finally finding consistent playing time on the field. His first two seasons were hampered by injury and inconsistent play but this season he has proven he is more than just the guy who "ended" Brett Favre's career.
Through their first nine games, Wootton has four sacks and two forced fumbles after having just one sack in his career and no forced fumbles.
He has done a great job not only rushing the passer but slowing down the running game. He has a good burst and great size and although he is still a work in progress, his potential finally seems to have been unlocked.
A concussion suffered by Shea McClellin in Sunday night's game against Houston will open up more opportunities for Wootton to get snaps, particularly on third downs. He will face a tough challenge no matter what side he is lined up against going head to head with either Joe Staley or Anthony Davis.
He will be relied upon to keep the quarterback from getting outside of the pocket and trying to funnel the 49ers' effective running backs back inside.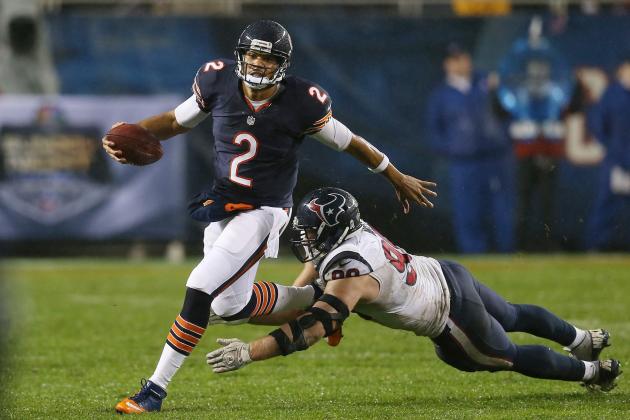 Jonathan Daniel/Getty Images

The closer it gets to Monday night, the more it appears that quarterback Jay Cutler will not be able to play because of his concussion, leaving the Bears to go with veteran backup Jason Campbell.
In relief of Cutler on Sunday night, Campbell went 11 of 19 for 94 yards with nearly half of those yards coming on a 45-yard completion to Brandon Marshall. Campbell was signed in the offseason for insurance for a team that saw their playoff hopes dashed when Cutler went down last season and the team had to rely on the unproven Caleb Hanie.
Campbell's career numbers are good with over 14,000 yards passing and over 70 touchdowns. He rarely turns the ball over but has a tendency to not push the ball down the field and settles for short passes. He has a good deep ball and could benefit from a possible return to the lineup by Alshon Jeffery.
If the Bears want to win Monday night, they'll need their offense to score them some points and Campbell's track record proves he can do just that.
Matt Eurich is a contributor to Bearsbacker.com. Follow Bears Backer on Facebook and Twitter for up to the minute news about the Bears. Also, check out Matt's work on BleacherReport.com and follow him on Twitter @MattEurich.