2013 NFL Draft: Power Ranking the Top 5 Draft-Eligible College QBs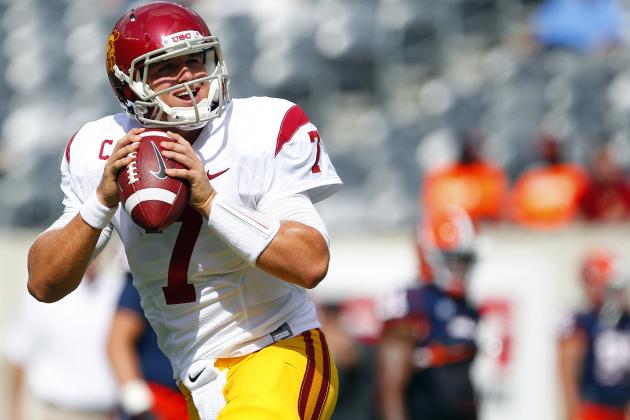 Rich Schultz/Getty Images

Quarterbacks, as we've seen in recent NFL drafts, get selected earlier than expected because the position is so important.
Only one quarterback plays, as opposed to the rest of a team—excluding kickers and punters. And NFL teams can't afford to miss when taking a prospect, or risk waiting and letting another team make the pick.
The 2013 NFL draft regarding signal-callers, though, has a different feel than what we saw in 2012, since quarterbacks going No. 1 and 2 overall is unlikely. Matt Barkley of USC is certainly expected to be a first-rounder and rightfully so, because he has improved with each season and possessed first round talent last draft.
Barkley passed on the draft last season, deciding to come back to USC for his senior year, and still remains a top gunslinger. This season is not has top-heavy as 2012, so it'll be interesting where Barkley and the best quarterbacks land.
Begin Slideshow

»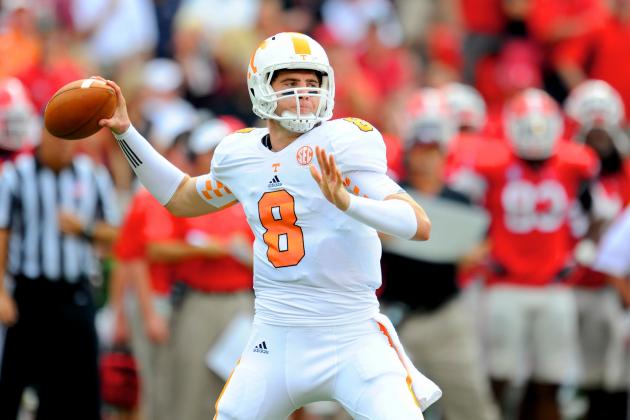 Dale Zanine-US PRESSWIRE

Tennessee's Tyler Bray has a legitimate chance to play pro football because of his excellent size and a strong arm. Despite limited mobility, Bray is quite accurate and isn't afraid to challenge a defense downfield or over the middle.
With 29 touchdowns to only 10 picks and a 61.1 completion percentage so far in 2012, Bray's main help comes from receiver Justin Hunter. However, the guy spreads the field well. Four players, none of which are running backs, have 29-plus receptions and at least four touchdowns.
That size also bodes well inside the red zone, because the luxury of reading a defense pre-snap combined with a quick release allows for a nice jump ball. Since he has spent so much time in shotgun though, and relies more on his arm than feet to throw a strike, Bray needs to improve his mechanics.
Still, his strength, size and field utilization makes him at least a mid-rounder. There, the Tampa Bay Buccaneers need a better backup quarterback and Bray's tangibles are eerily comparable to that of Josh Freeman: namely size and arm strength.
Projected Selection: Tampa Bay Buccaneers, Round 3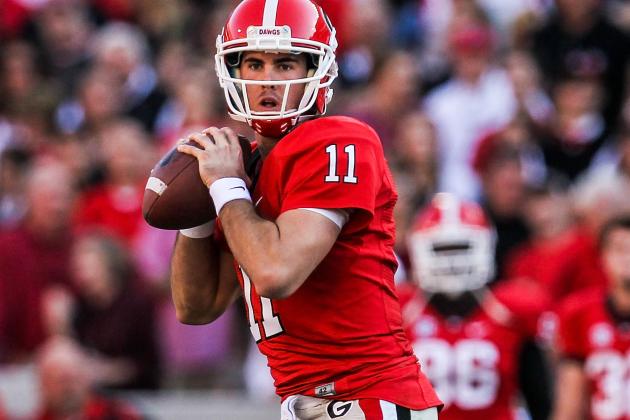 Daniel Shirey-US PRESSWIRE

Don't underestimate Aaron Murray because of his size, this guy possesses an impressive fastball and the field awareness to be a solid pro.
This season is Murray's third consecutive as a starter for Georgia, and the Bulldogs have been 25-12 dating back to opening kickoff in 2010, and 19-5 going back to 2011. Of course he did have A.J. Green to target in his first season under center.
Since, though, Murray has only improved. Through 10 contests this season the 'Dawgs are 9-1 and Murray sports a 65.8 completion percentage. Add in 24 touchdowns to seven picks and Murray has spread the wealth all year.
Four different receivers have at least 24 catches and three scores, which has kept Georgia's offense balanced. Murray works well from under center and he would transition nicely to the Arizona Cardinals. Despite their lack of pass protection, providing Murray with that kind of receiving corps will pay dividends.
Just from decision-making alone, Murray would get Arizona's offense in the right direction.
Projected Selection: Arizona Cardinals, Round 3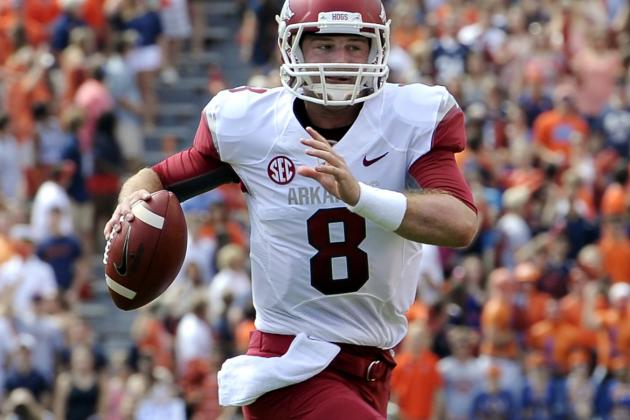 Shanna Lockwood-US PRESSWIRE

Tyler Wilson has enjoyed a consistent career with the Arkansas Razorbacks.
After backing-up Ryan Mallet, Wilson stepped in last year and threw 24 scores to just six picks. Include a 63.2 completion percentage and Arkansas finished a strong 11-2. This season unfortunately, Wilson has slightly regressed.
Even before starting and then through 2011, he had the luxury of targeting Greg Childs, Jarius Wright and Joe Adams.
All were gone thereafter and it's clearly affected Wilson and the Razorbacks offensive explosion. On the bright side, Wilson is faring well through 2012 with 18 touchdowns to 10 picks and a 60.9 completion percentage.
Presenting solid size, underrated mobility and an impressive arm, Wilson suits the Jacksonville Jaguars to a T.
Blanie Gabbert continues to struggle and Chad Henne remains Mike Mularkey's other option. Well, it's realistic for Wilson to be available in the beginning of the second round since few teams need a quarterback right away.
Projected Selection: Jacksonville Jaguars, Round 2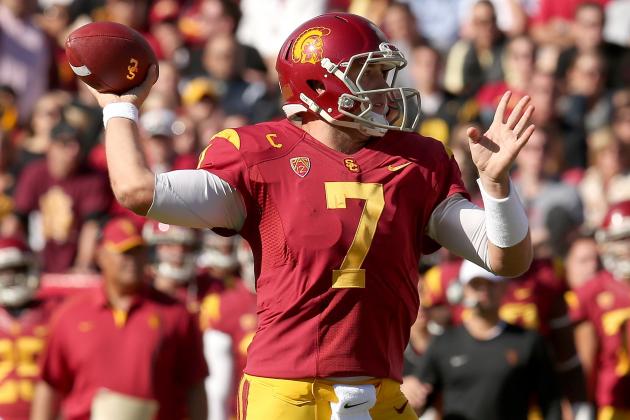 Stephen Dunn/Getty Images

If there's an NFL-ready quarterback in the 2013 draft, it's Matt Barkley.
He possesses the experience, size, arm strength, decision-making and mechanics to make an immediate impact. Last season Barkley tossed 39 touchdowns to only seven picks while connecting on 69.1 percent of his passes.
This season is eerily similar with 33 touchdowns to 13 picks and a 64.8 completion percentage. Obviously, Barkley's getting help from stud receivers like Robert Woods and Marqise Lee. Nevertheless, no receiver can make plays without consistent accuracy from a quarterback either.
Another appealing aspect to Barkley is USC's weak defense. The Trojans allow 24 points per game, which is a lot regarding their susceptible schedule, so Barkley must bring his A-game on a weekly basis. Although USC has lost three games so far in 2012, it won't hurt Barkley's appeal to the Buffalo Bills.
Ryan Fitzpatrick may rack up yards and points, but wins are scarce and interceptions are not. Factor in Buffalo's pass protection and ground game and Barkley will get the Bills to the next level.
Projected Selection: Buffalo Bills, Round 1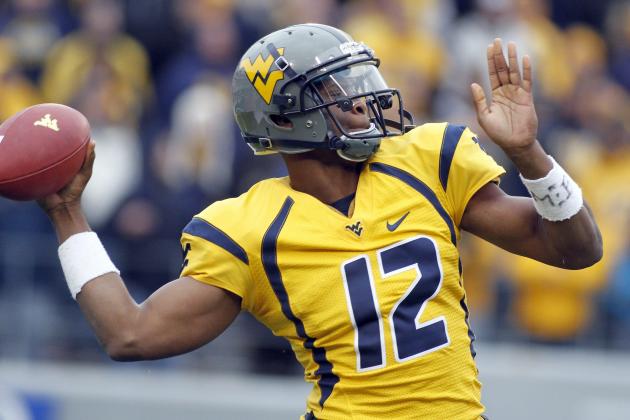 Justin K. Aller/Getty Images

Geno Smith is the epitome of decision-making.
With 31 touchdowns to only three interceptions to this point in 2012, Smith and the West Virginia Mountaineers field one intense offense. Along the same lines as Robert Griffin III, Smith has never thrown double-digit interceptions throughout the course of a season.
In 2010, he had a 64.8 completion percentage with 24 scores to seven picks. A year later he improved to 31 touchdowns and had only seven picks, while completing 65.8 percent of his passes.
This season Smith has simply escalated to another level with a 71.3 completion percentage. Appearing undersized, the gunslinger possesses a great arm, mobility and an impressively quick release. That kind of mechanical quarterback engineering is what the Kansas City Chiefs are missing.
Considering Jamaal Charles and the rushing attack, Smith is assisted by play-action and begins to positively turn K.C. around.
Projected Selection: Kansas City Chiefs, Round 1
Follow John Rozum on Twitter.