3 Oakland Athletic OFs Who Will Be Traded This Offseason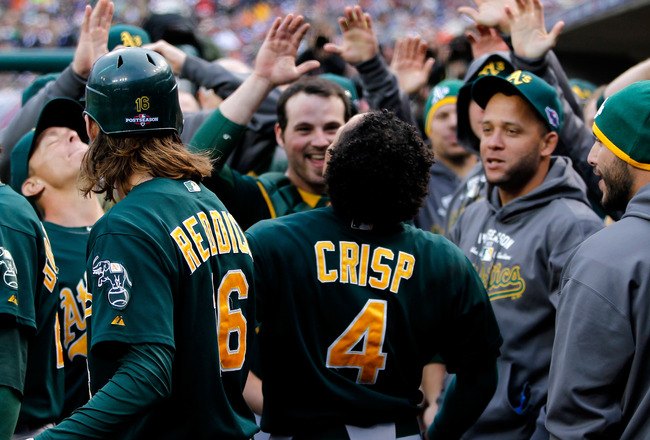 The Oakland A's posted the second-best record in the American League.
Gregory Shamus/Getty Images
The Oakland Athletics surprised everyone when they posted the second-best record in the American League and made the playoffs in 2012.
Oakland has a very young team and could be playoff contenders for years to come.
However, if they want to be legitimate contenders for the World Series, there are some players the A's could trade to improve their roster.
The A's have a very talented outfield. Cuban outfielder Yoenis Céspedes signed a 4-year deal at the beginning of 2012. Coco Crisp is entering his 12th season at the age of 33. They also have Gold Glove-winning right fielder Josh Reddick.
The A's already traded for outfielder Chris Young when they were not able to come to terms with Jonny Gomes.
Billy Beane and the A's front office have been known to trade for a young, developing star and can do it again this offseason. They have the outfield depth to swap one of their outfielders for a shortstop as they let Stephen Drew and Cliff Pennington test free agency.
The A's can launch themselves as the favorites in the AL West with a couple of smart moves.
Coco Crisp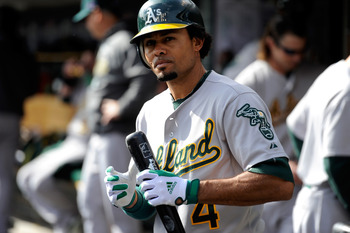 Coco Crisp hit 11 home runs in 2012; his highest total since 2005.
Jason Miller/Getty Images
Coco Crisp is going into the last year of his two-year deal he signed back in January. The A's hold an option for the 2014 season.
Crisp had a very productive 2012 season. He had 118 hits, seven triples and 11 home runs. Although he posted a .259 average, his lowest since 2009, Crisp had a .325 on-base percentage as the leadoff hitter.
Coco Crisp can provide many teams with speed and power in the leadoff spot in the lineup. He has also shown that he still has speed on the bases. Crisp stole 39 bases and was only caught four times.
The Royals and Indians, former employers of Crisp, are two teams who are in the rebuilding stage. Both teams could be good suitors for the 33-year-old outfielder for the 2013 season as they continue to rebuild.
Collin Cowgill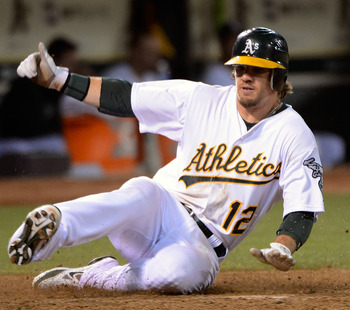 Collin Gowgill hit for a .269 average in 38 games.
Thearon W. Henderson/Getty Images
Collin Cowgill is the A's fourth center fielder behind Chris Young, Coco Crisp and Yoenis Céspedes.
He's played in 74 total games, 36 with Arizona in 2011 and 38 with Oakland last year.
Cowgill posted similar stats in both years—22 hits, one home run and nine RBI in 2011; 28 hits, one home run and nine RBI in 2012.
Cowgill played all three outfield positions during his time in Oakland. He started 11 games in left field, 12 in center field and five in right field. He has zero errors and three double plays in his short career.
He is a young player who has the ability to play all three outfield positions. Many teams can use a player like Cowgill to replace a player lost to free agency
On a team with plenty of outfield depth, Cowgill will be a backup for years unless he is traded out of Oakland.
Brandon Moss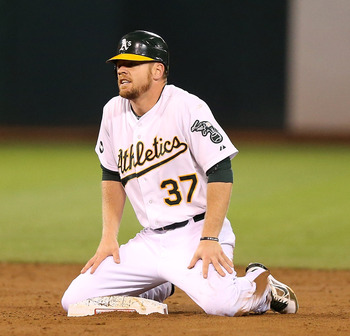 Brandon Moss hit for a career-high 21 home runs in 2012.
Ezra Shaw/Getty Images
Brandon Moss played outfield and first base for the Oakland A's during the 2012 season.
He had a successful 2012 season as he hit 18 doubles, 21 home runs and 52 RBI.
However, Moss was splitting time at first base with Chris Carter as both players started 51 games. Moss also started 15 games in the outfield.
Moss played the outfield with the Red Sox, Pirates and Phillies. In his six seasons, Moss has a .990 fielding percentage with only four outfield errors.
The A's can easily part ways with Moss because they have Carter as their first basemen and plenty of other outfielders.
In my opinion, he can be compared to Nick Swisher, who also plays right field and first base. Despite the two-year difference, Moss seems to be just getting started while Swisher looks to be on the downfall of his career.
The A's have enough outfielders to field two full teams. Now, they must part with a couple of them in order to make another playoff run on their way to a World Series.
Keep Reading

Oakland Athletics: Like this team?