MLB Free Agency: 12 Stars Who Will Struggle Most to Snag a Lucrative Deal
Melky Cabrera's PED scandal may hinder his ability to land a big contract
Doug Pensinger/Getty Images
Major League Baseball's offseason is upon us.
While it comes nowhere close to claiming the same attention Opening Day receives, free agency has begun and the market is open.
The not-so-captivating younger brother of December's winter meetings, the GM meetings are underway and may bring a few changes to instant replay in baseball.
Countless free-agent and trade rumors are expected to crop up during the meetings, but it's not likely that something major is going to go down.
The free-agent pool is dense heading into the 2012-13 offseason. Unrestricted players such as Josh Hamilton, Zack Greinke and Michael Bourne are expected to land big-time deals.
However, some stars will not be able to land the lucrative contract they are seeking.
And it's usually for a reason (See above photo).
Let's look at some of these hapless performers.
Edwin Jackson, Starting Pitcher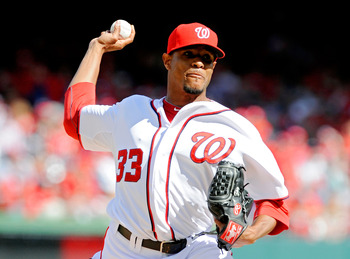 Jackson will likely find himself on another team come next season
Patrick McDermott/Getty Images
If Edwin Jackson can't find a suitable contract, he could certainly start a career as a travel agent. Jackson has played for six teams over the past five years.
All kidding aside, starting pitching is always in demand in the majors, and Jackson has proved himself as a solid middle-of-the-rotation starter.
He went 10-11 with a 4.03 ERA for the Washington Nationals last season and, though he didn't accomplish it in 2012, has the ability to pitch more than 200 innings.
Where Jackson's value drops is his less-than-stellar postseason statistics. His career 4.40 ERA is even worse during the playoffs, rising to 5.46. He didn't help his NL East champion Nationals in this year's postseason, either, allowing five runs on nine hits in six innings during his only start.
According to the Washington Post, the Nationals have cut ties with Jackson, who had signed a one-year, $11 million deal with the Nats last year.
Melky Cabrera, Outfielder
It is not likely the Giants will re-sign Cabrera
Thearon W. Henderson/Getty Images
For a player with Melky Cabrera's ability, it's surprising to many that he may be playing for his fifth club in five years come Opening Day 2013.
In discussing Cabrera's future, one must first acknowledge the enormous elephant in the room. His 50-game PED suspension will decrease the size of his next contract. Any GM negotiating with him can pull the "another positive test and you're gone 100 games or worse!" card.
That being said, 2013 will be an important year for Cabrera, who will attempt to prove to naysayers that he can smack the ball around without the use of steroids. After all, PEDs don't help a player's hand-eye coordination or speed on the basepaths.
His stellar .346 batting average before his suspension will be more than enough to bring in a few suitors.
Torii Hunter, Outfielder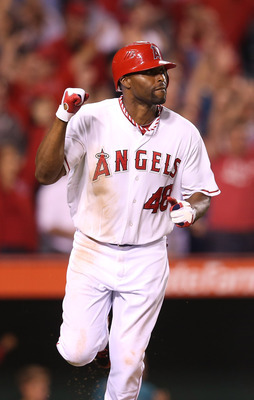 Torii Hunter is an All-Star and Gold Glove caliber player
Stephen Dunn/Getty Images
Let's get serious about Torii Hunter for a moment.
The guy is 37 years old and will turn 38 around the All-Star break next season. His 16 years in the league have been great, but how much more does he have in the tank?
With an abundance of quality outfielders in this year's free-agent class (i.e. Josh Hamilton, B.J. Upton, Nick Swisher and Cody Ross), Hunter may not find the contract he's seeking.
However, I could be eating my words in the following months.
Hunter is coming off a 2012 season in which he batted .313, which is far and away the highest of his career (51 points higher than his .262 batting average in 2011).
His legs have some wear and tear on them, but he still legged out 24 doubles, and his 92 RBIs were his most since he had 107 in 2007.
Hunter is receiving interest from big-market teams such as the Red Sox and Yankees, so a one-year contract is likely in his future.
Jose Valverde, Relief Pitcher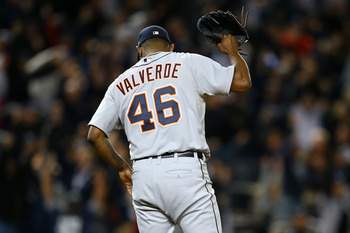 Valverde struggled in his one appearance in the ALCS against the New York Yankees
Al Bello/Getty Images
Jose Valverde has been one of the major league's most consistent closers over the past six seasons while playing for the Diamondbacks, Astros and, most recently, the Tigers.
Unfortunately, his postseason performances have been so consistently terrible that it cost him his job during the 2012 playoffs and will cost him a paycheck from his former club.
According to MLB.com, the Tigers have no interest in bringing back Valverde, who just finished a three-year, $23 million deal.
Despite saving 35 games and finishing with a league-leading 67 games, Valverde's nine earned runs in 2.2 innings pitched during the 2012 postseason was costly for the Tigers. This was not an anomaly, either, evidenced by his 9.82 career playoff ERA.
I'm not sure where Valverde will land, but he shouldn't expect the same type of money he received from the Tigers three years ago.
Shane Victorino, Outfielder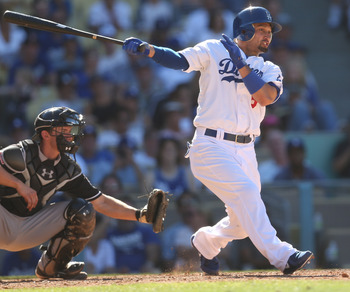 Victorino will look for a resurgence in 2013
Stephen Dunn/Getty Images
What happened to Shane Victorino in 2012? More importantly, what happened when he went to the Los Angeles Dodgers?
Victorino was still a valuable player while he was with the Phillies, but his All-Star-caliber play was missing last season. It got even worse when the lowly 2012 Phillies shipped him to the suddenly star-studded Dodgers at the trade deadline.
In 53 games in L.A., Victorino's stat line dropped to career lows, .245/.316/.351. Those numbers were not much better than his season totals of .255/.321/.383.
He still has a good glove and top-tier speed, stealing more than 110 bases over the past two seasons, and he will likely sign a two- to three-year deal with one of his two 2012 teams.
Ryan Madson, Relief Pitcher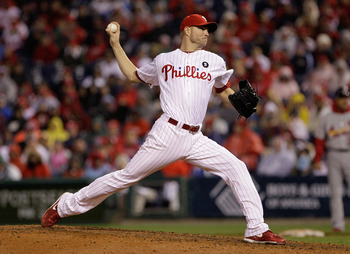 Madson knows how to close the door but may not be trusted with a closers role after Tommy John surgery
Rob Carr/Getty Images
Ryan Madson is an interesting case. No one is quite sure where he will land.
Madson missed the entire 2012 season after Tommy John surgery, but he proved himself as a reliable closer for the Philadelphia Phillies in 2011. He saved 32 games and sported a 2.37 ERA.
He signed a one-year deal with the Cincinnati Reds for the 2012 season but never appeared in a game.
It is feasible to imagine the Phillies and the Reds as the top destinations for Madson, yet both teams have quality closers in Jonathan Papelbon and Aroldis Chapman. Madson would then fit in as a set-up man.
The 32-year-old reliever is looking at another one-year deal with no guarantee of big money after being out of the game for more than a year.
Russell Martin, Catcher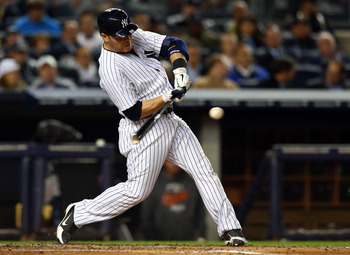 Martin will find a suitor even if the Yankees do not re-sign him
Elsa/Getty Images
It is difficult to remain a starter at the major league level when one bats .211 and strikes out nearly 100 times.
Russell Martin is a solid defensive catcher. His .994 fielding percentage tied him for the highest fielding percentage for an AL catcher, and he won a Gold Glove in 2007 with the Dodgers. With catchers always at a premium, those are important factors.
However, Martin was a hole in the Yankees' lineup during the 2012 season. His batting average dropped for the fifth straight year and his strikeout total climbed for the third straight season (95).
It's not likely that the Yankees will throw another $7.5 million at Martin, but he will gain attention from clubs in need of a general behind the plate.
Roy Oswalt, Starting Pitcher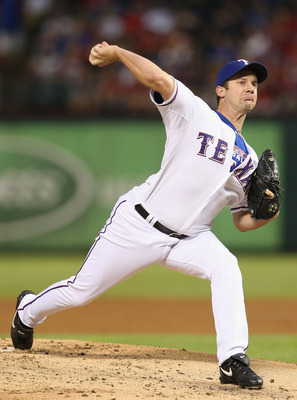 Oswalt's future is up in the air
Ronald Martinez/Getty Images
Roy Oswalt used to be regarded as one of the premier starting pitchers in the game. His career .629 winning percentage and 3.28 ERA certainly reflect well on his past.
However, in his first and potentially only season with the Texas Rangers, Oswalt started just nine games while also working out of the bullpen. He posted a 4-3 record with a 5.80 ERA.
The 35-year-old pitcher was plagued with back stiffness for the entire season as well as forearm discomfort near the end of the year.
For a player used to earning upwards of $15 million a season in his prime, Oswalt should land a one-year deal with a club willing to take a risk on his deteriorating body. His subpar performance last season and those nagging injuries will not help his market value.
Joe Blanton, Starting Pitcher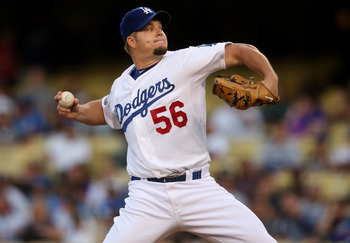 Blanton can eat innings but won't solve many teams' pitching woes
Stephen Dunn/Getty Images
As a back-of-the-rotation starter coming off a mediocre season that had a dismal ending, Joe Blanton will not be hitting the free-agent market strongly.
The Phillies dumped Blanton and his 4.59 ERA on the Dodgers, who hoped a change of scenery would fix things. Instead what Magic Johnson and the Dodgers got was an innings-eater who couldn't keep runs off the scoreboard.
His ERA in 10 starts with the Dodgers reached 4.99 and his hits-per-nine-innings total eclipsed double digits at 10.3.
Los Angeles may look to re-sign Blanton at a cheap rate or let him walk to a team like the Red Sox, who are in desperate need of starting pitching.
James Loney, First Baseman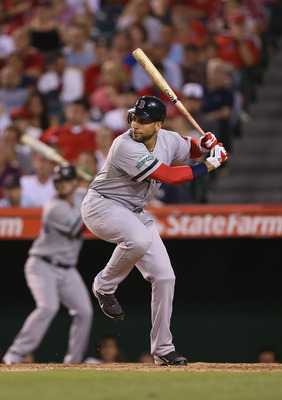 Loney is a free agent for the first time in his career
Jeff Gross/Getty Images
For a position known for featuring some of the majors' most feared power hitters, first baseman James Loney does not fit the bill.
After a rookie season in which he batted .331, Loney has not come close to reaching that figure or been able to repeat his home run total of 15.
Loney can drive in runs when given the opportunity with RBI totals of 90, 90 and 88 from 2008 through 2010 with the Dodgers. But his .249 batting average from last season is a cause for concern, as are his six home runs and 43 RBIs.
He was shipped to the beaten-down Red Sox at the trade deadline in the blockbuster deal that sent Adrian Gonzalez, Carl Crawford, Josh Beckett and Nick Punto to L.A. While with the Red Sox, Loney batted .230 and drove in just eight runs in 30 games.
He has a great glove at first base, but it will not be enough to offset his poor offensive ability.
Daisuke Matsuzaka, Starting Pitcher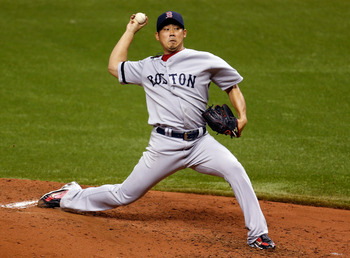 Matsuzaka and his gyro ball couldn't make it in the MLB
J. Meric/Getty Images
Remember when the Boston Red Sox paid $51.11 million for the rights to Daisuke Matsuzaka, then shelled out another $52 million over six years to sign the Japanese pitching superstar?
With a total of $103.11 million in Dice-K's pocket, this may be considered Red Sox owner John Henry's worst investment.
Despite a solid rookie campaign and a stellar sophomore season in which he went 18-3 with a 2.90 ERA, Matsuzaka has been a bust for the Red Sox.
He could not stay healthy and his control was all over the place, culminating in a 2012 season off Tommy John surgery in which he went 1-7 in 11 starts with an 8.28 ERA.
Matsuzaka is receiving no attention from MLB clubs and will likely return to his native Japan.
Jason Bay, Outfielder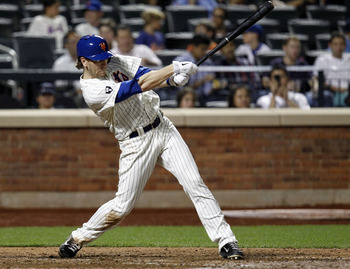 Jason Bay will look to return to his old self when he played for the Pirates
Jeff Zelevansky/Getty Images
After a nice second year in Boston in 2009 when he hit 36 home runs and drove in 119 runs, Jason Bay signed a four-year deal with the New York Mets for $66 million.
Well, one side got screwed, and it wasn't Bay.
On Wednesday, Bay and the Mets agreed to terminate the final year of his contract, allowing the player to seek a fresh start somewhere else.
In three seasons with the Mets, Bay hit .234 with 26 home runs, struggling to the point that he became a platoon player in 2012.
Bay has no chance at a lucrative deal and will seek a roster spot with a West Coast team, according to the Boston Herald's Michael Silverman.
Keep Reading