Fantasy Football Week 10: Top Sleepers at Each Position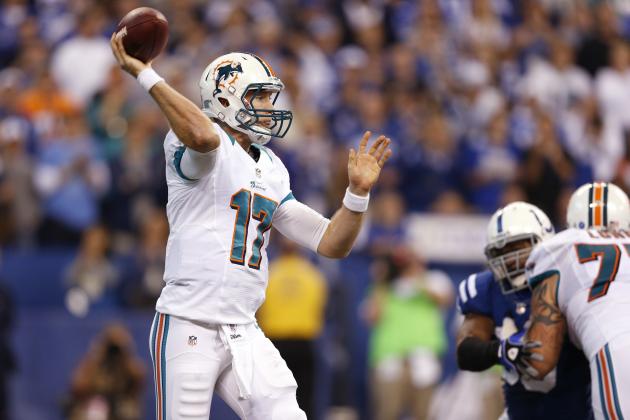 Joe Robbins/Getty Images

With the injury bug starting to run through rosters left and right, there have to be some guys on the free-agency list or at the bottom of your roster that are prone to break through, right? Absolutely.
We're down to the nitty gritty, and if you're desperate, it's time to get cute. No more playing the numbers if your team is 3-6 heading in to Week 10.
There's plenty to pick from here, and hopefully, you find my list to be of some help. I'll even let you blame me if any of these backfire. So let's get it rolling.
Begin Slideshow

»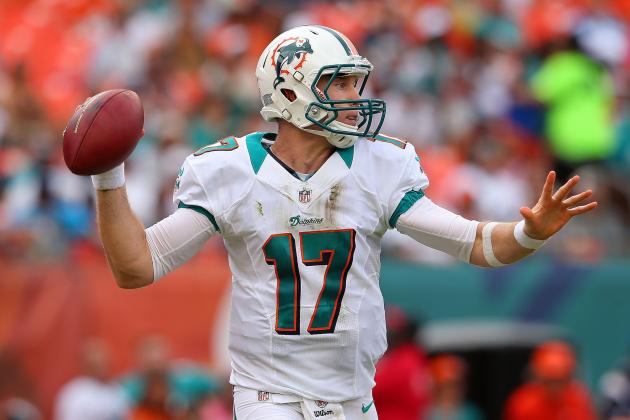 Mike Ehrmann/Getty Images

Current Positional Rank: No. 28
Week 10 Opponent: Tennessee Titans
The cover boy of the article has a great matchup this week against a loathsome Titans defense. Tennessee currently ranks No. 30 out of the 32 NFL teams against opposing quarterbacks in fantasy and have not allowed fewer than 15 points against one.
For that reason, Tannehill almost skips sleeper status and flirts with must-start territory despite his rank. Tannehill has put up three good games, one mediocre game and one stinker in his past five contests.
Also, don't let the rank fool you. He had trouble in his first game, went through a bye week and left a game due to injury. He's not No. 28 in terms of talent. He should get his touchdowns this week and has been great at protecting the ball.
We're in the business of predicting around these parts, so I would put him in the 17 to 20-point range, which is a great fill in if you have fantasy studs Robert Griffin III and Aaron Rodgers riding the virtual pine due to bye weeks.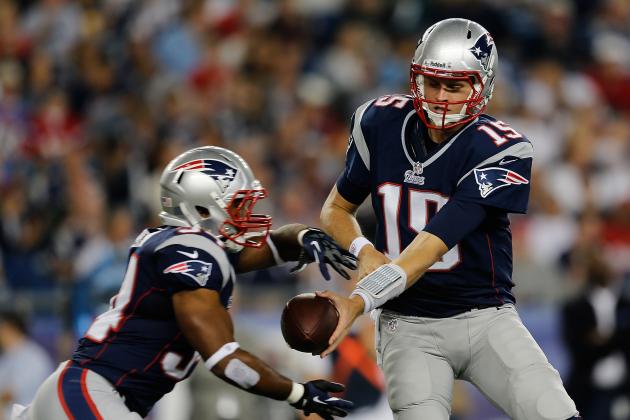 Jim Rogash/Getty Images

Current Positional Ranking: No. 62
Week 10 Opponent: Buffalo Bills
If you're strapped at running back this week, there's a lot worse you could do. As always, the Bills and Patriots should play to a shootout. Vereen should be the biggest beneficiary this week because of that.
Primary back Stevan Ridley, third-down back Danny Woodhead and Vereen will all see significant time on the field this Sunday. Ridley is poised to have a big week, but Vereen should also have a productive afternoon.
This is all contingent on Brandon Bolden missing another week, though. If he comes back, Vereen's value will plummet, but assuming he doesn't get to see the field, you have to consider Vereen for your starting lineup.
Just think, Bolden got 20 points in the Pats' first game against Buffalo as the secondary back. I wouldn't expect that kind of game from Vereen, but he should still be good for 10-12 points.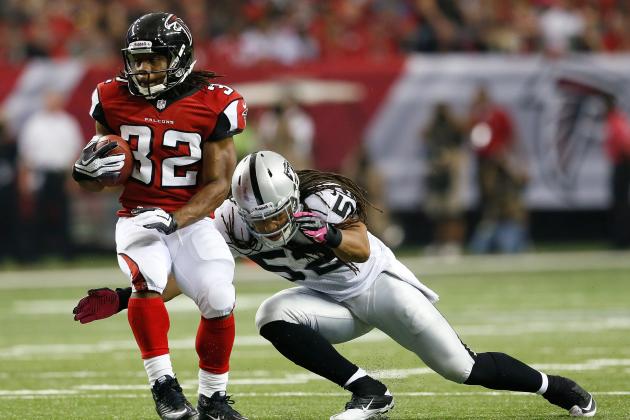 Kevin C. Cox/Getty Images

Current Positional Ranking: No. 48
Week 10 Opponent: New Orleans Saints
Much like Vereen, this sleeper should see a lot of time against a poor defense. If it wasn't for the Bills, the Saints would be dead last against fantasy running backs.
That's always a good recipe for a sleeper to break through. Yes, Michael Turner will see the lion's share of the carries, but that doesn't mean you should rule out Rodgers.
At some point, Rodgers is going to find the end zone. If there was any week to do that, it would be this week. I expect him to hit pay dirt for the first time in 2012 against New Orleans as a compliment back to Turner.
I still wouldn't suggest him over other perennial fantasy starters, but if you have injury troubles or Alfred Morris, this could be the way to go if Vereen and others are off the market.
The final prediction would put him between eight and 11 points against the struggling Saints defense.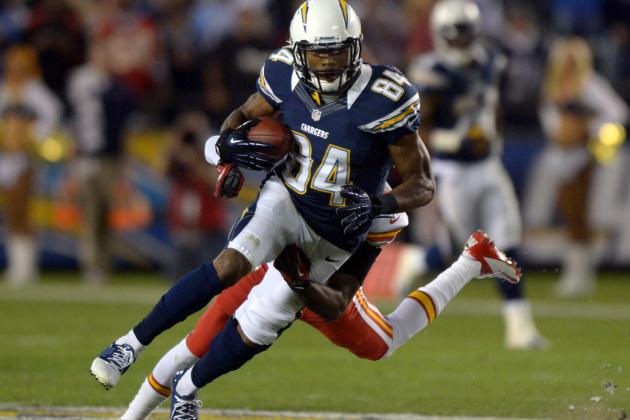 Kirby Lee-US PRESSWIRE

Current Positional Ranking: No. 135
Week 10 Opponent: Tampa Bay Buccaneers
Alexander is currently owned in about 0.1 percent of all fantasy leagues, so chances are, you will be able to pick him up if you need him.
After being promoted to the starting lineup against Kansas City, Alexander tallied three catches for 61 yards and established good confidence with his coaching staff.
It seems that even if Robert Meachem is ready to go this week, Alexander will certainly get the nod ahead of him, and against a porous Buccaneers defense, that's a good thing.
Just like the Patriots-Bills game, the Chargers and Bucs should have no problem putting the points up on the scoreboard. This has all the makings for a good week for Alexander.
Right now, I'll put him at 10-12 points if Meachem doesn't play and eight to 10 if Meachem does get to see the field.
Charles LeClaire-US PRESSWIRE

Current Positional Ranking: No. 67
Week 10 Opponent: Kansas City Chiefs
We were just talking about the Chiefs, weren't we? It's no surprise that KC doesn't have much of a defense, and Sanders will surely benefit this week.
He hovers around 40 yards per game and should see a huge increase in targets this week with Antonio Brown not expected to play for the Steelers.
He and Big Ben have always seemed to have a good on-field rapport, and this week shouldn't be any different. He's available in over 97 percent of fantasy leagues and is worth consideration for your flex spot. Especially with the numerous Packers receivers on a bye week.
I'm not going to pretend that he'll set the world on fire, but against a Chiefs defense on Monday Night Football, I would still expect him to get eight to 10 points.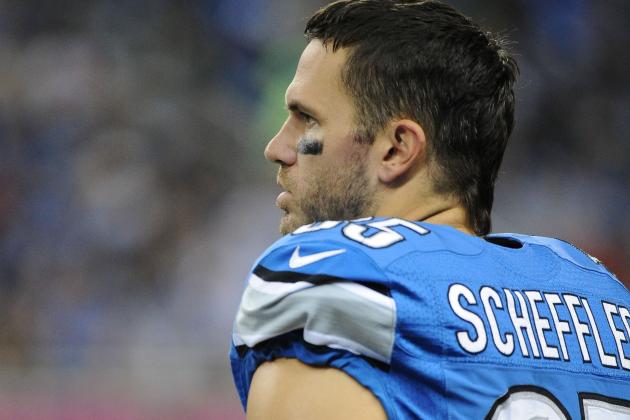 Tim Fuller-US PRESSWIRE

Current Positional Ranking: No. 39
Week 10 Opponent: Minnesota Vikings
Available in over 99 percent of leagues, I think he's worth a look since I believe he is just poised to break out.
Starting tight end Brandon Pettigrew has been a bit underwhelming, and against a No. 22 ranked Minnesota defense (against tight ends), Scheffler will get fed the ball a few times.
It doesn't hurt to think about Scheffler. He's pretty popular around my neck of the woods (Kalamazoo, MI) since he went to Western Michigan University and plays for the Lions. So as a non-Lions fan, I can neutrally tell you that he's going to have a solid week.
Not back breaking numbers, but I think he'll come away with six to eight points. Which, with tight ends being a crap shoot this season, is pretty good.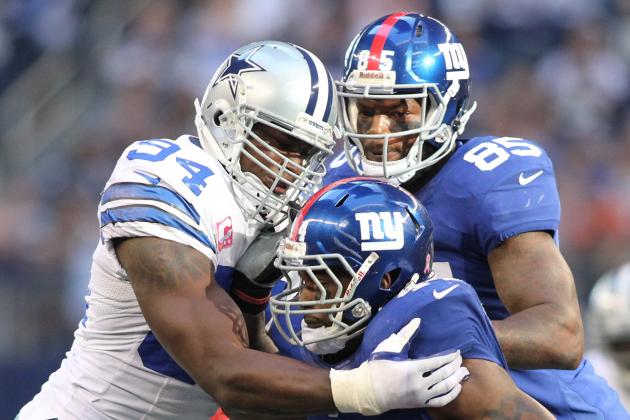 Tim Heitman-US PRESSWIRE

Current Positional Ranking: No. 26
Week 10 Opponent: Philadelphia Eagles
The Cowboys defense has been a bit of a disappointment this season. Well, maybe not for me since I'm a Redskins fan, but look who's talking.
They have only put up more than seven points once, and even that was only 10 against Tampa Bay before it got the train back on the tracks.
However, the Eagles come calling this week, with Michael Vick being an absolute turnover machine. That is always gold for an opposing defense.
The Eagles offense has allowed opposing defenses to gather at least eight fantasy points in all but two matchups this season, so it's a pretty good bet to think Dallas will get about eight to 10 points for your team.
Well that's going to wrap it up for this week since I refuse to break down fantasy kickers as if I knew what I was talking about. Don't let any fantasy writer give you advice on a kicker, just pick one and hope for the best. Anyway, if you still have questions or need advice, I'm always available. My e-mail is koreydbeckett@gmail.com and I'm on Facebook at http://www.facebook.com/koreybeckettBR. Good luck, everyone!