Boston Red Sox: 5 Key Sox Vets You Likely Won't See on the 2013 Roster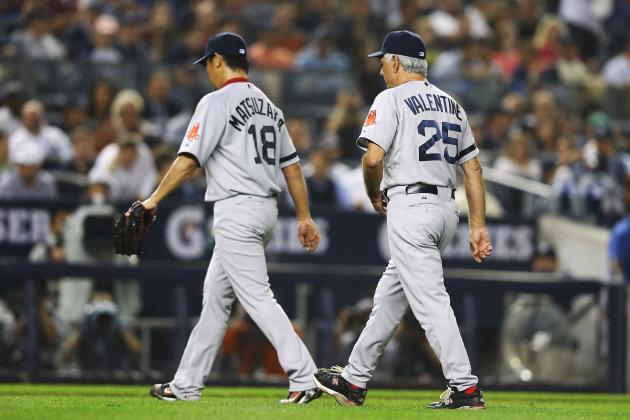 Al Bello/Getty Images

The 2012 season was an exercise in futility for the Red Sox, as they failed miserably to form a cohesive unit from the beginning of the season and subsequently carried out a year-long grudge match between the coaching staff and the players that resulted in one of the worst seasons in franchise history.
After the infighting and turmoil in Boston came to a head through the summer, the Red Sox miraculously found a way to shed a significant amount of salary with their trade of Josh Beckett, Carl Crawford, Adrian Gonzalez and Nick Punto to the Dodgers, essentially pressing a reset button financially with their roster in the process.
The youth movement and the results that followed shortly after the trade were predictably horrendous, with the key veterans still remaining on the team were unable to keep the club afloat while Triple-A call ups failed to produce much in the way of offense as the season came to a close.
All of that has led to a mass amount of speculation as to how the 2013 Red Sox will look when they take the field next spring, with fans of the team everywhere engaging each other in debate on who Boston might sign in free agency or acquire via trade.
Given that the discussion surrounding potential signings or trade candidates is thoroughly saturated as of right now, a look at a group of key veteran players that won't be taking the field in a Red Sox uniform when spring training commences seems to be in order, as knowing who's likely to be playing elsewhere makes projecting the signings/trades to fill each position opening that much easier.
So with that in mind, here are five players that I think will be donning another team's colors in the near future.
Begin Slideshow

»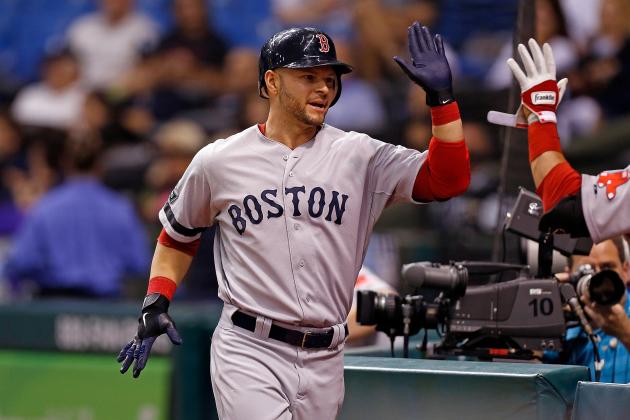 J. Meric/Getty Images

Much like Adrian Beltre before him, Cody Ross turned out to be an excellent single-season free agent signing by the Red Sox, using the Green Monster to his advantage more often than not and providing offense for Boston when no one else seemed to be capable.
Ross had an very nice season statistically speaking for the Red Sox last year, with a slash line of .267/.326/.481 to go along with 22 home runs and 81 runs batted in.
His home/road splits leave much to be desired though, as Ross was not able to carry his propensity for big hits with him when the Red Sox left the confines of Fenway Park. Ross's batting average, doubles, home runs and runs batted in all dropped off on the road, making it difficult for Boston to invest significant money in him this offseason.
Although the Red Sox and Ross's representation engaged somewhat in talks to keep him around over the next year or two during the team's exclusive signing window, nothing of merit was accomplished, and it's since come out that the two sides were never really close to reaching an agreement.
Ross has remained steadfast in his belief that he should receive a deal that falls close to three years, $25 million, and he'll test the waters of free agency to see if a team in need of an outfielder with right-handed pop is willing to give him what he wants in a contract.
Anything is possible, but given the Red Sox's reluctance to go that far in any contract with Ross, it's unlikely at this point that he'll back with the club next season.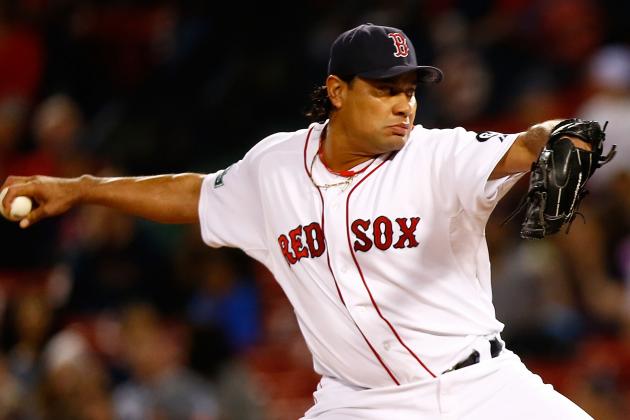 Jared Wickerham/Getty Images

Easily one of the most eccentric players ever to wear a Red Sox cap, Vicente Padilla had a reasonably decent season coming out of the bullpen in the eighth inning to get the game to the closer in the ninth.
He wasn't the most effective setup man by any means, but more often than not, Padilla was a reliable option for Boston late in games; something that most of the other bullpen arms were incapable of.
Padilla's statistics are not flashy or overly impressive, with a 4.50 ERA, 51 strikeouts and a WHIP of 1.480, but he did seem to get the job done when he needed to.
His performance isn't likely to earn him anything major when it comes to longevity or salary, especially in light of his previous issues with other teams, but there's little doubt in my mind that there will be at least one team that will offer him a nice payday at some point this offseason.
Whether that team ends up being the Red Sox is anyone's best guess at this point, but the odds are not good considering the direction that Boston is trying to travel right now.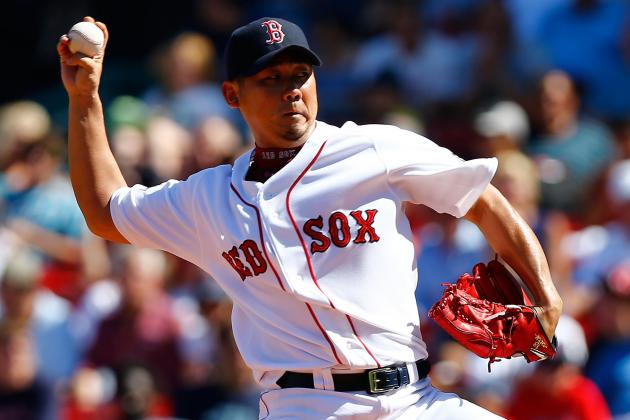 Jared Wickerham/Getty Images

Regardless of how poorly he's performed over the past few seasons, Daisuke Matsuzaka will always be remembered (at least in my eyes) for the role he played in 2007, helping the Red Sox take home the World Series trophy in his first year with Boston.
Coming over from Japan, Matsuzaka was one of the most highly anticipated signings in recent history, and while the overall length of his original deal was not exactly put together in the most team-friendly way, financially speaking, the job he did in the World Series to hold off Colorado was outstanding.
That said, there will be no tears shed in his departure, as most every fan I've ever spoken to is fed up beyond belief with Matsuzaka's ever-present habit of trying to nibble around the edges of the plate instead of going after hitters with power over guile.
Matsuzaka's most likely destination at this point—if he stays in the MLB—seems to be a West Coast team with a pitcher-friendly ballpark where he'll have a bit more leeway if he misses with his pitches. He could potentially make a return to Japan as well, as he'd almost certainly have a hero's welcome waiting for him, given the rock star status he enjoys in his home country.
With fan sentiment clearly against him, it seems that Matsuzaka will have to be content finishing off his MLB career in a different locale, as the Red Sox seem to have no desire at this point to bring him back for another season.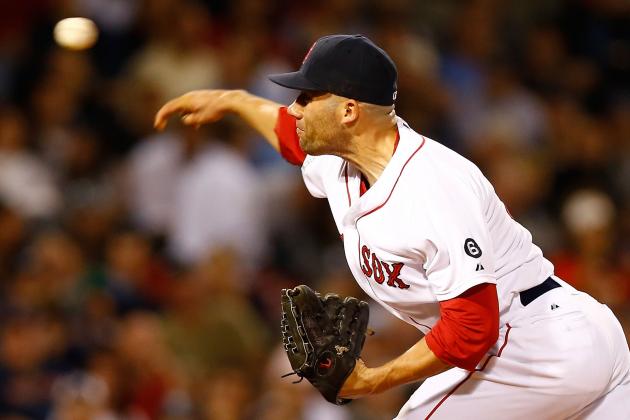 Jared Wickerham/Getty Images

Aceves is somewhat of a guess when it comes to whether he'll be with the Red Sox next year, as a trade would almost certainly be required for him to end up playing in a different locale next season.
Still, I am of the opinion that the Red Sox will be listening with the intent to move him this offseason, after putting up with countless tantrums and public displays of detrimental conduct towards the club in 2012.
A trade may or may not come to fruition, given Aceves's propensity for going off the deep end with no apparent reason to do so, but there is no doubting his ability on the mound. His versatility is almost unmatched around the league right now, as he can slot in as a starter and come out of the bullpen in a variety of roles.
Aceves spent the majority of last season as the Red Sox closer, finishing the year with an ERA of 5.36 and 25 saves. Those stats don't exactly jump off the page, but given the way the rest of team performed last season, Aceves wasn't the problem when it comes to Boston's win-loss record in 2012.
Players like that aren't easy to find, so the Red Sox may decide to hang onto Aceves rather than deal him away, but if they're able to include him into a trade that brings back a top level player or talent to help at several positions, it would be hard to not pull the trigger.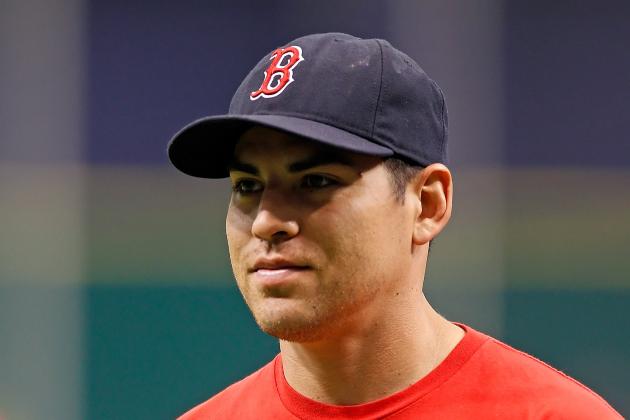 J. Meric/Getty Images

It's hard to imagine a Red Sox team taking the field next spring without Jacoby Ellsbury leading off, but his contractual status makes him a prime candidate for a trade this offseason.
Ellsbury is slated to hit free agency at the end of next year, and with the infamous Scott Boras pulling the strings as his agent, it's doubtful that he'll sign an extension before he sees what he might be able to pull in on the open market.
I recently discussed the necessity of dealing Ellsbury now, in an attempt to maximize the return Boston gets back in return for his services, as opposed to waiting and having him leave via free agency after next season with nothing to show for him other than a compensatory draft pick. How much they get back in a trade depends on which team the Red Sox choose to do business with and what kind of package Boston puts together around Ellsbury in the deal.
At this point, the Red Sox seem to not be interested in that strategy, preferring instead to hold steady with Ellsbury and hope they can put together an extension offer that entices him to stay put. In the end though, I'd be surprised if they don't send Ellsbury elsewhere prior to the start of the 2013 campaign.