3 Reasons Michael Vick Needs to Show Up Against a Solid Cowboy D
Vick is going to have a hard time focusing downfield with DeMarcus Ware bearing down on him.
Rich Schultz/Getty Images
Michael Vick needs to have solid showing against the Dallas Cowboys at Lincoln Financial Field this Sunday.
He's having one of his worst seasons ever, and there aren't any signs of things getting better for him.
Apologists for Vick will be the first ones to point out the atrocious play by the offensive line, and they'd be absolutely right.
It's Week 10, folks. Get over it. That line is not getting any better this season, and it's time Vick and his bandwagon realize that.
There are a number of things Vick can do to try and cope with that, ball security being chief among them. If he'd stop holding the ball like a loaf of bread like he's still in a Hokie jersey, that would be a good start.
A quicker release and going through his reads faster would help. He's always looking for the long ball it seems. Vick needs to hit the quick passing plays every once in a while to keep the chains moving and his confidence high.
He should have plenty of extra motivation to show up against a hungry Dallas defense this weekend. The stakes couldn't be higher for him or his team.
Job Security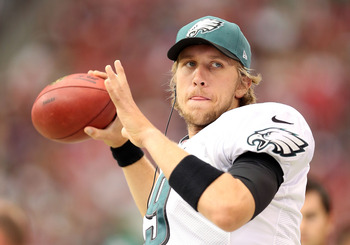 It might be Nick Foles time sooner than later if Vick can't find a win this weekend.
Christian Petersen/Getty Images
There's no doubt in my mind that right now Michael Vick is the best option the Eagles have at quarterback.
It's hard to believe that a rookie like Nick Foles will do much better behind that offensive line. Still, if things continue to trend like they are, Foles will be the starter in a week or two.
There's going to come a point in the season where it simply won't be possible to make the playoffs anymore if they lose a couple more games.
Foles definitely has some promise, and there's absolutely no reason not to play him if the season is lost.
That reason, more than his play on the field, will find Vick warming the bench throughout the winter. At this point, it's not about him just playing well, it's about him getting the team a win.
No one cares about an underachieving $100 million quarterback that's playing on a team with nothing to play for.
Season on the Line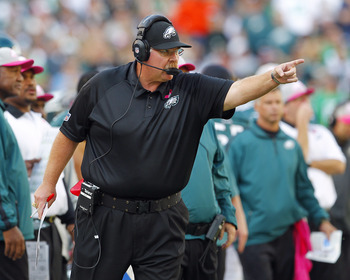 Maybe it's time Andy Reid stops pointing the finger.
Rich Schultz/Getty Images
Make no mistake, this is a must-win for the Eagles. Unfortunately for them, it's a must-win for the Cowboys as well, and they're coming to town having played a solid game against the Atlanta Falcons.
For either team, a divisional loss to send them to 3-6 would be a crippling blow, and the losing team's season might be over.
The sad truth for Michael Vick is that this team will go as far as he goes. They cannot and will not win in spite of him.
If he can hold onto the ball, take his lumps that will most assuredly come this Sunday and get rid of the ball quickly and efficiently, the Eagles have a chance.
He needs to do it in spite of his offensive line, and increasingly in spite of Andy Reid's questionable play-calling.
$100 Million Dollars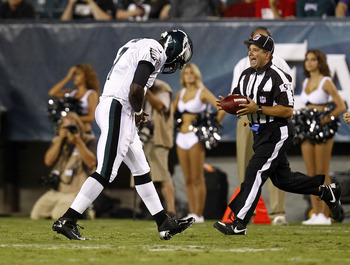 Regardless of what the Eagles do, there are 31 teams in this league that will watch Vick's situation closely.
Jeff Zelevansky/Getty Images
There are a 100 million reasons why Michael Vick needs to show up this Sunday.
Perhaps the Eagles front office isn't as short-sighted as previously thought. Clearly, they planned for this and have a contingency in place.
On October 14, ESPN's Adam Schefter tweeted the following:
If Vick is on the Eagles roster Feb. 6, 2013, three days after this season's Super Bowl, $3 million of his nearly $16 million salary becomes fully guaranteed. But if the Eagles opt to release Vick before Feb. 6, 2013, they will not have any financial obligation to him and his contract will come off their salary cap without any charge.
It's a crying shame that Vick's final judgement could be passed this season. His performance on the field is the result of a total organizational failure from the top-down.
The offensive line has been a problem for a while now, not just this season. Unfortunately, it's all come crashing down this year, and it's all landed right on Vick's head, literally and figuratively.
Keep Reading

Philadelphia Eagles: Like this team?