2009 Mock Draft: Hall of Fame Edition
Everyone has a mock draft out there. For the most part, they are all very similar. Don't get me wrong, I can't get enough draft coverage, but after a while, there really isn't anything new.
As you can tell, I have way too much time on my hands, so I have used the 2009 NFL Draft order and did a mock draft using players from the Hall of Fame. Everyone who is retired and in the Hall, or will be soon, is available.
It would be interesting to see who would go where, and here are some of my thoughts about it.
No. 1-Detroit Lions- Joe Montana, QB, Notre Dame
If the Lions are looking for a quarterback, who would fit better than the greatest of all time? Montana to Calvin Johnson! Think of the possibilities...
No. 2-St. Louis Rams- Lawrence Taylor, LB, North Carolina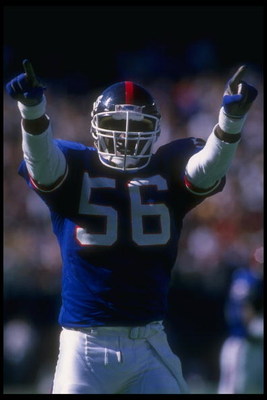 In Taylor, the Rams would add the greatest linebacker of all time. He would be able to bring the pass rush off the edge and also stuff the run. He also bring toughness and nastiness to a team that desperately needs it.
No. 3-Kansas City- Jim Brown, RB, Syracuse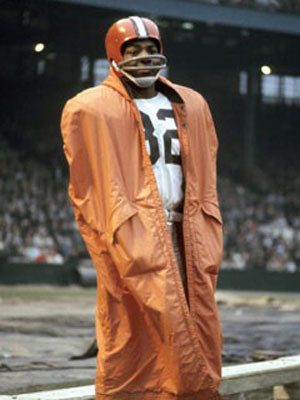 Move over, LJ. Jim Brown was, without question, the most talented running back in the history of the game. His career was relatively short, but his impact on football is timeless.
I see him rushing for 2,000 yards his rookie season with the Chiefs.
No. 4-Seattle- Walter Payton, RB, Jackson State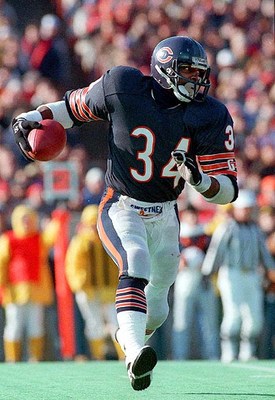 In Walter Payton, Seattle is getting a great running back and an even better human being. He will give everything he has on and off the field.
No. 5-Cleveland- Dick Butkus, LB, Illinois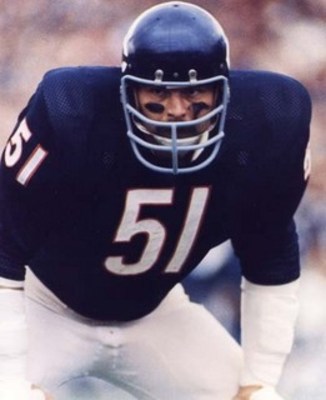 Cleveland needs a steady force on defense, and Butkus brings just that. No one who played the game was tougher than Butkus. Good luck trying to run the ball up the middle against this guy.
No. 6-Cincinnati- Reggie White, DE, Tennessee
White brings immense talent and character to a notoriously troubled team. He would be an example in the locker room and on the field, and I bet Ocho Cinco wouldn't run his mouth as much if he had to answer to Reverend White.
No. 7-Oakland- Jerry Rice, Mississippi Valley State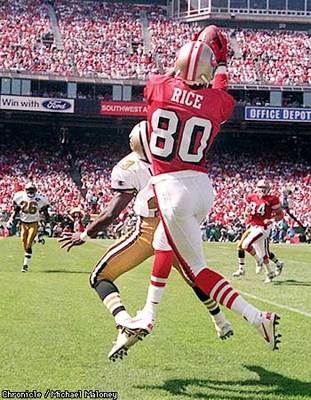 The greatest receiver of all time, by far, goes to Oakland, this time in his prime. No one works harder than Rice, and that work ethic would hopefully be contagious.
No. 8-Jacksonville- Johnny Unitas, QB, Louisville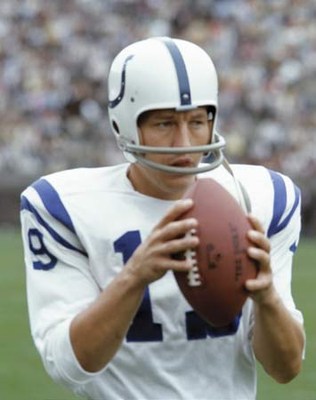 David Garrard is a nice quarterback, but I think the Jags would jump at the opportunity to get Unitas. While the game has changed since he dominated, I think he could still hold his own.
No. 9-Green Bay- Deacon Jones, DE, Mississippi Vocational College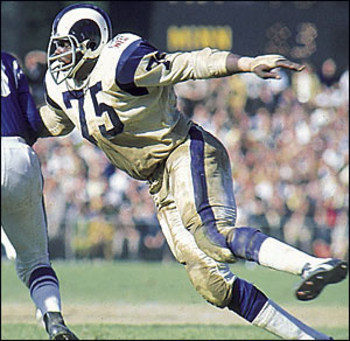 Deacon Jones has a unique way of playing football; he tried to kill his opponents, literally. The Packers are getting a pass rusher they desperately need, but I have a feeling he will be visiting Commissioner Goddell frequently.
No. 10-San Francisco- John Elway, QB, Stanford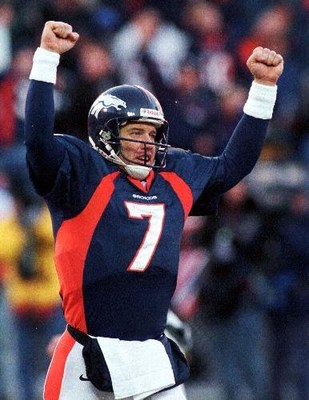 While San Fran doesn't have a plethora of weapons, Elway would find a way to put a lot of points on the board. He would be throwing to Isaac Bruce, who might be older than Elway...
No. 11-Buffalo- "Mean" Joe Greene, DE, North Texas State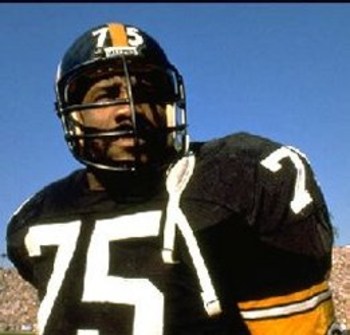 How long before Greene and T.O. get into a fist fight?
No. 12-Denver- Barry Sanders, RB, Oklahoma State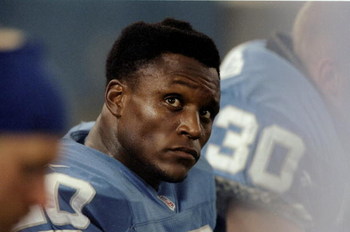 Sanders is the type of back who would thrive in any system, but especially in Denver's zone-blocking system that rewards vision and cut-back ability.
No. 13-Washington- Anthony Munoz, OT, USC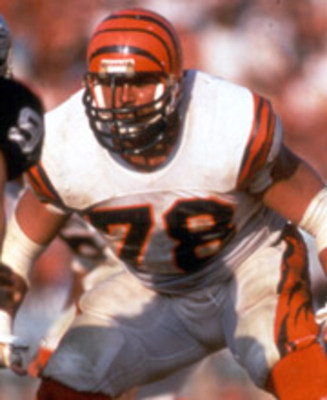 The 'Skins shore up their offensive line by adding the road block Munoz. Somewhere, Clinton Portis is wearing a blonde wig, Elton John's sunglasses, and smiling.
No. 14-New Orleans- Jack Lambert, LB, Kent State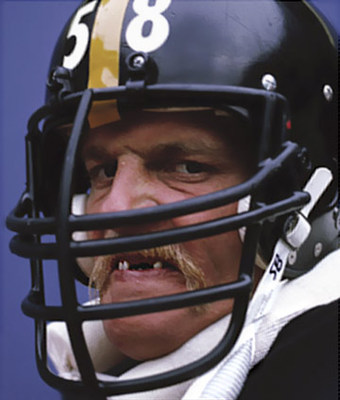 While New Orleans is a flashy offensive team, I think they would like to add some toughness to the defense, and it doesn't get much tougher than Lambert. I mean, look at that face.
No. 15-Houston- Ronnie Lott, S, USC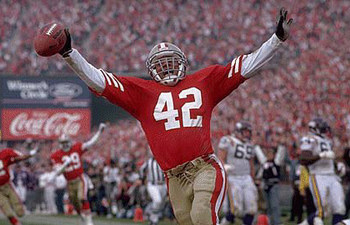 Houston is a very talented team, but their secondary is below average. Lott brings them intensity and desire coupled with sure tackling and play-making ability.
Also, this guy lost half of his finger during a game and continued to play.
No. 16-San Diego- Ray Nitschke- LB, Illinois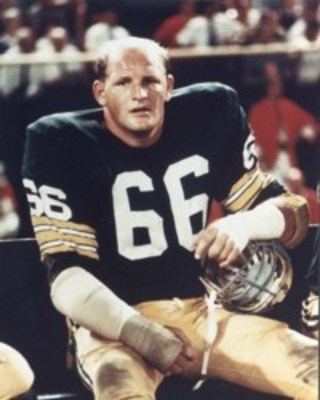 Nitschke would be ideal in the middle of the 3-4 defensive scheme that the Chargers use. He would open up the outside so Merriman can get to the quarterback.
No. 17-New York Jets- Dan Marino, QB, Pittsburgh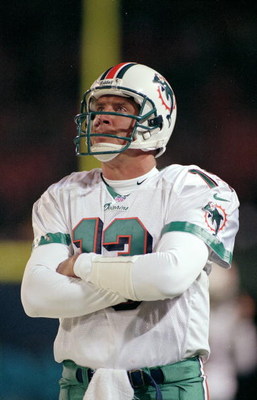 A year after the immortal Brett Favre tried to take this team to the top, Marino comes in and opens up the offense. Marino would turn Jerricho Cotchery into the next Michael Irvin.
No. 18-Chicago- Lance Alworth, WR, Arkansas
The Bears have never had a superstar wide receiver. Alworth brings them just that. He would open up the field opposite Devin Hester and create big plays down the field.
No. 19-Tampa Bay- Roger Staubach, QB, Navy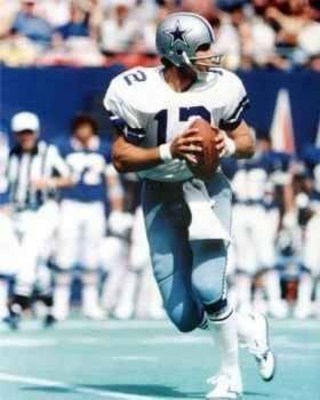 Tampa Bay gets the franchise quarterback that has been eluding them throughout their existence. Staubach brings a strong arm and great decision making to a team that has changed their entire identity.
No. 20-Detroit- Mike Singletary, LB, Baylor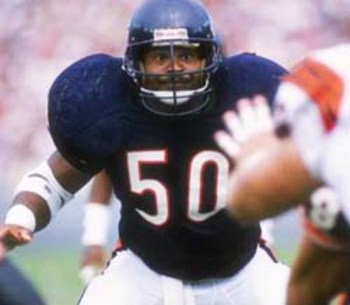 With their second pick, the Lions shore up the middle linebacker spot. Samurai Mike brings intensity, tackling, and comedy to the locker room. Who knows, he might drop his pants during the pregame introductions.
No. 21-Philadelphia- O.J. Simpson, RB, USC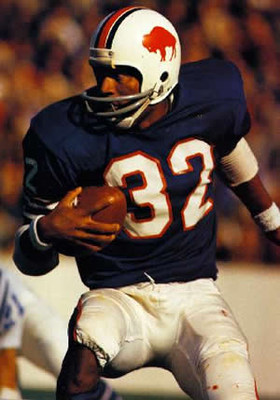 [Enter O.J. Simpson joke here]
No. 22-Minnesota- Terry Bradshaw, QB, Louisiana Tech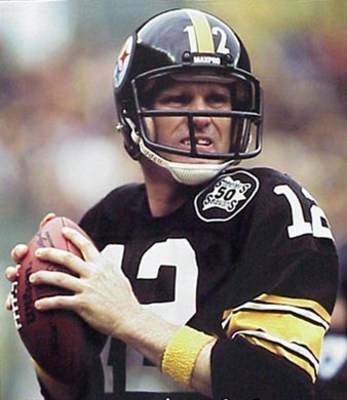 I think it's safe to say that the Tarvaris Jackson experiment is over. The Vikings need a quarterback that can come in and lead this team into the playoffs and beyond. Bradshaw is that guy.
No. 23-New England- Gale Sayers, RB, Kansas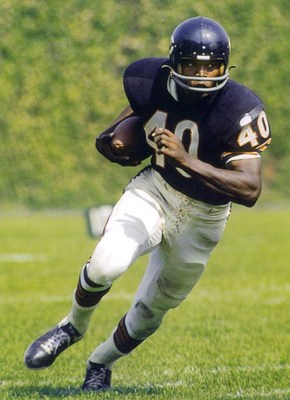 The Patriots just add another weapon. This would be scary.
No. 24-Atlanta- Deion Sanders, CB, Florida State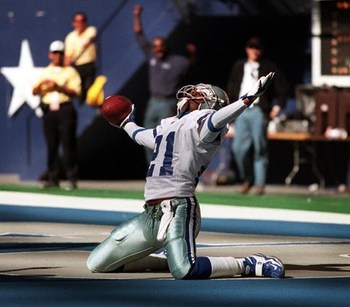 The Falcons are a very good team, and adding a playmaker on defense makes them scary good. He could also return kicks and make some big plays there. Primetime is back!
No. 25-Miami- Bruce Smith, DE, Virginia Tech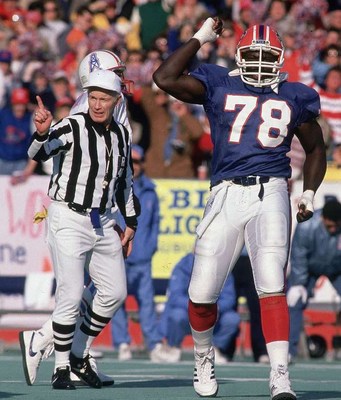 The Dolphins could use a great pass rusher outside of Joey Porter, and Smith give them that. The guy has a nose for the quarterback.
No. 26-Baltimore- Mel Blount, CB, Southern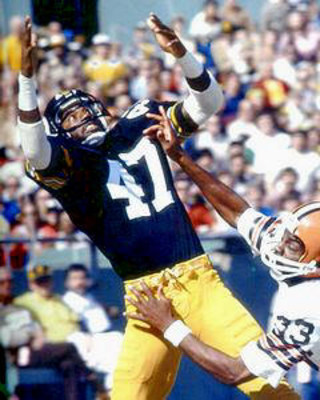 The Ravens would love to add a big, physical corner to their traditionally nasty defense. Blount would fit right in.
No. 27-Indianapolis- Gene Upshaw, OL, Texas A&I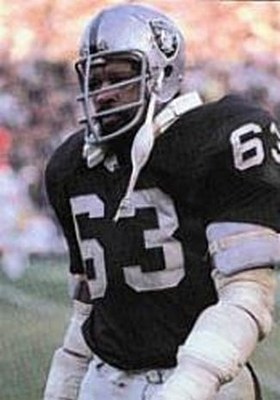 The Colts are pretty strong all around, but with Peyton Manning getting older and breaking down a little, it would be smart to give him some extra protection. Upshaw would do just that.
No. 28-Philadelphia- Mike Ditka, TE, Pittsburgh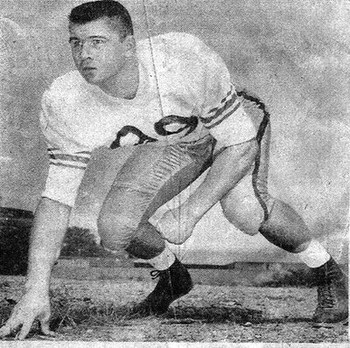 With their second pick, the Eagles give Donovan McNabb a big target in the middle of the field. Ditka combines the blocking ability of a left tackle and the hands of a wide receiver, a rare skill set.
Who would win in a fight, Ditka or a hurricane?
No. 29-New York Giants- Lynn Swann, WR, USC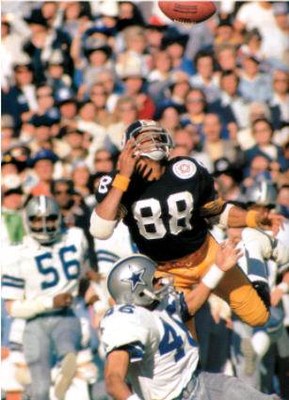 With Plaxico's availability up in the air, the Giants shore up their receiving corps by adding the ultra athletic Swann. He gives Eli Manning a big target down the field who can make acrobatic catches.
No. 30-Tennessee- Steve Largent, WR, Tulsa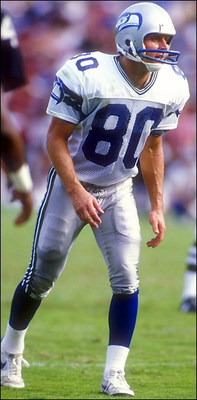 The sure-handed Largent would be a fantastic addition to a Titans team, which is inept in the passing game. He runs great routes and never lets a ball hit the turf.
No. 31-Arizona- Earl Campbell, RB, Texas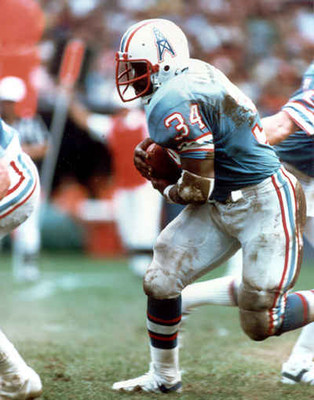 The Cardinals could use a pounder at the running back position, and there isn't a tougher runner than Campbell. He has a massive physique and is nearly impossible to tackle.
With the passing game that the Cardinals employ, the field would be spread wide and Campbell would have ample room to run.
No. 32-Pittsburgh- Art Shell, OL, Maryland State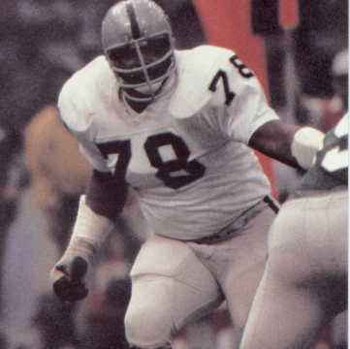 The Super Bowl champs add a mammoth body to their offensive line. Shell is tough and physical and would create large holes for fast Willie and provides protection for Big Ben.
Keep Reading

St. Louis Rams: Like this team?