Rookie Running Back Power Rankings at Midseason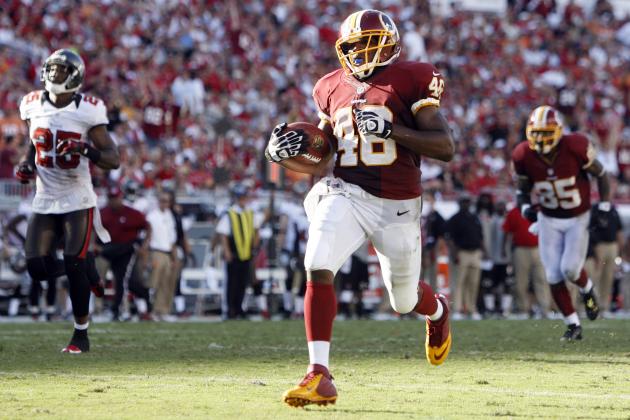 Matt Stamey-US PRESSWIRE

Who's the best rookie running back in the NFL?
Trent Richardson, right?
Not so fast.
A few not-as-highly-touted runners aren't ready to give up the top spot just yet.
Entering Week 8, these are the rookie running back power rankings.
(These rankings are regardless of draft position.)
Begin Slideshow

»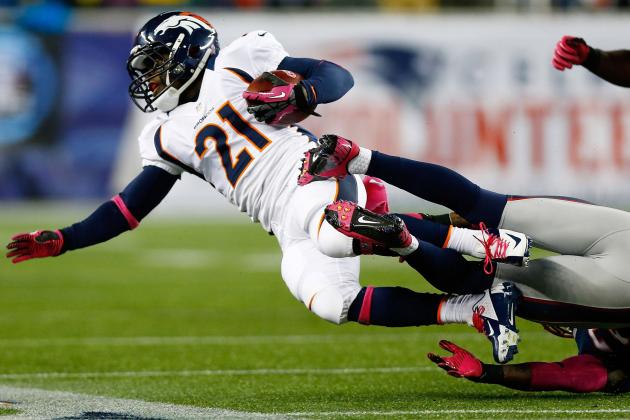 Jared Wickerham/Getty Images

Hillman has battled a hamstring injury this season and that's limited his productivity to date.
His biggest contribution came in the end of September against the Oakland Raiders when he rushed 10 times for 31 yards.
He's behind Willis McGahee and Lance Ball on the depth chart and averages less than three yards-per-carry.
It's still early, but Hillman's been far from impressive and has along way to go.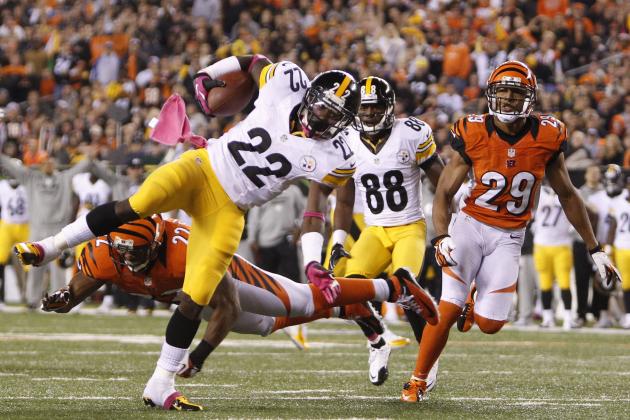 Frank Victores-US PRESSWIRE

Rainey was supposed to be the lightning-quick scat-back to complement the trio of punishing Steelers' running backs, and although he's demonstrated exceptional speed and quickness at times, he's fallen short of expectations as a runner thus far.
The Florida alum has 11 total rushes for 31 yards on the year.
However, he's Pittsburgh's primary return man and has been fairly productive in that facet of the game. Rainey has returned 13 kickoffs for 365 yards with a long of 49.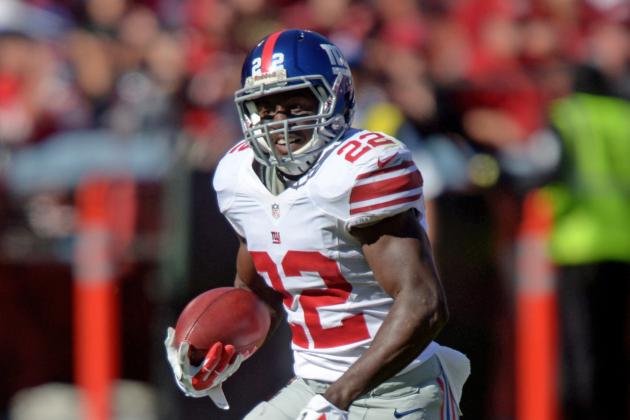 Kirby Lee-US PRESSWIRE

Wilson was instantly sent to Tom Coughlin's doghouse at the beginning of the season due to fumbling issues.
Ahmad Bradshaw has been the unquestioned featured back for the Giants, and journeyman Andre Brown actually was next in line when Bradshaw was injured.
Although Wilson is a tremendous talent, he's still learning the intricacies of running with vision and patience at the NFL level.
He has 15 carries for 87 yards and a touchdown on the season.
Not surprisingly, Wilson has excelled as a returner in space. He's brought out 23 kickoffs and totaled 646 yards with a long of 66.
Still, Wilson has to develop much more of his overall game.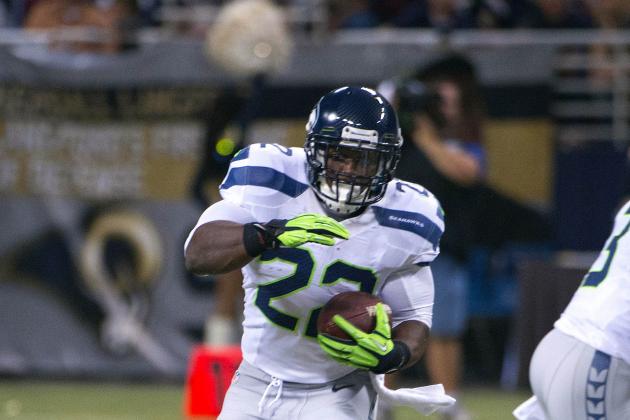 Scott Rovak-US PRESSWIRE

The Seattle Seahawks are a run-heavy club—they've carried the football 227 times thus far, the fourth-highest total in the league.
Because of Marshawn Lynch's presence, Turbin hasn't been given much of a chance to make his mark in his rookie year.
He has totaled 26 carries and accumulated 115 yards but has yet to score a touchdown on the ground.
During his limited action, Turbin has shown some power, but, like most rookie runners, he hasn't hit holes with much decisiveness and can improve in many areas. The potential is there, however.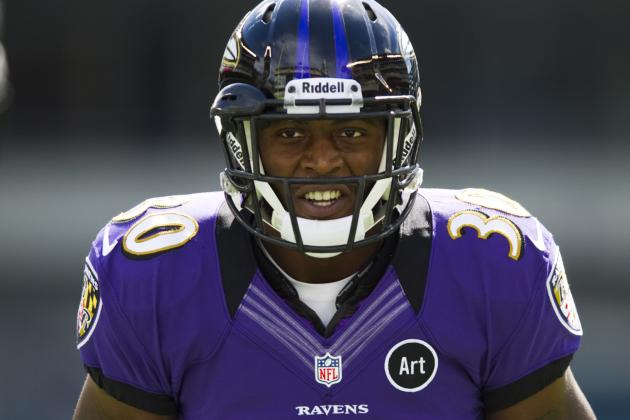 Howard Smith-US PRESSWIRE

Ray Ray is the heart-and-soul of the Baltimore Ravens offense and has gotten 135 total touches thus far.
The taller Pierce hasn't been totally neglected, though. In a similar situation to Robert Turbin in Seattle, Pierce has been given 23 carries and has amassed 122 yards.
Really, he and Turbin are interchangeable right now.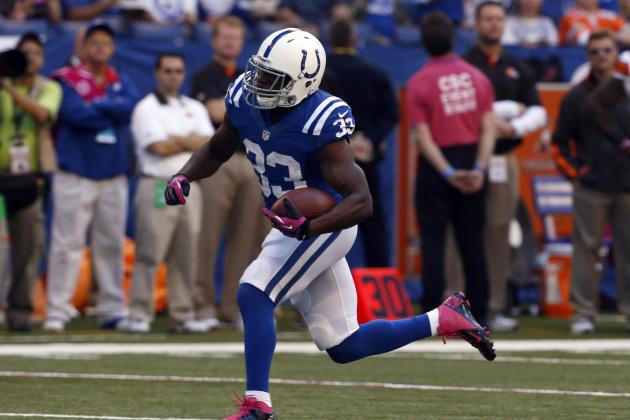 Brian Spurlock-US PRESSWIRE

Because of injuries and relative underwhelming play from Donald Brown, Vick Ballard has been featured rather prominently in the Colts' offense to begin the year.
He has carried the football 49 times but has only 131 yards at 3.1 yards per rush.
The Mississippi State alum is far from being a viable feature back, but he did receive 20 carries and totaled 84 yards against the Browns in Week 7.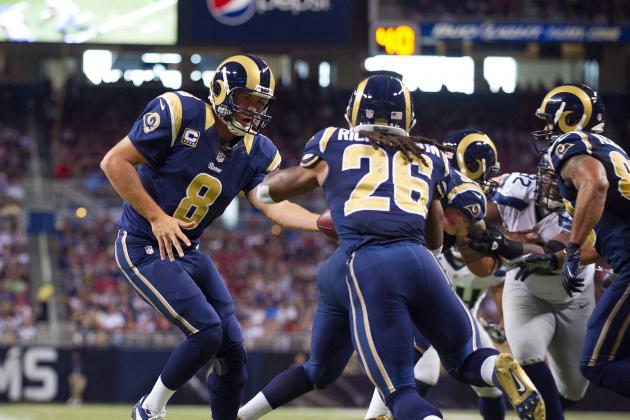 Scott Rovak-US PRESSWIRE

Daryl is almost the best Richardson in the 2012 running back draft class.
Almost.
The Abilene Christian standout unseated second-rounder Isaiah Pead at the No. 2 running back spot before the season even started.
He has been the ideal complement to the bruising Steven Jackson in the St. Louis Rams' relatively pedestrian offense.
He's carried the rock 55 times and has totaled 282 yards (5.1 yards-per-rush).
Although Richardson's only 5'10'' and is under 200 pounds, he seemingly runs without fear, has displayed a great burst through the hole and is shifty in the open field.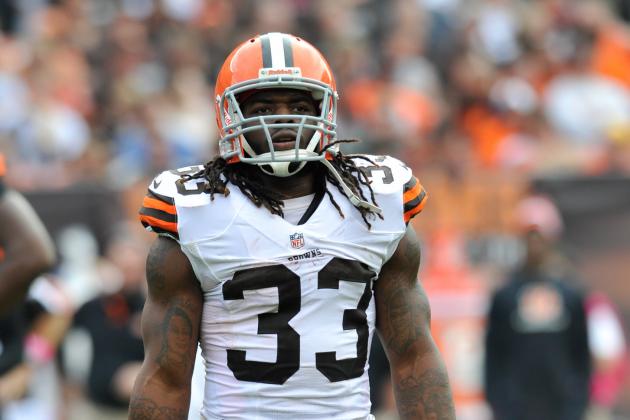 David Richard-US PRESSWIRE

Richardson, frankly, has been disappointing to begin his career in Cleveland. He's dealt with a few injuries, but nonetheless, he averages only 3.4 yards-per-carry.
The former Alabama stud does have four rushing touchdowns and 24 receptions for 197 yards.
He has flashed moments of brilliance, but general consistency has lacked for this runner with the complete skill set.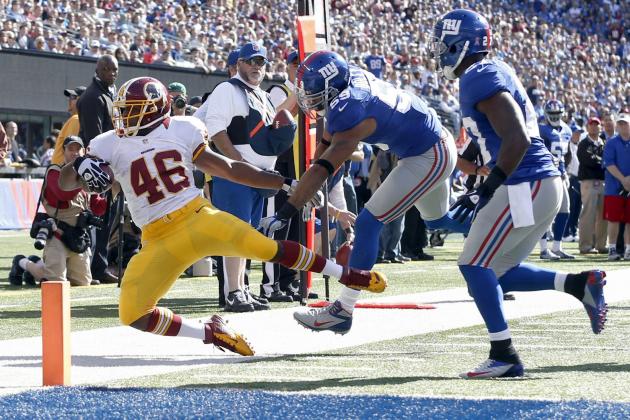 The Star-Ledger-US PRESSWIRE

Morris, the sixth-round pick from Florida Atlantic, is third in the NFL with 658 rushing yards.
His consistent production and ability to run outside and between the tackles with power and deceptive speed has defied Mike Shanahan's tendency to shuffle his "feature back" on a weekly basis.
At 5'9'' and nearly 220 pounds, Morris is compactly built and he and Robert Griffin III have formulated one of the most dynamic rushing attacks in all of football.
A late-round gem.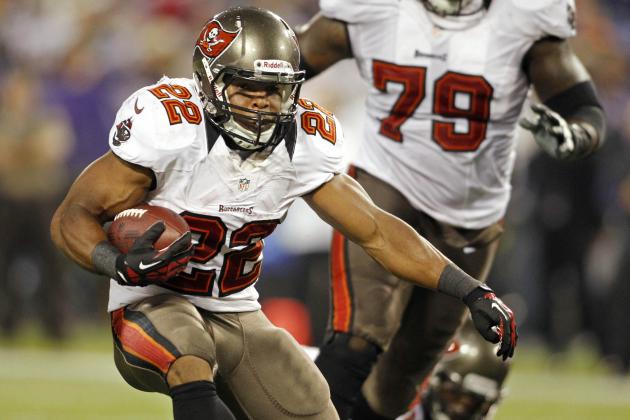 Bruce Kluckhohn-US PRESSWIRE

Martin was billed as a super-versatile, hard-nosed, Ray Rice-esque running back, and that's what he's been for the Buccaneers this season.
Sure, it took some time for him to fully acclimate to the professional game, but he exploded for 214 yards from scrimmage against the Minnesota Vikings on Thursday night, and is averaging a respectable 4.2 yards per carry on the year.
His low center of gravity helps him run more powerfully than you'd expect, and he's certainly not timid hitting the hole.
Martin's 767 yards from scrimmage leads all rookies.