NFL Picks Week 8: Breakdown of Sunday's Most Important Matchups
The Star-Ledger-US PRESSWIRE
First, there are NFL games. And then, there are NFL games with extreme implications provided each week that can change the complexion of a team's season.
Week 8 is a key time because it marks the end of the season's first half, and we roll into November with a different set of questions, concerns and expectations. Even more intriguing is a matchup slated on Sunday between the New York Giants and Dallas Cowboys.
Dallas upended the Giants in New York to kick off the 2012 campaign; however, Big Blue has since taken the NFC East lead, while the Cowboys continue to be inconsistent. For both, this game possesses massive postseason stakes and important momentum as November begins.
With that, let's preview the Giants vs. Cowboys, as well as Sunday's other crucial contests.
Miami Dolphins (3-3) at New York Jets (3-4)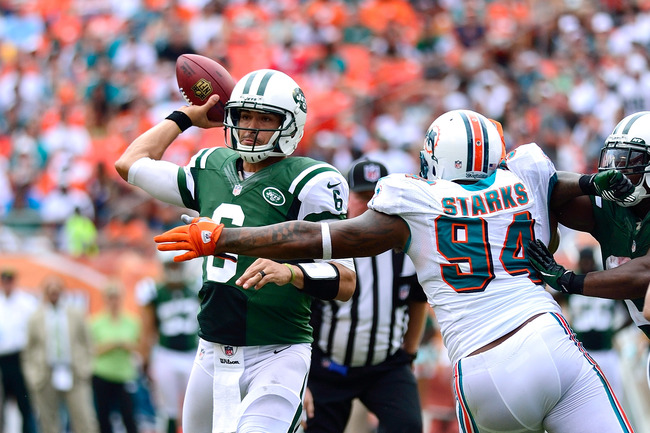 Steve Mitchell-US PRESSWIRE
When a team is hovering around .500, whether it's slightly above or below, winning midseason takes a life of its own.
This can be said for the Miami Dolphins and New York Jets because the AFC East remains a wide-open division. Yes, the Pats are leading, but they have yet to play Miami and still must travel to the Jets as well.
As for this game, New York took the first meeting in overtime on the road. Now hosting, Gang Green faces a different Dolphins team. Miami enters off a bye and with much confidence courtesy of a two-game win streak.
The Dolphins are well-versed at controlling the line of scrimmage because the defense is virtually impenetrable against the run. On the flip side, Reggie Bush continues to be a solid every-down back as he averages 4.4 yards per rush.
The Jets are not nearly as consistently impressive between the tackles, although Mark Sanchez can set up well off play-action. Still, Gang Green lacks offensive explosion and Miami knows how to apply constant quarterback pressure.
Dolphins 24, Jets 17
Atlanta Falcons (6-0) at Philadelphia Eagles (3-3)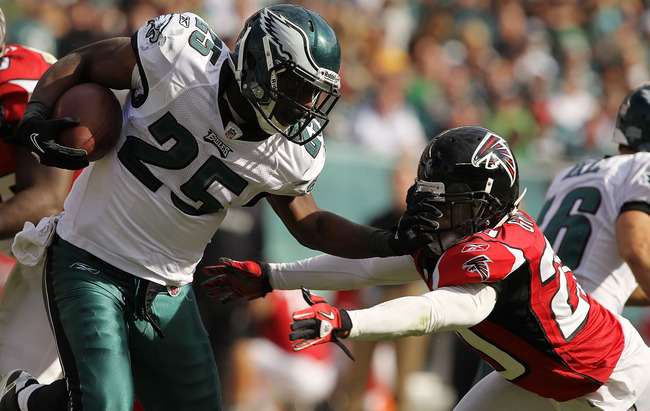 Al Bello/Getty Images
This game is vitally important for both sides because the Atlanta Falcons are chasing perfection and need to remain well ahead of the pack in the NFC South.
As for the Philadelphia Eagles, this is about keeping pace with the New York Giants in the NFC East: Mainly because Philly still has to play at New York and it faces the Cowboys and Redskins twice.
A loss wouldn't put a damper on the Falcons, although it would give the explosive divisional opponents, such as New Orleans and Tampa Bay, confidence when lining up against the Dirty Birds. Here, it's a matchup of differing strengths.
The Falcons are excellent through the air while also defending well in the secondary. Philadelphia, on the contrary, significantly increases its odds of winning when running LeSean McCoy sees more touches. We can fully expect that from the Eagles in Week 8 because Atlanta gives up an average 5.2 yards per rush and ranks No. 28 in rush defense.
Flip to when Matt Ryan is on the field and the Falcons won't enjoy much success on the ground. Atlanta gets just 86.5 rush yards per game and Philly's front seven is technically sound against the run.
Provided that McCoy is fed early and often, that will reduce Ryan's possessions for additional scoring opportunities. Philly must shorten the game and minimize the potential of Michael Vick turning it over.
Eagles 20, Falcons 16
Washington Redskins (3-4) at Pittsburgh Steelers (3-3)
Alex Trautwig/Getty Images
An inter-conference matchup may not appear like a key game at first glance. That said, the Washington Redskins and Pittsburgh Steelers have a lot to play for on Sunday.
The Redskins sit at 3-4 overall and 0-1 in the NFC East. Despite five divisional games remaining, Washington can't afford to fall to 3-5 with the Giants and Cowboys squaring off because it only sets them back one more game.
Pittsburgh has also only played one division game, though the AFC North is not as strong overall compared to 2011 and the entire conference is virtually wide open. Winning here gives the Steelers a bit more leeway throughout November.
Washington has yet to face a defense quite like Pittsburgh's, and the Steel Curtain has not faced an explosive offense like the Redskins. Robert Griffin III's versatility alone will accumulate first downs against Pittsburgh because the Steelers are uncharacteristically weak at pass rushing and consistently forcing turnovers.
There are no worries about Ben Roethlisberger and the Steelers offense because Washington is horrendous against the pass, which will allow Pittsburgh to present balance. The question is, can the Steelers keep pace with Washington?
It's a reasonable concern because the Redskins average almost 29 points and over 400 total yards per game. Not to mention, RG3 has a 70.4 completion percentage and Pittsburgh's defense is suspect against explosive teams.
Redskins 34, Steelers 31
New York Giants (5-2) at Dallas Cowboys (3-3)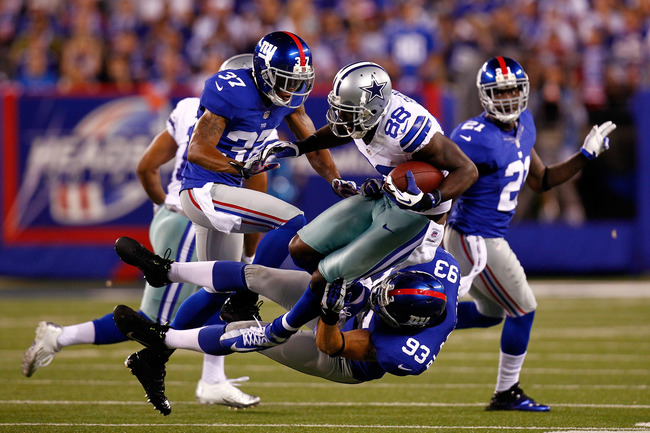 Jeff Zelevansky/Getty Images
If we replay the first seven weeks of the 2012 NFL season, the New York Giants and Dallas Cowboys are two different teams.
The Giants' season-opener, after winning Super Bowl XLVI, was spoiled by the Cowboys in Week 1. It was then rightfully expected that Big D remain on a tear in 2012. Instead, Dallas quickly flopped in Week 2 and has been quite inconsistent since traveling to New York.
Big Blue, though, displayed why Eli Manning is among the best quarterbacks around.
The Giants responded with two wins and came within a missed field goal of defeating the Eagles in Philadelphia. Running off three straight since, including a punishing victory of the 49ers in San Francisco, New York immediately morphed back into championship form.
This Sunday's game possesses unreal implications for a midseason divisional game. A Giants win puts them roughly three games up on Dallas. A Cowboys win sweeps Big Blue and Big D pulls within roughly one game.
New York has an offensively balanced edge here, thanks to Ahmad Bradshaw steamrolling over the past few weeks. Defending the run remains an issue in Dallas. Aside from DeMarcus Ware, the pass rush hasn't been too reliable.
Dallas continues to have trouble finding rhythm in the passing game and a consistent running game. That plays well into the Giants' hands. If Jason Pierre-Paul and company can minimize the damage by RG3 during this past Sunday's game, the Cowboys won't be as tough of a challenge.
Giants 30, Cowboys 21
Follow John Rozum on Twitter.
Keep Reading