Cincinnati Bengals' Most and Least Improved Players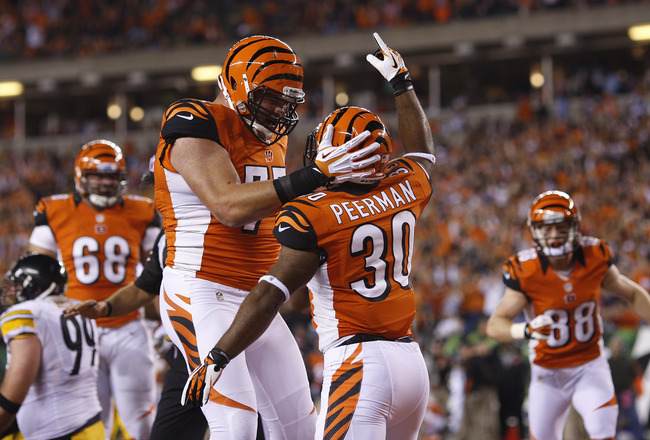 Joe Robbins/Getty Images
The Cincinnati Bengals limped into their bye week a wounded team. After winning three straight games, the Bengals have now lost three straight and seem to have questions all over the field.

It has been a rough stretch for a team that fancied itself a playoff contender. And even though the Bengals' 3-4 record puts them in the playoff picture in a suddenly mediocre AFC, only the hardest of hardcore homers can imagine this Cincinnati team among the conference's elite.

There is plenty of blame to spread around but there has also been some diamonds in the rough. What follows is the three most- and three least-improved Bengals, so far, this season. For the purposes of this article, rookies are not eligible.
Most Improved: DT Geno Atkins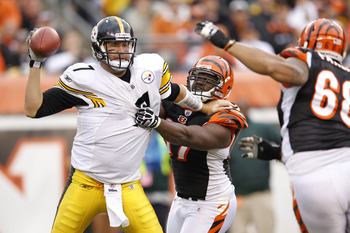 Joe Robbins/Getty Images
How do you improve on a Pro Bowl season? By quietly becoming one of the best defensive tackles in the NFL.

Atkins had 47 total tackles and 7.5 sacks a year ago when he earned his first trip to Hawaii. In just seven games this season, Atkins already has 22 tackles and seven sacks.

Atkins has been unstoppable at times, and his manhandling of Willie Colon on Sunday Night Football was a thing of beauty. Bengals fans have clamored for a pass-rushing tackle in the Reggie White mold for years.
Guess what? You've got it.
Most Improved: TE Jermaine Gresham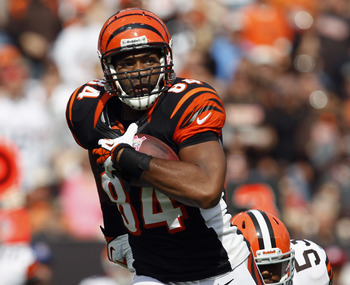 Matt Sullivan/Getty Images
Gresham was expected to be an offensive force when he was drafted in the first round out of Oklahoma two years ago. But Gresham has struggled to make an impact.

A year after he caught 56 passes for 596 yards and six touchdowns, Gresham is on pace to pass those numbers with 28 catches for 325 yards in seven games. Gresham's productivity has gone down as the Bengal offense has tanked, but he certainly is a better player.
Most Improved: DE Michael Johnson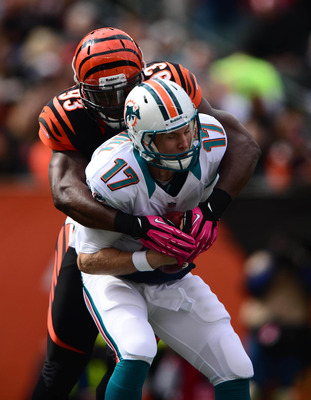 Andrew Weber-US PRESSWIRE
Michael Johnson has already matched his sack total from a year ago with six and is more than halfway to his tackles total with 24.

Johnson is one of those players whom the Bengals have patiently been waiting to emerge, and that patience appears to be paying off. Like most of the defense, he was non-existent in the loss to Pittsburgh on Sunday, but overall, his play has been very good this season.
Least Improved: QB Andy Dalton
Joe Robbins/Getty Images
There weren't enough platitudes for Dalton who became the first rookie quarterback not drafted in the first round to start all 16 games and lead his team to the playoffs.

Dalton's numbers were very good a year ago, but he has taken a noticeable step backward this season. While his completion percentage of 64.2 percent this year is much better than last year's 58.1, he has already thrown 10 interceptions this season after throwing 13 last season. Three of those picks have been returned for touchdown.

Dalton is still going to be a very good quarterback, and his struggles can be chalked up to the rest of league catching up to him. But, he will have to make his adjustments after the bye week.
Least Improved: LB Manny Lawson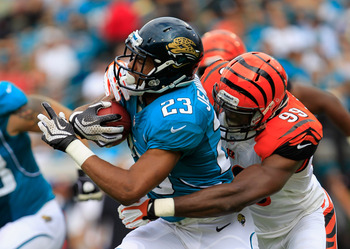 Chris Trotman/Getty Images
Lawson and fellow free agent Thomas Howard helped revitalize the linebacking corps a year ago. Lawson did his part with 52 tackles and 1.5 sacks while providing a steady influence on a young group.

Lawson already has a sack this year, and his tackles are on pace with 22, but he appeared to be out of position on several plays. Lawson's regression has been part of an overall lack of improvement by a defense that was expected to be one of the AFC's best.
Least Improved: LB Rey Maualuga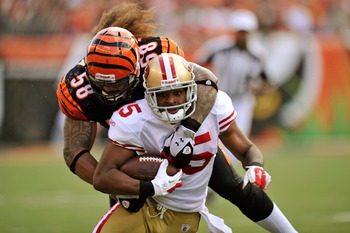 Jamie Sabau/Getty Images
It should be telling that two of the three players on my list are linebackers, but it is indicative of the position's overall meltdown. If not for the eye-opening play of rookie Vontaze Burfict, there would be nothing to like about the linebackers.

No player has been more disappointing for the Bengals than Maualuga. He was expected to be a playmaker when he was drafted out of USC and had 88 tackles and two interceptions last year. He already has 58 tackles this year, but he has struggled to provide the kind of play expected out of the middle linebacking position.

There is already talk of moving Burfict to the middle to replace Maualuga during this bye week. It could mark the beginning of the end of Maualuga's time in Cincinnati.
Keep Reading

Cincinnati Bengals: Like this team?