3 Reasons Why John Farrell Is the Perfect Fit for the New-Look Boston Red Sox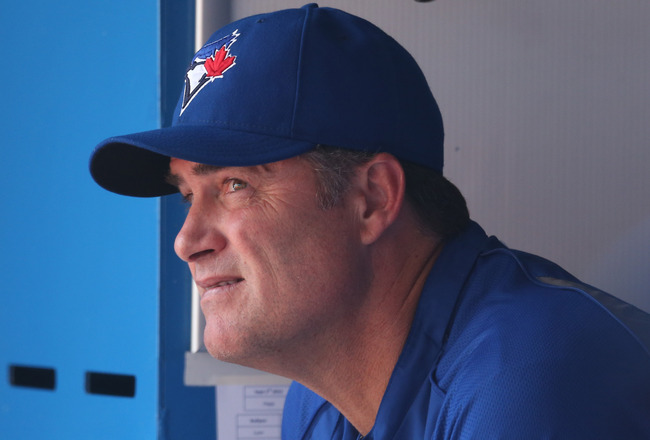 Tom Szczerbowski/Getty Images
In John Farrell, the Red Sox finally have their man.
The Bobby Valentine experiment was a failure. Regardless of what you may hear from the front office, though, he was never what they wanted in the position.
Sure, Valentine was a great manager, and his style was befitting of some of the changes the team needed, but he never truly had 100 percent backing from the club.
He wasn't John Farrell.
Farrell was being groomed to take over the managerial seat in Boston even while he was still the pitching coach under Terry Francona. When Francona was relieved of his position, following an epic collapse in September 2011, the Red Sox wanted John Farrell.
Unfortunately for them, he was already manager of the Toronto Blue Jays.
"Trading" for contracted managers is not an unknown concept in the MLB, but the Blue Jays had a club policy about their coaches leaving for parallel positions. They eventually were willing to negotiate a deal with Boston, but the asking price was deemed too steep. Rightfully so, Farrell is not worth losing a promising player like Buchholz.
This time around, though, the Blue Jays weren't asking as much. Utilityman Mike Aviles, a strong bench guy but no superstar, was all it took to bring Farrell back to Boston
After a disappointing season in which they finished with their worst record in nearly 50 years, the Red Sox knew what they needed. What they wanted.
And he's the right guy for the job.
1. A New-Look Team Needs a New-Look Manager, Even If It's from an Old Face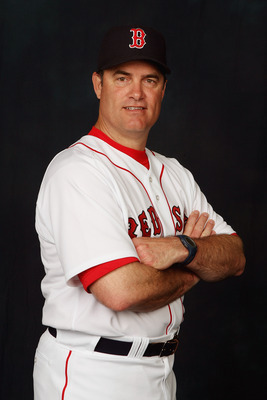 Nick Laham/Getty Images
John Farrell has inherited a much different Red Sox team than when he left to become manager of the Toronto Blue Jays.
So much so that it'd be easier to name the players left on the team who've played under John Farrell than to name the players who have are no longer there.
Things have not been right in Boston really since they won the World Series back in 2007. Interestingly enough, that was Farrell's first season with the club.
Call it the Epstein era, or the "Idiots" era, or the Francona era, or whatever you want, but that season marked the last true great season for the Red Sox of that era. Things started to spiral for the Red Sox after that season.
It all came to a head with, sorry to keep bringing up old wounds, the September collapse.
The Red Sox, since then, have done their best to help usher in this new era for the team. With a fresh start on the horizon, they needed a fresh face.
Yes, Farrell is not a new face to the Red Sox organization, but that was then. Pitching coach and manager are two very different positions. Some of the players are familiar with him, but there are also a lot of guys who are not.
He's got a clean slate here in Boston. For all intents and purposes, he's a new manager coming in to manage a new team.
2. His Previous Red Sox Tenure Is Not Indicative of His Managing Skill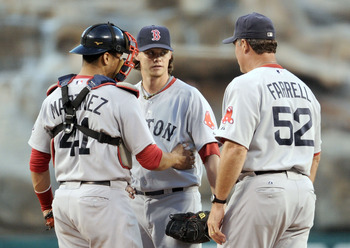 Harry How/Getty Images
Now, to contradict myself, let's remember his time here as pitching coach.
Much like the team as a whole, the pitching staff declined during Farrell's tenure as pitching coach.
It sounds like an excuse, but how much of that poor performance is Farrell's coaching and how much of it is the players on the staff?
When Farrell left the team, they brought in Curt Young from Oakland. Young was well known during his time in Oakland as the A's had the uncanny ability to, despite frequent changes in players, turn out above quality pitching.
Unfortunately, Young couldn't work his magic with the Red Sox pitching staff. He subsequently returned to Oakland and was replaced with Kansas City's Bob McClure, also known as a good pitching coach.
McClure didn't last the season, mostly due to his relationship with Bobby Valentine, and the pitching was still atrocious.
Starting to see the pattern?
In 2007, his first year here, when they won the World Seriers, they were second best pitching staff in the league. Maybe I'm alone in the thought, but it seems to me that Farrell's coaching was not the problem here.
3. He Could Actually Change the Clubhouse Culture...and He's Not Bobby Valentine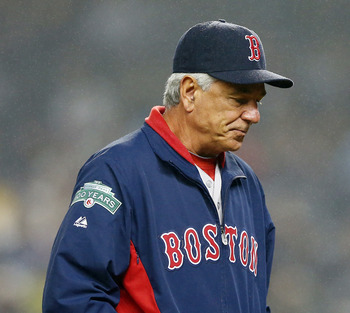 Elsa/Getty Images
This isn't meant to be about how bad Bobby Valentine was during this terrible season, but he deserves to be mentioned in this discussion.
I'll try to make it as quick and painless as possible, lest we have to relive this season any more than we have to.
After what happened the year prior, removing Terry Francona, regardless of whether you like him or not, was the right move. Changes in personnel start at the top, and, aside from the front office, the manager is at the top of the food chain.
The justification for ousting Francona, who was beloved by fans of Boston, was that his methods were detrimental to the club. He was lenient with discipline and allowed the players to, in a way, police themselves. Eventually, though, he lost control of the club.
It was time for a change. Not only for the manager, but for the attitude in the clubhouse.
They turned around and hired Bobby Valentine as Francona's replacement. He was intended to be that guy who would take control of the clubhouse and whip his players into shape.
Valentine had less control of the team than Francona did before he was fired. The media, and players, no doubt made Valentine's job exponentially more difficult, but, with the managerial hype he has, Bobby V still should have done better.
The Red Sox found out quickly that it takes more than saying that there needs to be a change in the clubhouse culture to actually change it. You have to bring in people who will help breed that change.
John Farrell's reputation as a strong, no-nonsense presence in the clubhouse, will be different than what we've seen from the last two managers.
Keep Reading

Boston Red Sox: Like this team?