Examining the Hottest Hitting Prospects of the Arizona Fall League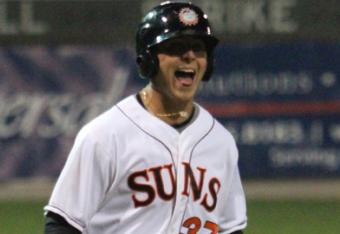 Matt Skole (Nationals) has enjoyed a strong start to the AFL, but is he a legitimate prospect? // Courtesy of MiLB.com

As I did at the beginning of each week during the minor league regular season, I'll be writing an Arizona Fall League update for both pitchers and hitters to keep everyone up to date on every organization's notable prospects.
Today, I'll be looking at some of the early results on the league's top performers thus far. As you'll see, there are many familiar names on this list. However, there are also a few prospects enjoying a surprisingly strong start to the fall season.
Since most teams have played either 10 or 11 games, I narrowed my focus to prospects who've played in at least five games thus far.
Matthew Skole, 1B/3B/DH, Washington Nationals: .500/.607/.773, 4 XBH 5 RBI, 6/6 K/BB (6 G)
Posted a .986 OPS in 119 games between Low- and High-A this season, but combination of upper-cut swing plane and dead hands will be problematic at higher levels.
Donald Lutz, 1B, Cincinnati Reds: .517/.533/.793, 5 XBH, 4 RBI, 2/0 K/B (7 G)
A first-base only prospect who has strikeout concerns, but mashed 22 home runs this past season and reached Double-A.
Jonathan Schoop, 3B, Baltimore Orioles: .333/.481/.571, 3 XBH, 4 RBI, 6/5 K/BB (8 G)
Spent his entire age-20 season at Double-A and turned in respectable performance: .710 OPS, 103/50 K/BB in 124 games. Sounds crazy at the moment, but he could allow for Machado to move back to shortstop by 2014.
Josh Prince, OF, Milwaukee Brewers: .433/.541/.533, 13 H, 2 XBH, 5 RBI, 5 SB (2 CS), 5/6 K/BB (9 G)
Speedy outfielder who batted .251/.346/.360 with 41 stolen bases and 107/74 K/BB in 137 games at Double-A; has reached based 19 times in first nine games.
George Springer, CF, Houston Astros: .286/.444/.571, 3 XBH, 7 RBI, 6/5 K/BB (7 G)
As always, Springer showcases exceptional tools, but his strikeout-prone approach has prevented him from moving quickly.
Max Stassi, C, Oakland Athletics: .350/.409/.600, 3 XBH, 5 RBI, 6/2 K/BB (5 G)
His development has been slowed by injuries, but posted a career-high .799 OPS last season at High-A Stockton. Defense has always been solid; just needs to stay healthy.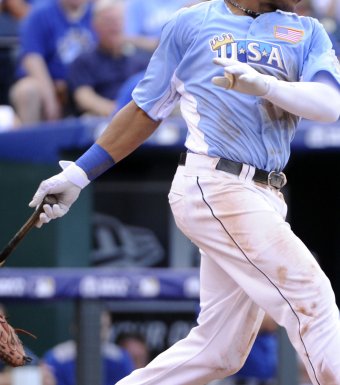 1B Jonathan Singleton (Astros)
H. Darr Beiser-USA TODAY
Jonathan Singleton, 1B, Houston Astros: .289/.400/.605, 5 XBH, 6 RBI, 9/7 K/BB (10 G)
The game's top first-base prospect is tied for the league lead with 23 total bases in 10 games after batting .284/.396/.497 in 131 Double-A games this past season.
Chris McGuiness, 1B, Texas Rangers: .281/.378/.625, 5 XBH, 9 RBI, 6/4 K/BB (8 G)
Streaky left-handed hitting power hitter with five of nine hits for extra bases this fall.
Rymer Liriano, RF, San Diego Padres: .344/.382/.594, 4 XBH, 6 RBI, 3 SB, 8/1 K/BB (8 G)
Can overswing at times and pile up strikeouts, but he's only just beginning to come into his own and has some big-time strength.
Kent Matthes, OF, Colorado Rockies: .346/.433/.538, 3 XBH, 4 RBI, 3/4 K/BB (7 G)
OPS dropped over .300 points between 2011 and 2012, but off to a nice start in the AFL with four two-hit games.
Kolten Wong, 2B, St. Louis Cardinals: .400/.400/.533, 2 XBH, 5 RBI, 3 CS, 5/0 K/BB (7 G)
A strong fall followed by a similar spring training could have him in St. Louis by midseason.
Mike O'Neill, OF, St. Louis Cardinals: .375/.516/.417, 4 RBI, 2 SB, 4/6 K/BB (6 G)
5'9" outfielder absolutely raked this season, batting .359/.458/.440 in 121 games between High- and Double-A; left-handed hitter has reached base 15 times in six games.
Kyle Jensen, OF, Miami Marlins: .367/.424/.500, 4 2B, 5 RBI, 8/3 K/BB (8 G)
Over the last two seasons, Jensen has hit 51 home runs and driven in 160 runs. However, he's also amassed 299/122 K/BB.
Nick Franklin, MIF, Seattle Mariners: .360/.360/.500, 3 XBH, 6 RBI, 3/0 K/BB (6 G)
Franklin had a huge AFL last year and has hit safely in five of six games this fall.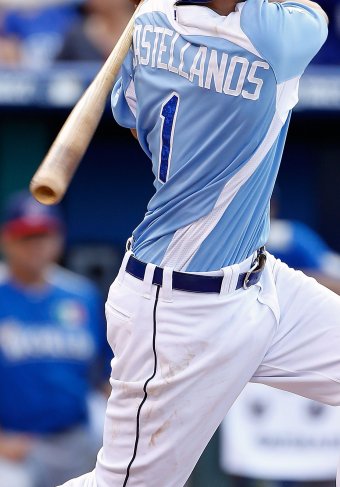 OF/3B Nick Castellanos (Tigers)
Jamie Squire/Getty Images
Nick Castellanos, OF, Detroit Tigers: .324/.378/.529, 5 XBH, 2 RBI, 2 SB, 11/3 K/BB (8 G)
His lack of plate discipline was exploited upon reaching Double-A last season, and he's already fanned 11 times in eight games in the AFL. However, he's also recorded five two-hit games and four doubles.
Mike Zunino, C, Seattle Mariners: .281/.303/.563, 5 XBH, 8 RBI, 6/1 K/BB (7 G)
The No. 3 overall draft pick in 2012 continues to rake with five extra-base hits and eight RBI in his first seven games.
Cody Asche, 3B, Philadelphia Phillies: .313/.324/.531, 5 XBH, 6 RBI, 8/1 K/BB (9 G)
Posted an .873 OPS in 68 games at Double-A following midseason promotion; not enough power for major leagues, but could get a shot given the Phillies' lack of a third baseman.
Didi Gregorius, SS, Cincinnati Reds: .345/.364/.414, 2 XBH, 4 RBI, 2 SB, 0/2 K/BB (8 G)
Doesn't offer much power, but the left-handed hitter is an excellent defensive shortstop who should easily hit for a higher average than Zack Cozart.
Christian Yelich, OF, Miami Marlins: .296/.367/.407, 2 XBH, 2 RBI, 8/3 K/BB (9 G)
Sweet-swinging left-handed hitter batted .330 in 106 games at High-A in his age-20 season, and in general, is one of the top offensive prospects in the game.
Not So Hot
Vinnie Catricala, 3B, Seattle Mariners: .100/.091/.100, 3 RBI, 8/0 K/BB (6 G)
Joc Pederson, OF, Los Angeles Dodgers: .083/.154/.083, 2 RBI, 3/2 K/BB (6 G)
Kaleb Cowart, 3B, Los Angeles Angels: .182/.200/.227, 3 RBI, 6/1 K/BB (6 G)
Tim Beckham, SS, Tampa Bay Rays: .161/.212/.258, HR, 4 RBI, 6/2 K/BB (7 G)
Jake Marisnick, OF, Toronto Blue Jays: .192/.241/.308, 10/1 K/BB (7 G)
This article is
What is the duplicate article?
Why is this article offensive?
Where is this article plagiarized from?
Why is this article poorly edited?