Breaking Down How the Steelers Defense Shut Down Andy Dalton, Bengals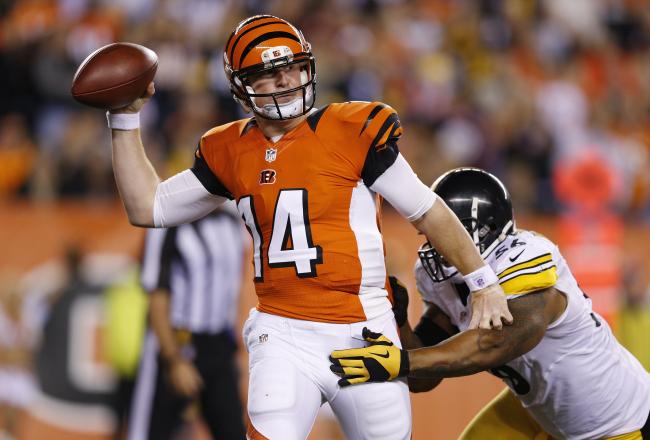 There was nothing Andy Dalton—nor the rest of the Bengals—could do to stop the Steelers on Sunday night. Here's how.
Joe Robbins/Getty Images
The Pittsburgh Steelers took on and defeated the Cincinnati Bengals on Sunday night, 24-17, by attacking and shutting down the Bengals passing offense. With few gains to be had and seemingly no time in which to earn them, the Bengals had just 185 total yards of offense, with 105 of them coming from quarterback Andy Dalton.
In the previous weeks, it appeared that the Steelers' biggest weakness was in stopping the passing game. However, they reversed course against the Bengals in Week 7. Let's take a look at they ways in which they accomplished this.
Cutting off A.J. Green and the Deep Ball Cuts off All Offensive Production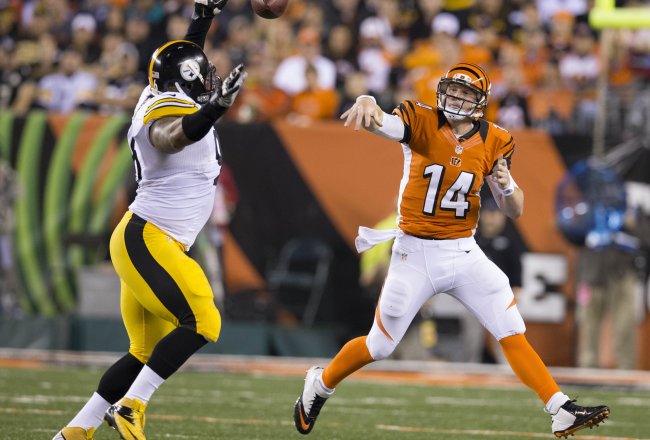 A.J. Green was neutralized and Andy Dalton simply could not go deep. It hurt their entire offense's production.
Greg Bartram-US PRESSWIRE
The Steelers defense focused the majority of its attention on keeping the Bengals top receiver, A.J. Green, contained, effectively shutting down Dalton's ability to throw the ball deep. Green had just one reception on the night, an eight-yard touchdown catch, despite being targeted six times.
With Green contained and receivers Armon Binns and Marvin Jones both sidelined with injuries, Dalton was left with Mohamed Sanu and Ryan Whalen—neither of whom are deep threats nor speedy targets. The field was cut off for Dalton; there was no going deep.
Well, there was, but it wasn't successful. Steelers cornerback Ike Taylor was assigned to Green throughout the night, but considering his less-than-stellar season up to this point, he was given help. The Steelers operated out of the dime defense—six defensive backs—to provide extra assistance deep.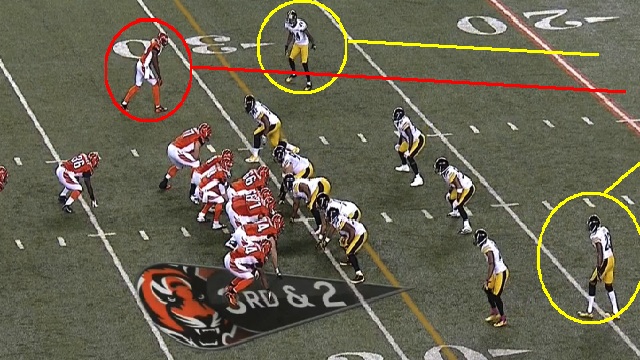 Here, it appears that Green will be single-covered by Ike Taylor, however cornerback Keenan Lewis, on the bottom of the screen, is heading out deep to help him.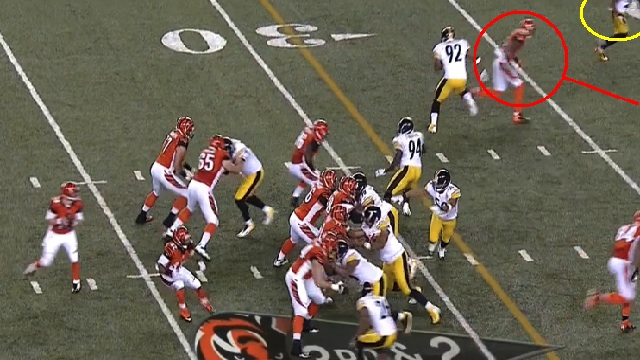 You can see Green streaking out of the fram here, with Taylor a few yards separated from him.
Taylor is behind Green here, and could have given up the touchdown if Lewis wasn't in to assist. Lewis bats the pass away.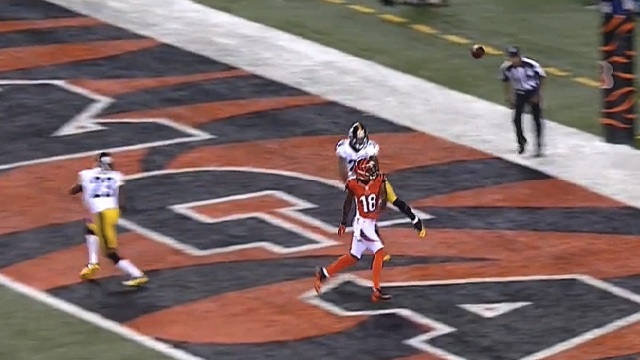 This is a third-down incompletion; the Bengals' drive is over.
The dime defense is why the Bengals had so much success early on in running the ball, but once Dalton realized that going deep was no longer an option, the Steelers could toughen up front. Bengals running back BenJarvus Green-Ellis had 46 first-half rushing yards; in the second, he had a mere 23.
Taylor also managed to make plays on his own. In the fourth quarter, he batted away a third-down pass to Green. He was able to jump the route and cut Green off because he knew there was no going deep at that point for Dalton.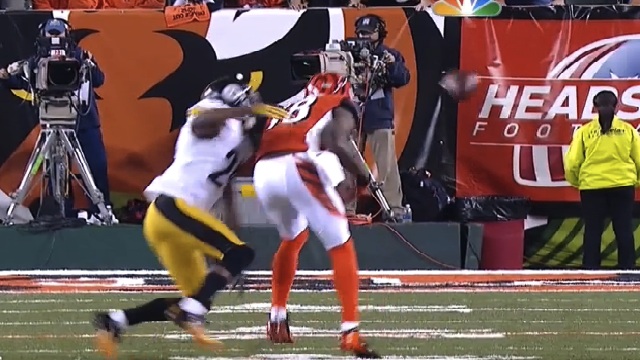 With the deep ball an impossibility, Taylor has a better chance to make plays one-on-one. Here he is perfectly defending a pass to Green in the fourth quarter, also another third-down stop.
It was a calculated defensive approach the Steelers employed to shut down the Bengals' passing offense, and they executed it perfectly. They didn't even have to bring constant pressure to do it; simply rendering Dalton's receivers incapable of catching passes that matter or earning yards after the catch took care of the job.
Well-Timed Pressure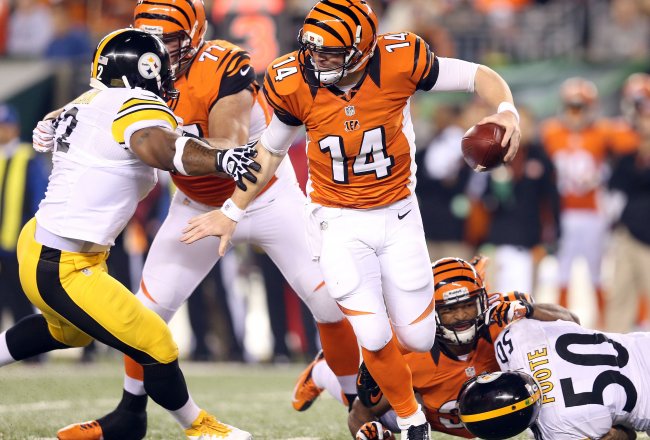 Pressure isn't just measured in sacks.
Andy Lyons/Getty Images
The Steelers defense didn't sack Dalton once, but that doesn't mean its presence wasn't felt. Blitzes, while allowing Dalton to get the ball out, shook his confidence enough to prevent him from throwing with accuracy and confidence. It was as though the pressure the Steelers employed was more successful from a psychological standpoint than a physical one.
For the two previous weeks, Dalton faltered when defenses brought heat. He was intercepted five times in those two games and threw inaccurate passes at an alarming rate.
In one series on Sunday, Dalton make two mistakes. One was a poorly-thrown pass while facing a blitz that was deflected by Pittsburgh's Ziggy Hood. It was tipped, but not intercepted, while the Steelers brought a blitz.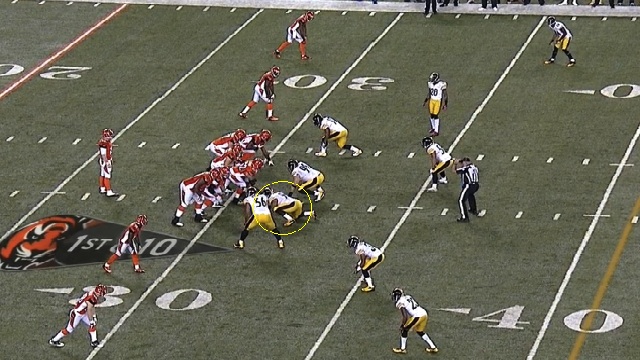 In this play, Ziggy Hood will bat down Dalton's pass.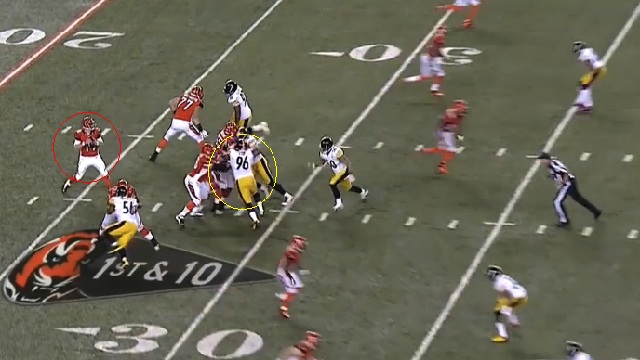 The Steelers are blitzing; Dalton has time, but he already senses his pocket collapsing. Just the whisper of pressure sets him off lately.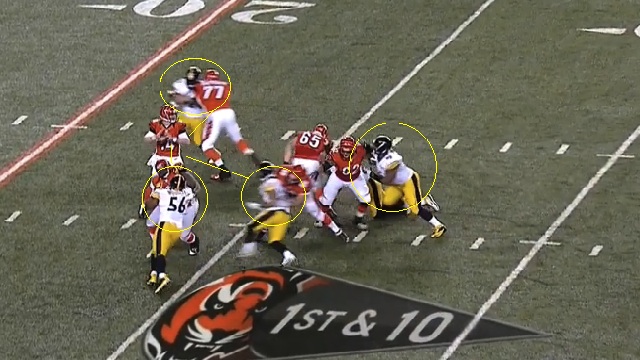 Though the Bengals offensive line seems to have the three blitzing Steelers under control, Dalton doesn't like how close they are getting.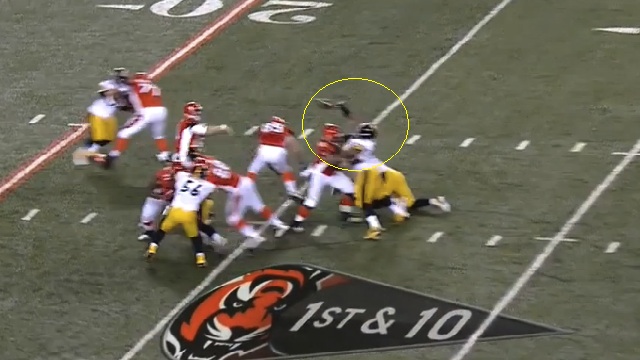 Dalton's hurried pass is poorly thrown and Hood bats it down.
Dalton's lone interception against the Steelers came two plays later. It was caused by a combination of his issues with decision-making when the chips are down and a smart play by Pittsburgh linebacker LaMarr Woodley. Dalton threw the ball badly, hitting one of his offensive linemen in the helmet, with Woodley catching the deflected ball. The interception led to a Steelers touchdown and a game-tying two-point conversion.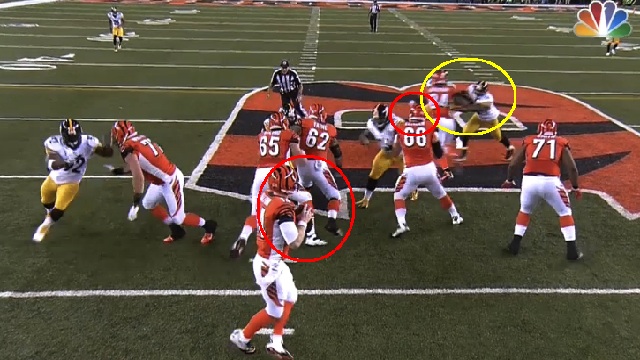 Two plays later, a poorly-thrown Dalton pass bounces off his lineman's helmet and into the arm of Steelers linebacker LaMarr Woodley. Notice Dalton here transfixed by the possibility Woodley breaks free and rushes him.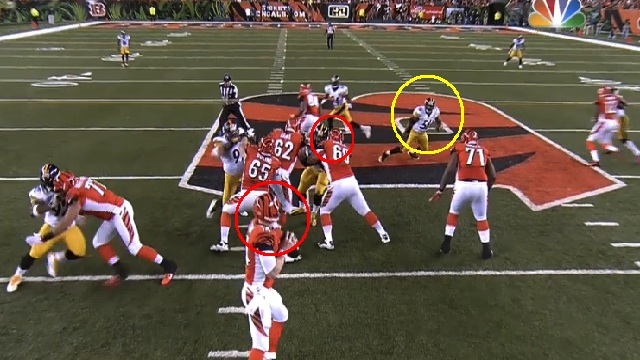 Woodley does break free, but he's content to defend the pass rather than rush Dalton; the pressure on Dalton is coming from behind him and he doesn't want to break the defensive play. Besides, he could make a move on the ball.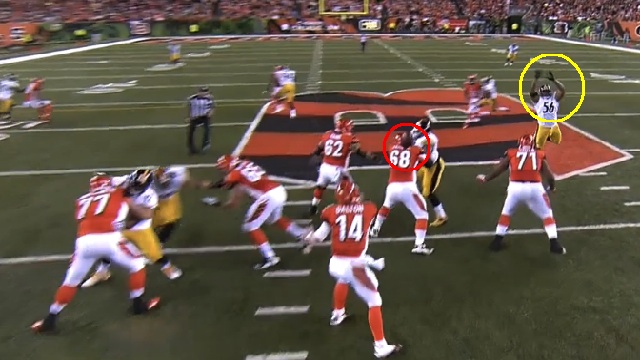 Woodley wants the interception, albeit in a traditional manner. Dalton also realizes that in throwing this pass, he must hit his receiver. Just a slight error will turn the ball over. He's thinking about the play, not about the throw itself. It's a poor pass that hits his lineman in the head.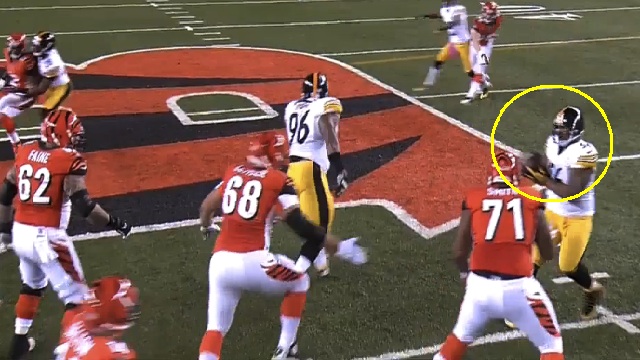 Dalton beans the pass off of his lineman and into the waiting arms of Woodley.
Clock Control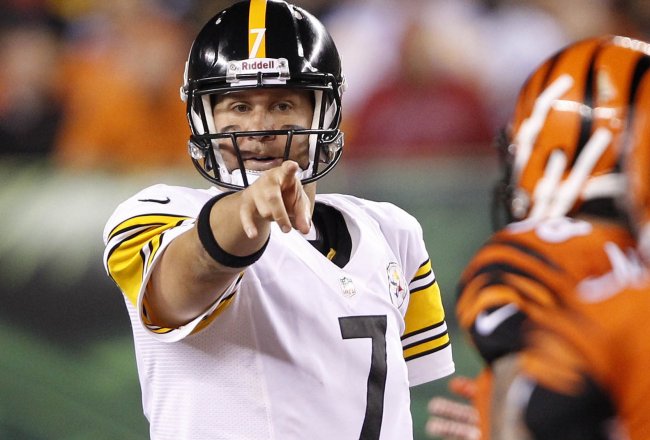 Roethlisberger might not like his new, low-risk offense, but it's enabled him to control the pace of the game.
Frank Victores-US PRESSWIRE
The Steelers headed into this game with the best third-down conversion percentage and one of the best average times of possession. They continued on this path on Sunday night, and the result was a decisive win.
For a team to control the clock the way the Steelers have—an average of 34:49 per game—their offense needs to execute in a certain way. They cannot just take deep shot after deep shot and limit their drives to under two minutes with big scoring plays.
Pittsburgh quarterback Ben Roethlisberger has derisively described his offense under new coordinator Todd Haley as "dink and dunk," but that more conservative approach is directly related to its new-found ability to control the clock.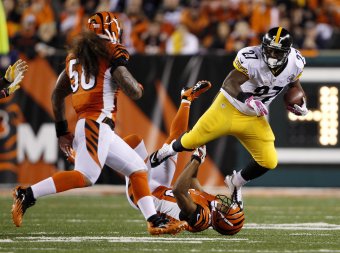 The Steelers committed to the run even without the lead, which helped them hold onto the ball even longer.
Frank Victores-US PRESSWIRE
Short completions in succession extend drives, and that was the name of the game against the Bengals on Sunday night. Also helpful—and something they haven't been able to master before Week 7—was running the ball. The Steelers put up 167 total yards of rushing offense, with 122 of those belonging to Jonathan Dwyer on 17 carries.
Running the ball does more than protect a lead (something the Steelers didn't truly have until the start of the fourth quarter); it also eats time. The more time Pittsburgh's offense has the ball, the less time the Bengals will have.
Of course, the Steelers defense also has to do its part to limit its opposition's time of possession. It did so against Cincinnati, in the ways detailed above, which helped the team along to over 37 minutes of possession.
If a team controls the clock, it more than likely controls the game unless major mistakes kill drive after drive. Though Pittsburgh's offense didn't play mistake-free football on Sunday night—Roethlisberger turned the ball over twice—it still managed to smother Cincinnati on both offense and defense.
Simply enough, the Steelers had a highly-detailed blueprint for exactly how to shut down the Bengals on Sunday night, and they executed it to near-perfection. The result was an ever-important divisional win and their first road victory of the season. If they can keep this up, the Steelers will be back to their usual, dominant form in seemingly no time.
This article is
What is the duplicate article?
Why is this article offensive?
Where is this article plagiarized from?
Why is this article poorly edited?