4 Reasons the Oakland A's Are Big Winner in 3-Team Heath Bell Trade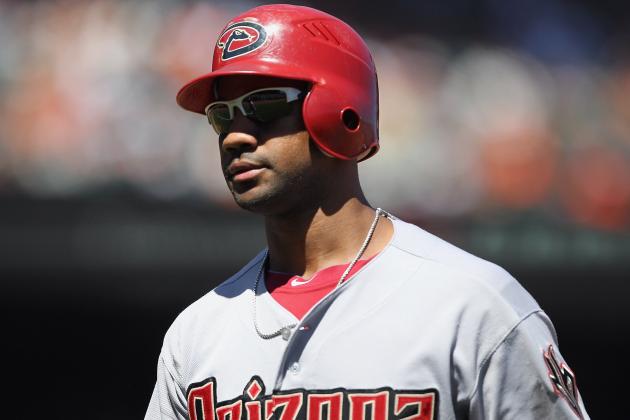 Tony Medina/Getty Images
Arizona Diamondbacks outfielder Chris Young is now an Oakland Athletic.
In a three-team trade announced by Jon Heyman of CBS Sports, the Oakland Athletics came up huge in this offseason's first big trade.
And to think it isn't even technically the offseason yet.
Here are the details: The Oakland A's received outfielder Chris Young from the Arizona Diamondbacks in exchange for converted-second baseman Cliff Pennington and prospect Yordy Cabrera. The D-Backs then sent Cabrera to the Miami Marlins for closer Heath Bell.
Arizona gets a pitcher and an infielder, Miami a prospect and Oakland an outfielder.
The trade is arguably a fantastic move for all three organizations. Each team fills a particular need at what is hoped to be a low cost. But it's the ages, talent and worth of all four men involved that place the A's in the winner's circle of this trade.
Here are four reasons for that designation.
Begin Slideshow

»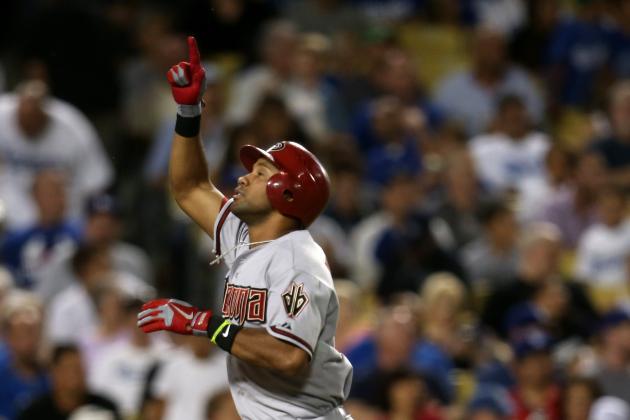 Stephen Dunn/Getty Images
Chris Young was a 20-20 member a few times.
To the A's: OF Chris Young
Young is 29 years old. Outside of his rookie year and an injury-filled 2012, Young has played in at least 85 percent of games in a season, so he's particularly healthy.
He's locked down over 100 hits in four out of seven seasons, and in a fifth, he missed by just eight hits. Annually, Young hits double-digit home runs and steals double-digit bases. His career .239 batting average isn't great, but his versatility as both a runner and power hitter makes him incredibly valuable.
His wins above replacement (WAR) in the last three years have been 5.2, 4.6 and 1.9 (and that was in a slumping year).
To the Diamondbacks: IF Cliff Pennington and RP Heath Bell
Bell is the marquee name in the deal. He's a 35-year-old reliever who struggled mightily in 2012. To be fair, in the three years prior, Bell nailed down 40-plus saves each season.
Bell's issue has been consistency. He was mostly up and down until 2009, when he put together three wonderful years. Then he regressed this season, earning a 5.09 ERA and saving just 19 games after being removed from closer duties a time or two.
This begs the question of whether he can rediscover his form in his mid-30s. If he can, then this is a great trade for Arizona, especially since he returns to the NL West, where he dominated.
Then there's Cliff Pennington.
The 28-year-old second baseman began the season as Oakland's shortstop before losing his position. He took over for Jemile Weeks after Weeks was sent down to the minors.
Pennington is very much a "what you see is what you get" kind of guy. He's consistently a mid-.200 hitter with above-average speed, below-average power and great glove work. With Stephen Drew up the middle, Pennington shined while turning double plays.
But 2012 wasn't great.
In addition to shifting in the defensive alignment, he dropped to the No. 9 spot in the lineup as well. There, he hit .215 on the season. He's not the greatest second baseman of all-time, but he's efficient enough.
To the Marlins: IF Yordy Cabrera
Cabrera is just 22 years old and has yet to play in Double-A baseball. In the low minors, he's hit a combined .230 in 166 games.
Though he stole 23 bases in 2011, he stole just two in 2012. He appears to lack power, as he's hit a total of nine home runs in his Single-A career. Cabrera is young, so the jury is definitely still out.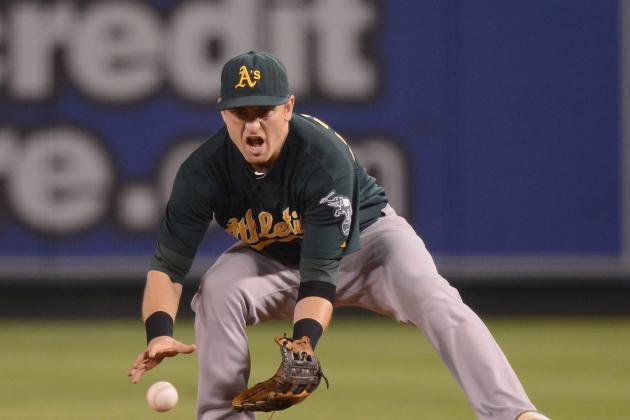 Harry How/Getty Images
Cliff Pennington was the No. 9 hitter for a reason.
The Marlins got rid of Heath Bell, something they were looking to do. That's after they signed him to a three-year, $27-million deal with a vesting option in the fourth year. Essentially, they paid him a boatload of money for one year, gave up on him and dumped him.
Additionally, the Marlins are sending $8 million to Arizona for the Diamondbacks to take the disgruntled reliever off their hands.
The D-Backs are also giving up on a player who had promise.
Chris Young, when healthy, hits for average. But it's his power, speed and defense that made him a fan favorite and respected leader in the clubhouse for Arizona. After a disappointing year and prospect Adam Eaton on the way, the D-Backs felt now was the time to rid themselves of Young.
The A's, on the other hand, give up little.
Prospect Yordy Cabrera is young and unproven. Cliff Pennington has consistently hit below average. He has value, but he has never had All-Star seasons like Bell and Young.
Lucky for all three teams, if the trade doesn't work out for any of them, it's not the end of the world. It won't sink any of them.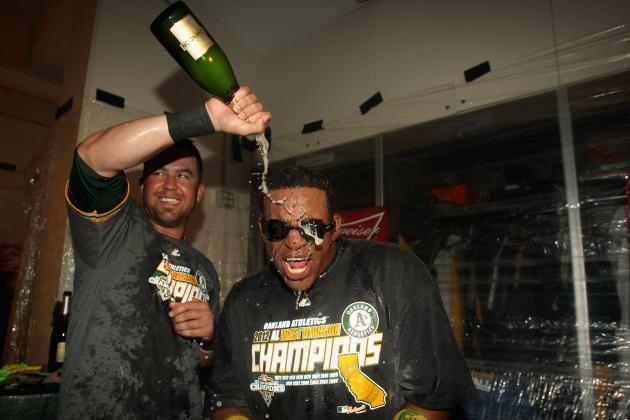 Ezra Shaw/Getty Images
The A's celebrate winning the AL West.
Let's say for just a moment the Miami Marlins, Arizona Diamondbacks and Oakland Athletics keep the same roster and the players on the roster perform similarly to their 2012 performances.
Of course, that's much easier said than done.
The Marlins went 69-93, finishing last in the NL East and 29 games out of first place. Yordy Cabrera isn't going to change that anytime soon.
The Diamondbacks finished with an even 81-81 record. This was third-best in the NL West, but 13 games back in the division. If Heath Bell regains composure—which could very well happen—and Pennington is solid up the middle and as a No. 9 hitter, they likely only win four more games at best (assuming everyone else performs the exact same).
The thing is, Bell and Pennington aren't really catalysts.
Arizona has committed to closer J.J. Putz, so Bell is likely a setup man or situational reliever. Neither him nor Pennington will step up and lead anyone to a pennant.
The A's made it to Game 5 of the ALDS after winning the AL West. Strikeouts and a lack of runs were their ultimate demise. Chris Young should immediately help that. He can hit home runs (something the A's did often in the second half), steal bases and man center field effectively. Power, speed and defense—all three would have helped the A's this postseason.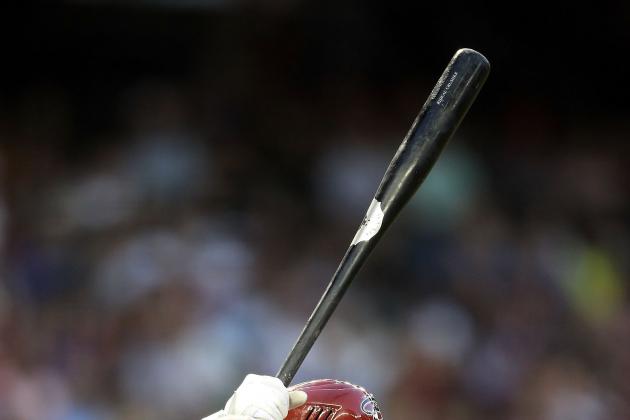 Christian Petersen/Getty Images
Young's power trumps Pennington and Crisp's. His speed should rival both.
The Marlins won't see profits from Yordy Cabrera for a while. The best thing that happened to them in this trade is they freed up some money that was owed to Heath Bell.
If they use the money wisely on superb talent, then the trade is even more worthwhile. But for now, all they did was get rid of a guy who didn't want to be there.
They lost a reliever and did not replace him.
The Diamondbacks ditched a guy they essentially gave up on for someone younger. That's fair, as it is basically the business of baseball.
They also added a reliever to the 10th-best pen (by ERA) in the league. Arizona ranked 20th in saves in 2012 with 39 (the NL average was 42). Should John McDonald or Aaron Hill not return or falter, Cliff Pennington is a serviceable replacement. But until one of those events takes place, he's riding the pine.
They lost an above-average player while adding an aging reliever and infield depth.
Oakland gives up an older infielder. Luckily, the A's have plenty of depth already in place in Jemile Weeks, Josh Donaldson, Scott Sizemore, Eric Sogard and Adam Rosales. Prospect Grant Green should see time soon, and behind him is Addison Russell. Stephen Drew also may return to reunite with Bob Melvin and Chris Young.
The move also allows the A's to move Coco Crisp. Crisp would likely see a return of more-than-decent value.