The Top 25 MLB Free Agents and Predictions on Where They'll End Up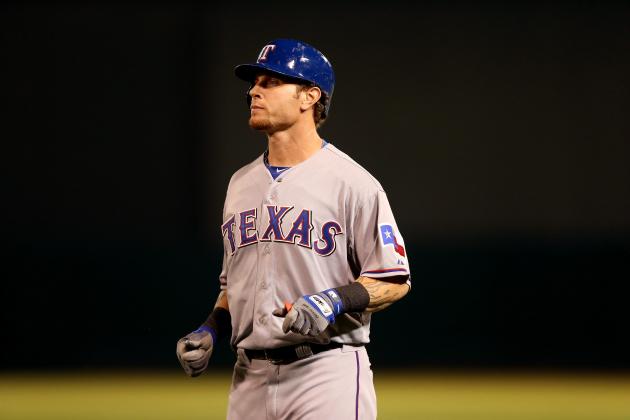 Ezra Shaw/Getty Images

Though the 2012 postseason isn't over yet, 27 of 30 major league teams are already considering what moves they'll make during the offseason.
The 2012-2013 free-agent class is certainly not the strongest of all time. Stars are few and far between and question marks abound.
The following are the best of the bunch—players who can make a major impact by signing with new clubs or by sticking with their present employers.
Some of these projected salaries may seem high. But if there's one thing we can rely on from baseball teams, it's their ability to throw around money.
There's never been an offseason that concluded with anyone surprised by how little free agents received. With baseball recording record profits, even mediocre players can expect gobs of cash when they reach the open market.
This list does not include players with team options for 2013 that are likely to be or have already been picked up. Some of those are David Wright ($16 million), Robinson Cano ($15 million), Curtis Granderson ($15 million), Dan Haren ($15 million), Brian McCann ($12 million), Joakim Soria ($8 million), Jhonny Peralta ($6 million) and R.A. Dickey ($5 million).
It also doesn't include Mariano Rivera and Andy Pettitte, who are locks to either retire or stay with their current team.
Begin Slideshow

»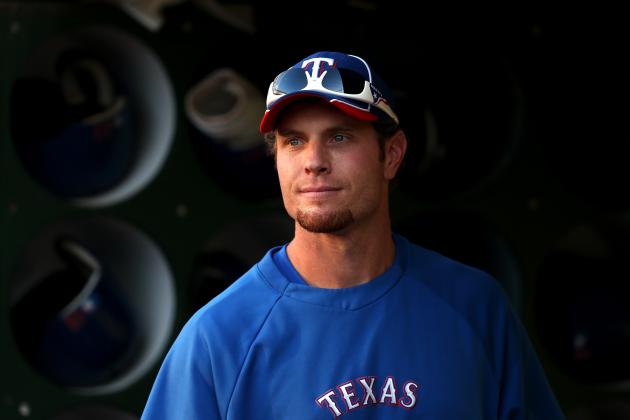 Ezra Shaw/Getty Images

Prediction: Seattle Mariners, 4 years, $98 million.
Normally a 31-year-old free agent-to-be coming off a season when he posted a triple-slash line of .285/.354/.577 to go with 43 homers and 128 RBI would be banking on a contract larger than the GDP of half the globe.
But with Josh Hamilton there are issues—substance abuse issues—which are well documented, and injury issues that have kept him from reaching 150 games played all but once in his career. These issues have caused the Rangers' organization and their fans to become frustrated with Hamilton, despite his immense production.
Despite all of his issues, in Hamilton you still get one of the premier power bats in the game. The Mariners are desperate for offense and desperate to compete in what was arguably baseball's best division in 2012. With Ichiro Suzuki's $20 million per year salary now off the books, look for them to re-invest that money in a high annual-average-value, short-duration deal for this soon-to-be former Ranger.
Felix Hernandez is two years from free agency, and the M's need to show him that they're trying.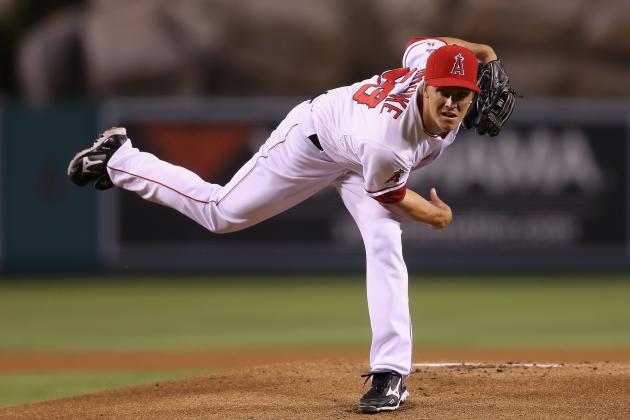 Jeff Gross/Getty Images

Prediction: Texas Rangers, 6 years, $127 million.

The clear-cut best pitcher on the market this winter will also be this year's biggest banking free agent. Two things we know about the Rangers—they need starting pitching and they aren't afraid to spend big to get it.
Some were shocked by combined $120 million they spent on pitcher Yu Darvish, not the mention the $80 million they guaranteed to third baseman Adrian Beltre. But both of those deals have worked out well so far. Greinke is just 28 and has a Cy Young Award under his belt.
Jon Daniels and Nolan Ryan understand the importance of impact starting pitching. Look for Texas to strike back at the Angels for stealing C.J. Wilson away last winter. Greinke may not be a lock-down ace in the mold of Justin Verlander or CC Sabathia, but the lack of a better starter on the market will ensure that he gets paid like one.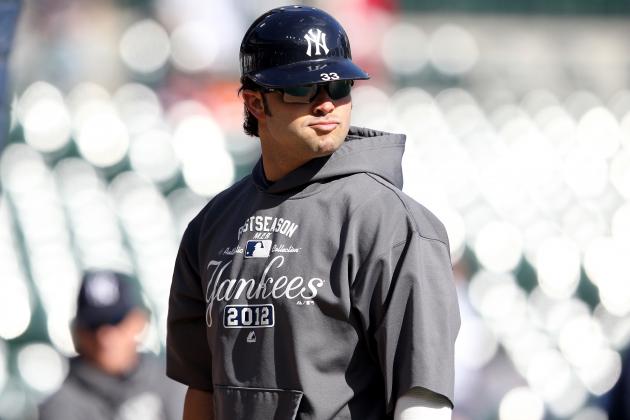 Leon Halip/Getty Images

Prediction: Philadelphia Phillies, 5 years, $77.5 million.
The Yankees' desire to cut payroll to $189 million by 2014 to avoid the harsher luxury taxes of the new CBA will likely prevent them from retaining their free-agent right fielder. Said to be looking for "Jayson Werth money," the 31-year-old Swisher might not be a superstar, but his .850 OPS since being traded to New York in 2009 puts him in the same statistical realm as Andre Ethier, who signed a six-year, $95.95 million deal last spring.
The Phillies' outfield is a mess. Mess is the wrong word, actually, because it implies that there's something there. Shane Victorino is gone. Hunter Pence is gone. Domonic Brown has been a disappointment. The Phils could also consider Michael Bourn or B.J. Upton, but they're smart enough to realize that power tends to age better than speed.
Swisher's atrocious postseason numbers are a concern, but his eight consecutive 20+-homer seasons and his ability to get on base (.361 OBP for his career) will help bolster the middle of Philadelphia's lineup.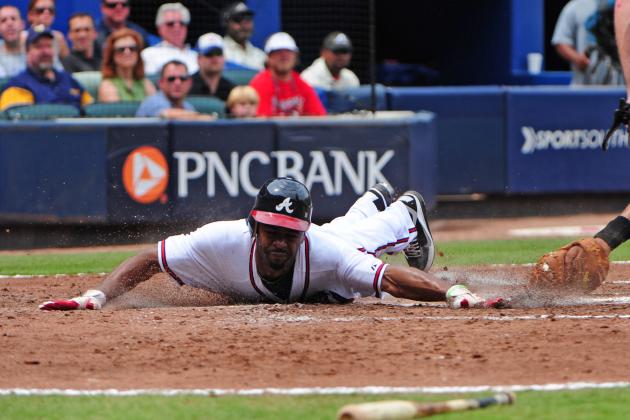 Scott Cunningham/Getty Images

Prediction: Washington Nationals, 5 years, $60 million.
The disappointing manner in which the Nats' season ended had nothing to do with their offense, but they can use some help at the top of their order.
Ian Desmond led the team in stolen bases with 21, and only Jayson Werth had an OBP better than .346 among the regulars. They'd also like to get Bryce Harper out of center field permanently.
Michael Bourn led the NL in steals three of the last four seasons. He had a 6.4 fWAR in 2012, thanks in part to his Gold Glove-level defense. The man can fly and his range is outstanding.
While large contracts for speedsters have been mostly flops in the past (Dave Roberts, Chone Figgins and Carl Crawford say hello), Bourn will be just 30 on Opening Day 2013.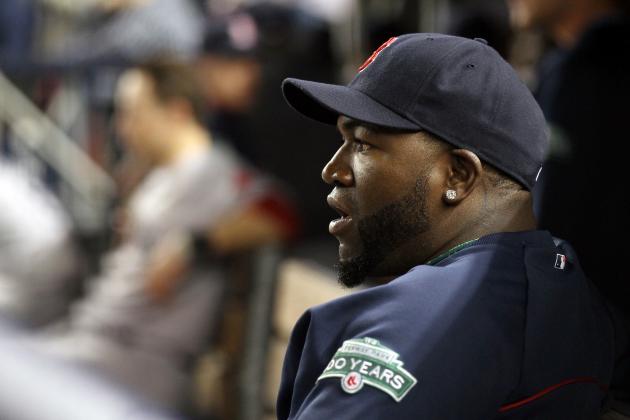 Elsa/Getty Images

Prediction: Boston Red Sox, 1 year, $15 million.
While many other aging stars have declined sharply in the post-steroid era, David Ortiz has kept up his slugging ways. In 2012, he hit 23 homers in just 324 at-bats and posted an OPS of 1.026, his best since 2007.
There are many things Ortiz can't do—play the field being chief among them. But at age 36, he's still one of the scariest men in baseball with a bat in his hands.
There is no reason for either side to delay on a deal here. The Red Sox need Ortiz back after the disaster that was Bobby Valentine's only season in Boston, and Ortiz enjoys being a fan favorite in the "nation" and hitting within the friendly confines of Fenway Park.
His age and lack of a defensive position severely limit his market, so the Red Sox should be able to bring him back on a one-year deal.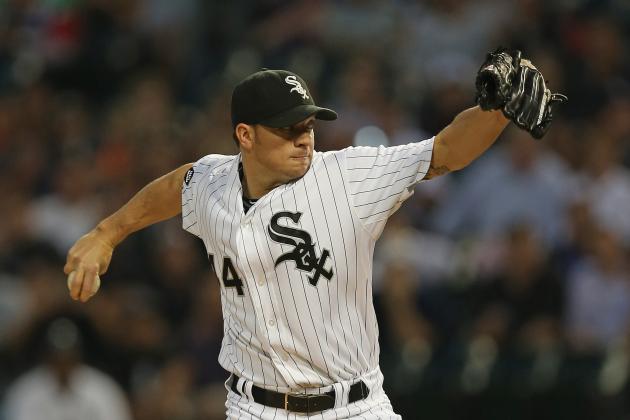 Jonathan Daniel/Getty Images

Prediction: Chicago White Sox, 2 years, $29.5 million
The White Sox hold a team option on Peavy for 2013, but despite his bounce-back 2012 (3.37 ERA, 1.10 WHIP over 219 innings), they won't agree to pay him $22 million for a single season.
Still, a healthy Peavy represents a high quality No. 2 behind Chris Sale. So after declining the option, Kenny Williams and company will do all they can to bring him back.
Though he's just 31, that 2012 was Peavy's first 30-start season since 2007 will prevent him from becoming a hot commodity on the free agent market. He's expressed many times how much he's enjoyed playing in Chicago since the Padres dealt him to the South Side in 2009.
Given the mutual good feeling here, the White Sox should be able to retain Peavy on a two-year agreement.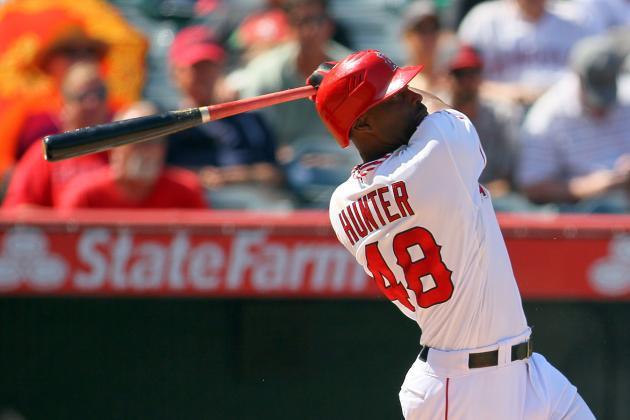 Victor Decolongon/Getty Images

Prediction: Texas Rangers, 2 years, $26 million
The Angels have stated a desire to bring back the charismatic Hunter, but their outfield is crowded, with Mike Trout, Mark Trumbo, Peter Bourjos and Vernon Wells, and they're locked into the latter for $42 million over the next two years.
Hunter had a very solid season in 2012 (.313/.365/.461), and at 37, he'll likely be in search of one more big payday.
With Josh Hamilton probably a goner, the Rangers will need a replacement both in their lineup and in the outfield, and Hunter, the owner of a lifetime .861 OPS at Rangers Ballpark, fits the bill nicely. He should sign a deal similar to what Carlos Beltran received from the Cardinals last year.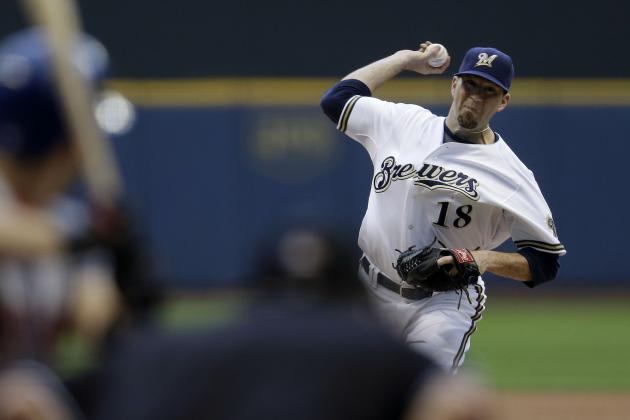 Mike McGinnis/Getty Images

Prediction: Baltimore Orioles, 4 years, $52 million
The Orioles had a remarkable season in 2012, winning 93 games and a wild-card spot and taking the Yankees to a decisive fifth game in the ALDS. They accomplished that, in large part, with unexpected pitching performances from Jason Hammel, Miguel Gonzalez and Joe Saunders.
While they were all great stories, the O's would be foolish to expect a repeat from any of them, which is why they need to spend on reliable starting pitching this winter.
Marcum, 30, is one of the more underrated pitchers in baseball. In 149 big-league starts, he's compiled a 3.77 ERA, 1.22 WHIP and a 7.91 K/9 rate. Having spent most of his career with the Blue Jays before being dealt to Milwaukee in 2011, he's American League East-tested.
Mark Buehrle and Jon Danks seemed to set the market for mid-rotation starters last year at $13 million per year. Look for Marcum to match that.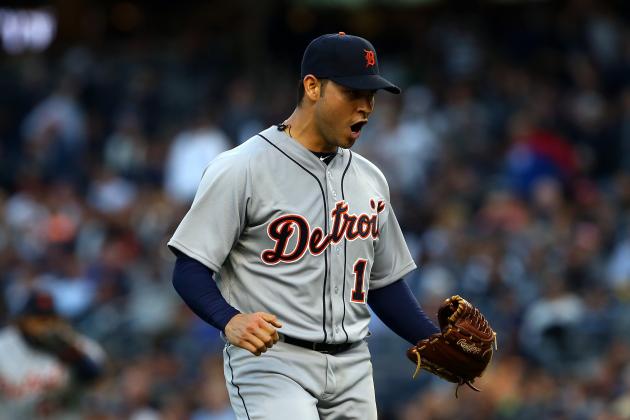 Alex Trautwig/Getty Images

Prediction: Boston Red Sox, 4 years, $50 million
The Red Sox starting pitching currently consists of Jon Lester, Clay Buchholz and a slew of questions. Will John Lackey make it back? Is Felix Doubront any good? While 2013 may ultimately be a rebuilding year for Boston, it desperately needs quality pitching if it hopes to climb out of the AL East cellar.
Originally a Red Sox prospect sent to Florida in the Josh Beckett trade, Anibal Sanchez has overcome early career injuries to post fWARs of 3.8 or better in each of the last three seasons, thanks to solid ERAs (3.55, 3.67, 3.86), and strong strikeout rates (7.25, 9.26, 7.68).
Despite enduring a shaky start after being dealt by the Marlins to Detroit this past July, Sanchez rebounded to put up a 3.74 ERA and a 1.29 WHIP in 12 AL outings.Though he still struggles to pitch late in games, never having put together a 200-inning season, Sanchez's year-to-year consistency would be a much-needed addition in Boston.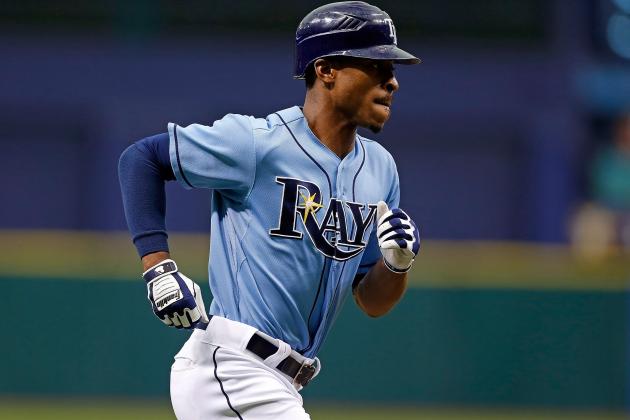 J. Meric/Getty Images

Prediction: Chicago Cubs, 4 years, $44 million
Back in 2007 and 2008, B.J. Upton looked like he was on his way to becoming one of the better outfielders in baseball—he was getting on base and hitting to the gaps—and his defense at his new position of center field seemed to be improving. But since then, he's largely plateaued.
The last four years, his on-base-plus-slugging percentages have been .686, .745, .759 and .752. He's struck out more each year and his fielding has dipped to around the league average. Many thought Upton was primed for a big contract year in 2012—he did slug a career-high 28 home runs—but his dismal .298 OBP kept him off the track to stardom.
Here's the thing about baseball, though. There's always someone willing to pay for potential, and at 28, Upton still has plenty of that. He hits the ball a long way when he gets into one, and he runs really fast.
The Cubs garnered a pathetic .640 OPS from their center fielders in 2012. With bad contracts like Carlos Zambrano and Marlon Byrd now off the books, Theo Epstein and company should have money to burn this offseason.
Elsa/Getty Images

Prediction: New York Yankees, 1 year, $14 million
Over the past five seasons, Hiroki Kuroda has quietly had more success than any Japanese starting pitcher to join the major leagues since Hideo Nomo. His career ERA sits at 3.42, his WHIP at 1.18 and his average fWAR at 3.16.
No one could have predicted how smoothly Kuroda's transition from the pitcher-friendly NL West to the hard-hitting AL East would have gone. Kuroda notched a 3.32 ERA and a 1.17 WHIP in a career-high 219.2 innings in 2012, and added two brilliant postseason starts to his resume.
Given the Yankees' desire to lower their payroll by 2014, and the 37-year-old Kuroda's shyness about making a long-term commitment to pitch in America, a one-year deal that includes a well-earned raise seems beneficial for both.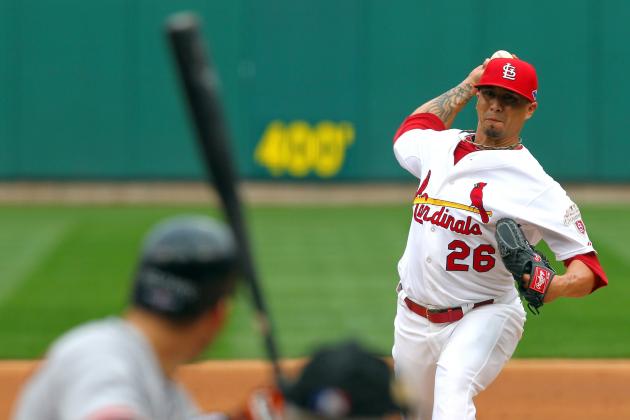 Dilip Vishwanat/Getty Images

Prediction: St. Louis Cardinals, 3 years, $36 million
The 34-year-old Lohse had a career year in 2012, posting a 2.86 ERA, a 1.09 WHIP and a 3.6 fWAR, all personal bests. Many would chalk Lohse's success up to a helpful .262 BABIP, but, in fact, his 6.10 K/9 rate was well above his career average, and his 1.62 BB/9 rate was a career low.
It's not uncommon for a control pitcher like Lohse to figure new things out, even in his mid-30s, and improve. Just ask Jamie Moyer.
No, the Cardinals shouldn't expect another sub-3.00 ERA season from Lohse in 2013. But since arriving in St. Louis in 2008, the crafty righty has been a quality starter more often than not.
He's found himself a good situation there and there's no reason why either side shouldn't want their relationship to continue.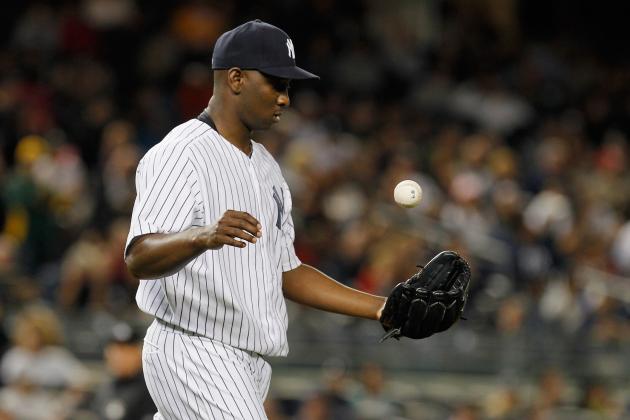 Mike Stobe/Getty Images

Prediction: Chicago White Sox, 3 years, $34.5 million
When Mariano Rivera tore his ACL in early May, things looked bleak for the Yankee bullpen. When heir apparent David Robertson hit the disabled list a few days later, things looked worse.
In stepped Rafael Soriano, to that point considered nothing but an albatross contract, and suddenly the ninth was a strength once again. Soriano converted on 42 of 46 save opportunities, posting a 2.26 ERA and a 1.17 WHIP.
Soriano, 32, holds a player option for $14 million for 2013. While he won't get that high an average annual value on the open market, he'll likely trade it in for longer-term security. Besides, "opt in" is usually not part of a Scott Boras client's vocabulary.
With Rivera set to return next year, the newly frugal Yankees won't spend eight figures on a setup man, especially with Robertson and Joba Chamberlain in the mix. The White Sox, meanwhile, blew 20 saves in 2012, the eighth most in baseball. They'll definitely consider adding the best closer available.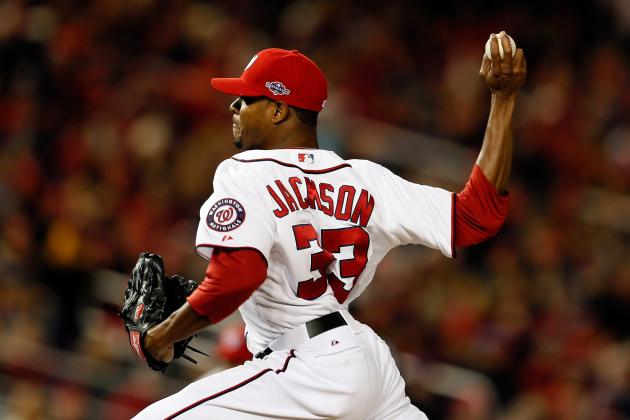 Rob Carr/Getty Images

Prediction: Pittsburgh Pirates, 3 years, $33 million

Just 29 years old, Edwin Jackson has already pitched for seven major league teams. In his first attempt at free agency last winter, agent Scott Boras was a bit too aggressive with his pricing and he eventually settled for a one-year deal with the Nationals.
Jackson pitched reasonably well, posting a 4.03 ERA, and a career-best WHIP (1.22) and K-per-nine rate (7.97). In his second go-around, Jackson should be able to secure a multi-year deal if he and Boras are a bit more realistic about their expectations.
After surprising the baseball world by finishing the first half of 2012 11 games over .500, the Pirates collapsed in the second half. They went 31-46 after the All-Star break and finished in fourth place in the NL Central.
A major part of Pittsburgh's plummet was that its team ERA climbed nearly a run, from 3.48 in the first half to 4.38 in the second. Jackson, who has made 31 or more starts six straight years, will help solidify the Pirates' rotation as they try to contend for an entire season in 2013.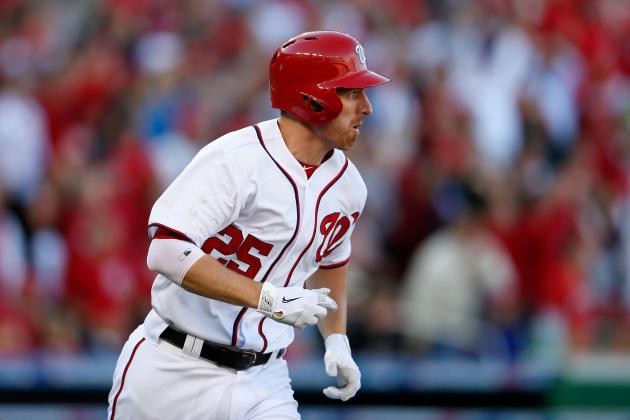 Rob Carr/Getty Images

Prediction: Washington Nationals, 3 years, $31.5 million
Coming off a career-best 3.8 fWAR/33-home run season in 2012, LaRoche is one of the more unsung offensive threats in baseball. He's driven in 100 runs in two of the last three seasons and he's managed to hit 20 or more home runs and post an OPS of .775 or better in seven of the last eight.
it shouldn't take LaRoche long to decide to decline his part in a $10 million mutual option that would keep him in Washington for 2013. Still, the Nationals have been a nice landing spot for the almost 33-year-old first baseman. The two sides should agree to replace LaRoche's option with a deal that keeps him within the Beltway for the next three seasons.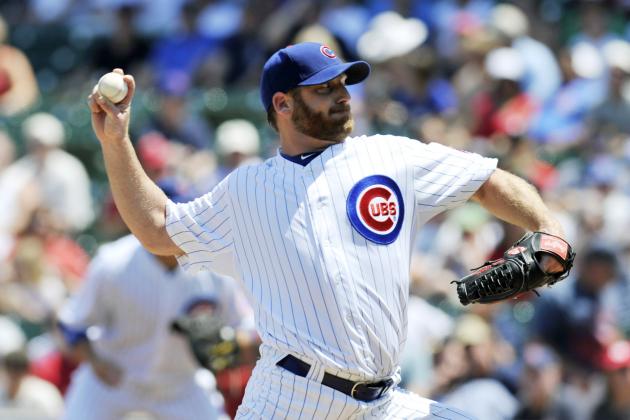 David Banks/Getty Images

Prediction: Milwaukee Brewers, 2 years, $20 million
At 35, Ryan Dempster was on his way to a terrific season in 2012. Through his first 16 starts with the Cubs, he had a 2.25 ERA and a 1.03 WHIP, thanks to a 3.07 K/BB rate, the best of his career. Then he was traded to Texas and American League hitters ate him for lunch, leaving him with an ERA over 5.00 in his final 12 outings.
Dempster was bombed in the final game of the regular season, giving the A's the AL West crown and forcing the Rangers into the wild-card game against the Orioles, which they ultimately lost.
Outside of a rough 2011, though, Dempster has been a reliable National League pitcher for the past few seasons. With Zack Greinke and Randy Wolf gone, the Brewers will look to shore up their rotation this winter in hopes of making another run at the playoffs. Dempster, who won't require a long-term commitment, seems like a nice fit.
Jonathan Daniel/Getty Images

Prediction: Cincinnati Reds, 2 years, $17 million

Coming off a 26-homer, .877-OPS 2012, Ryan Ludwick's decision to decline his end of a $5 million 2013 mutual option with the Reds will be a no-brainer. But as strong as Ludwick's 2012 campaign was, he struggled mightily for a year and a half after being dealt by the Cardinals to San Diego in mid-2010.
The inconsistency that's plagued him throughout his career will prevent the outfielder from securing anything longer than a two-year deal.
The Reds made a find when they signed Ludwick to a $2.5 million salary in 2012, and they should be quick and decisive in bringing back a player who helped them to their highest regular season win total since the days of the Big Red Machine.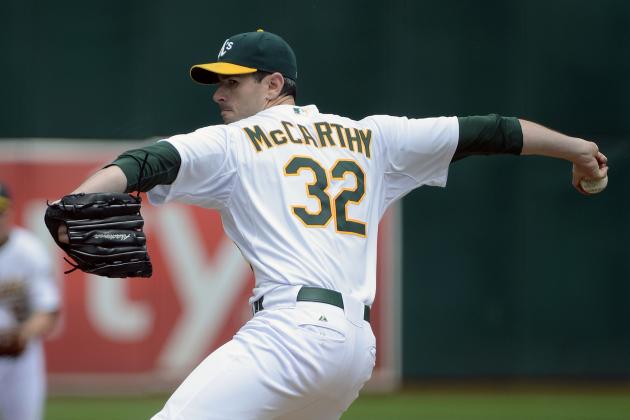 Thearon W. Henderson/Getty Images

Prediction: Kansas City Royals, 2 years, $16 million
Over the past two seasons with Oakland, McCarthy has posted an outstanding ERA of 3.29 and a very strong WHIP of 1.18. He doesn't rack up strikeouts, but he keeps the ball on the ground and makes it very difficult for batters to make contact with any kind of authority.
The problem? The 29-year-old has never made more than 25 starts in a season or pitched more than 170 innings.
It's a well-known fact that the Royals are looking for veteran pitching this winter to support their budding offensive corps. If McCarthy can ever stay healthy, he's got upside-a-plenty, and given the Swiss cheese nature of the Kansas City staff, he's probably worth the risk if the team hopes to make it at least to the outskirts of the AL Central race in 2013.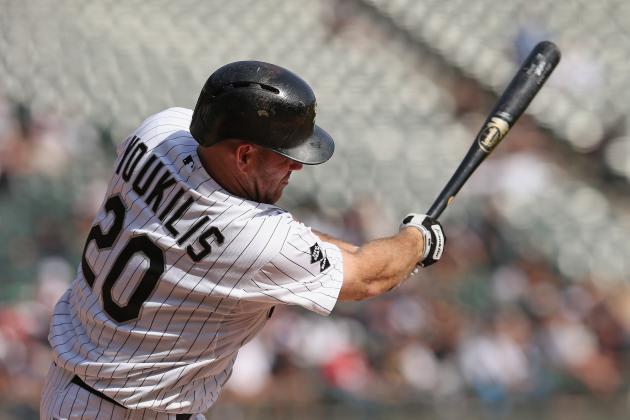 Jonathan Daniel/Getty Images

Prediction: Tampa Bay Rays, 2 years, $15 million

In 2012, the Rays led the AL in ERA and managed to miss the playoffs.That can be attributed to their scoring just 4.3 runs per game, fourth worst in the league. A major culprit was first baseman Carlos Pena, who batted an anemic .197/.330/.354 in 600 largely unproductive plate appearances.
Youkilis, who'll be 34 on Opening Day 2013, has a $13 million team option that the White Sox will most certainly decline. He can replace Pena's excellent defense at first and actually hit a little as well.
While Youk may not be the OBP machine he once was—he had a career-low .336 OBP in 2012—he was victimized by a .268 BABIP, also a career-low, so it's not unrealistic to expect somewhat of a rebound year.
Given the unpleasant nature of his last few months in Boston, Youk probably wouldn't mind storming into Fenway as a visitor nine times a season.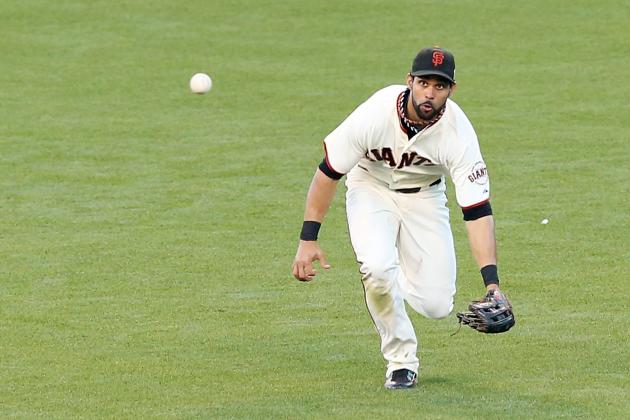 Ezra Shaw/Getty Images

Prediction: Philadelphia Phillies, 3 years, $22.5 million
Last winter, Giants GM Brian Sabean pulled off a steal of a trade to snatch Pagan from the Mets in exchange for Andres Torres and Ramon Ramirez. Pagan promptly rewarded him by notching a .778 OPS to go with 29 stolen bases atop the Giants' lineup. After Michael Bourn, the 31-year-old Pagan is the best leadoff man on the free agent market, and he'll come with a much more reasonable price tag.
The Phillies got little production from their outfield in 2012, especially after dealing away Shane Victorino and Hunter Pence during the season. Jimmy Rollins still has pop and speed, but he's no longer an ideal leadoff hitter thanks to a dwindling OBP.
Pagan will give the Phillies a notable threat at the top of the order to go with above-average defense in center.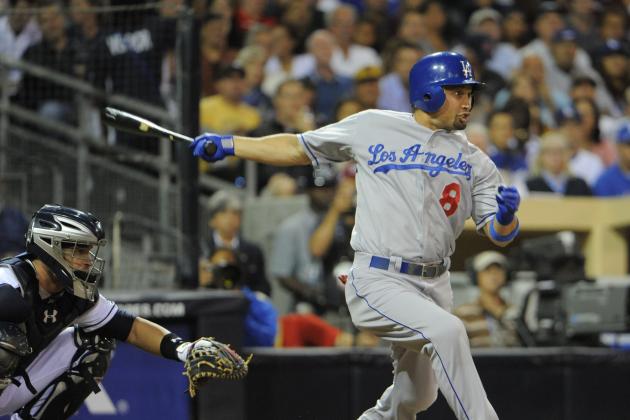 Denis Poroy/Getty Images

Prediction: Atlanta Braves, 2 years, $14 million
Despite a strong 2011, Victorino looked somewhat shot in 2012, posting a .704 OPS overall and a weak .667 OPS after being dealt from Philadelphia to the Dodgers. While he managed to swipe 39 bases, the soon-to-be 32-year-old's batting average (.255) and OBP (.324) were both his lowest marks since becoming an everyday player in 2006.
With Michael Bourn out the door, the Braves will be looking for a center fielder, and Victorino still provides better-than-average defense at the position. He's not old, and he's just a year removed from a very solid season, so a bounce-back 2013 is not out of the question.
The Flyin' Hawaiian's lifetime .333 batting average at Turner Field may sweeten the pot for Atlanta.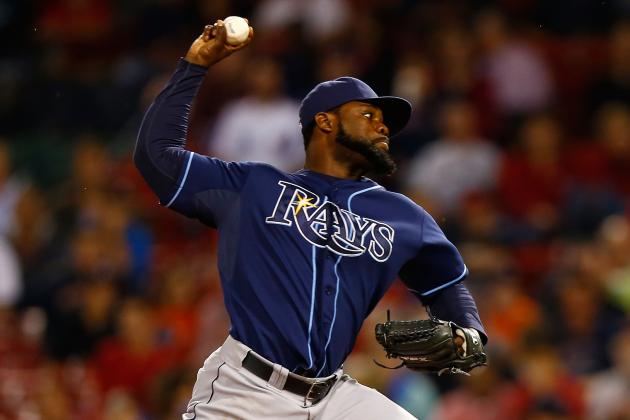 Jared Wickerham/Getty Images

Prediction: New York Mets, 2 years, $13 million
Journeyman Fernando Rodney shocked the world in 2012 by putting up one of the most extraordinary seasons by a relief pitcher in recent memory. The 35-year-old saved 48 games for the Rays while posting an 0.60 ERA, an 0.78 WHIP.
Rodney's 1.81 walk-per-nine rate, which dwarfed his career average of 4.42, played a key role in his success. But his historic season was also fueled by an unsustainable .220 BABIP and 4.4 percent home- run-to-fly-ball rate. While an ERA below 1.00 can't be expected again, Rodney can still be a successful closer if he maintains his newly found control.
The Mets were plagued by a 4.65 bullpen ERA in 2012. Frank Francisco was a disaster as their closer and he's now dealing with elbow tendinitis. GM Sandy Alderson showed a willingness to invest in the pen last season, and Rodney could provide good value if he remembers what he apparently learned in Tampa Bay.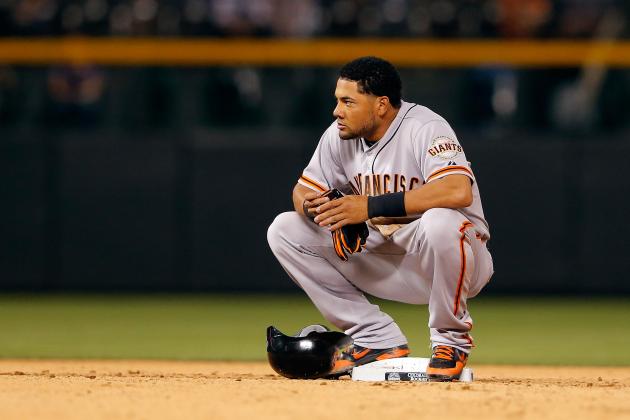 Doug Pensinger/Getty Images

Prediction: San Francisco Giants, 1 year, $6.5 million

On August 14th, Melky Cabrera was leading the National League in batting, had a .906 OPS and was well on his way to a major free-agent payday. Then it came out that he'd tested positive for performance-enhancing drugs and he was suspended for the remainder of the season.
Cabrera and his camp tried to explain away his failed test by creating a fake website, which only further damaged his credibility. Now the 28-year-old's best bet is to take a one-year deal to try to prove he can do it again—clean this time—and attack free agency again next offseason.
Though they were undoubtedly disappointed in him, the Giants have the best insight into how much of Cabrera's performance was chemically enhanced and into his state of mind. They knew what they were doing when they traded Jonathan Sanchez for Cabrera, who was coming off a career-best 2011, and they'd be wise to capitalize again on their instincts, if only for one more year.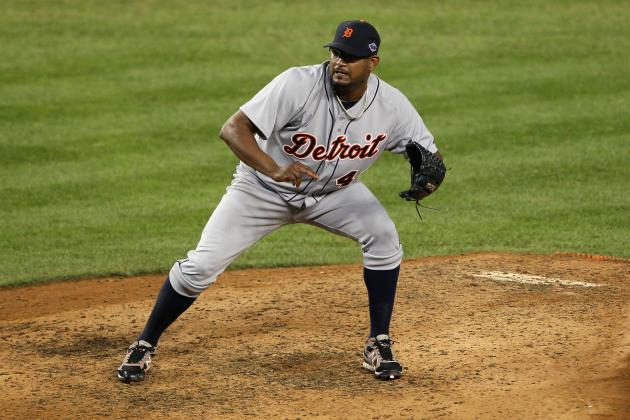 Alex Trautwig/Getty Images

Prediction: Oakland A's, 1 year, $5.5 million
Valverde's tenure in Detroit seemed to be coming to an end when he blew a four-run lead to the Yankees in the ninth inning of Game 1 of the ALCS and Jim Leyland quickly replaced him with Phil Coke in the closer role for the remainder of the series.
While Valverde had a decent regular season in 2012, saving 35 games in 38 attempts, his peripherals were alarming. His K-per-nine rate dipped to a career low 6.26, and his line drive rate sat at 22 percent, his highest since 2006.
MLB teams know well the fickle nature of relievers, which will make it difficult for Valverde, who will be 35 on Opening Day, to snag better than a one-year deal. His well-publicized antics on the mound won't help his cause.
Billy Beane is generally not one to spend a good chunk of his limited budget on the bullpen, but he has been known to bring in pricier closers on a year-at-a-time basis when he thinks he can contend, as he did with Billy Koch in 2002 and Keith Foulke in 2003.
Valverde may be on the way out as a dominant stopper, but youngster Ryan Cook blew seven leads for Oakland in 2012 and Grant Balfour's had his ups and downs. It may be worth it for the A's to take a flyer on Valverde on a low base, perhaps incentive-laden deal.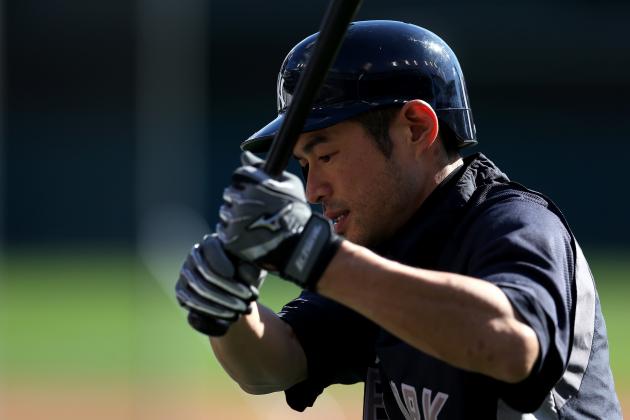 Jonathan Daniel/Getty Images

Prediction: New York Yankees, 1 year. $4.5 million
Ichiro will be faced with a difficult decision this offseason: start on a losing team or play a limited role on a contender. The 38-year-old icon is a difficult man to read. But given how much he seemed to enjoy himself after being dealt to the Yankees in July, there's a good chance he'll choose the latter.
Ichiro is no longer the player who recorded 10 straight 200-hit seasons from 2001 through 2010. But on some days, he looked like the Ichiro of old in New York. He hit .322/.340/.454 down the stretch and looked like the only Yankee with a pulse as they were swept out of the ALCS.
If he's willing, the Yankees could definitely make use of Ichiro as a platoon starter and fourth outfielder, especially if they're able to secure a righty bat for him to split time with.