Albert Pujols, Josh Hamilton and a Comparison of 2012 and 2013 MLB Free Agents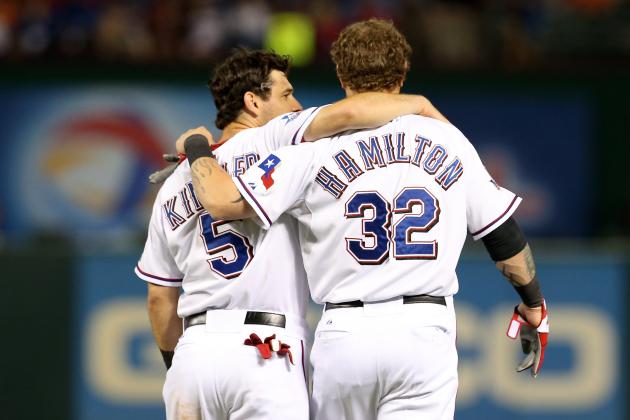 Ronald Martinez/Getty Images

In 2012, Major League Baseball witnessed one of the most anticipated offseasons of the free-agent era. Arguably the greatest hitter of his generation was a free agent, along with several undisputed stars of the game.
In 2013, Josh Hamilton may have the stage largely to himself.
The biggest names eligible to hit the market have club options that seem destined to be exercised. That would take Curtis Granderson, Robinson Cano and David Wright off the table.
With Cole Hamels and Matt Cain completing contract extensions during the season, Zack Greinke is alone at the top of the pitching field, and while the combination of Hamilton and Greinke may surpass Pujols and C.J. Wilson from 2012, the overall classes compare very closely.
This is a position-by-position breakdown of that comparison, considering the top free agent at each spot, top three outfielders and top three pitchers.
(The class of 2012 includes free agents signed between the end of the 2011 season and the start of the 2012 season, even if they officially signed in 2011.)
Begin Slideshow

»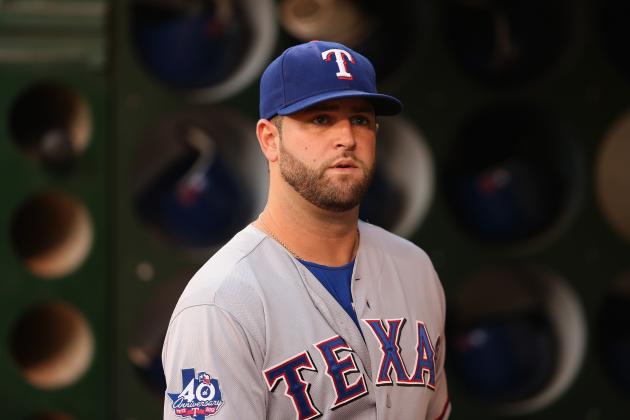 Ezra Shaw/Getty Images

The catching class of 2012 free agents was a bit lackluster.
Most signed relatively minor one-year deals, but Ryan Doumit was the most productive, catching 59 games and filling other roles for the Minnesota Twins.
Doumit finished 2012 with a .275 average, 18 HR and 75 RBI.
Looking ahead to 2013, Brian McCann has a $12 million club option that seems enticing for a catcher with 20-plus home runs in six of the last seven seasons, so Mike Napoli is clearly the head of the group.
Napoli fell from .320/30 HR/75 RBI in 2011 to just .227/24/56 in 2012.
He does have at least 20 bombs in each of the last five seasons, though.
Neither Napoli nor Doumit is known for his defensive prowess as a catcher, but Napoli has the more impressive skill set and will likely get exponentially more in free agency than Doumit did.
Edge: 2013 for Mike Napoli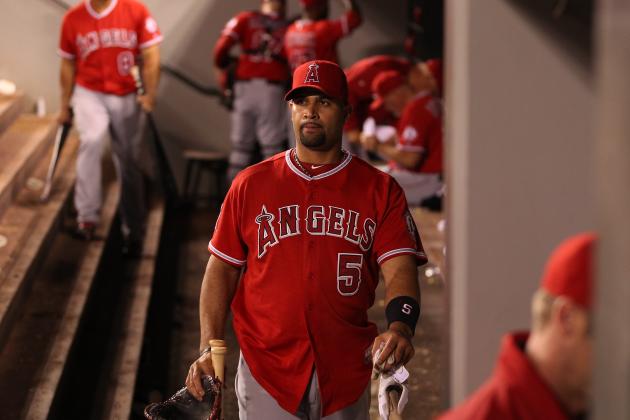 Otto Greule Jr/Getty Images

Prince Fielder went into free agency coming off a year in which he posted a .299 average, 38 HR and 120 RBI and finished third in MVP voting, and he was not the most talked about free agent at his position.
The 2011-2012 offseason became the Great Pujols Stakes for major league GMs.
Of course, Albert Pujols entered free agency with a career .328/.420/.617 slash line, 445 home runs and a World Series title. He was looking for (and received) payment equal to his legacy.
He eventually signed with the Angels for 10 years and $240 million.
The man who was expected to take over for No. 5 at first base, Lance Berkman, only played 32 games in 2012 but enters the offseason as the best of an underwhelming class of aging first basemen. Berkman is probably two productive seasons from 400 home runs and maybe four seasons from 1,500 RBI, but he will have to find a team where he can DH from time to time to stay healthy.
There is no comparison between these first basemen.
Edge: 2012 for Albert Pujols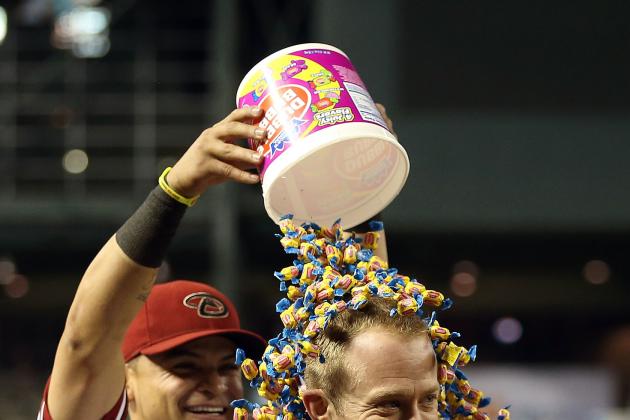 Christian Petersen/Getty Images

This slide assumes options are picked up for Cano and Kinsler.
There was not much hype about any of the free-agent second basemen in 2012. None got long contracts, and most were expected to fill utility infield roles or at least share time.
However, Aaron Hill rediscovered himself during his move to Arizona, posting a career-high .302 average, with 26 HR, 85 RBI and 14 stolen bases.
Meanwhile, with Cano and Kinsler off the table and Brandon Phillips signing a long-term deal to stay in Cincinnati, the top second baseman available for 2013 looks to be Kelly Johnson, coming off a year in which he batted .225.
Johnson has had 16 or more home runs and 13-plus steals in each of the last three seasons but has batted over .230 just once in the last four.
While Hill is less than a superstar, his 2012 performance easily outpaced what Johnson is likely to do in 2013.
Edge: 2012 for Aaron Hill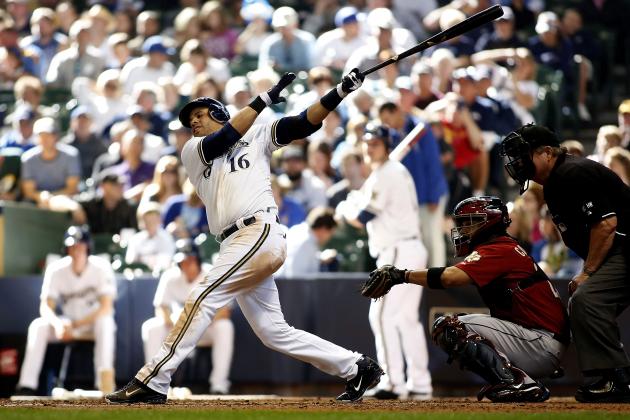 Mark Hirsch/Getty Images

In 2012, the Milwaukee Brewers saw Prince Fielder leave for Detroit and signed Aramis Ramirez to fill their void at third base and behind Ryan Braun in the lineup.
Ramirez came into 2012 with perhaps the most underrated resume on the market.
Between 2001 and 2011, Ramirez batted .289, hit 303 home runs and accumulated 1,056 RBI. Predictably, he did not disappoint in Milwaukee. Ramirez finished 2012 batting .300 with 27 HR, 105 RBI and 92 runs scored.
The Class of 2013 is likely to lose David Wright to an affordable team option and missed out on 40-homer man Edwin Encarnacion when he signed an extension with Toronto.
Kevin Youkilis is the most established name on the list, and the White Sox have indicated he will not have his $13 million club option picked up for 2013. Youkilis was among the best hitters in the game from 2008 to 2010 but ran into injury trouble in 2011 and again in 2012.
He finished this season with a .235 average and 19 home runs.
Edge: 2012 for Aramis Ramirez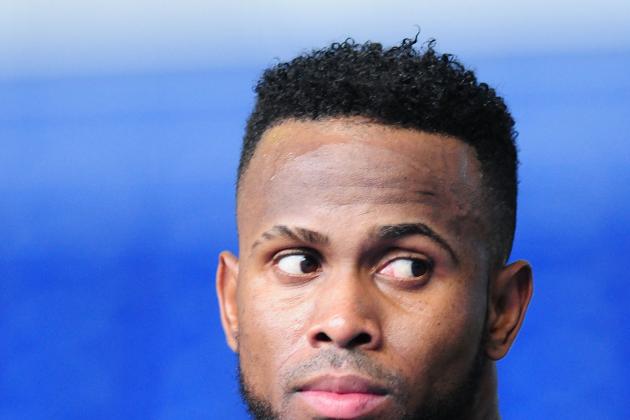 Jason Arnold/Getty Images

One guy who should not be blamed for the 2012 collapse of the much-hyped, Ozzie Guillen-led, new home, new look Miami Marlins is their new shortstop, Jose Reyes.
After signing a contract for six years and over $100 million, Reyes had his first healthy season since 2008. He finished with a .287 average, 40 steals, 86 runs scored and 57 RBI despite putrid offensive output around him.
Meanwhile, the league is facing a meager 2013 class of shortstops, and the most productive name on the list of free agents is probably 36-year-old Marco Scutaro. Scutaro was traded from Colorado to San Francisco midseason and finished the year with 87 runs scored, 74 RBI and an average of .306.
Most notably, he hit .362 with San Francisco over the season's final 61 games, helping the Giants weather the loss of Melky Cabrera and reach the NLCS.
Despite Scutaro's production, Reyes is clearly the better shortstop and gets the edge in this comparison.
Edge: 2012 for Jose Reyes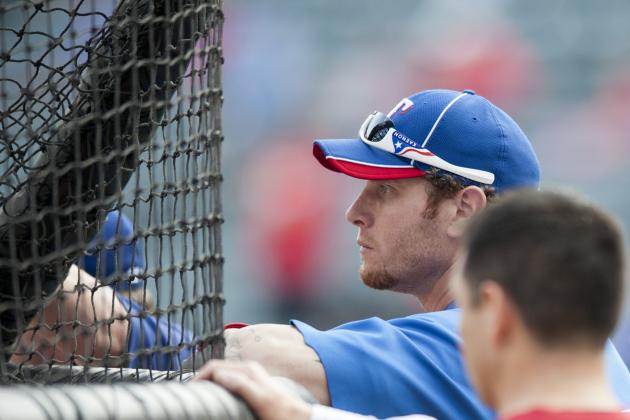 Cooper Neill/Getty Images

First of all, there are those who will question whether Yoenis Cespedes should be called a 2012 "free agent," but when he was deemed eligible by MLB, that is what he became, so he is eligible for this comparison.
The 2012 class posted impressive numbers this season.
Cespedes surprised many with his .292 average, 23 HR and 16 SB, leading the formerly lowly A's to the playoffs. Josh Willingham earned his keep in Minnesota with 35 HR and 110 RBI, and Carlos Beltran continued to fight age with 32 HR, 97 RBI, 83 runs and 13 SB.
But that group cannot compare to the 2013 free-agent class.
Josh Hamilton, Michael Bourn and B.J. Upton combined for exactly 80 HR and 80 SB. They knocked in 263 runs and scored 278.
Edge: 2013 for Hamilton, Bourn and Upton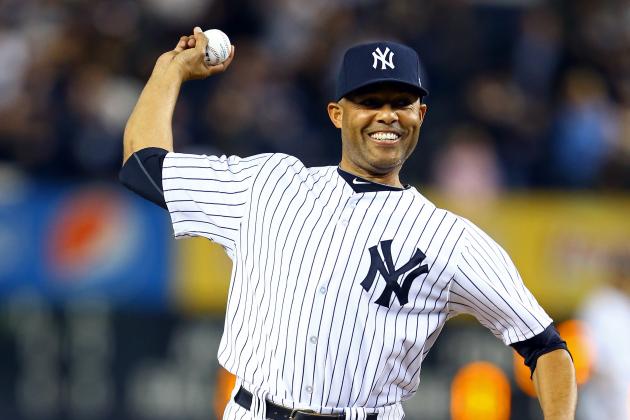 Al Bello/Getty Images

C.J. Wilson received most of the free-agent pitching hype after 2011 because of the lack of "aces" on the market. Wilson eventually signed with Los Angeles (within hours of Pujols' decision) and had a so-so season, finishing with 13 wins, a 3.83 ERA and 173 strikeouts.
Mark Buehrle also won 13 games with a 3.74 ERA, continuing his legendary consistency.
Since 2001, his first full MLB season, Buehrle has just one season under 12 wins and one over 16. He has one season under a 3.20 ERA and one season over 4.30.
Hiroki Kuroda had the best year of the trio, winning 16 games with an ERA of 3.32.
The 2013 class is not as loaded as some hoped.
Cole Hamels and Matt Cain signed long extensions during the season, James Shields is likely to have his $9 million option picked up by Tampa Bay and the Mets will almost certainly retain R.A. Dickey for $5 million.
Zack Greinke was traded to the Los Angeles Angels in the middle of 2012, finishing the year with 200 strikeouts, a 3.48 ERA and 1.196 WHIP—not as dominant as recent years, but still solid.
Dan Haren battled injuries, still making 30 starts but not pitching close to his ability with a 4.33 ERA (compared to 3.66 career).
The inclusion of Mariano Rivera in this comparison is strictly to debate whether he retires or not, as opposed to where he signs. At this point, all indications are Rivera and the Yankees will work out a one-year contract to finish his career right.
He will go down as the greatest relief pitcher in MLB history, bar none.
Edge: Draw. Both classes are unimpressive, lacking the elite production beyond Wilson/Greinke, who posted comparable numbers.
Tim Umphrey/Getty Images

The Class of 2012 wins.
The final tally was 4-2, but even a casual glance at the list of names on each side would lead one to say last year's free-agent market was stacked, headed by two likely 500-home run club members.
While the performance of 2013's free agents could change this opinion, many underperformed in 2012, and many members of the 2012 class outperformed expectations. Even removing Pujols and Fielder, the raw statistics of Hill, Ramirez and Reyes are unlikely to be approached by their 2013 counterparts.
This year's free-agent class is also crippled by team options on superstars.
If players like Wright, Kinsler, Shields, Dickey or even (remote possibility) Cano were to hit the market, everything would change.