San Francisco Giants: 5 Trades the Giants Should Consider for Tim Lincecum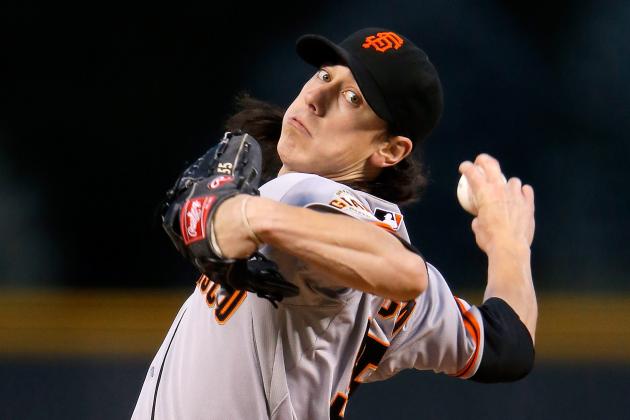 Doug Pensinger/Getty Images

The San Francisco Giants' season is still rolling, so offseason transactions probably aren't general manager Brian Sabean's top priority right now. But sometime in the next two or three weeks Sabean will be turning his attention to free agents, trade possibilities and his long-term plans for some current players.
Sabean's biggest decision could involve Tim Lincecum, who will be a free agent after 2013. Having already signed Matt Cain to a lucrative long-term contract, and with Buster Posey likely to demand a monstrous contract in the near future, the Giants have to decide whether they can, or even want, to keep Lincecum around long-term.
If not, they have to determine whether to let him play out the final year of his contract or trade him—possibly for a shortstop, a first baseman or an outfielder.
The problem is that, despite winning two Cy Young awards and leading the National League in strikeouts three times in his first five seasons, Lincecum has become a precarious commodity. During his disastrous 2012 season, his ERA nearly doubled from the previous season, prompting manager Bruce Bochy to demote Lincecum to the bullpen for the postseason.
Of course, he could do a lot to repair his value when he makes his first start of the 2012 postseason against the St. Louis Cardinals on Thursday, or he could further damage it. Either way, a potential trade partner would have to determine whether Lincecum can regain some of his early-career magic.
So, can he? There are few cases of great pitchers stumbling so drastically at such a young age (Lincecum is 28 years old), and even fewer examples of players returning to form afterward.
Dwight Gooden was a superstar at 19 years old then lost his dominant stuff before turning 30. But that was attributed to drug addiction, which adds an asterisk of sorts to his situation.
Dennis Eckersley might be the closest comparison to Lincecum. Eckersley was twice an All-Star and twice a Cy Young candidate as a young starting pitcher.
Then during his age-28 season, he posted a miserable 5.61 ERA. Eckersley started for three more years, but he wasn't an effective pitcher again until Tony LaRussa made him a closer in Oakland.
Whatever the reason for Lincecum's rough season, he has two significant motivators to bounce back in 2012: redemption and his pending free agency. While that could offer some solace to potential Lincecum suitors, his future worth remains a major unknown.
A year ago he would have demanded a despot's ransom. But now his value is based largely on faith that he will become an effective starting pitcher again.
Assuming other teams still believe in Lincecum's abilities, here are five scenarios the Giants should consider for trading Lincecum this offseason.
Begin Slideshow

»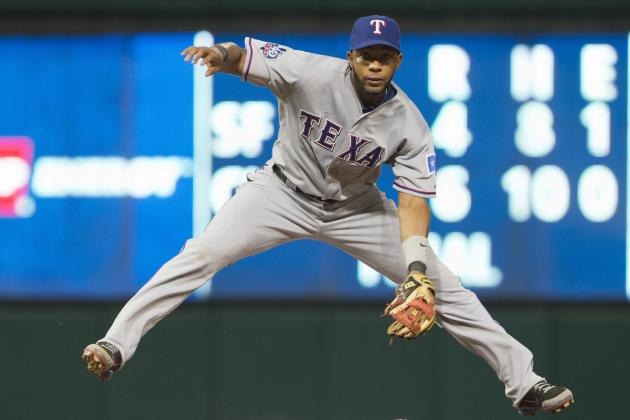 Jason Miller/Getty Images

When the Texas Rangers traded away Mark Teixeira to the Yankees in 2007, teenager Elvis Andrus was the most prized prospect they received in return. Andrus, who reached the majors two years later, hasn't disappointed, emerging as an excellent on-base guy and base stealer, as well as one of the best defensive shortstops in the game.
Andrus and current Giants shortstop Brandon Crawford are comparable with the glove, but Andrus would offer San Francisco a significant upgrade offensively. His percentage stats—batting, on-base and slugging—have all gradually improved over his four years in the big leagues, and considering he just turned 24 in August, he still has upside.
So why would the Rangers trade him? Because they have the top prospect in baseball, shortstop Jurickson Profar. Texas may want to keep Profar in the minor leagues a bit longer, but after a solid season at Double-A, the 19-year-old indicated he might be ready for the majors during a brief September call-up.
A position change could be in order for either Andrus or Profar, but with Ian Kinsler at second base, Adrian Beltre at third, a logjam at first and no spot for Michael Young, the Rangers' infield is overcrowded as it is.
Alternatively, the Rangers could keep both Andrus and Profar, switching one of them to second base, and instead offer Kinsler to the Giants.
Either way, with Ryan Dempster and Roy Oswalt no longer under contract, and Neftali Feliz recovering from Tommy John surgery, the Rangers could easily find a spot in their rotation for Lincecum.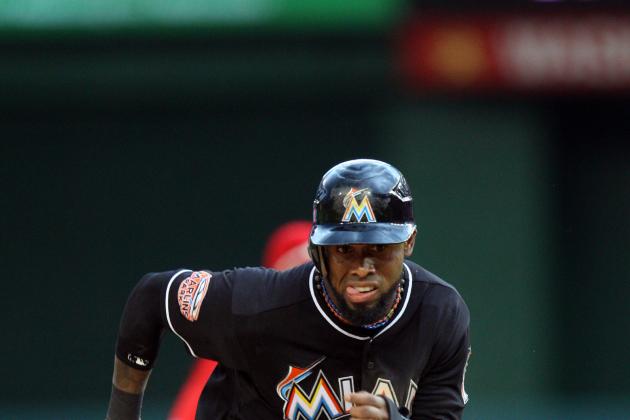 Ned Dishman/Getty Images

The Giants were considered one of the potential suitors for Reyes last offseason, when the longtime Mets shortstop was shopping his services in free agency. It's hard to say how realistic such speculation really was, but if the Giants were truly interested in Reyes, they could have another shot at him.
Considering Reyes' sizeable contract and that the Marlins' team owner has a schizophrenic business approach, Miami's top signing of 2012 could probably be had via trade—perhaps for someone like Lincecum.
Sure, Lincecum is due more money than Reyes next year, but that is just for one season. After 2013, the Marlins would be off the hook if Lincecum were to leave via free agency. Meanwhile, Reyes has five more years on his contract. On the field, a revitalized Lincecum would help a starting rotation that ranked last in the NL East in wins, ERA and strikeouts.
As for the the Giants, they would get one of the best shortstops in the game, a .300 hitter with 40-steal speed and an electrifying style of play. Effectively, he is a slightly better Angel Pagan playing infield.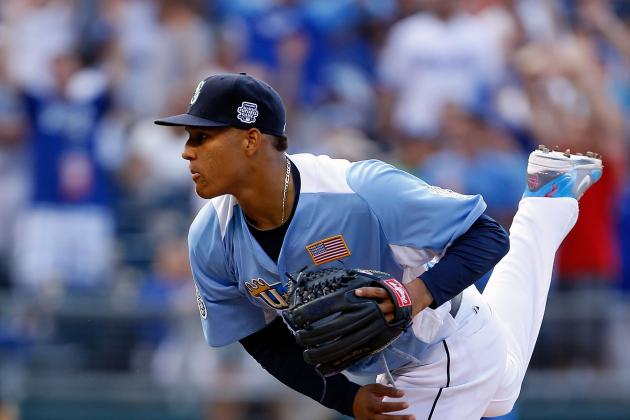 Jamie Squire/Getty Images
Mariners prospect Taijuan Walker
This trade scenario is predicated more on placing Lincecum in his hometown rather than meeting needs for both teams.
As a Seattle native who pitched at the University of Washington, Lincecum's presence on the Mariners could be a nice draw for fans. It could also help the team win a few more games.
Since the Mariners don't have much talent at the big league level, their best bet to land Lincecum would be to offer up some of their better minor leaguers.
The Mariners have a top middle-infield prospect, Nick Franklin, and three starting pitchers—Taijuan Walker, Danny Hultzen and James Paxton—who appear on Top-100 prospect lists.
Franklin, who reminds some scouts of Michael Young, is considered a shortstop at this point, but his future appears to be more at second base. That path appears to be blocked, however, by Dustin Ackley, potentially making Franklin trade bait.
Seattle would probably love for all three starting pitchers to help the big club within the next couple years, but they could get some immediate help by packaging one of them with Franklin for Lincecum.
Not only is there the hometown appeal, but by pairing Lincecum with Felix Hernandez, the move could show an effort to win, possibly making the franchise more attractive to other free agents.
As for the Giants, this trade would infuse some talent into one of the league's more barren farm systems.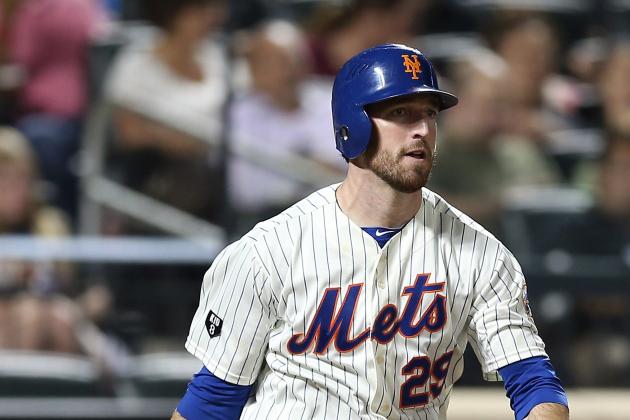 Elsa/Getty Images

Something about this swap feels awkward, though elements of it work.
According to Jon Heyman of CBS Sports, the Mets reportedly will consider moving Davis this offseason. So it would be worth a try for the Giants to go after the young power hitter.
Brandon Belt believers probably don't like this idea, since San Francisco's second-year first baseman showed some improvement and demonstrated a clutch gene this year. Yet, at 24 years old, Belt appears to be far from an offensive force.
Davis, a year older than Belt, has considerably more power. His 32 home runs and 90 RBI this season are somewhat tainted by his .227 average, but his .271 average in two previous seasons (one was injury-shortened) suggest he won't stay in Mark Reynolds territory.
Since Davis is a lefty, there could be concern that AT&T Park would kill his power numbers. But according to Greg Rybarczyk's home run tracker on ESPN.com, Davis' home run total would have been minimally affected in San Francisco. Considering his age and upside, Davis could soon be a 40-homer player.
For a team like the Giants, which finished last in the major leagues in home runs this season, such power would be greatly welcomed.
The problem with this swap is that the Mets have greater needs elsewhere, such as the outfield. Plus, they have a deep rotation, and they're already on the hook for $25 million with Johan Santana—another starting pitcher whose stock has plummeted.
There are two ways around this. First, the Mets could open a rotation spot by including Dillon Gee in the deal. The other possibility requires some thinking outside the box.
Maybe Lincecum can still be an effective, even dominant pitcher, but just not as a starter. Perhaps his effective relief performances thus far in the playoffs is an indication that Lincecum, like Dennis Eckersley before him, is destined to be a closer.
The $22 million due to Lincecum next season certainly is not appropriate for a closer, but the Mets are a high-revenue team with a major void at the back of their bullpen. Plus, in the big picture, moving Lincecum to closer just might be the best move.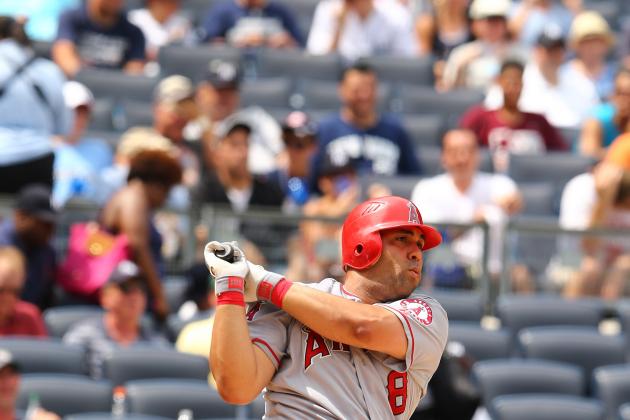 Al Bello/Getty Images

If the Giants do indeed pursue a first baseman in the offseason, a more realistic trade partner would probably be the Angels.
Zack Greinke is a free agent and Ervin Santana could be bought out of the final year of his contract. That could leave two holes in Los Angeles' rotation.
Meanwhile, the Angels' offense is overcrowded: Albert Pujols and Kendrys Morales are both first basemen, Mark Trumbo is mediocre at best wherever he plays defensively, and the outfield is overflowing with talented and/or high-salary players.
Swapping one of their bats for a starting pitcher could solve several problems for the Angels.
Morales makes the most sense for Los Angeles, since his arbitration years are nearly done, and by moving him, Trumbo could slide into the designated hitter role. Morales makes sense for the Giants because he is a good defensive first baseman who hits for power from both sides of the plate.
What makes Lincecum-for-Morales an interesting deal is that both come with significant risk. The Angels would be gambling that Lincecum can still be that two-time Cy Young winner, while the Giants would be gambling that Morales can become a 30-homer, 100-RBI hitter again, as he was before breaking his ankle in 2010.
Also, both players are eligible for free agency after 2013, so both would be acquired as one-year rentals.
The only incongruity in this scenario is that Lincecum will make significantly more than Morales next season. If the big-market Angels can't overlook that detail, the Giants would have to pay some of Lincecum's salary.