2013 New Orleans Saints Mock Draft: Early Predictions for New Orleans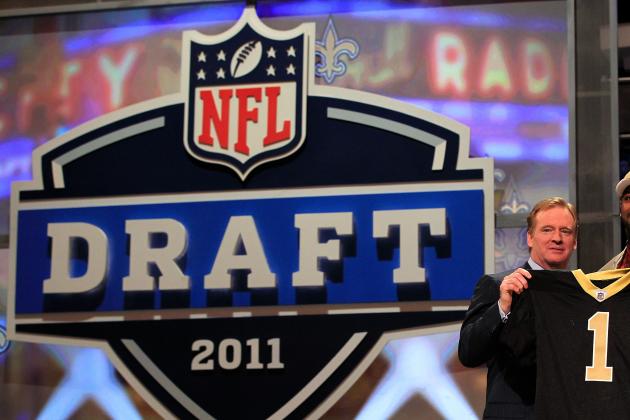 Chris Trotman/Getty Images

With the New Orleans Saints focusing in on the present with the Tampa Bay Buccaneers this week, I'll be focusing on the future in next year's draft.
As of today, the Saints are slated to have the third pick. A top-five pick with a reinstated Sean Payton and a vengeful (I say vengeful only if New Orleans actually stays in this draft slot and doesn't start on a winning streak in 2012) team would mean bad things for the NFL.
The team will be without its second-round pick do to the sham, er, Bountygate, and also have an unknown draft pick being sent to the Seattle Seahawks for the Barrett Ruud experiment. I'm going to go out on a limb and say that will be a seventh-rounder.
That leaves Who Dat Nation with five picks, as of right now, to celebrate again after the five picks from 2012's class.
Let's see what kind of goodies the Saints could receive.
Begin Slideshow

»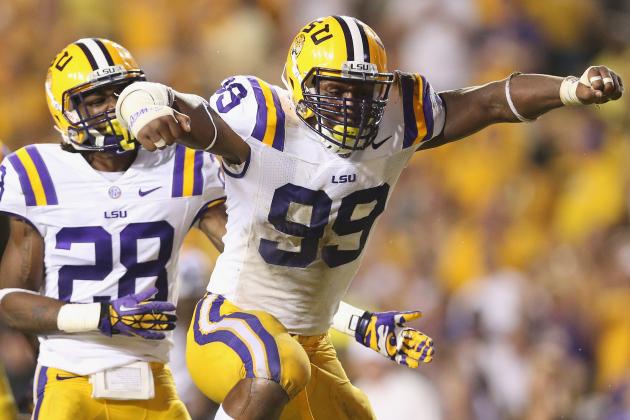 Ronald Martinez/Getty Images

If the Saints are picking this early, it would be the perfect time to pick up a playmaker for the defensive side of the ball.
Yes, I know that has been said for a long time, but with this draft's talent-rich, front-seven prospects, the time to pounce on one is now. Especially if you are in the top part of the selection process.
His teammate, Barkevious Mingo, might get all of the pub, and rightfully so, but the man nicknamed "Sonic" constantly shows why he is the more complete player of the two.
Sam Montgomery is no one-trick pony like Mingo. He has shown the ability to excel versus the run, as well as the pass. Both players draw help against their pass rush, but Montgomery has been the player making the most plays.
His 8.5 tackles for loss and four sacks speak for themselves, and he's not done yet.
The Saints need athletic pass-rushers who can handle their own versus the run and "Sonic" would be the right pick.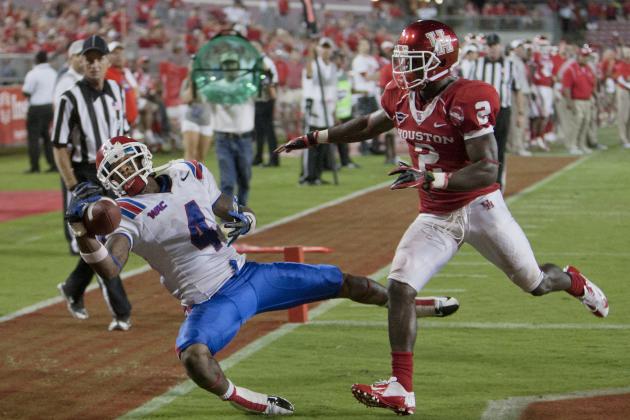 Bob Levey/Getty Images

Before you say anything, yes, I have watched football outside of Louisiana this season. But it wouldn't matter what state this guy plays in. Someone should take notice.
After his game vs. Texas A&M, everyone should be on alert with Quinton Patton.
His stat line from Saturday night: 21 catches, 233 yards and four touchdowns.
He has two things going for him that I see, and that is his hands and what I like to call, "runaway" speed. His 40 time might not impress people at 4.56, but if you watch this guy play, he doesn't get caught from behind.
Oh, and he's 6' 2"? Just add him to the rest of the tree trunks of Marques Colston, Jimmy Graham and Nick Toon.
Yes, the Saints might have drafted Toon last year in the fourth, but one pick doesn't make up for an aging, injury-filled group, especially when Toon can't stay healthy himself.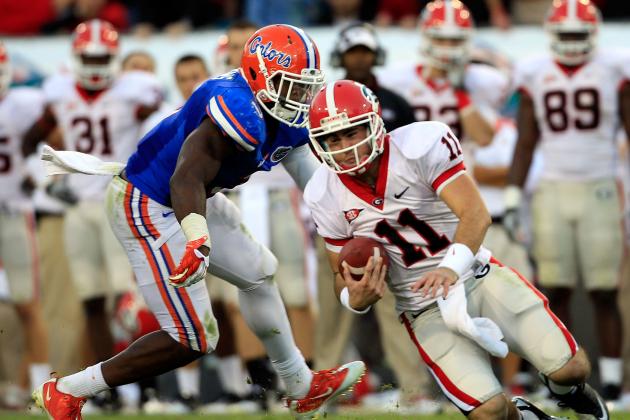 Sam Greenwood/Getty Images

Will Herring has gotten run over, for lack of another phrase, when he has filled in at OLB. Someone, anyone, needs to take over for Scott Shanle like I have said before on my show, The NOLA Rundown.
Chris Chamberlain was going to be that man, and still could be before he got hurt, but you can never go wrong with someone as freakishly talented as Jelani Jenkins is.
His problem is that he's a little on the smallish size, strength-wise, and that has caused him to miss games with injuries.
Jenkins has that sideline-to-sideline speed you look for in an OLB, and he also is very good in space and whenever he is asked to blitz.
He could be a guy who rises up the draft board with a good combine, but for now, we'll steal him in the fourth round.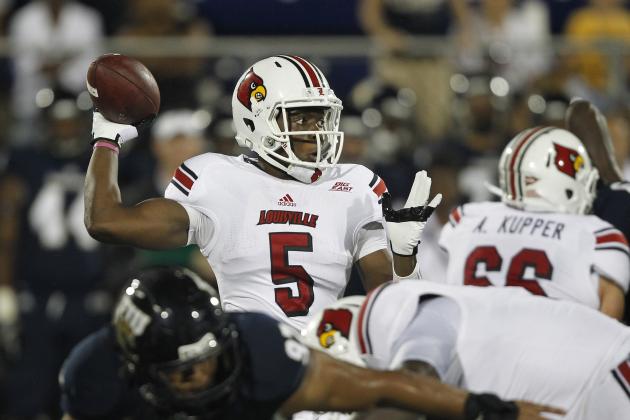 Joel Auerbach/Getty Images

To say the center position is an area of weakness in this draft would be an understatement.
You could also say that about Brian de la Puente's second year starting in the middle of New Orleans' line.
Wow, has he regressed or what? Aaron Kromer has his hands filled when he goes back to just being an offensive line coach.
He is getting pushed around trying to protect Drew Brees and is also getting confused more and more with defensive tackle stunts right in front of him.
Enter, Mr. Mario Benavides.
He is an good run blocker, but excels more in the passing game. Also, at 6' 2", he's just short enough for Brees to throw over. I don't know if Benavides lasts this long, but centers always fall, so there's that hope.
Nothing much more you could say about a center. De la Puente looks destined to be a career backup, and I would be just fine with that.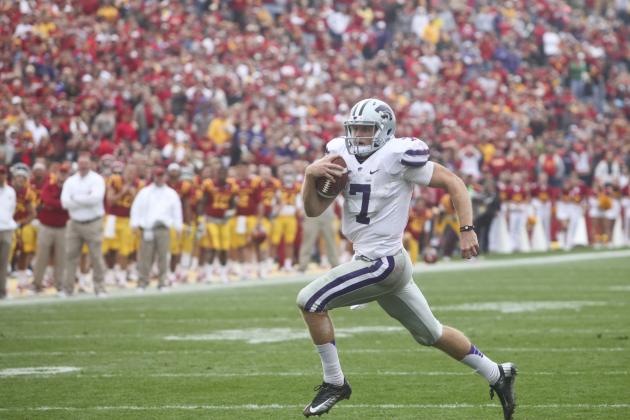 Matthew Holst/Getty Images

Your future quarterback will come from a Big 12 school, Who Dat Nation.
It's just not going to be a Mizzou Tiger (Chase Daniel), but a Kansas State Wildcat (Collin Klein).
This is the epitome of a pick based on potential. Klein is nowhere near close to being a NFL quarterback, but do the Saints have a few years to stash him on the bench and let him develop under one of the greatest quarterback/head coach tandems in league history?
Well, yes they do!
There are many similarities you can make with this pick to the Packers selection of Aaron Rodgers—minus the fact that Rodgers went in the first round.
They are both athletic quarterbacks who have made throws in college when need be. Rodgers' accuracy was not in question in college. Where Klein lacks in accuracy, he makes up for in arm strength. Another good point is that they both have unorthodox throwing styles coming out of college.
I'm not saying that Klein is the next coming of Aaron Rodgers, but New Orleans would be the perfect situation for him to fall into. There would be no pressure, and all he would have to do is learn.
"Klein for QB in 2015-16" would be the next election slogan NOLA should get used to in the future.
You can follow me on Twitter Follow @Berns247