St. Louis Cardinals vs. San Francisco Giants: Pitching Previews for NLCS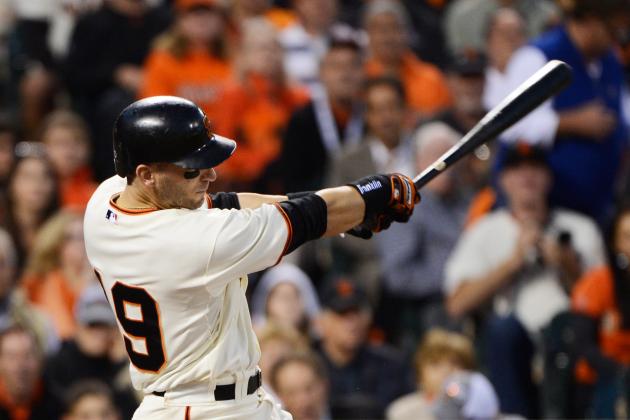 Thearon W. Henderson/Getty Images

Despite an electric home crowd, the St. Louis Cardinals stole home-field advantage from the San Francisco Giants with a win in Game 1 on Sunday.
But Ryan Vogelsong, Marco Scutaro and company really gave the Giants' fans something to cheer about on Monday, silencing the hot Cardinal bats and rallying to a 7-1 victory.
Scutaro was nailed by Matt Holliday on a first-inning slide into second base and would eventually leave the game, but not before going 2-3 with two RBIs. On the mound, Vogelsong scattered four hits over seven strong innings and only allowed one run on a Chris Carpenter double.
Scutaro's status for the series is uncertain at this point. However, Vogelsong's strong performance did ensure three games in St.Louis and three new, very interesting potential pitching matchups.
Begin Slideshow

»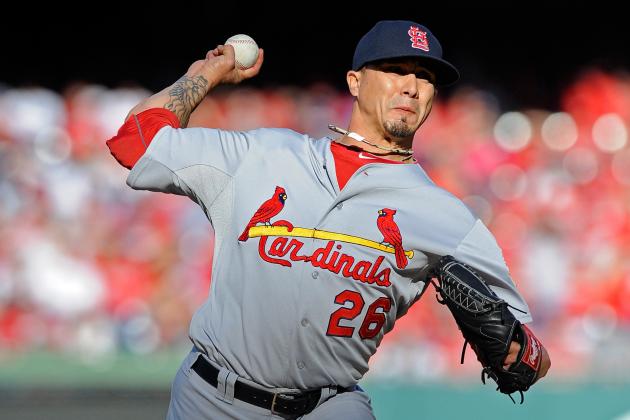 Patrick McDermott/Getty Images

Game 3 pits each team's best starter in 2012 against the other: Matt Cain (16-5, 2.79 ERA) for the Giants versus the Cardinals' Kyle Lohse (16-3, 2.86).
All baseball fans remember Cain's utter dominance in the 2010 postseason. After only his first postseason and just three starts, Cain earned the title of "Big-Game Pitcher" by notching 21.1 innings without giving up an earned run.
Lohse, on the other hand, has not had much postseason success prior to this year. In fact, while Cain was brilliant down the stretch of his team's last World Championship, Lohse was St. Louis' worst postseason pitcher in 2011.
Lohse also started three games in the 2011 Postseason, but only got through 12.2 innings in those games, allowing 11 ER on 18 hits, raising his career postseason ERA to 5.54.
In 2012, however, both pitchers are showing some changes in their performances down the stretch.
Lohse not only set career-highs with his 211 innings and 16 wins, but only suffered a career-low three losses. And he did so with consistency. Lohse has yet to be taken out before completing five innings in 2012. He only had one bad month—in May he went 1-1 with a 5.08 ERA—but in every other month he had more wins than losses, and his ERA was under 4.00 (under 2.00 in April, June and August).
Unlike last season, Lohse has continued to pitch successfully in the Postseason. He got the win in the Redbirds' pressure-packed Wild-Card Game against the Braves, giving up 2 ER over 5.2 innings. And, despite not earning a decision in the Cardinals' NLDS Game 4 loss to the Nationals, Lohse put together St. Louis' longest and best start of the 2012 Postseason, giving up only two hits and one earned run over seven innings.
This year, Cain has not been as breathtaking down the stretch. After his perfect game on June 13, his ERA was a remarkable 2.13. His ERA since that date is over a run higher, at 3.40.
He has not been terrific yet in October, either. In Games 1 and 5 of the NLDS against the Reds, Cain lasted five and 5.2 innings, respectively, giving up three earned runs in each game.
I expect these guys to deliver this series' first pitchers' duel. The Cards are looking for a starter to give them more than four innings this series. They need Lohse to be that guy in Game 3, as every St. Louis reliever was used between Games 1 and 2.
I think Kyle will be just a little better than Matt. Cards win 3-2.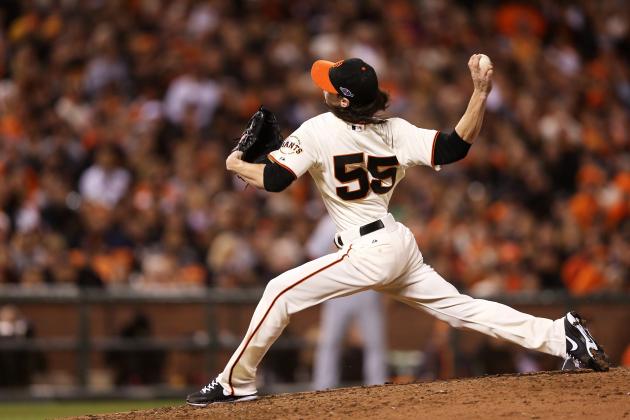 Ezra Shaw/Getty Images

This is where Vogelsong's strong performance starts to make an impact.
Two-time Cy Young Award winner, Tim Lincecum (10-15, 5.18 ERA), did not have to pitch out of the bullpen, and could start Game 4 at Busch Stadium.
According to the San Francisco Chronicle (http://www.sfgate.com/giants/article/Bochy-says-Lincecum-Zito-may-get-starts-3951536.php), San Francisco Manager Bruce Bochy, is "leaning toward" Lincecum against Adam Wainwright (14-13, 3.94 ERA) for Game 4.
This match-up is particularly interesting to me because it's a battle of disgruntled aces. This could be a game where both guys totally dominate, or it could be a game where both guys are chased off early.
Over the past few years, Wainwright and Lincecum have been right up there with the best pitchers in baseball.
Lincecum won back-to-back Cy Young awards from 2008-09, and was great over five starts in the 2010 Postseason, winning four, including a complete-game shutout in Game 1 of the NLDS, his first-ever postseason appearance.
From 2009-10, Wainwright won 39 games, only one less than the Yankees' CC Sabathia, who led the MLB with 40. He also finished with the sixth- and fourth-best ERA, respectively, in those two years.
Wainwright was also terrific in his first and only postseason start before 2012. In the 2009 NLDS, Adam pitched eight innings of three-hit, one-run baseball, only to see the Dodgers score two runs on an infamous Matt Holliday error in the ninth to win 3-2.
But Lincecum had his worst year by far in 2012. And it was very bad.
Bad enough that "The Freak," who was paid $18 million for his services this year, found himself in the bullpen for the NLDS against Cincinnati and for Game 1 of this NLCS.
Lincecum has performed well in his postseason reliever role, giving up only three hits and one run, and striking out nine over 8.1 innings.
Wainwright, who missed all of 2011 after Tommy John surgery, also struggled to find his true form in 2012.
Wainwright did pitch very well in July and August, going 7-3 with a 2.75 ERA. Excluding those two months, however, he pitched about as badly as Lincecum did in 2012, with a 5.33 ERA.
The inconsistency has continued in the playoffs: In Game 1 of the NLDS, Wainwright gave up two ER with 10 strikeouts in 5.2 innings, but in Game 5 only lasted 2.1, allowing three homers and six earned runs. Interestingly enough, the Cardinals lost Game 1 and won Game 5.
I believe that this will be another good game. Lincecum has looked pumped up out of the bullpen and on the bench, and I think he will show up and pitch really well. In 2012, Wainwright's opponents hit .223 in the first four innings and .325 in the fifth through the seventh.
I think this trend continues, the Giants score on their third trip through the order, and they win 4-2.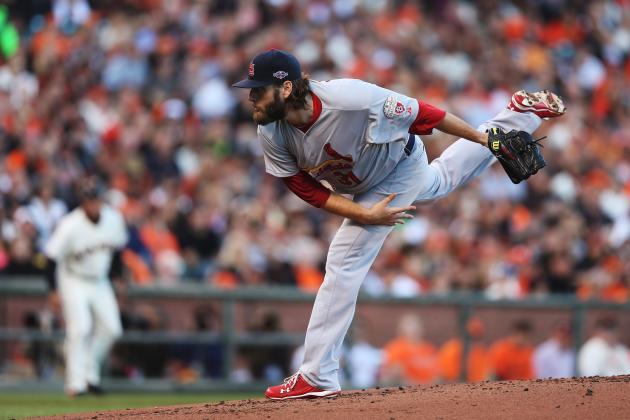 Ezra Shaw/Getty Images

Henry Schulman's article, linked in the previous slide, also suggests the possibility of veteran lefty Barry Zito (15-8, 4.15) pitching Game 5 in place of Madison Bumgarner (16-11, 3.37).
Bochy says he won't announce anything until after Game 4, and claims that he hasn't lost any confidence in Bumgarner's stuff. But speculation has started to circulate that the young left-hander has been questioning his own stuff after allowing 10 earned over eight innings in the 2012 Postseason, leaving many, including myself, to believe that Zito will get the nod.
The Cardinals know that they will be sending their team win-leader in 2012, Lance Lynn (18-7, 3.78), to the mound for Game 5. This potential matchup would pit a former ace against a very young, very talented starter.
Lynn started out 2012 hot, winning his first six decisions with a 1.40 ERA. He started to struggle after the All-Star break, but after a two-week bullpen stint in September, Lynn won his last four decisions, pitching to a 1.82 ERA.
Zito also started strong in 2012. Zito started off his season with a complete-game shutout against the Rockies. This game was his only win in his first five starts, but his ERA was 1.76 after his fifth start.
Zito didn't always pitch well down the stretch, but the Giants have won his last 12 starts, including Game 4 of the NLDS, with Barry going 7-0 in that stretch.
In the pivotal Game 4 of the NLDS, Zito wasn't given much of a chance, being lifted after allowing two earned runs on four hits in 2.2 innings.
Lynn hasn't been great in the playoffs, either. In four NLDS relief appearances and his Game 1 start, Lynn has allowed nine hits and seven earned in 7.1 innings.
I think the heavily right-handed Cardinals lineup will come alive against Zito. Look for Allen Craig, who is 4-10 with three home runs in his career against Zito, to have a big hit.
Lynn and the bullpen do enough to beat San Francisco, 9-5.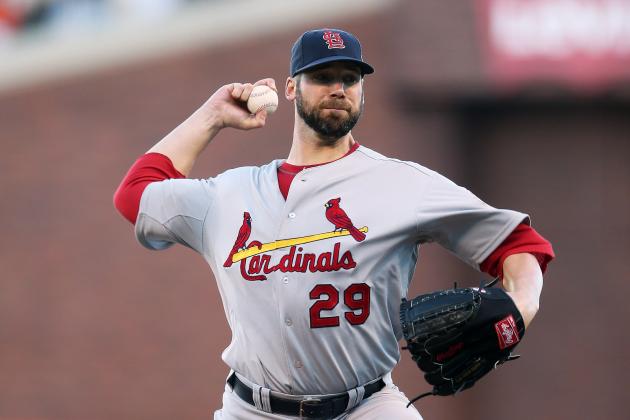 Christian Petersen/Getty Images

Both of these teams have excellent pitching staffs and have shown a little more postseason magic this October.
These two teams are the two previous World Champs, so can we really expect this to end in St. Louis?
I do believe the Cards will take two out of three and give Chris Carpenter a chance at redemption against Ryan Vogelsong in a potential series-clinching Game 6.