NFL Week 7: Will This Crazy NFL Season Continue to Be Like a Dr. Seuss Book?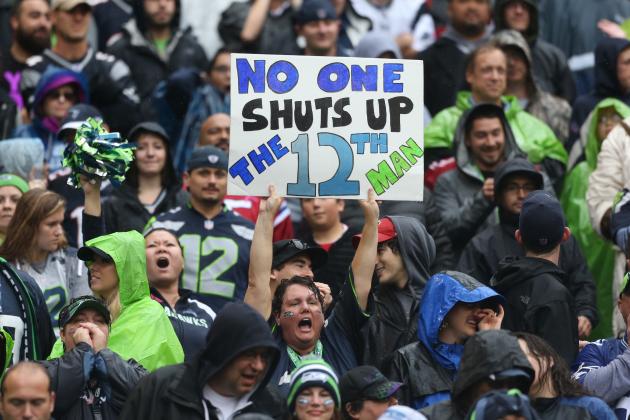 Otto Greule Jr/Getty Images
Seattle is force-feeding opponents losses during this upside down season.
The way the 2012-13 NFL season has gone, not even Dr. Seuss would be able to make sense of it. After the way Week 6 went, will Week 7 continue to bring surprise after surprise?
Let's be honest—does anyone really know what is going on this season?
Take this past week. Three of the four starting rookie quarterbacks won, and none of them were named Andrew Luck.
The NFC West has three 4-2 teams after years of being considered by some to be the worst division in football. San Francisco was destroyed by the New York Giants, Arizona lost in overtime after missing a game-winning field goal and Seattle upset New England.
Speaking of the Patriots, they are now in a four-way tie for first place in the AFC East. Yes, the Buffalo Bills, Miami Dolphins and New York Jets are all 3-3 after each of the three teams won and New England lost.
Dr. Seuss may be the only one who could somehow explain this madness, but in his way of course.
Could this upside down season possibly continue another week? Here is a brief look at some of the madness about to happen in Week 7—with a Dr. Seuss twist.
Begin Slideshow

»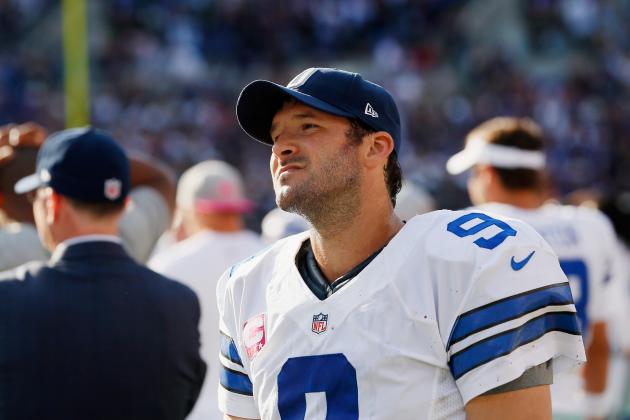 Rob Carr/Getty Images
Tony Romo and the Cowboys need to start having some fun.
Dr. Seuss's signature character is the Cat in the Hat. He is a symbol of fun times, and if any team could use him it would be the Dallas Cowboys.
The Cowboys were once dubbed "America's Team," but you would be hard-pressed to find someone who agrees with that label these days. They have become the sports definition of underachievers.
QB Tony Romo is struggling to lead his team this season. He has seven touchdowns and nine interceptions, and the Cowboys are 2-3 as a result.
Granted, the team's struggles also fall on a lack of a consistent run game, defense or coaching. Adam Schein of NFL.com writes that the Cowboys lack an identity, among other things.
"What's the identity of the Cowboys? Think about that for a second. They don't have a prolific passing attack, a consistent running attack or a reliable defense. The Cowboys have been embarrassed by the Seahawks and Bears and suffered a depressing loss Sunday in Baltimore. The flaws show."
The team could also be struggling because of expectations. Dallas is year-after-year picked as a Super Bowl contender because their roster is loaded with talent. They also have a win-now owner in Jerry Jones.
All the expectations could be ruining their ability to play. Maybe they just need to have fun.
What if, for one week, they forgot they were 'America's team" and just played football?
Week 7 is the perfect week to have a little fun and win as Dallas plays Carolina. The Panthers have questions everywhere on defense, and QB Cam Newton is going through a "sophomore slump."
If that doesn't help, there is the fact that Carolina has blown two chances to win games in their last contests. Newton fumbled while trying to earn a game-ending first down at Atlanta, and he failed to get it in the end zone from one yard out against Seattle.
The Cowboys need to take the world off their shoulders for a week and just play football. If they just play, they will likely win—and winning is pretty fun.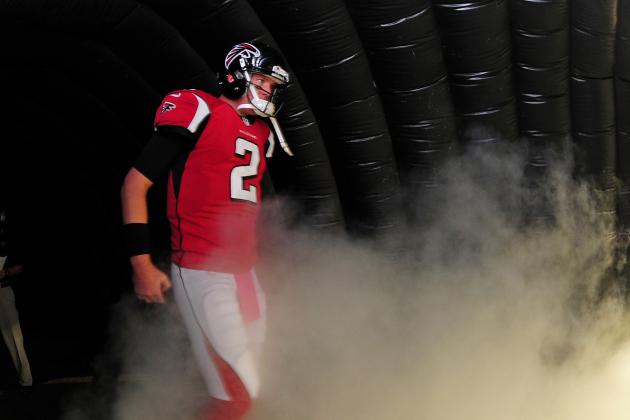 Scott Cunningham/Getty Images
Matt Ryan and the Falcons have stolen all hope from the rest of the NFC South.
This year's Grinch of the NFL has to be the Atlanta Falcons. They have taken away all hope and good tidings from the other teams in the NFC South.
It's bad enough that New Orleans, Tampa Bay and Carolina combine for only four wins, but for Atlanta to be undefeated is just mean. The Falcons are 3.5 games up on the Buccaneers, and 4.5 games up on Carolina and New Orleans.
QB Matt Ryan has been the key to Atlanta's success. He has thrown for 1,756 yards, 14 touchdowns and six interceptions.
Ryan has had dominant games, but even when he struggles the Falcons find a way to win.
Ryan had his worst game by far against Oakland as he threw three interceptions and had a QB rating of 59.4. Yet he was able to lead the team into field goal range, and Matt Bryant brought home the 23-20 win with a 55-yard game-winning kick.
Week 7 will be a different story, though, as Atlanta will not win—they have their bye week.
The rest of the NFC South can be happy for one week, but the good tidings and cheer will end next week as the Falcons continue their Grinch ways.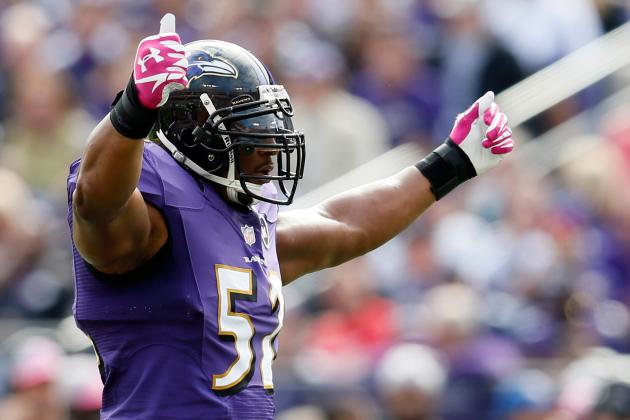 Rob Carr/Getty Images
Ray Lewis may be done, but there is still a lot for Baltimore to work with.
In "Did I Ever Tell You How Lucky You Are?", an old man asks readers to look at bad situations and then look at them from a worse angle. The point is to get people to realize how lucky they are, and this is what the Baltimore Ravens need to do.
Last week alone, they lost defensive captain Ray Lewis and possibly their best corner in Lardarius Webb. It's bad enough they're No. 26 in yards allowed, and now they have lost two key starters, including arguably the best leader in the NFL today.
They join All-Pro LB Terrell Suggs as injured key members of a usually stout defense.
But all is not lost for the Ravens. Their Super Bowl hopes are still alive. Fans just need to see what the team still has.
The defense may be No. 26 in yards allowed, but the unit has only allowed 19.7 points per game. And the offense is still amazing.
Joe Flacco is having a solid season with 1,690 yards and eight touchdowns. Ray Rice is No. 7 in rushing with 487 yards and is averaging five yards per carry.
Torrey Smith, Anquan Boldin and Dennis Pitta have also done a great job of helping Flacco run the offense.
There are far worse teams out there and few better. The Ravens just need to look on the bright side and use their bye week to figure things out.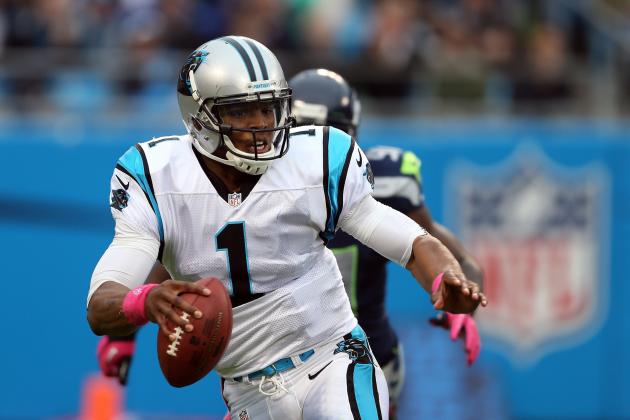 Streeter Lecka/Getty Images
Cam Newton needs to open his eyes and look for someone other than Steve Smith
Dr. Seuss's story about the Cat in the Hat teaching Young Cat how to keep his eyes (and mind) open when learning is a perfect fit for Carolina's Cam Newton.
Newton is coming off the worst game of his NFL career. He completed just 41.4 percent of his passes for 141 yards, and he was sacked four times.
A key reason for this poor performance was Cam's inability to keep his eyes open. He often tried to go deep instead of going short, and he targeted Steve Smith a little too much.
Joseph Person of the Charlotte Observer (via NewsObserver.com) wrote that coach Ron Rivera believed Newton is "pressing."
"I think he's pressing, personally I do. He wants to make things happen so much. He's trying very hard to do those things, do the right things. It's all part of him developing as a football player."
His development would improve if he targeted someone other than Smith. Cam targeted Smith 13 times against Seattle, but he only completed four of those passes.
Person pointed out that Greg Olsen, on the other hand, only had two catches after having 13 in the previous two games. The 6'5'' target was constantly open.
The young Carolina quarterback will need to open his eyes in Week 7 against Dallas. The Cowboys are looking to rebound after falling just short of a comeback win against Baltimore.
It is a sure thing the Cowboys will try and lock down Smith. If the Panthers hope to win, Newton will need to open his eyes and look for other targets.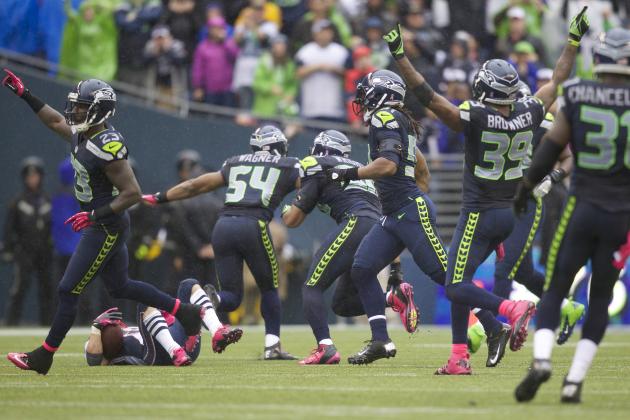 Stephen Brashear/Getty Images
Seattle is winning, and you are going to like it.
Dr. Seuss's story about Sam-I-Am and his green eggs and ham explains the Seattle Seahawks perfectly.
Just think about it. Sam-I-Am goes to all lengths to prove the nonbelievers wrong about his green eggs and ham.
This is what Seattle has been trying to do all season, and so far they've been successful.
They started third-round pick Russell Wilson over high-priced free agent Matt Flynn. They dominated Dallas, shocked Green Bay, came back against Carolina and stunned New England.
The Seahawks are 4-2, and this is not by chance.
Russell Wilson has just two interceptions in his four wins, but he has seven of his eight touchdowns. The Seattle defense is No. 4 overall and is allowing just 15.5 points per game.
In Week 7, the Seahawks get another chance to serve some colorful breakfast, but this time it's to the San Francisco 49ers. The 49ers were hammered by the New York Giants 26-7 in Week 6, and now is the perfect time for Seattle to once again prove they are the real deal.
Opponents are having those Seattle-green eggs and ham shoved into their faces, and they are being forced to like it.