Fantasy Baseball: 6 Rookies Headed for Sophomore Slumps Next Season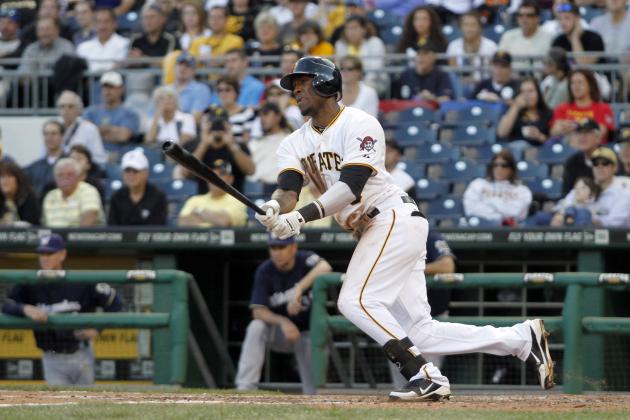 Justin K. Aller/Getty Images
During his rookie season, Starling Marte hit five home runs and stole 12 bases in 47 games. Don't expect that level of production in 2013, though.
Every fantasy owner has felt the wrath of the dreaded sophomore slump, so don't let these rookies fool you next year.
Last year, Jason Heyward followed a phenomenal rookie year with a flustering second season. In 2012, Eric Hosmer and Brett Lawrie let down owners who received lackluster results instead of a breakout campaign.
Rookie sensations Bryce Harper and Mike Trout won't falter during their second run in the majors, but their sky-high potential could make them overvalued on draft day.
This list, however, looks at players to steer clear of in 2013 drafts. The following six rookies pleased some fantasy owners this season, but they will likely disappoint as sophomores.
Begin Slideshow

»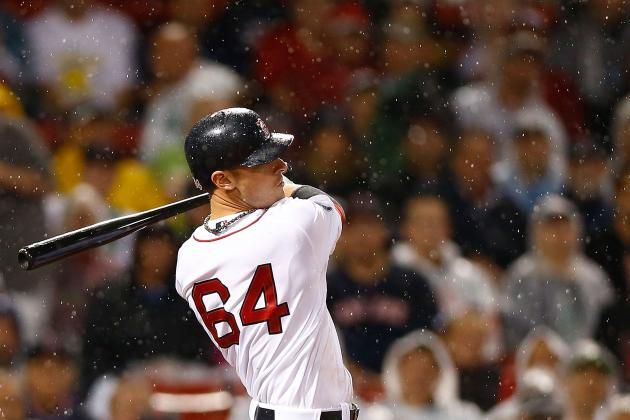 Jared Wickerham/Getty Images

Will Middlebrooks' astounding arrival caused the Boston Red Sox to dump fan-favorite Kevin Youkilis for scraps. Management might be sweating that decision a little now.
Middlebrooks forced his way into Boston's lineup by hitting .316 with a .579 slugging percentage during his first month in the majors. As the season progressed, however, opposing pitchers began to poke holes in his game.
His free-swinging approach eventually caught up to the 24-year-old. Despite hitting .288, Middlebrooks only offered a .325 on-base percentage due to a 4.5 percent walk rate. In addition to his inability to draw a walk, the rookie struck out at a 24.5 percent frame,
Good luck hitting .288 again with that poor plate discipline. The third baseman needs another .335 BABIP to bail him out, but don't count on that happening.
It's hard to argue with 15 home runs and a .509 slugging percentage during a batter's first season, but over one-fifth of Middlebrooks' fly balls cleared the fences. Middlebrooks won't duplicate those power numbers in his sophomore campaign.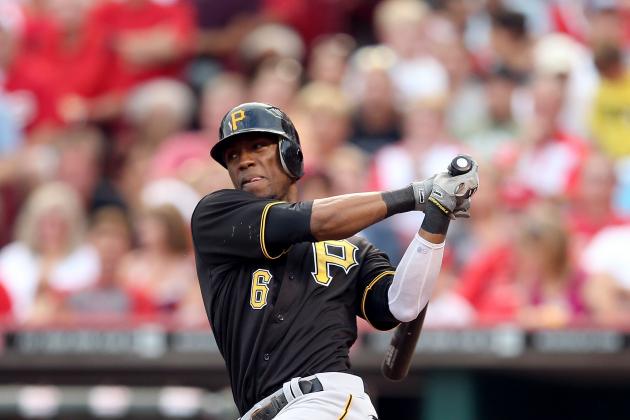 Andy Lyons/Getty Images

After tallying five home runs and 12 steals in only 47 games, Starling Marte could emerge as a popular sleeper pick in 2013 drafts.
While Marte certainly possesses great power and speed potential, he is too raw of a hitter to fully harness it during his first full MLB season.
In 182 plate appearances, Marte struck out 50 times while only drawing eight walks. His .300 on-base percentage limited the rookie's chances to wreak havoc on the basepaths.
The best of us have been fooled before by a hot-shot rookie displaying flashes of brilliance in a limited sample size. Along with many other drafters, I drooled over Lawrie and Desmond Jennings, ignoring signs that they still needed some polishing before reaching stardom.
Jennings exhibited a similar skill set of solid power, great speed but a high tendency to swing and miss. He disappointed those who drafted him in hopes of landing a new and improved Carl Crawford, hitting .246 with a .314 on-base percentage.
Anticipate more of the same from Marte next season. He might provide 10 home runs and 25 steals, but the hype will cause drafters to forget the possibility that he hits .240 and overvalue him on draft day.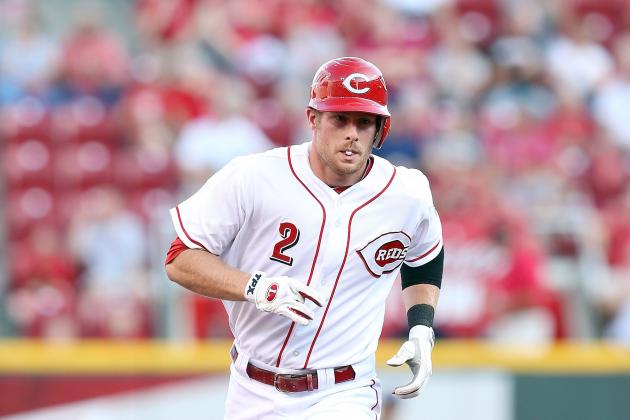 Andy Lyons/Getty Images

For a shortstop that went widely undrafted, Zack Cozart produced a decent rookie season. It just was not the season those eyeing him in the later rounds expected.
Cozart showed promise as a 15/15 threat that would cost nothing to select, but he delivered on just one half. The 27-year-old hit 15 home runs, but he only swiped four bags in as many attempts. Since stealing 30 bases in 2010 with Cincinnati's Triple-A squad, his steal totals have vanished.
Even if Cozart received the green light next season, he still needs to worry about reaching base first after posting a .288 on-base percentage in 2012. You would think that Dusty Baker would eventually stop penciling him in at the top of the Reds' batting order if he fails to improve, but this is Dusty Baker.
Cozart performed adequately at times this season, but he won't be a useful fantasy option unless he learns to take a walk and runs freely on the bases.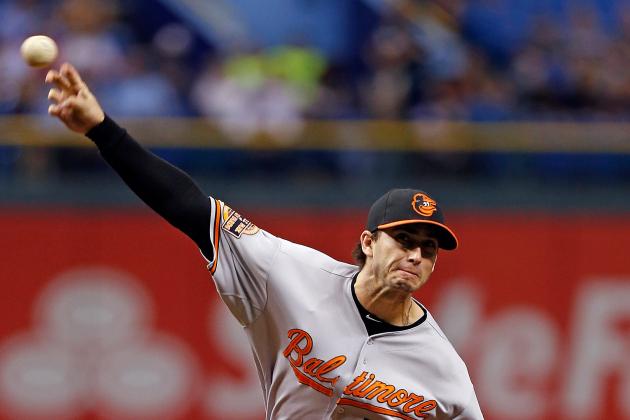 J. Meric/Getty Images

The Baltimore Orioles' magic had to end eventually.
One of the many inexperienced young hurlers to give the Orioles quality innings, Miguel Gonzalez posted a 3.25 ERA and 1.21 WHIP in 105.1 innings.
Those numbers look promising for the former minor-league journeyman, but don't be fooled into spending a precious draft pick on Gonzalez. Look for Gonzalez to be part of a Baltimore squad that fades back to obscurity following a season where it played over its heads.
Everything fell perfectly in place for Gonzalez in 2012. His 4.38 FIP indicates that he performed worse than his ERA lets on. He sported a microscopic .260 BABIP while stranding runners at an incredible 82.6 percent left on-base percentage. Considering his uninspiring 6.58 K/9 ratio, there's little reason to believe Gonzalez can replicate that high strand rate.
It may no longer be a death sentence, but Gonzalez will have to combat the American League East again. If you're going to take a fringe pitcher, target a talent with high upside, preferably in the lighter-hitting National League.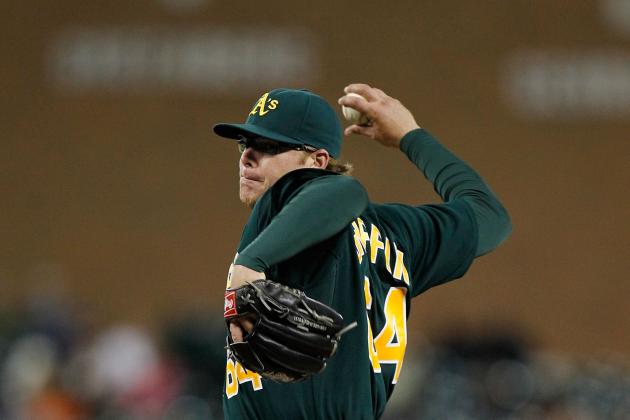 Gregory Shamus/Getty Images

The Oakland Athletics relied heavily on a core of rookie pitchers to guide them past the Texas Rangers and capture the AL West. Fantasy managers also pounced on Jarrod Parker, Tommy Milone and A.J. Griffin to offer quality waiver-wire value.
Parker's noteworthy pedigree and a 27/6 K/BB ratio through September make him Oakland's top sophomore pitcher to target next season. Considering Tommy Milone's 6.49 K/9 ratio, his value rests mostly in deeper leagues or as a streaming option, but he could improve with some seasoning.
Griffin, on the other hand, pitched over his head and will be overvalued in 2013 drafts.
In limited action, Griffin outshined his rookie teammates, going 7-1 with a 3.06 ERA, 1.13 WHIP and 3.37 K/BB ratio. Those gaudy numbers will raise his draft stock next spring, but don't buy into the misplaced hype.
His season looks more pedestrian after examining the peripherals. Griffin will struggle to defy the odds for two straight seasons after registering a 3.85 FIP, .264 BABIP and 81.3 percent strand rate.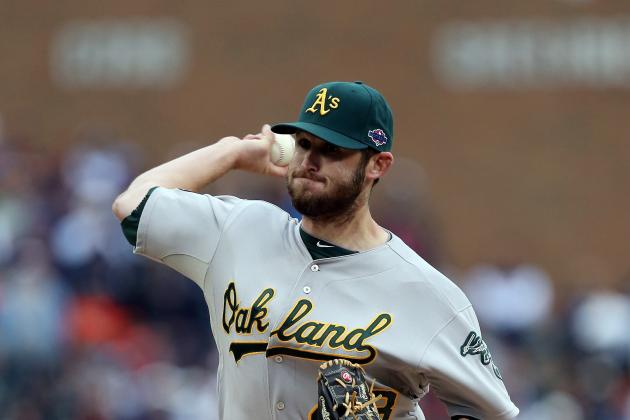 Leon Halip/Getty Images

After riding a mix of first-year starters, Oakland used rookie reliever Ryan Cook in the late innings. Somehow, these youngsters tallied the sixth best ERA (3.48) in baseball.
Even though Cook lost a handle on the closer's job, he still boasted a 2.09 ERA and 0.94 WHIP and represented the A's in the All-Star Game during his inaugural season. Power arms in the bullpen are usually a good thing, so why is Cook heading for a sophomore slump after fanning 80 batters in 73.1 innings?
In those 73.1 innings, Cook only surrendered 42 hits. Maybe he's unhittable, or maybe a .220 BABIP steered him through a fortunate season where he received a helping hand from Lady Luck.
Although Cook earned an All-Star bid with his first-half performance, he actually pitched better in the second portion of the season. Cook walked 21 batters in 38.1 innings before the All-Star break but only six in the next 35 innings.
Rookie relievers are difficult to evaluate on a small sample size of work, but Cook registered a 3.1 walk rate in 368.2 career minor-league innings pitched. So perhaps the clashing two splits averaged out to a reasonable mark.
It'd be one thing to tout Cook as a worthy option if he held a tight grip on the closer's role, but don't bet on Cook seizing the job back. Fellow freshman Sean Doolittle, who posted a 2.08 FIP and 11.41 K/9 ratio in 2012, has a better chance of snatching the closing gig next season.