Five weeks of NFL football in the books, and Las Vegas thinks they have a handle on how these teams match up against each other.
Not so fast.
Some favorites are getting a little too much points for their five-game resumes in the Week 6 odds. Teams are not as they seem.
The Vegas books are spending too much time looking at the cute blackjack dealers and Cirque du Soleil. Meanwhile, some sneaky underdogs will cover the spread on their watch. You'll know before they can do anything about it, because you came to the right place.
Remember it's not about the teams, it's the numbers that count.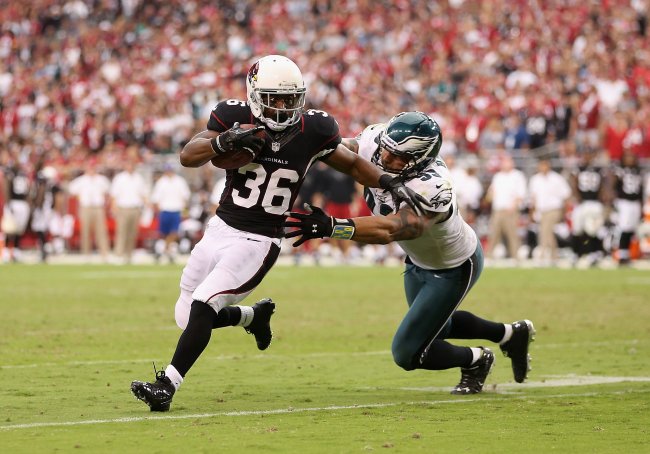 Christian Petersen/Getty Images
Arizona Cardinals (-4.5 vs. Buffalo Bills)
The Cardinals could exploit the Bills' defensive woes by running the football. Buffalo has given up over 200 yards rushing in its last two games. That is if Arizona had a running game.
They rank 23rd in rushing offense and are on their third tailback in six weeks. That back, LaRod Stephens-Howling is dealing with a hip injury.
Their offensive line has been able to get their team, to 4-1 but they can barely keep Kevin Kolb upright. Where are the Cardinals going to get points from?
The Bills have been blown out their last few games, but this week in Arizona smells like a brawl in the desert. The Bills have a more explosive offense and could win outright.
San Francisco 49ers (-6.5 vs. NY Giants)
Both teams from the NFC Championship rematch are Super Bowl contenders, yet the 49ers have been heralded as the league's best team by some. Even so, there are too many points to ignore here with the New York Giants.
The defending champions are still the champs. In a game on the road that they need to step their game up, this seems like a perfect time for the Giants pass rush to awaken.
Aren't these teams eerily similar to last season's squads? The most improved group of either team would be San Francisco's passing game, but they don't threaten downfield enough to test the Giants' banged-up secondary.
Call it a hunch, but I like some déjà vu of the last year's NFC Championship. Give me those points.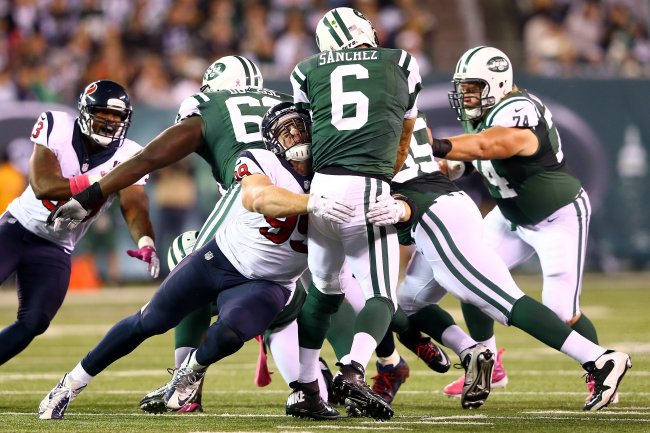 Al Bello/Getty Images
New York Jets (-3.5 vs. Indianapolis Colts)
The Jets' matchup with Indianapolis has "sketchy line" written all over it. Am I missing something with this Jets team getting more than a field goal? Is Tim Tebow playing?
Which of These Favorites Do You Think Is Least Likely to Cover?
I jest. Vegas must be expecting a let-down game from the Chuckstrong crew, but the Jets are the last team to expect to take advantage of such a weak run defense. Between Shonn Greene, Bilal Powell and Tebow, they've yet to have a 100 yard rusher and no weapons in the passing game.
Plus, it looked like they shot their wad trying to beat the Texans on Monday night. Do they have anything in the tank on a short week?
Meanwhile, Andrew Luck has found the secret to the Colts' success: Give the ball to Reggie Wayne. Easy enough.
These pesky Colts will continue to be a nuisance on the road and I don't see the Jets being able to score points to cover more than a field goal.
I don't know how anybody does, truthfully.
All lines provided by Sportsbook
I'm 17-8 (68%) on the year with my NFL Best Bets and love underdogs. Follow me on Twiiter @TheRealShiek