Week 6 Start 'Em, Sit 'em: Expert Advice for Your Fantasy Football Roster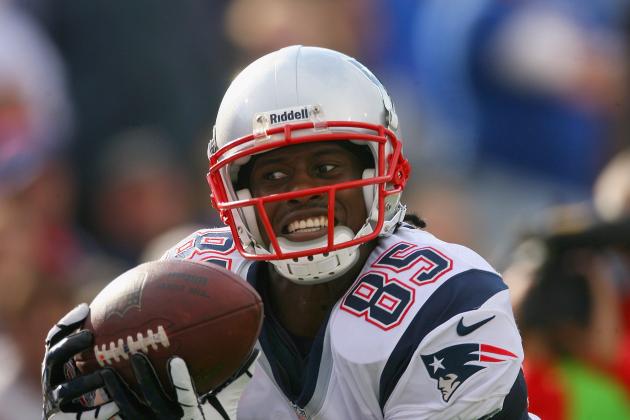 Rick Stewart/Getty Images

This could be the easiest column ever. Sit Shonn Greene. Start Arian Foster.
Easy.
But this is never easy, as you know. This is fantasy football and every decision is brutal.
Here I answer five of the toughest sit/start questions I have been faced with this week.
Three of them come from the FantasyPros.com Week 6 Sit/Start game. The rest I have chosen from questions that I have received on twitter.
These are my Week 6 starts and sits.
Begin Slideshow

»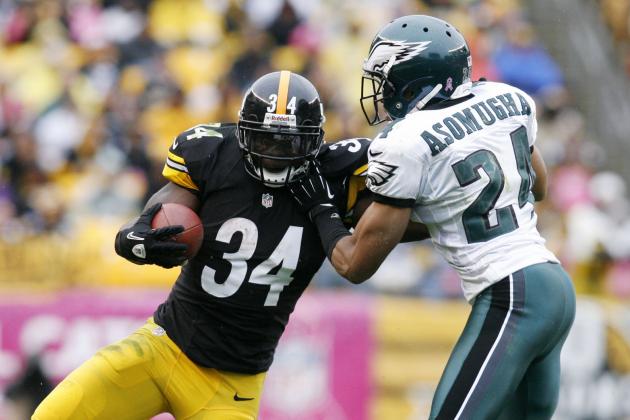 Charles LeClaire-US PRESSWIRE

Rashard Mendenhall at Tennessee Titans
Mendenhall was a pleasant surprise in Week 5, returning from Pittsburgh's bye week in what appeared to be tip-top form. It seems that these ACL surgeries are getting better and better if the fast recoveries of Jamaal Charles, Adrian Peterson and, now, Mendenhall serve as any indication.
Mendenhall carried the ball 14 times against a Philadelphia defense that has been a relatively rough matchup for opposing runners thus far, racking up 81 yards and a touchdown. What makes the showing more impressive for Mendenhall is that he was productive in a limited role.
Only on the field for 30 percent of offensive snaps, Mendenhall made the most of his 22 game reps. When Mendenhall was in, the Steelers ran their offense like they would when he is healthy.
Isaac Redman was on the field for nearly double the time while looking like a bad NFL running back, as usual.
If this is what Mendenhall does on a "snap count" to get eased back in, I am anxious to see what he will be capable of when he returns to getting the lion's share of the first and second-down snaps.
The Titans are my eighth-best matchup for opposing runners coming into Week 6, and the stage could not be set any better for continuation of this breakout.
Michael Turner vs. Oakland Raiders
I have been watching the Raiders travel East for early afternoon games for years, and they typically wet the bed.
The Falcons high-powered offense faces a cakewalk on Sunday. A re-tooled Oakland secondary is banged up, as they will likely stay, and Raiders CB Michael Huff will be put in position to either shadow Julio Jones or Roddy White.
That is a mismatch, and this game will get out of hand.
When the defense gets lubed up vertically, we've seen what happens. Michael Turner, who was criminally underrated in fantasy drafts, gets involved not only in the run game but has suddenly emerged as a true receiving threat out of the backfield.
I love this kind of action from a runner on a team that will be playing with a lead.
This is how the Raiders have fared against opposing runners in away games this season:
In Week 2, the Raiders traveled to the Southeast to play the Miami Dolphins when Reggie Bush went off 197 total yards and two touchdowns.
In Week 4, the Raiders traveled to Denver to play the Broncos. A game in which Willis McGahee went off for 135 total yards and a touchdown.


START: Michael Turner, Atlanta Falcons vs. Oakland Raiders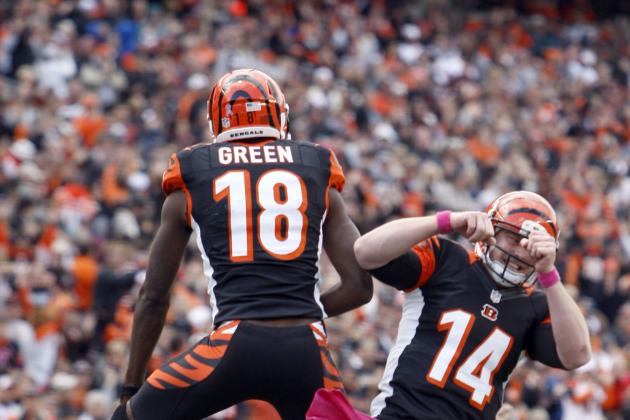 David Kohl-US PRESSWIRE

Ben Roethlisberger at Tennessee Titans
Roethlisberger is facing my sixth-best matchup of Week 6 and should be poised to light the Titans up in a Thursday night air raid.
This is not as much an indictment on the Titans secondary as it is their pass rush. If you give Roethlisberger time, you are in trouble.
No one in the league can keep up with Mike Wallace step for step, and Antonio Brown isn't exactly slow either.
If Heath Miller can release without having to give help, that adds a whole new dynamic.
Something tells me that this will be the case regarding Miller's role, as Tennessee is the absolute best matchup (by a startling margin) for opposing TEs, according to my system.
Andy Dalton vs. Cleveland Browns
Browns CB Joe Haden is back. Fantasy owners of Andy Dalton are wondering what that means to them in Week 6 after a very serviceable run to start the season.
The Cleveland Browns have been a dream matchup for opposing QBs during Haden's suspension. We know that Haden will be on A.J. Green. In two meetings with Haden, Green has had high-end WR2 numbers, but not the fantasy monsters many owners have come to expect.
I still see Dalton getting his points through the air this week, but envision Andrew Hawkins or Armon Binns being the beneficiaries of increased volume.
START: Ben Roethlisberger, Pittsburgh Steelers at Tennessee Titans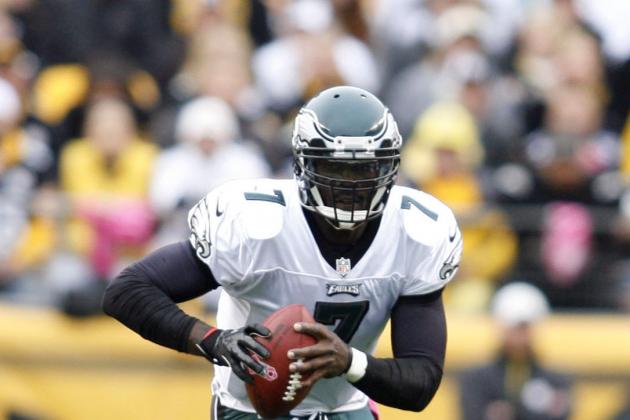 Charles LeClaire-US PRESSWIRE

Andrew Luck at New York Jets
This sit/start situation is similar to the bind that many Andrew Luck fantasy owners find themselves in.
Some elected to take Andrew Luck as their primary QB in 2012 fantasy football leagues. A larger contingent drafted Luck as a high-upside backup to questionable mid-tier starting QB as insurance.
Thus far, the Andrew Luck-fantasy owner relationship has been a love-filled honeymoon. A new wave of confidence has crashed ashore, though, in the wake of Luck's monster fantasy performance in his first signature win as a pro versus the Green Bay Packers in Week 5.
In Week 6, Luck faces a matchup that seems like a dream on paper. The Jets. The sorry Jets with no Darelle Revis. My system tells me, however, that Luck faces a fringe bottom-tier fantasy QB matchup despite this general sentiment.
Michael Vick vs. Detroit Lions
This is where looking too hard at the fantasy points/against can hurt you early in the season when attempting to play the matchups.
The Detroit Lions, by my system, have been a middle-of-the-road unit against opposing fantasy QBs in 2012. As they should be. They have faced Alex Smith, Jake Locker, Christian Ponder and Sam Bradford. Not exactly a murderers' row.
This defense has not faced a Mike Vick. All we hear about in the media is what a "turnover machine" Vick is. This is not the real world. This is fantasy. This is numbers. Vick has been absolutely awful and still managed to be a 16-point-per-week guy so far. The turnovers will be there with Vick, but not always at this frequency.
START: Michael Vick, Philadelphia Eagles vs. Detroit Lions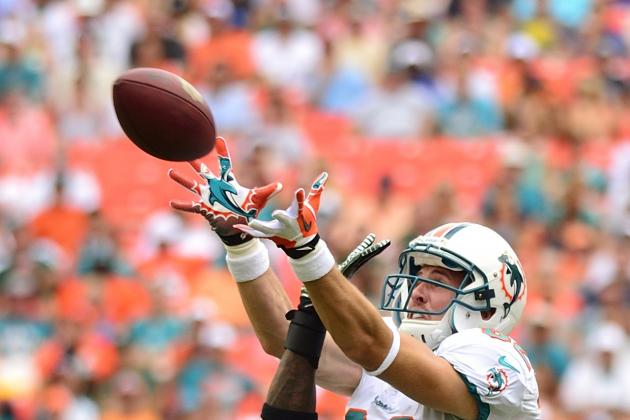 Steve Mitchell-US PRESSWIRE

Brian Hartline, Miami Dolphins vs. St. Louis Rams
This question is for a reader in a PPR league.
Terrible matchup for Hartline. In fact, I have this one pegged as the third worst a WR can face in Week 6.
However, the Arizona Cardinals were supposed to be a tough matchup when Hartline had his career day against them in Week 4. This is PPR, and Hartline can be a monster in this format.
Whether Hartline lines up opposite Cortland Finnegan or Janoris Jenkins, both seem to outmatch him physically. He'll find his holes in the zones as usual, as well as the reception numbers to keep his production serviceable.
Brandon Lloyd at Seattle Seahawks
If we're looking at receptions on the season for Lloyd vs. Hartline, right now the tally stands at 28 to 29 in favor of Hartline.
What that statistic does not show is the fact that Lloyd's receptions have come in a much less erratic manner than Hartline's, as Hartline snagged 12 of his 29 in one week.
Week 6, however, marks the likely return of Aaron Hernandez to the Patriots' active roster. I do not like this for Lloyd in the long term, and I certainly do not like it in this week's matchup.
Seattle has cornerbacks who look like NBA power forwards, and the Seahawks defense is brutal to face at home. Their strengths are physicality in press coverage and a pass rush.
Both of these attributes bode horribly for Brandon Lloyd in this week's opponent. There will be limited time for his routes to develop, and things will be a lot easier to get going through the middle of the field as the run game develops and draws Seattle's safeties up.
In standard scoring, I say Brandon Lloyd. For PPR I say:

START: Brian Hartline, Miami Dolphins vs. St. Louis Rams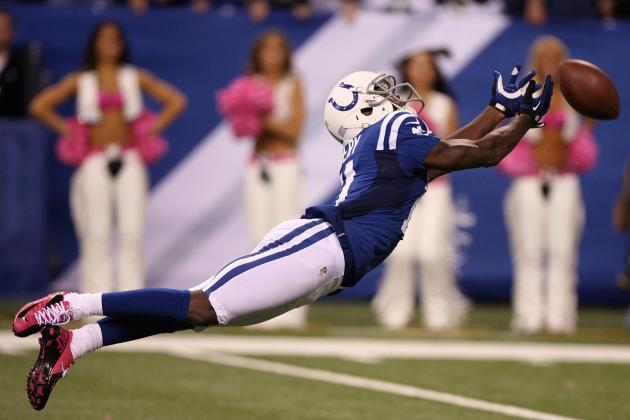 Brian Spurlock-US PRESSWIRE

Who Do I Start?
Donnie Avery at New York Jets—Always a great fill-in option who could develop into a legitimate, rosterable WR3 in 12-team leagues. Colts OC Bruce Arians has made his personal Donnie Avery love-fest public knowledge.
Domenik Hixon at San Francisco 49ers—With the likely return of Hakeem Nicks, this play is nothing more than a Hail Mary gamble.
William Powell vs. Buffalo Bills—Powell will face a terrific matchup in the Bills, but part of me worries that in times of extreme turmoil, coaches like Ken Whisenhunt turn to veterans. I like LaRod Stephens-Howling to get the first crack at the Bills' underperforming defensive line this Sunday if he is cleared and ready.
Josh Gordon vs. Cincinnati Bengals—A monster game in Week 5 has led many to wonder whether rookie Josh Gordon will keep it up. The answer is yes and no. I've covered Gordon for years in Central Texas, and he is as talented as they come.
Gordon plays in an offense that is still finding itself, however, and dictating game plans more around the deficiencies of others than they are their own strengths. He's going to be boom or bust for the foreseeable future.
Vick Ballard at New York Jets—The "Donald Brown Role" in fantasy football may be undervalued by many as it pertains to 2012 leagues. Brown has been a reliable cog in that offense, and he has been depositing a weekly average of 9.55 points in owners' banks thus far.
I loved Vick Ballard at the Senior Bowl, and thought he had every tool in the box to be an NFL back. Ballard will be the starting back against my No. 4 fantasy RB matchup of Week 6, being spelled by Delone Carter.
START: Vick Ballard, Indianapolis Colts at New York Jets