God and Sports; a Way of Celebration or True Religion?
March 10, 2009
Ever since i can remember, I always see athletes point to the sky to thank god for them scoring or the miraculous play they just made. Nobody really thinks twice when they see this.
In fact athletes use it so much now that it's very uncommon to not see an athlete point to the sky in a game or match.
Which brings the question; Has it become a way of celebration or is true religion?
It really makes you beg the question when an athlete points to the sky in a game but you rarely hear them thank god in post-game interviews or award ceremonies.
Why would you show how much you respect and care about god in a game but when it comes to interviews it blanks your mind?
Now, don't get me wrong, I'm not saying all athletes are like this, but a large part are.
Some athletes that I have seen do this are; Terrell Owens, Chad Johnson, and Alex Rodriguez—not once have they mentioned their belief in god in an interview.
Some athletes that I have noticed are the complete opposite and hve confirmed their faith; Tim Tebow, Tony Gwynn, Curt Schilling, and Larry Fitzgerald to name a few.
The very first person Tebow thanked was god and the lord Jesus Christ after he won his first Heisman. He went on to say the same exact words after he led his Florida Gators to a National Championship recently.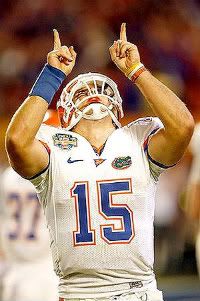 First ballot Hall of Famer Tony Gwynn has aslo procalimed his faith in God and Jesus.
After the San Diego Padres went on to win the N.L. Pennant in 1997 he thanked god for the opportunity to play in the World Series. They would go on to get swept by the then powerful New York Yankees.
Curt Schilling is also another athlete that I have noticed that is a believer in christ. He demonstrated this in an interview after the "Bloody Sock Game" against the Yankees where he pitched miraculously and kept the series alive.
He went on to say he wouldn't of had the strength and courage to go out there and pitch that game if God wasn't with him.
The Red Sox won the World Series in dominating fashion, and broke "the curse of the Bambino".
Fitzgerald, wide receiver for the Arizona Cardinals, has amazing abilities that I have not seen in a wide receiver since Randy Moss when he first came into the NFL.
Fitzgerald has also been heard thanking god for his god-given talent and abilities.
Those are just a few players that I feel didn't just point to the sky just to do it. They point to the sky with a meaning; to thank god for their abilities, and the life they live.
So next time your watching a sporting event, and you see an athlete point towards the sky, ask yourself, "Is it just a celebration or are they really thanking god?".