Week 6 Fantasy Football Projections: Best Bets at Every Position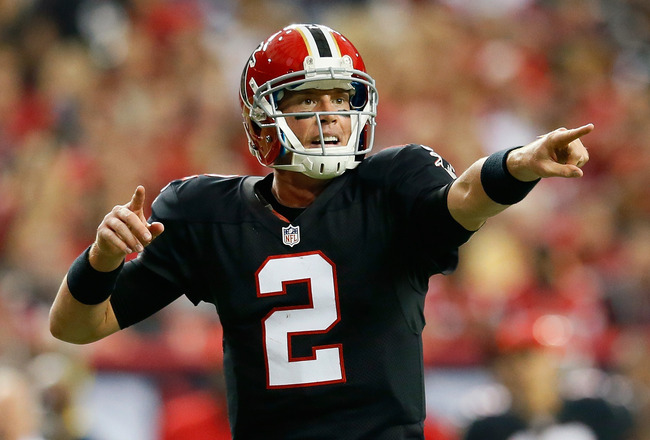 Kevin C. Cox/Getty Images
Atlanta Falcons quarterback Matt Ryan is projected to put up monster fantasy football numbers in Week 6 against the Oakland Raiders, and he's one of the top players who are locks to have big games.
While it's tough to predict exactly which players will break out with massive fantasy numbers from week to week, some matchups, like Ryan vs. the Raiders, are all too easy to call.
These players are your best bets for fantasy domination in Week 6, and they won't let you down.
Note: All fantasy stats and information courtesy of ESPN.com.
Defense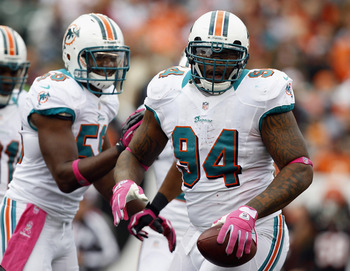 Matt Sullivan/Getty Images
Miami Dolphins
The Dolphins host the St. Louis Rams on Sunday—a contest that likely will turn into a defensive slugfest. The Rams are giving up nearly 10 points per game to opposing defenses, and the Dolphins are a team on the rise in that department.
This defense allowed 13 points against a tough Cincinnati Bengals team in Week 5, shutting down their high-powered offense with authority.
Now, the Rams come to town without any wide receivers, and the front seven will feast on the Rams' porous offensive line.
Kicker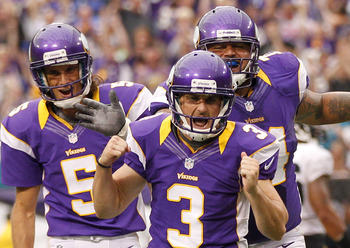 Andy King/Getty Images
Blair Walsh, Minnesota Vikings
Walsh is the No. 2 kicker in fantasy football. He averages more than 11 points per game, and his team is facing the Washington Redskins.
The Redskins give up an average of 10 points per contest to opposing kickers, so this matchup is an easy one to call. The conditions are set up perfectly for Walsh to have a big game, and he's a lock to score at least 10 points.
Matt Bryant, Atlanta Falcons
Bryant isn't far behind Walsh in the standings, and he's averaging more than 10 points per game so far this season.
The Falcons will be playing against the Oakland Raiders this week—a team that surrenders more points to kickers than any team in the NFL except the Carolina Panthers.
Even if Bryant doesn't kick four field goals, he's going to be plenty busy kicking extra points, and he's a sure-fire fantasy winner this week.
Tight End
Patrick Smith/Getty Images
Tony Gonzalez, Atlanta Falcons
Gonzalez is like a fine wine that just gets better with age. At 36 years old, Gonzalez has more fantasy points this season than any other tight end in the NFL (62). Vernon Davis is his closest rival, and Davis has scored 10 fewer points.
The Falcons host the lowly Oakland Raiders on Sunday—the fifth-worst team in the NFL against opposing tight ends. The Raiders give up about 10 points per game to tight ends, and Gonzalez is averaging more than 15 points per contest.
Yeah, it's going to be a massacre.
Vernon Davis, San Francisco 49ers
Davis is the No. 2 tight end in fantasy football, and he's one of the primary weapons for the 49ers.
While the New York Giants are one of the top defenses in fantasy football at holding tight ends to low scores, they haven't faced anyone of Davis' caliber.
This is strictly a hunch, but I expect Davis to have a monster game against the porous Giants secondary and their below-average linebacking corps.
Wide Receiver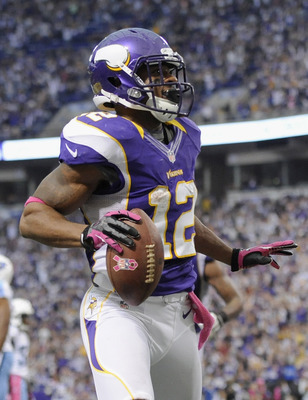 Hannah Foslien/Getty Images
Percy Harvin, Minnesota Vikings
Mark it down, folks. Harvin is going to have a monster game against the Washington Redskins—the defense giving up more fantasy points to opposing wide receivers than any other team.
Harvin is the real deal, too. Through five games, he's the NFL's No. 7 fantasy wide receiver, averaging 12 points per game.
A.J. Green, Cincinnati Bengals
The Cleveland Browns are next up on the schedule for Green and the Bengals, and Green is going to go off after having a relatively quiet game in Week 5 against the Miami Dolphins.
The Browns are giving up more than 31 points per game to opposing wide receivers, and Green is the leading fantasy wide receiver so far this year. He averages 14.4 points per game, and I expect him to have upwards of 20 points this week—even with Joe Haden back in the lineup for the Browns.
Running Back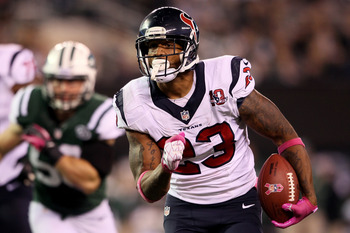 Alex Trautwig/Getty Images
Arian Foster, Houston Texans
There isn't a running back in the NFL better than Foster in terms of fantasy football production.
The Green Bay Packers are the next team up for the Texans, and so far this season, the Packers haven't shown any ability to shut down opposing running backs.
Houston is dedicated to feeding Foster the ball, and through five games, he's averaging 26 carries for 106 yards and one touchdown.
Trent Richardson, Cleveland Browns
Richardson is currently the No. 6 fantasy running back in the NFL, averaging 14.2 points per game.
The Browns will be on the road at Cincinnati to face the Bengals in Week 6—the No. 22-ranked fantasy defense against opposing running backs, allowing more than 20 points per game.
If Pat Shurmur has any brains left in his head, he'll use Richardson extensively in this game to give his team a fighting chance to win on the road.
Richardson will have a huge game.
Quarterback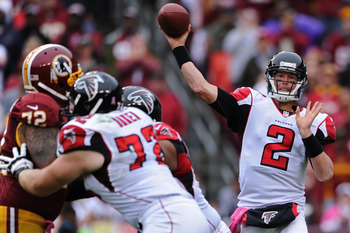 Patrick Smith/Getty Images
Matt Ryan, Atlanta Falcons
The Oakland Raiders are in for a good, old fashioned butt-whipping this Sunday on the road in Atlanta.
Ryan is the No. 2-ranked fantasy quarterback, averaging 22 points per game this season.
The Raiders have the No. 31-ranked fantasy defense against quarterbacks in the NFL, allowing 22 points per game this season.
Given the fact that the Raiders haven't been facing Ryan every week and the Falcons are back at home, I'm expecting him to go off for upwards of 25 points.
Ben Roethlisberger, Pittsburgh Steelers
Big Ben hasn't exactly been a fantasy stud so far this year, but he and his receivers are in for a banner day against the Tennessee Titans in Week 6.
The Titans are allowing more than 20 points per contest to opposing quarterbacks. Roethlisberger and the Steelers offense will have an easy time picking up first down after first down, and by the end of the day, I expect to see him throw for at least two touchdowns and put up more than 22 points.
Follow me on Twitter @JesserReed78
Keep Reading