Miami Marlins: 3 Good Reasons Ozzie Guillen Should Be Fired This Offseason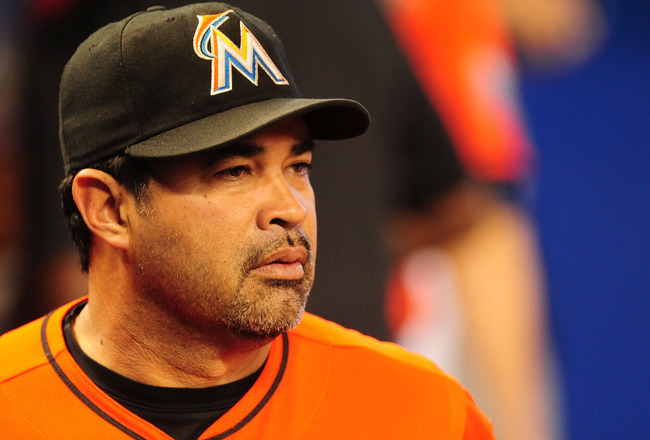 Ozzie Guillen looks on as his Miami Marlins play the Philadelphia Phillies on Sept. 30
Jason Arnold/Getty Images
Following arguably the most disappointing season in recent baseball memory, you may be hard-pressed to find valid reasoning for why the Miami Marlins should not fire Ozzie Guillen this upcoming offseason.
I am here to tell you why they should.
Before 2012, the previous five years (2007-2011) of payroll for the Marlins totaled around $194 million combined.
Just this past offseason, they nearly matched that figure on three players.
During a wide-scale organizational transition, Miami owner Jefferey Loria dished out $191 million to bring Jose Reyes, Mark Buehrle and Heath Bell to town.
With a brand new ballpark and postseason aspirations, the Marlins hired Ozzie Guillen to manage the team hoping that the former World Series champion could improve upon the second-worst finish in Loria's tenure (72-90 in 2011).
Instead, he did the opposite.
One year later, Miami just completed its worst finish in since 1999.
They lost a franchise player to trade.
They have internal issues that make the Red Sox look like a happy family.
Ozzie Guillen certainly isn't the only man to blame. He didn't single-handedly tear down the Marlins organization by any stretch of the imagination.
But in the end, it is the manager's responsibility to get the most from his players. It is his job to ensure that mutual respect is shared by each and every guy in the clubhouse.
And when these things don't happen and the team doesn't win, it is the manager who takes the fall.
Here are three good reasons Ozzie won't be finishing his four-year contract in Miami.
Underperformance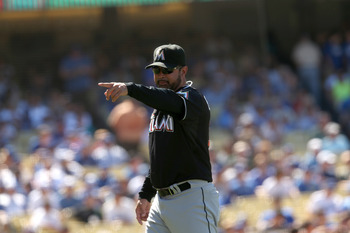 Ozzie Guillen signals to the bullpen during an Aug. 26 game against the Los Angeles Dodgers
Stephen Dunn/Getty Images
When Marlins owner Jefferey Loria committed $191 million to three premier free agents this past offseason, I don't think he had this type of product in mind.
His team was to be playing in a new city, Miami, wearing new uniforms in a new ballpark, with a new franchise shortstop and fresh face at manager.
Or so we thought.
That's not how 2012 turned out for the Marlins, who finished with their worst record (69-93) since 1999.
The lowest win total in Loria's time as owner marked the first step in a transition that, at least for now, can be dubbed a total failure.
By and large, the free-agent acquisitions weren't terrible.
Heath Bell certainly struggled at times after leaving the pitcher-friendly Petco Park, but both Mark Buehrle and Jose Reyes finished right around their career averages.
But the team as a whole was indeed terrible.
Only five clubs in all of baseball finished with a worse winning percentage than Miami.
The historically bad Houston Astros were the only team to score fewer runs than the Marlins, and their team ERA of 4.09 also ranked in the bottom-third of the entire league.
A disappointing first half of the year was widely overlooked when Guillen's club was still in playoff contention at the All-Star break.
However, a dismal second half highlighted by an 8-18 month of September sealed the deal for Miami—and maybe their manager's future as well.
Face of the Franchise?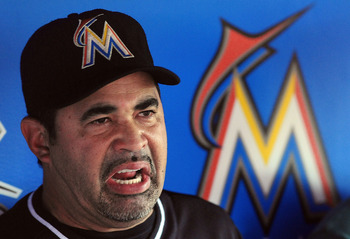 Ozzie Guillen addresses the media in the Marlins dugout before a Sept. 28 game against the Phildadelphia Phillies
Jason Arnold/Getty Images
When news broke of Ozzie Guillen's controversial comments regarding Fidel Castro back in April, the aftershock transcended the baseball community.
The remarks were unthoughtful and offensive.
And had they come from anyone but Ozzie Guillen, we would have likely been talking about more than a five-game suspension.
But many around baseball dismissed the actions as "Ozzie being Ozzie."
A trite expression which, at least in modern times, can't be used as an excuse for such immature behavior any longer.
I respect the manager's willingness to speak his mind—honesty is essential in every aspect of life.
I commend Ozzie for sticking to his guns even when he is blasted by the relentless media.
But much of what Guillen has to say frankly has no place in baseball. Especially coming from a team manager.
Looking past his apparent praise of Castro, we can find numerous examples of "Ozzie being Ozzie" making headlines in a negative manner.
Back in August, the Marlins manager said that Giancarlo Stanton was the only reason the team was worth watching, according to Joe Capozzi of the Palm Beach Post.
Less than a month later, Capozzi reported in the Palm Beach Post that Ozzie had switched focus.
This time, the manager's criticisms were directed at his very own boss when Guillen called out owner Jefferey Loria for going through too many managers during his time.
Whatever the case, Ozzie Guillen is a loose cannon. He lacks the ability to control his emotions and filter his speech.
And when you're approaching 50 years old, there are no more excuses.
Internal Problems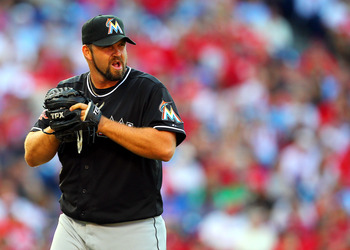 Heath Bell receives signs from the catcher during a June 2 game against the Philadelphia Phillies
Rich Schultz/Getty Images
Ozzie Guillen's underachievement and common disregard for social standards may warrant a firing alone.
But when you have players publicly disrespecting the manager as Heath Bell did last month, I think it is pretty clear that changes need to be made.
An overall lack of respect for Ozzie Guillen was at the heart of comments made by Miami's relief pitcher in September.
And although Bell would later try to sweep it under the rug, the word was already out.
The Marlins lacked cohesion from day one. Three new high-profile free agents didn't mesh as planned, and Miami's manager did nothing to help.
In July, Ozzie said the absence of Hanley Ramirez's bat would mean "nothing" for his lineup after the franchise centerpiece was traded to Los Angeles.
According to George Henry of the Associated Press, Guillen fired back at Heath Bell following his criticisms, saying rather blatantly that he had no respect for his own player.
To put it simply, Ozzie talks a big game, but he didn't provide the results to back it up.
When you're winning, sometimes you can get away with controversial comments or innuendo. When there is production, no fingers need pointing.
But Guillen didn't have any support—not in terms of wins or commentary from his players.
That is why we will likely see yet another manager in a Marlins uniform come 2013.
So long, Ozzie.
Keep Reading

Miami Marlins: Like this team?