Chicago Bears vs. Jacksonville Jaguars: Live Score, Video and Analysis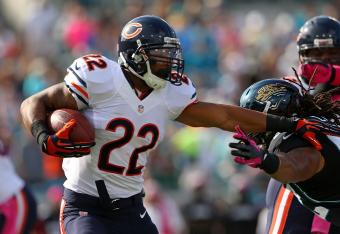 Video highlights from the Bears Jaguars game
Robbie Gould gets the Bears on the board with a field goal. 12 plays 77 yards for the Bears who lead early 3-0 4:23 left in the 1st quarter.
Blaine Gabbert, comes up with three big third down completions on third down and long situations. The Jags drive with the help from a 20 yard run by Drew and tie the game up at 3-3. 14 plays 61 yards on the drive for the Jags.
Bears open up the 3rd quarter with a 17 play 76 yard drive, that took 9:18 off the clock to start the 3rd. Robbie Gould field goal puts the Bears out front 6-3.
Blaine Gabbert then throws an interception to Charles Tillman, who returns it 36 yards for a touchdown. 13-3 Chicago lead 4:52 left in the 3rd quarter.
End of the 3rd quarter with the Bears still leading 13-3.
Alshon Jeffery scores his second career touchdown to give the Bears a 20-3 lead.
Brandon Marshall hauls in his 12th reception of the day for a touchdown. The 12 catches represent the second highest single game total of Marshall's career. Marshall holds the NFL record with 21 receptions in one game from a game in Denver he played with Kyle Orton. Bears lead 27-3 8:09 left in the 4th.
The defense did not want to let the offense outscore them, so Briggs intercepts a pass and returns it for a touchdown. Bears with 31 second half points in a little over 12 minutes. Chicago has scored five defensive touchdowns in the last three games.
You wouldn't know it by looking at the score now, but this game was tied at 3-3 at the half. Armando Allen rips off a 46-yard touchdown to stretch the Bears lead out to 41-3. Two defensive touchdowns and this game is a blow out for Chicago.
Early confidence by Blaine Gabbert and this Jacksonville offense died a cruel death as the Bears responded to head coach Lovie Smith's motivational speech at the half.
Chicago's offense scored three touchdowns in the 4th quarter, to go with the Lance Briggs interception that he returned for a touchdown.
Briggs and Charles Tillman have two pick sixes in the last two games for the Bears, Tillman again gets the momentum started for the Bears with his touchdown.
The excitement spreads and the Bears go on to destroy the overwhelmed Jacksonville Jaguars racking up 38-points in the second half while shutting down the Jaguars.
Armando Allen breaks through a hole in the Jaguars defense, jukes a safety out of his sneakers and streaks away towards the end-zone for the 46-yard touchdown.
The Bears' offensive line is easily putting together it's best run blocking effort of the season, absolutely mauling the Jags' front seven.
Mike Ehrmann/Getty Images
The Bears pull Jay Cutler with about 3:45 left in the 4th quarter, Jason Campbell hands off to Matt Forte who is over 100 yards on the day. Armando Allen check into the game to get some carries, Bears in run out the clock mode late.
Cutler exits after going 23 for 39 for 292 yards two touchdowns and one interception. Cutler finally found his rhythm in the second half after starting 10 out of 20.
Alshon Jeffery went into the locker room with a suspected hand injury after his TD reception and has not returned.
It's a race to the QB between Corey Wootton and Henry Melton who sandwich Blaine Gabbert. Wootton with a big bull rush on the offensive tackle and he gets to the QB slightly ahead of Melton, my guess is they'll split the sack. Wootton has 1.5 sacks in this game. He has been dominant now that he's completely healthy. Another gem of a defensive pick from Jerry Angelo. 6:45 left in the 4th quarter
Lance Briggs didn't want to be upstaged by Charles Tillman, he intercepts a tipped pass and returns it for a touchdown. Briggs mugged a blitz at the line of scrimmage dropped back into coverage, read the QB, intercepted the pass that Urlacher broke up and took it to the house. Bears lead 34-3.
Jay Cutler five step drop, Brandon Marshall gets the easy separation on the 9 route and hauls in a beautiful over the shoulder catch for the touchdown. Cutler laid it out beautifully, CB bit on the hesitation move and Marshall was wide open.
Fox Sports reported that Lovie Smith challenged his team at half time and the have Bears responded big time rattling off 24 straight points to jump out to a big 27-3 lead.
Matt Forte carries the ball in back-to-back plays for 9 and 11 yards. #Bears have 1st down at the JAX 31. #CHIvsJAC

— Chicago Bears (@ChicagoBears) October 7, 2012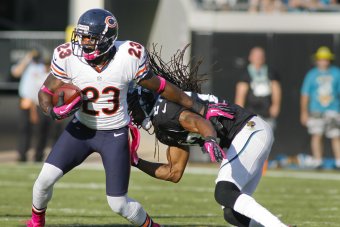 Phil Sears-US PRESSWIRE
Devin Hester makes a terrific diving catch that is challenged by the Jaguars. The one-handed catch by Hester is upheld, Jacksonville is charged a time out. What a dynamic play by Hester to get past the double coverage over the top and lay out to make this catch for a 41 yard gain.
Jones Drew rips off a 27-yard run, his best run of the game. Paea was turned inside and the Jags got a guard up to the second level to block the linebacker. Chris Conte has to scramble off a block to keep Jones-Drew from taking it to the house.
The Bears lock down on the next three plays and force a punt. The early confidence Gabbert had in this game seems to have disintegrated here in the second half. He's struggling to get the ball down the field, thus allowing the Bears secondary to play down hill and tackle receivers short of the first down line.
Jags punt TV timeout.
In last 7 quarters & 5 minutes, #Bears have 3 offensive TD's and 3 defensive TD's

— Brad Biggs (@BradBiggs) October 7, 2012
The Jaguars ran only four plays in the third quarter. The Bears have turned up the physicality in this game and Jacksonville has failed to respond.
Alshon Jeffery blanketed by the corner, but he fights and battles a physical hand to hand match up and comes down with his second touchdown of the season. Bears now lead 20-3 early in the 4th quarter.
Bears mounting another drive, and on third down Michael Bush gets a reception and won't be denied the first down. Bush an all 241-pounds of his frame, HURDLES a defensive back in the open field, lands and scampers ahead for the first down.
What an incredible play for such a large RB, this play proves just how athletic Bush is.
If you saw our @stats_ NFL in today's paper, you'd know that #Bears rarely blitz. Briggs effectively did thrre

— Sean Jensen (@seankjensen) October 7, 2012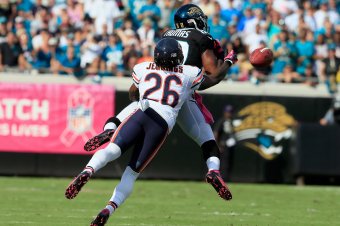 Sam Greenwood/Getty Images
After a long drive from the Bears that ends in a field goal from Robbie Gould, Gabbert throws a pick six.
Gabbert zeroed in on his receiver, and Tillman zeroed in on Gabbert's pass at around the 40 yard line and then weaved his way into the end zone for his second pick six in as many weeks.
Two straight false starts from Gabe Carimi, three in the game third and goal from the 13 Bears need a touchdown here. Pass intended for none other than Brandon Marshall, and he was tripled covered with a safety and a CB jamming at the line of scrimmage and a safety over the top.
Yes, you read right, Marshall was triple-covered, and Cutler threw the ball to him anyway. Incomplete on third down and goal TV timeout as Gould comes in to try and give the Bears the lead.
Cutler has decided to only target Brandon Marshall at this point, no one else involved in the offense at the moment. Marshall has six receptions on the drive 16th play of the drive. False start on Gabe Carimi again his second penalty in this game.
Cutler with six straight completions on this drive hands the ball to Forte on first down, they're in the red-zone. Gain of four on a nice push from the offensive line and then Forte stoned on second down a good run blitz from the Jaguars.
Third down and 8 Cutler in the shot gun Marshall in the slot right...Cutler can't find Marshall open and decides to run for the first down. First and goal for the Bears.
Gabe Carimi is again struggling in pass protection, Cutler feels the pressure from Carimi's side and delivers the football for a first down.
Marshall on the 15-yard completion from Cutler. Jay stepped up in the pocket and delivered the football albeit into triple coverage.
Bears convert their second third down on this drive a very manageable 3rd down.
Carimi gives up a sack on Cutler. Total bull rush by Lane on Carimi who let the DE get up into his body and drive him back into Cutler on first down. Strong rush from the Jaguars on that play.
Third and nine Cutler again goes to Marshall, but he's tackled short of the first down sticks. Bears going for it on fourth down in Jags territory. Two TE set Cutler to throw to Marshall again for a first down.
Unnecessary roughness; roughing the passer on Jeremy Mincey on Cutler.
The only reason the Bears are not losing in this game is due to Corey Wootton's sack and forced fumble. Blaine Gabbert is completely out-playing his counterpart Jay Cutler.
Gabbert as I mentioned earlier converted four third down and 7-plus passes for first downs. Big conversions that gave the second year QB some confidence.
Cutler meanwhile has had some spurts of consistency but has been VERY consistent overall in this game.
Barely any pass pressure from the Bears' front four on Blaine Gabbert, barely any pass pressure on Jay Cutler. Gabbert responding, Cutler looks lost, what is the problem with Cutler?
#Bears get ball to start 3rd quarter. Thought they showed some rhythm, breifly, when they ran the ball. 81 yards rushing 1st half, 6.2 ypc.

— Brad Biggs (@BradBiggs) October 7, 2012
Phil Sears-US PRESSWIRE
A late first half drive by the Bears on offense has some minor momentum and then completely stalls. Cutler is back to his old habits in this game, spraying passes all over the field. Cutler is 10 for 20 in the first half as Blaine Gabbert takes a knee to close the first half.
Jags go into locker room at half tied at 3 but have to feel like they're leading. Bears playing down to competition

— David Haugh (@DavidHaugh) October 7, 2012
Corey Wootton sacks Gabbert and forces a fumble that the Bears recover. The Jags were in the red-zone, so it was a huge turnover forced by Wootton. Wootton's second forced fumble sack of the season comes a critical point in the 2nd quarter.
Bears start to drive a bit on offense 48 seconds left in the first half. Cutler is three for three on this drive and then overshoots Devin Hester on first down.
The Bears' defense has been number one in the NFL at stopping teams on third down since Lovie Smith took over has head coach. Coming into this game they were first overall in the NFL this season. Blaine Gabbert has converted four 3rd down plays that were 3rd and seven plus.
Pass rush is absolutely non-existent for Chicago right now and Gabbert looks like Joe Montana out there the way he's torching the Bears.
Secondary combined with no pass rush equals major trouble for the Bears defense right now. Last week the Bears' pass rush was virtually non-existent against the Cowboys, but they came away with five INTs of Tony Romo. What we're seeing early in this game is more of the same from Chicago's front four, an overall lack of pressure on Gabbert and the second year QB has a lot of confidence as a result.
Another three and out for the Bears, Derek Cox breaks up a pass intended for Marshall on third down. Whatever momentum the Bears had on their scoring drive is now gone.
Jags keeping this one close early which is good news for them, disconcerting for the Bears who are trying to avoid losing a trap game before their bye week.
The Jags are no back on offense after the Bears punted away again.
Told y'all it won't be a cakewalk. RT @michaelbardusk: @mikecwright This Jags team seems more competent than advertised.

— Michael C. Wright (@mikecwright) October 7, 2012
Uneventful two series by both teams as they trade punts and the Bears are now back out on offense 9:10 left in 2nd quarter
Jaguars offensive line is holding up very well in pass protection. Bears' defensive line that has been a very strong pass rushing unit this season Gabbert has barely pressured in this game.
The Jags' drive stalls on three straight overthrown passes into the end-zone. But Josh Scobee ties the game up with a field goal.
Bears are intent on getting Forte involved in the running game and keeping it up. The emphasis by the Bears to run the football early, is clearly evident. 11 rushes 70 yards for the Bears between Forte and Bush 11:11 in the second quarter.
Chicago's offensive line is one of the best run blocking units in the NFL right now according to metrics kept by ProFootballFocus.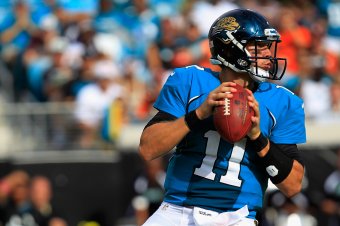 Chris Trotman/Getty Images
Matt Forte already with 45 yards on six carries for the Bears. Jaguars struggling to get off of blocks here in the first quarter. Decent in coverage in the secondary forcing Cutler into the one INT. Cutler is only 3 out of 7 in pass attempts.
Gabbert brings them out for their third drive on offense Jones Drew is thrown for a three yard loss as the Bears gang up on the run. Gabbert goes deep for the first time in this game, he over throws his receiver by about two steps. Blackmon fights hard for a first down on the third down pass.
Jones Drew gets a big 20 yard gain on first down as he gets to the outside and fights past an arm tackle by Major Wright. Drew does what he does best on that play, sort of gets lost in the shuffle then explodes for a big gain.
Bears come right back and drop the running back for a loss of four to bring up third down and 14. Gabbert completes a big pass to Blackmon. He went through his progressions, and nailed Blackmon in the soft spot of the zone for a big completion on third down.
46 second left in the 1st quarter.
This article is
What is the duplicate article?
Why is this article offensive?
Where is this article plagiarized from?
Why is this article poorly edited?