MLB Playoffs: Postseason Managers and Their Hall of Fame Chances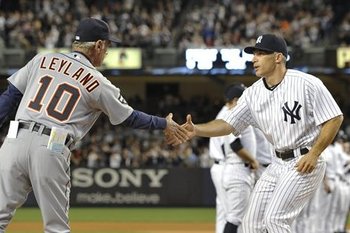 Associated Press
As the 2012 postseason starts, the focus will be on the players and who will take home the World Series title. But for the managers, a ring not only is a crowning achievement for a season, but it could be a building block for a Hall of Fame career.
Managers in Cooperstown tend to have at least one, if not multiple world championships on their resume.
Looking at the 10 managers in this year's playoff, how would a 2012 World Series title improve their Hall of Fame chances?
For some it would be a terrific first highlight. For a few it would supplement an already impressive resume. For four it would probably put them over the top and into the Hall.
And one is already Cooperstown bound no matter what.
Let's look at the skippers and imagine what the 2012 championship would mean to their reputation.
Dusty Baker: Cincinnati Reds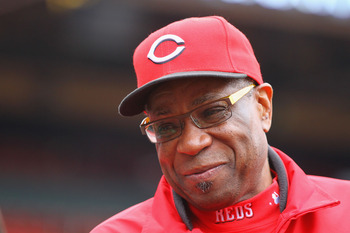 Dilip Vishwanat/Getty Images
As I wrote in a previous Bleacher Report article, Dusty Baker might have experienced a tidal wave of criticism, but his division titles with multiple teams speak for itself. He led three Giants teams, a Cubs team and to date one Reds team to the postseason. Each team had losing records before he turned them into division champs. And he won Manager of the Year three times.
His recent mild stroke and hospitalization have certainly made him a rallying point for the team and this year might turn out to be his last shot for winning it all as a manager. He was part of the 1981 world champion Los Angeles Dodgers as a player.
Winning a World Series title would not only wipe away Game 6 of the 2002 World Series and Game 6 of the 2003 NLCS, but might put him over the hump for a Cooperstown resume.
Bruce Bochy: San Francisco Giants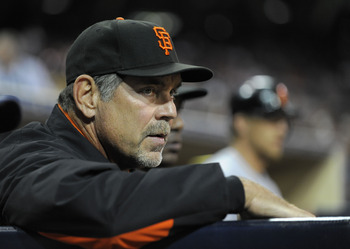 Denis Poroy/Getty Images
One of the most respected managers in the game, Bochy has already managed division champs in three different decades. The 1996 National League Manager of the Year led the San Diego Padres to four of their five postseason appearances in their history.
He won a pennant with the 1998 Padres and then won the 2010 World Series with the Giants, their only title since moving to California. Another World Series championship, especially in the wake of the Melky Cabrera suspension, would create a solid case for Bochy's Hall of Fame credentials.
Joe Girardi: New York Yankees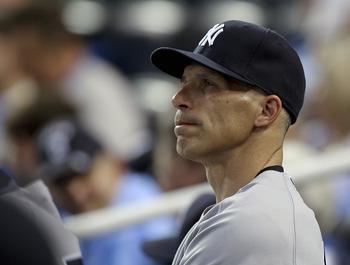 Ed Zurga/Getty Images
Girardi will never get the credit he deserves. I praised him in an earlier Bleacher Report article, and the biggest criticisms I received were from Yankee fans degrading him. If he wins the World Series, it is simply doing what is expected. If he loses Game 7 of the World Series, he is a failure.
Winning the 2012 title would be his second overall. It would go along with the 2006 National League Manager of the Year award he won with the Florida Marlins.
Two Yankee World Series titles would not get him into Cooperstown. But his hardware and titles will help his resume if he ever leads another team to the championship after inevitably being let go by the Yankees.
Fredi Gonzalez: Atlanta Braves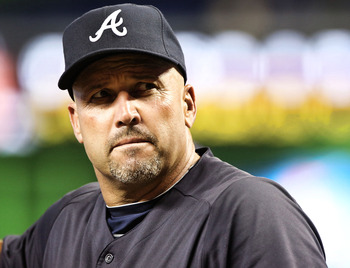 Marc Serota/Getty Images
Gonzalez earned the respect of all of baseball by leading the Marlins to winning seasons with the bargain basement budgeted Marlins in 2008 and 2009.
But as of now, he also has the stigma of the Braves collapse last season hanging over his head. A World Series title would wipe that off his reputation.
He would be a long way from Cooperstown. But at age 48, he has many years as a manager ahead of him.
Davey Johnson: Washington Nationals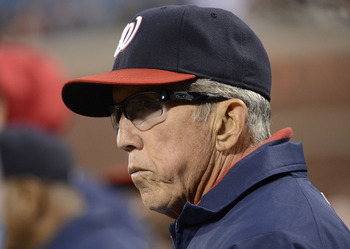 Thearon W. Henderson/Getty Images
One of the most underrated managers, Johnson managed the Mets to the World Series title in 1986. He received much criticism for leading them to only one title with all of their talent. (And of course if Gary Carter, Kevin Mitchell, Ray Knight and Mookie Wilson made an out in that tenth inning, they wouldn't even have a title.)
Johnson brought the Reds to the 1995 NLCS and was let go. Then he led the Orioles to the 1996 and 1997 ALCS, won the American League Manager of the Year, and got fired.
His time in Los Angeles was not productive and he was out of the managing world for a decade.
But leading Washington to the playoffs for the second time in the franchise's history would almost be enough to get him into Cooperstown. If the Nationals win DC's first title since 1924, he should start rehearsing his speech.
Jim Leyland: Detroit Tigers
Leon Halip/Getty Images
Jim Leyland has nothing left to prove as a big league manager.
He has managed three different teams to the playoffs. Another run here or there in 1991 and 1992 and he would have managed the Pirates to the World Series. He managed the 1997 Marlins to the title and turned the Tigers from a losing team to the 2006 World Series.
Three times he won Manager of the Year. And no manager in the game is more respected. The 2012 world championship would put him in the company with Sparky Anderson and Tony LaRussa as the only managers to win it all in both leagues.
He is probably heading to the Hall of Fame no matter what. Winning this year would remove the word "probably."
Mike Matheny: St. Louis Cardinals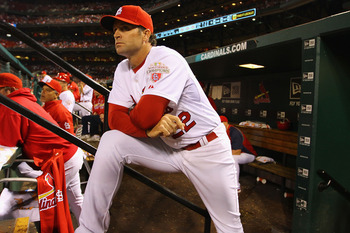 Dilip Vishwanat/Getty Images
A world championship in his first season as a manager should be a great feather in Matheny's cap. But if the Cardinals repeat as champs, it would be tough for Matheny to take full credit for it.
Even though Albert Pujols and Dave Duncan are no longer there and Chris Carpenter is out with an injury, this team still has the look and feel of a Tony LaRussa team. Like Ralph Houk's Yankees winning after Casey Stengel left or Joe Altobelli managing the Orioles to the title the year after Earl Weaver retired or George Seifert coaching the 49ers to a Super Bowl win right after Bill Walsh hung them up, Matheny would never get credit for winning.
If he wins and then wins again later, like Seifert did in San Francisco, then perhaps he will get retroactive credit for his win.
Bob Melvin: Oakland Athletics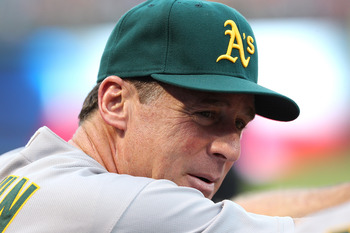 Rick Yeatts/Getty Images
Melvin's Athletics pulled off the miracle by overtaking the two-time defending American League champion Rangers on the last day of the season. On June 30th, the A's were 13 games behind the Rangers. On October 4, they were a game ahead.
While a Billy Beane led team generally does not heap praise on the manager, Melvin obviously has the goods.
He was the 2007 National League Manager of the Year when he managed the Arizona Diamondbacks to the the NLCS. That team had a minus-10 run differential but they managed to have the best record in the National League.
In fact the 2012 A's are the third 90-plus win franchise managed by Melvin. He also skippered the 2003 Mariners who went 93-69.
If he wins Manager of the Year, for which he must be considered a front-runner, then he will have won it in both leagues. He will join Bobby Cox, Tony LaRussa, Jim Leyland and Lou Piniella as the only managers to pull of that feat. Those four are Cooperstown bound.
Melvin is not there yet but a World Series title would make an interesting foundation for his case if he keeps winning in Oakland.
Buck Showalter: Baltimore Orioles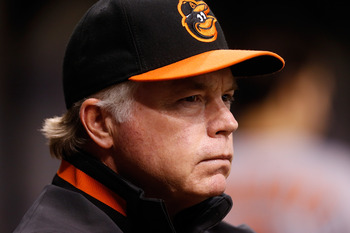 J. Meric/Getty Images
Buck Showalter is the Johnny Appleseed of pennants. He was named manager of the Yankees when they were coming off of a 91-loss season. He turned the team around and won the 1994 American League Manager of the Year award. He was dismissed after the 1995 playoffs. They won the 1996 World Series under Joe Torre (along with the 1998, 1999 and 2000 World Series.)
He was the first manager of the Arizona Diamondbacks. He turned them into a division champion in 1999. He was dismissed after the 2000 season. They won the 2001 World Series under Bob Brenly.
Then he took over the Texas Rangers in 2003. By 2004, they were a winning club and he won his second Manager of the Year. After 2006 he was dismissed. Ron Washington took over the club and they won back to back pennants and got to a strike from winning it all in 2011.
Wherever he goes, the teams turn around. The Orioles were irrelevant since 1997 and the worst team in baseball when he arrived in 2010. Now they are a playoff team.
Add a World Series title to this resume and he would have a Dick Williams-like reputation of bringing titles wherever he goes.
Ron Washington: Texas Rangers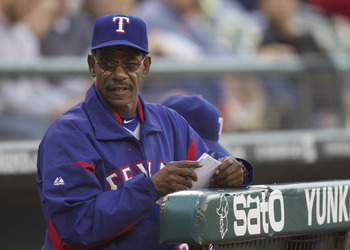 Stephen Brashear/Getty Images
Until the last week of the season, Washington's reputation was borderline spotless. Beloved as a coach in Oakland (and one of the best characters in Moneyball), he overcame a cocaine problem to lead the Rangers to their only two pennants in franchise history.
And they were a pitch away from winning it all last year. If they won it all this year, he would have three straight pennants and a title.
But their collapse in Oakland puts the Rangers in a dangerous spot. They went from having home-field advantage throughout the American League playoffs to playing for their season against the Orioles.
If "Wash" gets them all the way to the title, it would add to his prestige. It might not be enough for Cooperstown yet. But if he pads his resume with some division titles along with three straight pennants and a World Series, then he might get it.
Keep Reading