Washington Nationals vs. St. Louis Cardinals: Team Grades from NLDS Game 5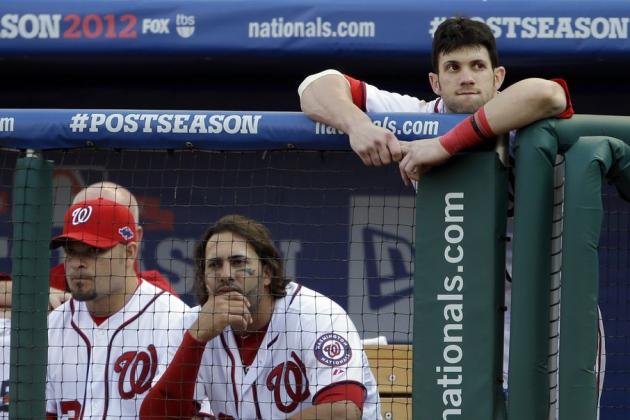 AP Photo/Pablo Martinez Monsivais
The 2012 MLB playoffs continued to captivate on Friday night as the St. Louis Cardinals completed a historic comeback victory. Nearly 46,000 Washington Nationals fans are speechless after Game 5 of the NLDS.
Meanwhile, my team grades tell the full story.
I've simply evaluated the Cardinals and Nationals on their execution in various facets like pitching, hitting and fielding.
Feast your eyes on this article, and make sure that mine were interpreting the action correctly.
Begin Slideshow

»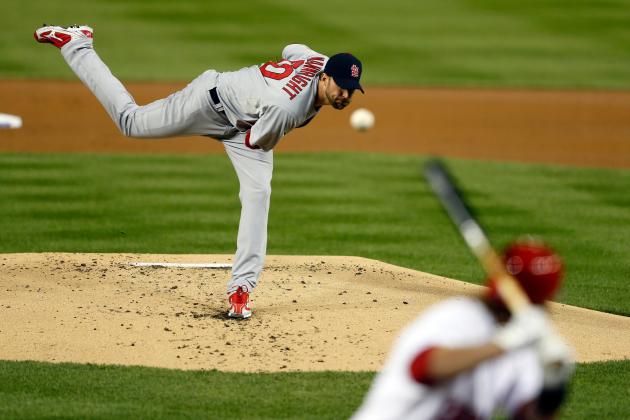 Rob Carr/Getty Images

St. Louis Cardinals grade: C
Adam Wainwright immediately put the Cards at a disadvantage by surrendering extra-base hits to each of the first three opposing batters. His fastball was straight and left up in the zone, and the home team took advantage.
Wainwright never settled down. He allowed two more no-doubt home runs in the third inning and was sent to the showers.
His curveball was pretty filthy, but what does it matter? In the words of TBS broadcaster Dick Stockton, the 2006 hero "just didn't have it." This was the shortest start of his MLB career.
But just when all seemed lost, the bullpen saved the night. A right-handed quintet—Joe Kelly, Trevor Rosenthal, Edward Mujica, Mitchell Boggs and Jason Motte—overpowered the free-swinging Nats (6.2 IP, 4 H, 1 R, 1 BB, 6 SO).
Washington Nationals grade: D
Though Gio Gonzalez looked capable at the onset, he was ultimately done in by the same weakness as Wainwright—poor fastball location. He couldn't get ahead in the count and that inefficiency led to an early exit.
Nationals relievers allowed St. Louis to gradually come back, and then everything imploded in the ninth. Drew Storen, who had been lights out in three previous NLDS appearances, wasn't his usual self.
*In fairness to both pitching staffs, home plate umpire Alfonso Marquez enforced a tight strike zone throughout the game.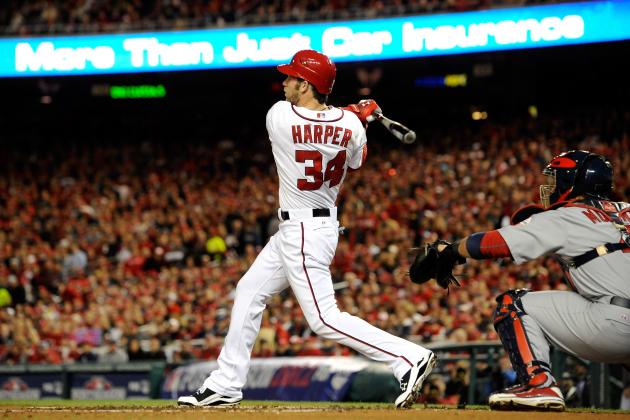 Patrick McDermott/Getty Images

St. Louis Cardinals grade: A-
The Cards weren't intimidated by the early deficit. All their batters were patient and pesky, particularly from the fifth inning onward.
Carlos Beltran further bolstered his stellar postseason resume by reaching base in each of his five plate appearances.
Rookie shortstop Pete Kozma took an outside pitch the other way for the game-winning single.
Collectively, the reigning world champs were only 3-for-14 with runners in scoring position. They had opportunities to score even more (hence the minus).
Washington Nationals grade: B
The night obviously looked promising at the beginning. Bryce Harper immediately connected for a triple and solo blast. The other top-of-the-order bats—Jayson Werth and Ryan Zimmerman—pounced on Adam Wainwright, too.
But overall, the Nats' lineup couldn't accomplish much against curveballs, splitters or any non-fastballs, for that matter. Too many strikeouts and swings-and-misses.
They aimed to reach the seats instead of the outfield grass. That's their mindset and it proved counterproductive.
Brad Mills-US PRESSWIRE

St. Louis Cardinals grade: C+
Stuck between a catch attempt and playing it off the wall, Jon Jay let Bryce Harper take an extra base in the first inning. A double was stretched into a three-bagger when the ball ricocheted around the outfield.
Who knows how different situations affect Adam Wainwright's pitch selection, but any alternative would have been better than the two-run shot he surrendered a minute later.
Washington Nationals grade: C
Kurt Suzuki alertly gunned down would-be base-stealer David Freese in the second frame. His two-out execution delayed a Pete Kozma plate appearance and kept St. Louis off the scoreboard.
Though later in the game, sloppy fielding from Michael Morse in the left-field corner ruined the shutout. Carlos Beltran scored from first base on a grounder down the line that should have been handled with more urgency.
And finally, when the Nationals were one out from clinching the series, Daniel Descalso directed a line drive up the middle. Shortstop Ian Desmond got some leather on it but couldn't secure it.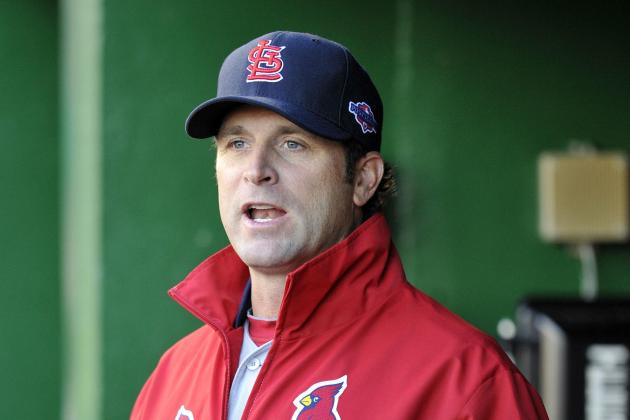 Joy R. Absalon-US PRESSWIRE

St. Louis Cardinals grade: B+
Manager Mike Matheny gave Adam Wainwright the quick hook after 53 pitches. He had no other choice—the right-hander was awful.
He then subbed out reliever Joe Kelly in the fifth inning. It was a move inspired by the desperate need for a rally as well as Matheny's confidence in his remaining relievers.
It worked to perfection.
Washington Nationals grade: C
Davey Johnson lied to us. Sure, he stated that Edwin Jackson would be available after one day of rest, but only "if we went past nine innings," writes Marc Lancaster of The Washington Times.
On top of being bad karma, inserting him to pitch the seventh was illogical. Setup man Tyler Clippard had been more successful against the batters atop the Cardinals' lineup.
Pinch-hitting with Chad Tracy instead of Tyler Moore was another head-scratcher. Forget about reputations—the rookie emerged as Washington's most powerful off-the-bench option down the stretch.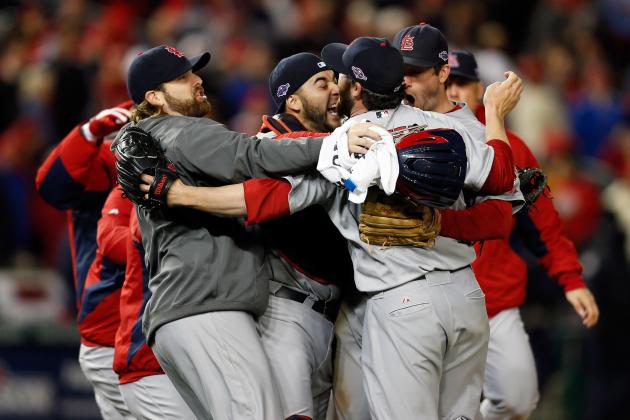 Rob Carr/Getty Images

St. Louis Cardinals grade: A-
Despite a stinky performance from Adam Wainwright, this game was beautifully played by St. Louis.
These guys won Game 5 with resiliency and composure.
It isn't easy to draw a walk or get excited about an RBI grounder when the scoreboard indicates that a multi-run rally is needed. But the Cardinals fought against their instincts, acted selflessly and made history on Friday night.
What specifically did they achieve? The largest comeback under winner-take-all circumstances in MLB playoff history.
Washington Nationals grade: B-
Meanwhile, the hometown Nats shouldn't feel embarrassed.
Though they failed to tack on enough insurance and/or stop the bleeding, there was never a look of complacency on any individual's face.
The organization has a very bright future. Hopefully, nothing drastic is done to jeopardize that.