Everything You Need To Know About the AL & NL Wild Card Play-in Games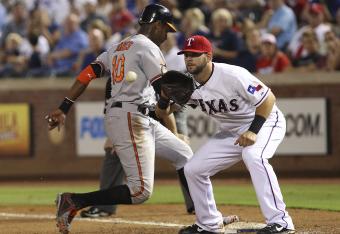 Rick Yeatts/Getty Images
Postseason baseball is finally upon us, and it all starts with the new wild-card play-in games today. Following is an overview of anything and everything you need to know about both games.
American League
Baltimore Orioles (93-69) at Texas Rangers (93-69) - Rangers Ballpark in Arlington (8:37 p.m. ET)
Let me get the obvious statement out of the way: One of these teams is supposed to be here, and one is not. Nobody in their right minds expected such a turnaround from Buck Showalter's Orioles this season, let alone a wild-card appearance.
On the other hand, the Rangers have won two straight American League pennants and completely tanked over the last two weeks of the season in order to even drop into the wild-card play-in game. It took a three-game sweep at the hands of the Oakland A's for the Rangers to be in this position.
We know that both teams can score runs in bunches, but the main thing that is suspect in this game is the starting pitching.
Texas will send rookie Yu Darvish to the hill against relatively playoff-inexperienced lefty Joe Saunders for Baltimore. It's a strange matchup that was born out of necessity for both clubs. The O's could have gone with Wei-Yin Chen or Miguel Gonzalez, who have both been phenomenal in 2012. Similarly, the Rangers had the possibility of using Matt Harrison, who won 18 games, but they needed him for the A's series.
Now, they are stuck with second or third options as the starting pitchers in a must-win game. Darvish posted a record of 16-9 with 221 strikeouts in his first season away from Japan—impressive numbers to say the least.
The Orioles picked up Saunders at the trade deadline from the Arizona Diamondbacks, and he has combined to go 9-13 with a 4.07 ERA between both teams. In his 18 career postseason innings, Saunders has an ERA of 6.00 and a WHIP near 2.00.
The deciding factor in this game will be momentum. You never know what a two-day reflection period can do for the Rangers, but they were playing pretty uninspired ball over the last 10 games of the season.
The Orioles found a way to just keep winning all season long; there's an incredible clutch gene in that clubhouse. With such a strong bullpen and so much "magic," the O's went down to the 162nd game before finally settling for second place in the AL East.
Prediction: The Orioles take advantage of a battered Rangers team and pull out an 8-6 win and advance to play the Yankees in the ALDS.
National League
St. Louis Cardinals (88-74) at Atlanta Braves (94-68) - Turner Field (5:07 p.m. EST)
Though the National League race for the second wild-card spot was exciting and intense, it begs the question that could eventually kill the new format: Did the Cardinals really deserve a playoff spot?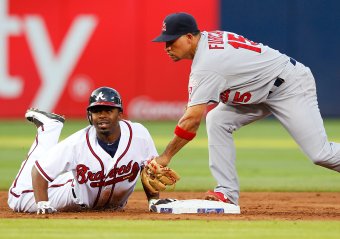 Kevin C. Cox/Getty Images
Technically, yes. But, for lack of a better word, this situation really sucks for the Braves, who finished six games better than any other non-division winner and still have to fight for their lives in a do-or-die contest. Regardless of how it happened, this is the matchup we're left with. And it's a dandy.
Unlike the American League Wild Card Game, this one features two of the best pitchers in the league going head-to-head in a game with everything on the line. That being said, both lineups are pretty stacked. The equation adds up to a very interesting game.
Kyle Lohse (16-3/2.86/1.09) will toe the rubber for St. Louis against the hottest pitcher in baseball, Kris Medlen (10-1/1.57/0.91). Both have legitimate Cy Young cases, though tough competition will likely mean they just miss.
The Cardinals boast a lineup led by Matt Holliday, Carlos Beltran, Yadier Molina, Allen Craig...the list goes on and on. And the Braves are led by a future Hall of Famer in Chipper Jones, plus a plethora of young bats like Freddie Freeman and Jason Heyward.
And that Cardinal lineup has been here. They knocked out this very same Braves team in Game 162 last season on their way to an unlikely World Series title.
Now the Braves have a chance for redemption, and in Chipper's last season, they have all the motivation in the world to advance to the NLDS.
Both teams played well at the end of the year, and neither pitcher has had great success in the past against this game's opposing team. With two teams full of very good hitters, this game might have more of an offensive feel than most expect.
And when it comes down to it, I do think the "Chipper Effect" will have some bearing on the outcome of the game. The Cardinals have plenty of power and know how to pull through late in the playoffs, but it's the opinion of this writer that the Braves possess more professional hitters who will manufacture an extra run late.
Prediction: After his team scores a run in the 8th, Craig Kimbrel locks down a 5-4 win. The Washington Nationals will be traveling to Atlanta to play the Braves in the NLDS this weekend.
This article is
What is the duplicate article?
Why is this article offensive?
Where is this article plagiarized from?
Why is this article poorly edited?