Tigers vs. Athletics: How Pat Neshek Is an Inspiration Far Beyond Baseball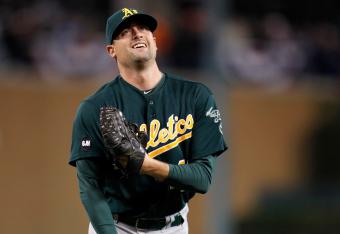 Gregory Shamus/Getty Images
Pat Neshek came into Saturday night's American League Divisional Series game in the same tight situation that he's seen many times before in his six-year career.
With men on first and second for the Detroit Tigers, the Oakland Athletics reliever's main job was to escape the jam with a two-run deficit intact.
At first glance, it seemed like a regular appearance for Neshek. However, when you look at what Neshek has had to go through in the past week, it was so much more.
The reliever has had to go through a lot in his career. After beginning with his home town Minnesota Twins in 2006, Neshek soared off to an 11-4 start with a 2.68 earned run average in his first two seasons.
Armed with a quirky delivery, he had 10.6 strike outs per nine innings and looked to have a bright future with the Twins.
In 2008, Neshek felt something pop in his elbow and needed to undergo Tommy John surgery.
After missing the entire 2009 season, he returned in 2010, but didn't have the same velocity that he had pre-surgery.
Since his return, Neshek has bounced back-and-forth between the minors and the San Diego Padres and Oakland Athletics organizations.
Although Neshek had been bruised, cut, and demoted, there was the joy of expecting his first child with his wife, Stephanee.
As the Athletics began their rise from the ashes late this year, the arrival of his son drew closer and closer. The day finally came on October 2nd, and Gehrig John Neshek was born.
The following day, after a 12-5 victory over the Texas Rangers, the Athletics became the third team in major league history to win a division after being in soul possession of first place for a single day.
With the playoffs on the horizon, this had to be one of the happiest moments of Neshek's career.
But things turned sour quickly and just 23 hours after Gehrig's birth, Neshek's infant son died "with no explanation."
The days following were excruciating as he continued to get congratulatory messages after Gehrig had stopped breathing. With that, Neshek announced the news on Twitter.
According to Susan Slusser's article in the San Francisco Chronicle, Neshek said that the support after Gehrig's death was "amazing" and that the one day with his son was "probably the best day I've ever had."
It's hard to imagine what was running through his mind as the Athletics manager, Bob Melvin, decided to make Neshek the first call out of the Oakland bullpen Saturday night. But the 32-year-old righty was able to compose himself and get the Athletics out of a jam.
As he walked off the field, he smiled toward the sky and tapped the patch the Athletics had added to their uniform in Gehrig's memory.
The pain was still there, but the healing process had started.
Many of us will never know what it's like to lose a newborn child, and hopefully never will. To see Neshek on the field after all of that is amazing.
If he can lead the Athletics to complete their Cinderella story, it's something that all of us could use as an inspiration outside of baseball.
This article is
What is the duplicate article?
Why is this article offensive?
Where is this article plagiarized from?
Why is this article poorly edited?

Oakland Athletics: Like this team?