50 Biggest Fantasy Football Disappointments of the First Quarter of the Season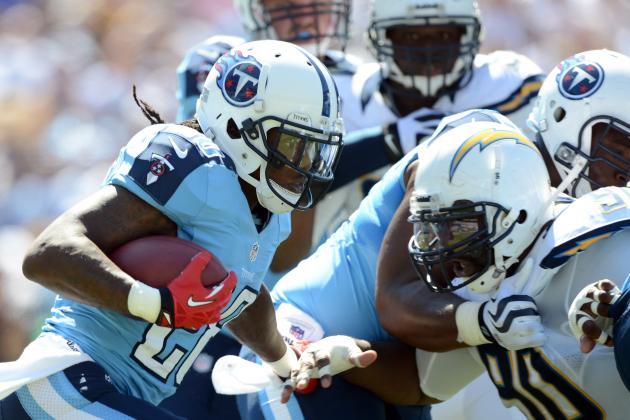 Harry How/Getty Images

Every year in the NFL, a few guys come up way short of expectations. This affects the actual NFL teams, of course, but it kills our fantasy football teams.
Often, this disappointing production isn't necessarily the player's fault, but in fantasy football, no one cares. For whatever reason, be it injury, team talent or a player's own struggles, he fails to put up the expected numbers.
These are the guys every fantasy owner hates to have, and we've all had them. Who are 2012's disappointing fantasy football players? Read on to find out.
Begin Slideshow

»
Tim Fuller-US PRESSWIRE

Frequently one of the top quarterbacks taken in fantasy football, Matthew Stafford has disappointed thus far.
His play has taken a clear step back from 2011, and it's showing in his fantasy points. Many quarterbacks have outperformed Stafford.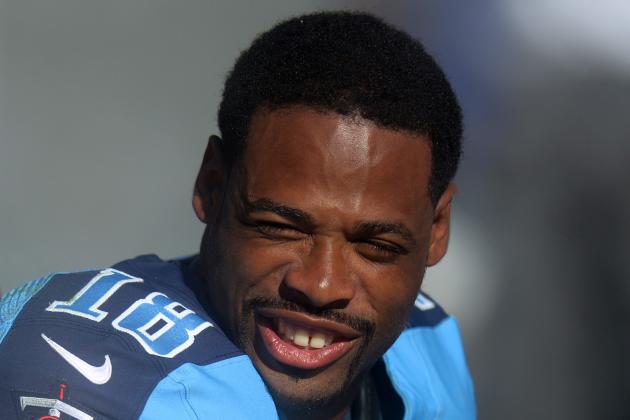 Jake Roth-US PRESSWIRE

Thus far, Kenny Britt has just 60 receiving yards. He has struggled with injuries and hasn't impressed when on the field.
At this point, Britt seems unlikely to contribute much throughout the entire season.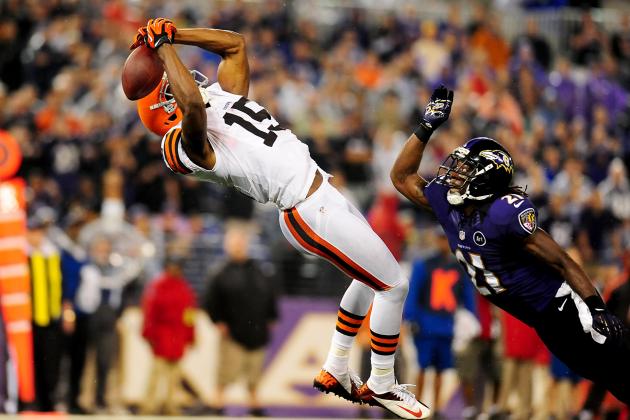 Evan Habeeb-US PRESSWIRE

Through four weeks, Greg Little has just 11 receptions for 151 yards. Little wasn't exactly expected to dominate, but many had expectations of a solid season.
Right now, Little is showing no signs of making that happen.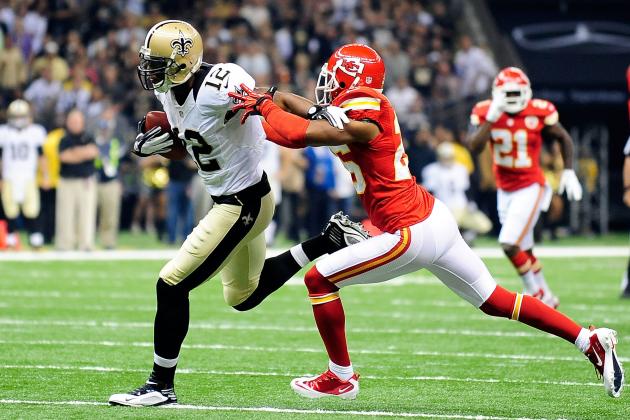 Stacy Revere/Getty Images

Marques Colston's 313 yards aren't terrible, but he has just one touchdown and 19 receptions. That's a well-below-average pace for Colston.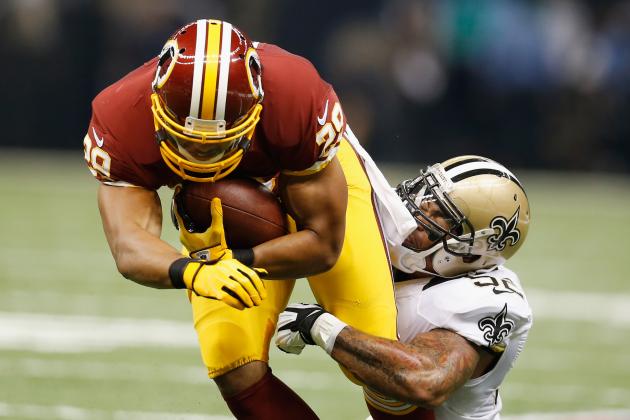 Chris Graythen/Getty Images

In three games, Roy Helu had just two carries. Helu is now out for the season, so he won't be turning it around in 2012.
The Redskins running back situation was always complicated, but Helu didn't come close to meeting expectations.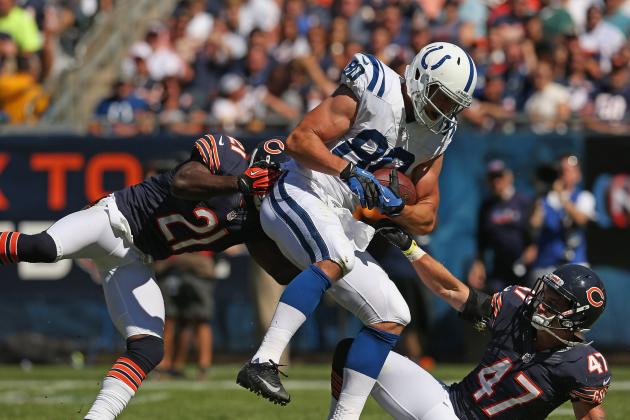 Jonathan Daniel/Getty Images

Many expected Andrew Luck to lean on Coby Fleener early, but Fleener hasn't done much thus far.
In fact, Fleener has barely impacted Indianapolis' offense at all, gaining just 98 yards through three games.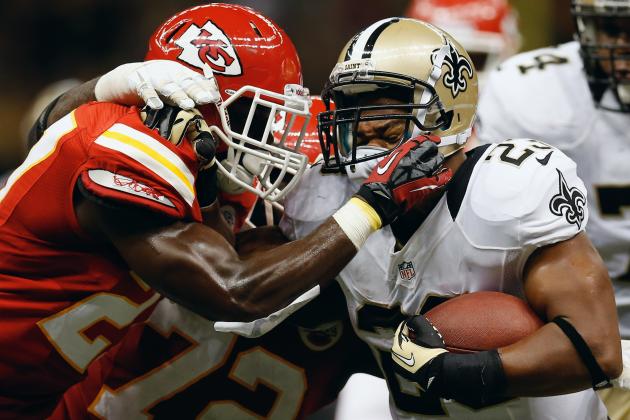 Chris Graythen/Getty Images

A healthy Pierre Thomas was expected to put up decent production as New Orleans' starting running back.
However, Thomas hasn't touched the ball all that often and has made virtually zero fantasy impact.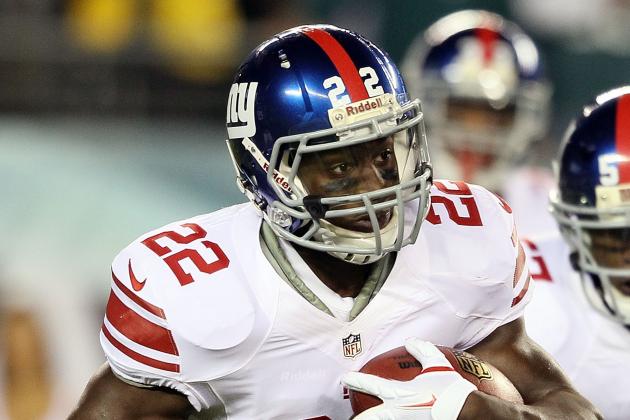 Alex Trautwig/Getty Images

Many were excited about the explosive upside of rookie David Wilson, especially with Ahmad Bradshaw battling injuries.
However, Wilson has carried the ball just six times, fumbling once. No one expected huge production, but Wilson has failed to meet even the modest expectations set for him.
Al Messerschmidt/Getty Images

Having played in just two games due to injury, Pierre Garcon has failed to make a fantasy impact.
He still could as the year goes on, but Garcon's first four games were certainly disappointing.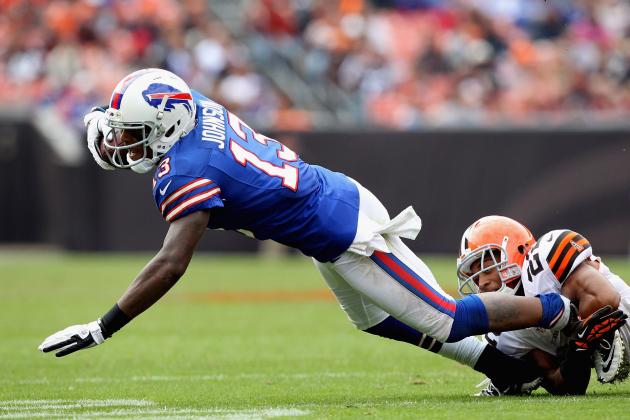 Matt Sullivan/Getty Images

Through four games, Stevie Johnson has just 195 receiving yards on 15 receptions.
Ryan Fitzpatrick certainly has hindered Johnson's production, but he was expected to put up better stats than this.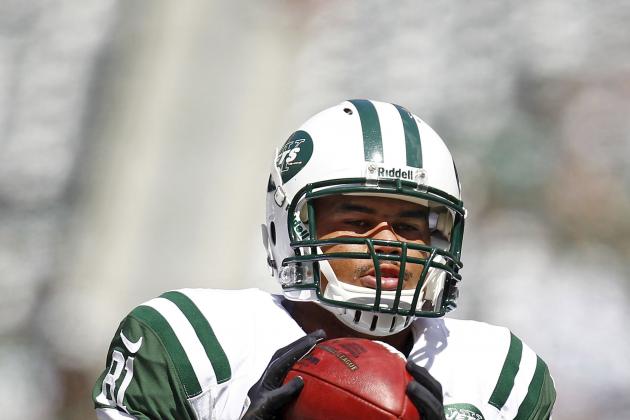 Jeff Zelevansky/Getty Images

A starting fantasy football tight end for many, Dustin Keller has recorded just one catch in 2012.
He has missed time due to injury, but that doesn't make his lack of production any less disappointing.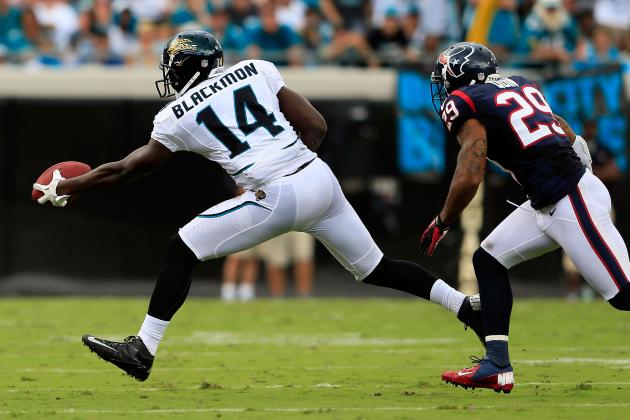 Sam Greenwood/Getty Images

Few expected Justin Blackmon to be a fantasy star in his rookie year, but his 10 catches for 79 yards have disappointed even his biggest skeptics.
It's looking like Blackmon simply isn't playable in his first NFL season.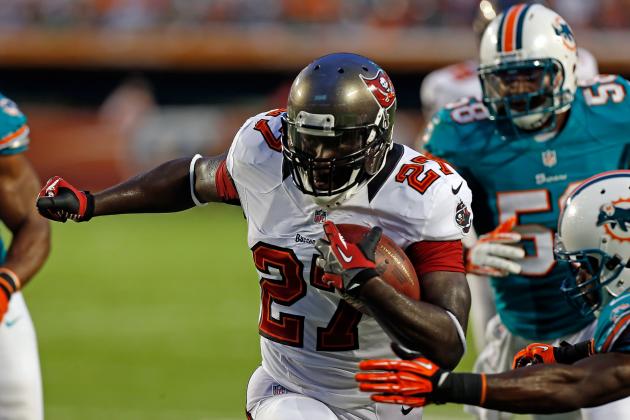 J. Meric/Getty Images

Even with Doug Martin starting, LeGarrette Blount was expected to get some carries, especially in the red zone.
However, Blount has gained just 44 yards on 13 carries, showing his lack of fantasy value.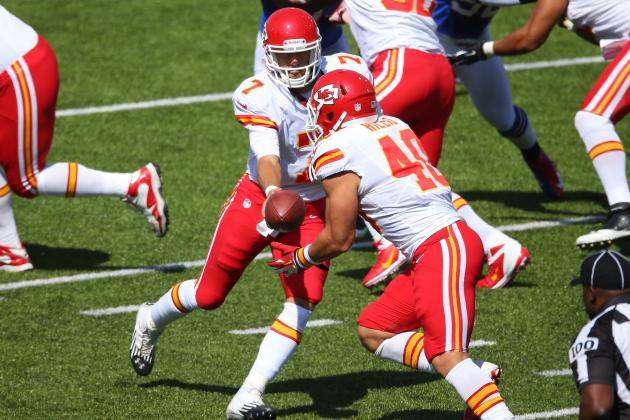 Tom Szczerbowski/Getty Images

With Jamaal Charles coming off a torn ACL, many expected Peyton Hillis would steal some carries. That hasn't happened yet, and Hillis probably isn't even worth a roster spot.
The former Brown isn't getting enough touches, and he is already dealing with injury issues himself.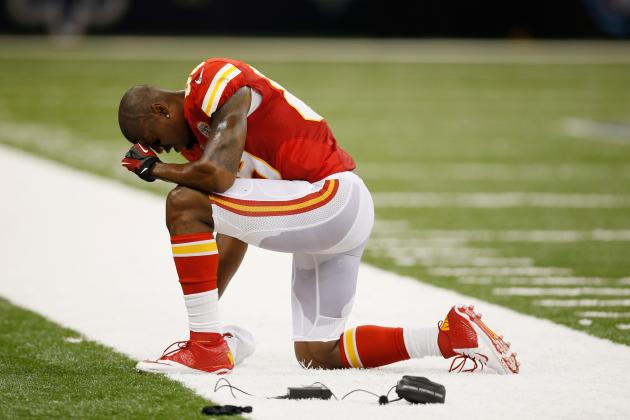 Chris Graythen/Getty Images

Some, including myself, were expecting a breakout year from Jon Baldwin. Through four games, though, Baldwin has just 148 yards.
The Chiefs' poor quarterback play hasn't helped, but Baldwin simply isn't there yet.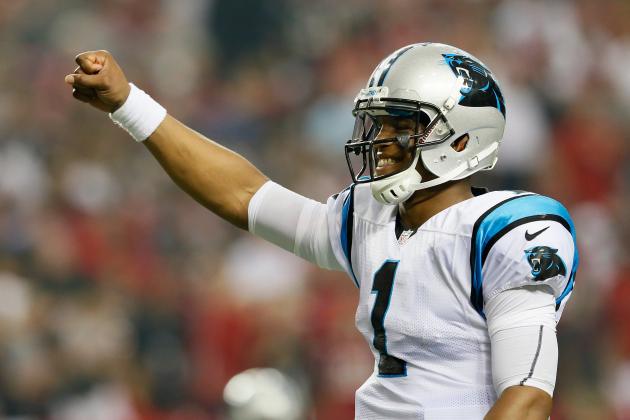 Kevin C. Cox/Getty Images

Though he hasn't been bad per se, Cam Newton has still disappointed some.
Many expected Newton to actually improve upon his incredible rookie campaign, but his numbers have taken a slight step back. Newton isn't the top fantasy performer we hoped he would be.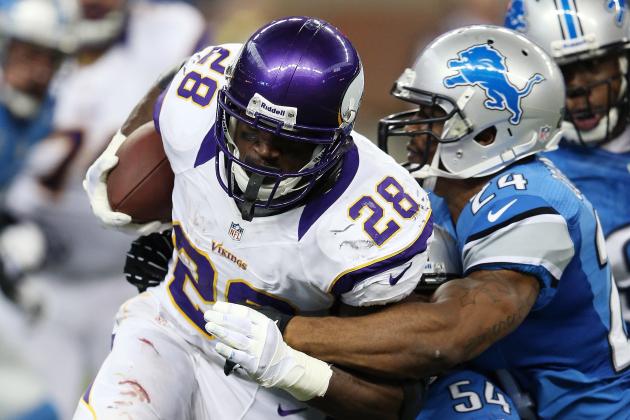 Leon Halip/Getty Images

As soon as it was known Adrian Peterson would start the season, he was met with huge expectations.
Peterson hasn't been bad, either, but he hasn't been great. There is definite room for improvement.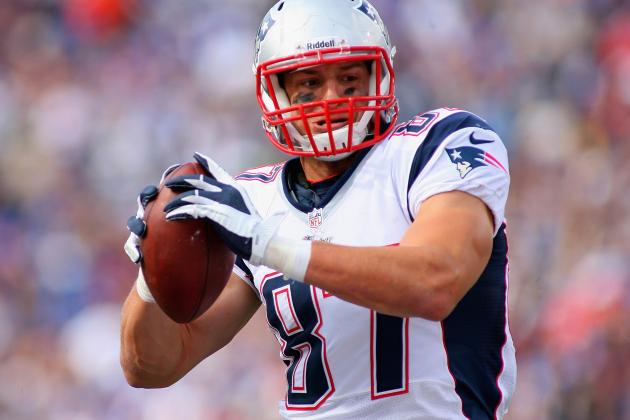 Rick Stewart/Getty Images

Rob Gronkowski's 2012 stats aren't even comparable to his 2011 numbers. It's still early, but as of now, Gronkowski isn't catching as many passes for as many yards or as many touchdowns.
In other words, he's taken a step back in every area.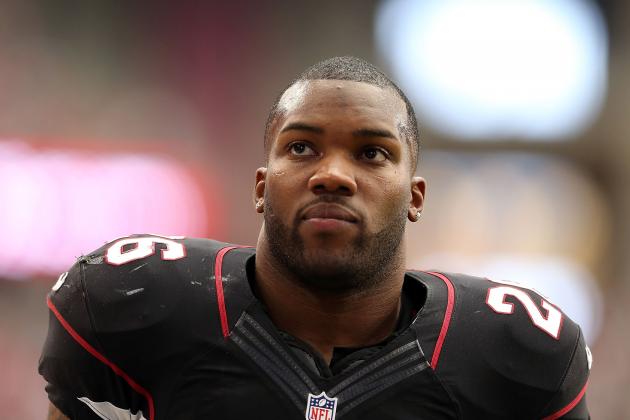 Christian Petersen/Getty Images

Prior to suffering a turf toe injury, Beanie Wells had just 76 yards through three games.
No one should have expected great things from Wells, but there was the potential to repeat his 2011 numbers (1,047 yards, 10 TDs). Wells showed no signs of coming close to that.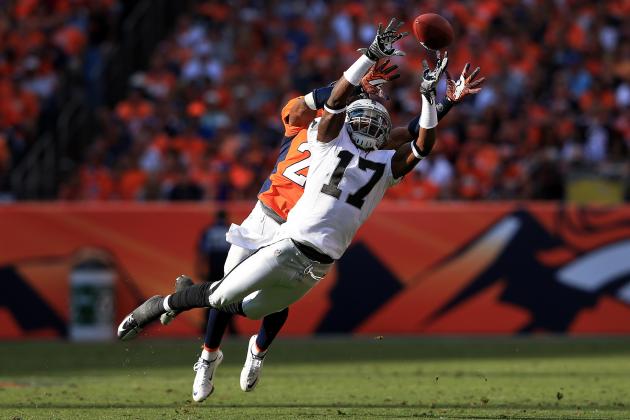 Doug Pensinger/Getty Images

Denarius Moore was expected to bust out as Oakland's No. 1 wideout, but his 12 catches and 183 yards are far from No. 1 production.
Moore has battled injuries, but his performance still fails to match the hype.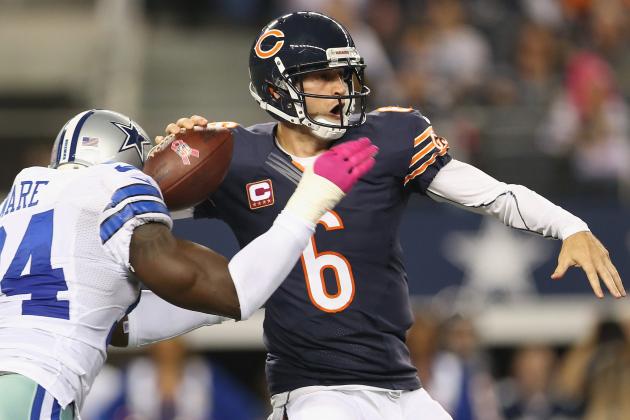 Ronald Martinez/Getty Images

There were some expecting a great fantasy football season from Jay Cutler, but his early results have been downright terrible.
Cutler is throwing interceptions at his usual rate, and his touchdowns are down. He's simply been unplayable.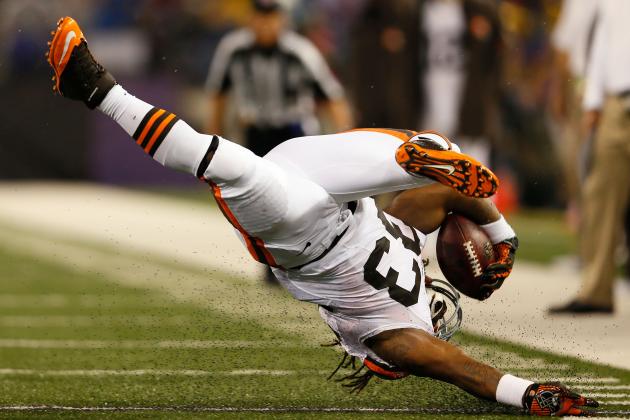 Rob Carr/Getty Images

Trent Richardson has looked great, but the anemic Cleveland offense has killed his production. He simply has no holes to run through.
Some may have drafted Richardson in the first round, and he hasn't justified that.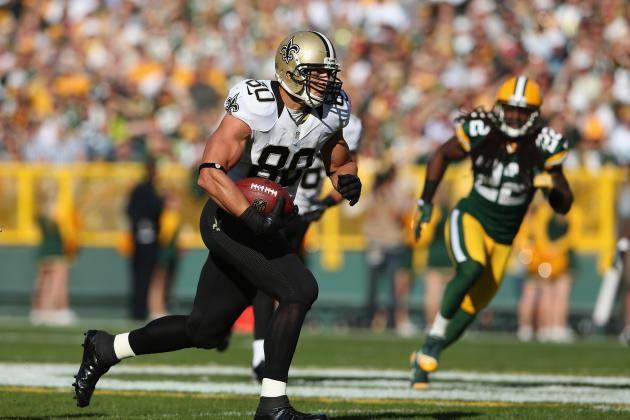 Jeff Gross/Getty Images

Expected to put up wide receiver-type production, Jimmy Graham has struggled some.
He has failed to take over games and isn't producing at an elite level. Given his draft status, Graham is coming up way short.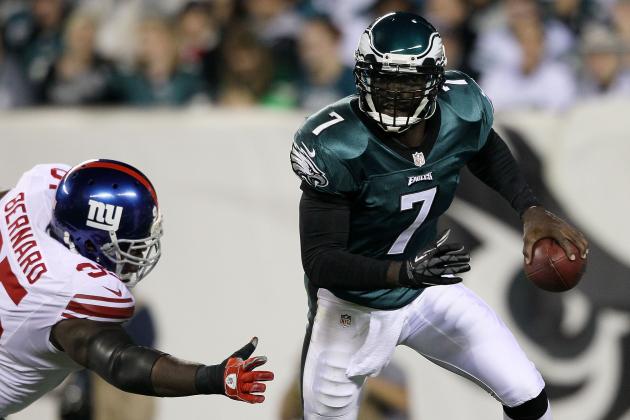 Alex Trautwig/Getty Images

Michael Vick has been better in fantasy football than in real life, but he has still disappointed.
Predicted to have a rebound year, Vick has struggled with interceptions while not making as many game-breaking plays as usual.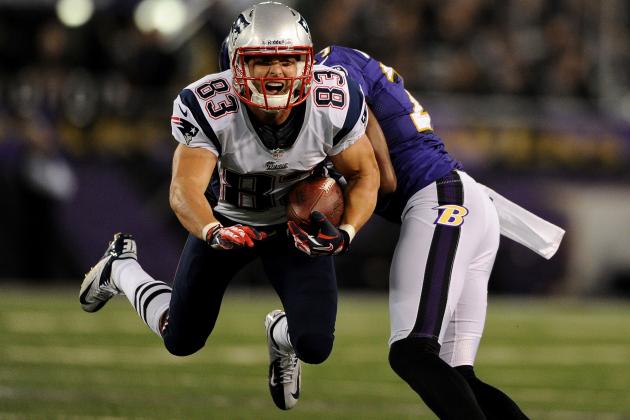 Patrick Smith/Getty Images

Wes Welker is still racking up yards, but his catches are way down. With just 25 catches through four weeks, Welker isn't on pace for another 120-catch season.
More important, Welker has yet to haul in a single touchdown as well.
Chris Trotman/Getty Images

Before Maurice Jones-Drew ended his holdout, Rashad Jennings was expected to have a big year.
Even after Jones-Drew returned, though, many thought the two would split carries. This hasn't happened, and Jennings has been useless in fantasy.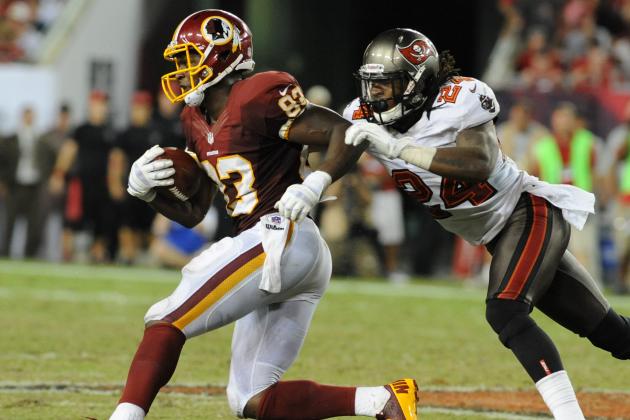 Al Messerschmidt/Getty Images

In 2011, Fred Davis was excellent despite playing in just 12 games. Thus far in 2012, though, Davis has struggled to meet expectations. He has caught just 15 passes and scored no touchdowns.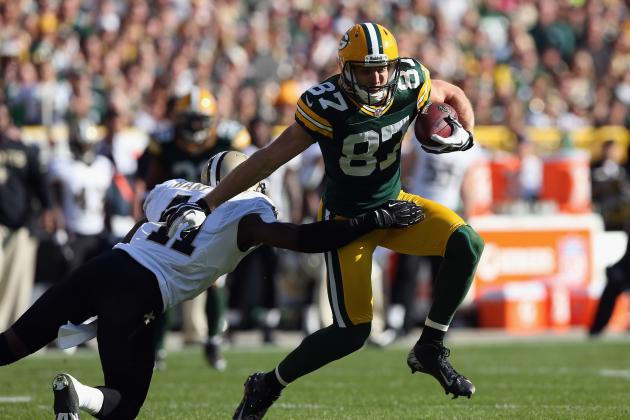 Jeff Gross/Getty Images

Jordy Nelson's 21 catches for 260 yards have certainly come up short of 2011's standards. Nelson's 2011 campaign seemed like a bit of a fluke, but he's still off to a slow start.
Many drafted Nelson hoping for a repeat season, and that hasn't happened.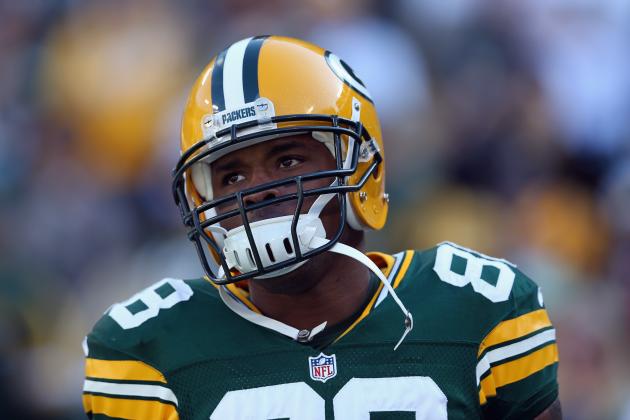 Jeff Gross/Getty Images

Jermichael Finley disappointed last year, but many predicted a breakout 2012. Finley's 187 yards is far from impressive, though. Tight ends drafted later have outperformed the Green Bay star.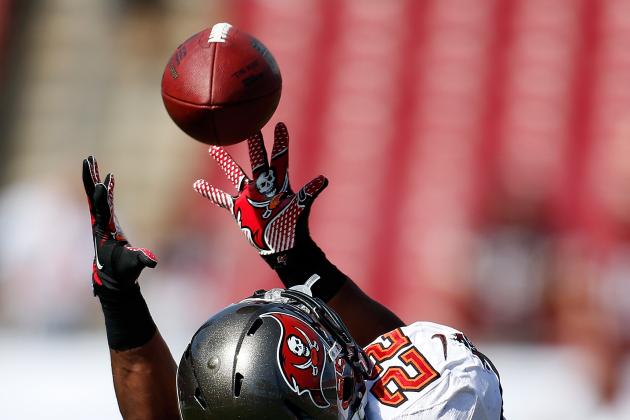 J. Meric/Getty Images

Doug Martin has received nearly all of Tampa Bay's carries, but his overall numbers are still lacking (247 yards, one touchdown).
A popular Rookie of the Year pick, Martin hasn't produced much, letting down many fantasy owners in the process.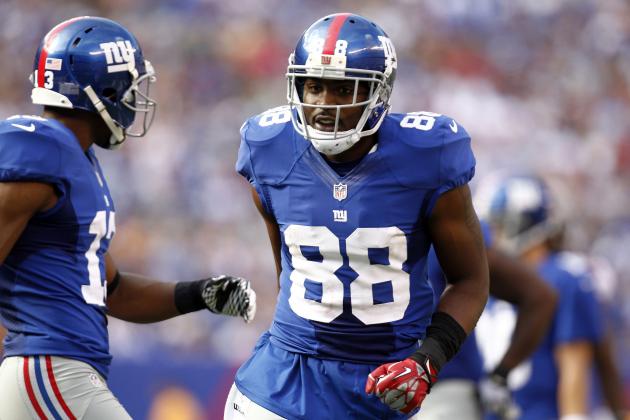 Jeff Zelevansky/Getty Images

When on the field, Hakeem Nicks has played quite well. However, a knee injury has sidelined him, and injuries are an all too real part of fantasy football, as any Nicks owner can attest to.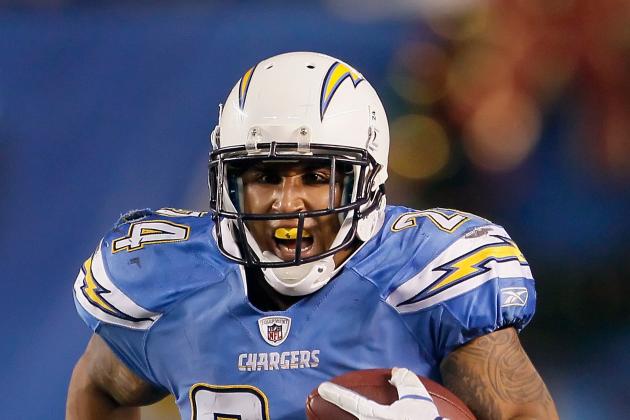 Jeff Gross/Getty Images

We knew Ryan Mathews would likely miss the first couple of games to injury, but his play since returning has fallen well short of expectations for the former first-rounder.
Mathews has just 105 yards and no touchdowns through two games.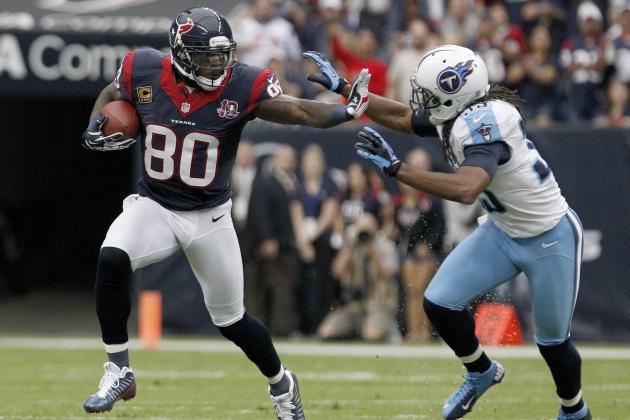 Thomas B. Shea/Getty Images

When healthy, Andre Johnson is undoubtedly an elite wideout. It hasn't shown in numbers yet, though, as Johnson has picked up just 268 yards and 16 catches through four weeks.
We all know Johnson is capable of much more.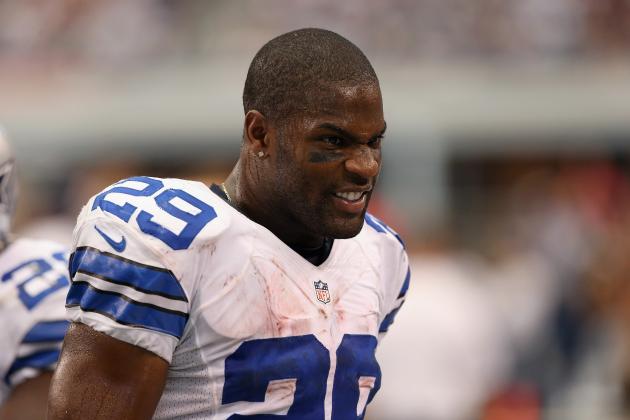 Ronald Martinez/Getty Images

A popular somewhat-sleeper pick, DeMarco Murray has averaged just under 60 yards a game through four weeks.
Murray was expected to be a focal point of Dallas' offense, and that simply hasn't happened. The former Oklahoma Sooners star has failed to live up to the hype thus far.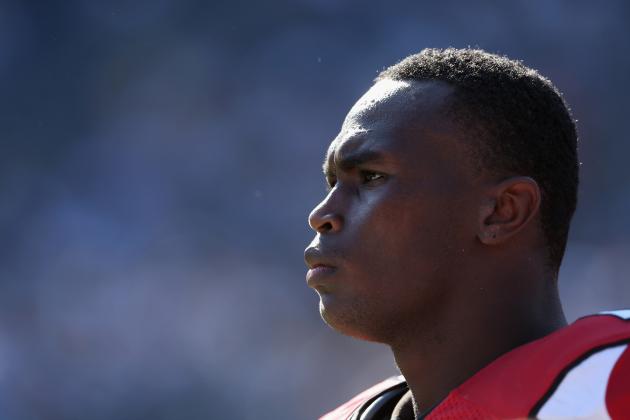 Jeff Gross/Getty Images

Prior to the 2012 season, the world was abuzz with Julio Jones hype, many ranking him above stars such as A.J. Green.
Four weeks and 219 yards later, those projections are looking a bit silly. Jones hasn't been terrible, but he's far from the sky-high preseason expectations.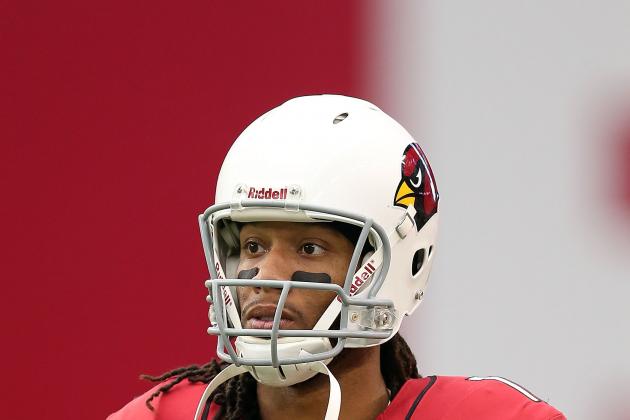 Christian Petersen/Getty Images

Larry Fitzgerald was once again ranked as one of the top wideouts in the league heading into the season.
Through four weeks, though, Fitzgerald has 12 catches for 245 yards. That's not bad, but it isn't exactly Fitzgerald-type production either.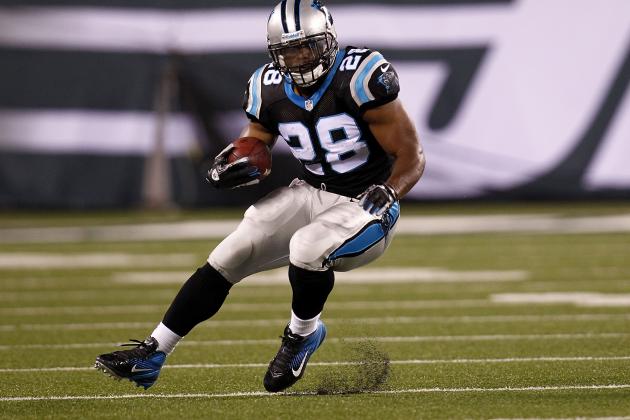 Jeff Zelevansky/Getty Images

Injuries have sidetracked Jonathan Stewart's 2012 season somewhat, and he has picked up just 91 yards through the quarter mark of the season.
We knew Stewart would split carries, but this is still much worse than projected. Owners of both Stewart and DeAngelo Williams have been disappointed early.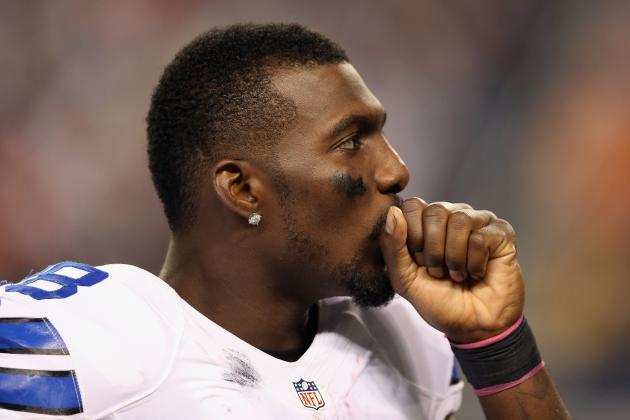 Ronald Martinez/Getty Images

Dez Bryant is incredibly talented, but he hasn't yet broken out. Some thought this would be his year, but this hasn't happened through four weeks.
Owners who took a chance on Bryant early have no doubt been left with a sour taste in their mouths.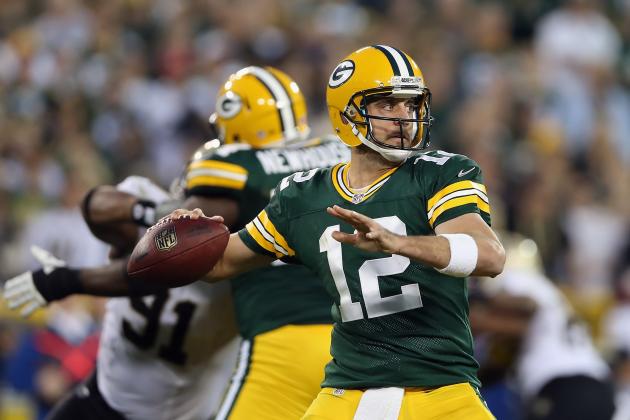 Jeff Gross/Getty Images

The top-drafted quarterback, Aaron Rodgers has produced but not at a level worthy of his draft status. In fact, many late-round quarterbacks have outproduced Rodgers through four weeks.
The Packers' star signal-caller simply hasn't thrown many touchdowns (seven) or picked up a ton of yards (1064).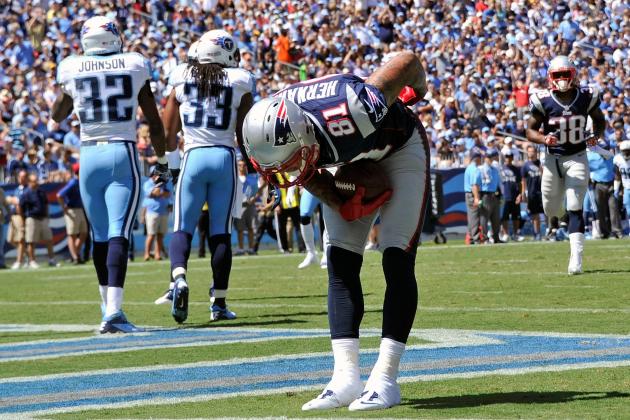 Frederick Breedon/Getty Images

An ankle injury sidelined Aaron Hernandez for two weeks, but his six catches for 59 yards are disappointing nonetheless.
A versatile player, Hernandez hasn't picked up enough catches or yards to be nearly worthy of his draft status.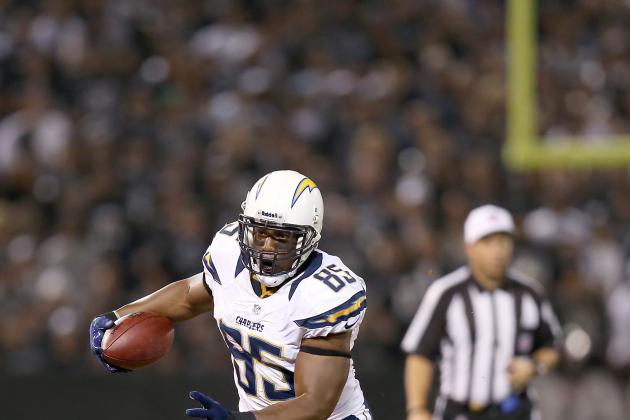 Ezra Shaw/Getty Images

Entering 2012, fantasy football owners were hoping for the old, healthy Antonio Gates. Instead, they've gotten the new, injured Gates.
Gates' 124 yards are downright bad, and he hasn't been close to a starting tight end thus far.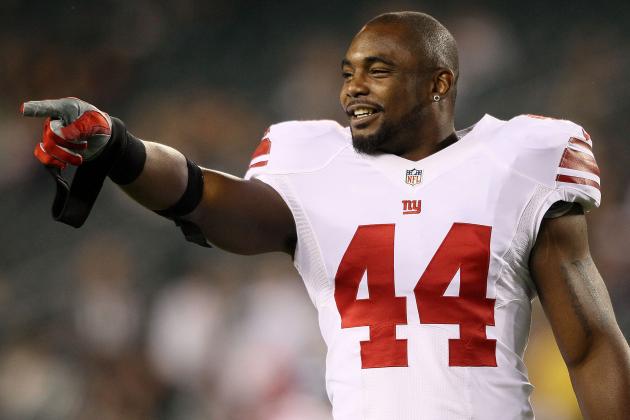 Alex Trautwig/Getty Images

Through four weeks, Ahmad Bradshaw has just 133 yards. No one really expected great things from Bradshaw, but he was thought to be a capable starter.
So far, that simply hasn't been the case, and Bradshaw should be on your bench.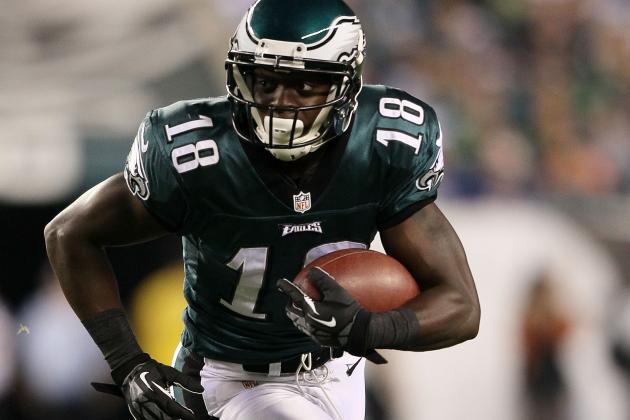 Alex Trautwig/Getty Images

He hasn't yet had a 1,000-yard season, but Jeremy Maclin was a highly sought after wide receiver in fantasy drafts.
Dealing with some injuries, though, Maclin has put up just nine catches for 126 yards. That is horribly disappointing for someone some analysts thought might be a No. 1 wideout in 2012.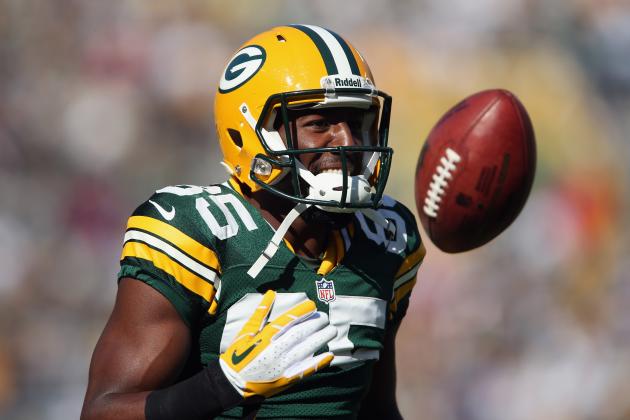 Jeff Gross/Getty Images

Dealing with a pesky groin injury, Greg Jennings has picked up just 12 catches for 78 yards. That is horrific for someone considered one of fantasy football's safest wide receivers.
Jennings, like many Packers, hasn't met expectations.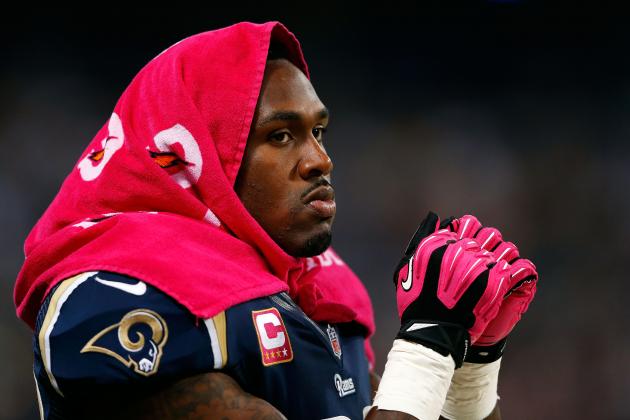 Jamie Squire/Getty Images

Through four weeks, Steven Jackson had just 195 yards on the ground. And no touchdowns. Jackson has been incredibly consistent through the years, but his 2012 season has been downright bad.
He isn't putting up points for anybody.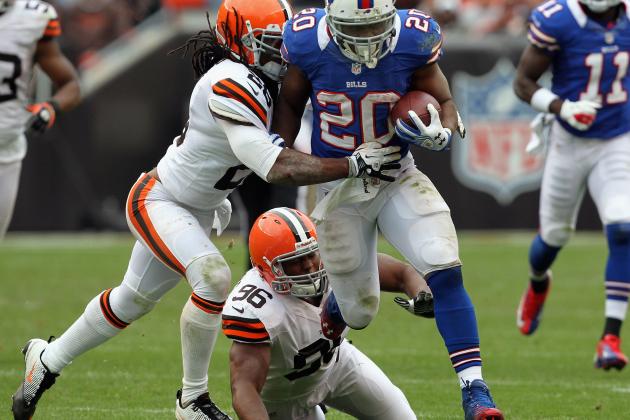 Matt Sullivan/Getty Images

Fred Jackson, a 2011 fantasy football star prior to his injury, has produced almost nothing in 2012. Jackson's 44 rushing yards are virtually negligible, though injury has sidelined him.
Jackson wasn't usually a first-round pick, but he was expected to still be quite good.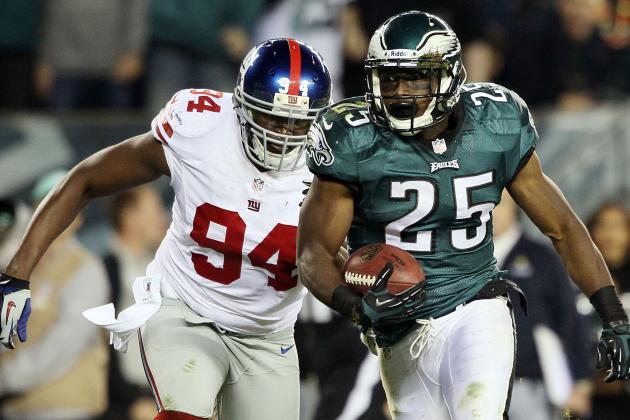 Alex Trautwig/Getty Images

One of fantasy football's top overall picks, LeSean McCoy has been gaining yards, just not scoring touchdowns.
In 2011, McCoy crossed the goal line 20 times. He's done it just once in 2012. No running back with so few touchdowns will add much fantasy value.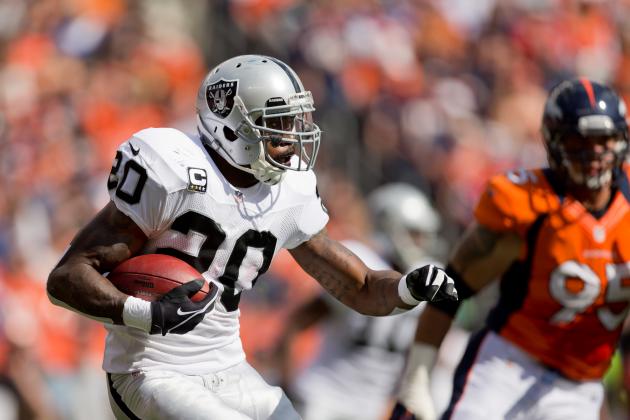 Justin Edmonds/Getty Images

Another highly-drafted player, Darren McFadden has just 201 rushing yards and a single touchdown.
This distinct lack of production has no doubt cost many owners otherwise-winnable games. McFadden hasn't been hurt either, just unproductive.
Jonathan Daniel/Getty Images

Highly drafted because of his running and receiving ability, Matt Forte has produced little fantasy value.
His 163 rushing yards and one touchdown make that quite clear. Forte has been outproduced by running backs across the league who were available much later in fantasy drafts.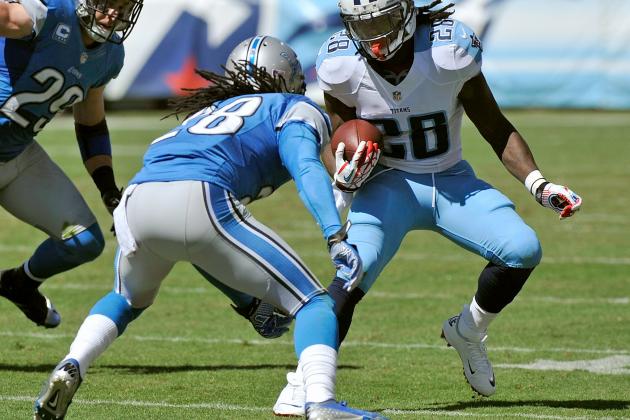 Frederick Breedon/Getty Images

Who else? Chris Johnson has been distinctively unproductive, which goes hand in hand with his poor play. Johnson has ran for just 186 yards and hasn't entered the end zone a single time.
A frequent top pick, Johnson could hardly have lived up to his draft status any less.