Fantasy Football: 7 Stars with Week 5 Byes to Target in Buy-Low Trade Talks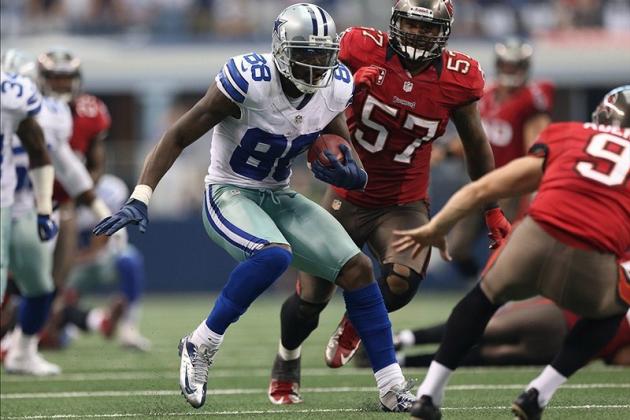 Through four games, wide receiver Dez Bryant (21 catches, 269 yards) has yet to register a touchdown for the Cowboys this season. (US PRESSWIRE)
"I'll gladly pay you Tuesday for a hamburger today."—J. Wellington Wimpy


Remember this classic line from Wimpy of the Popeye cartoon (and movie of the same name, starring a young Robin Williams)?

Well, during NFL bye weeks, it's quite common to see short-sighted fantasy owners happily sacrifice their long-term future (read: games two or three weeks away) for a better chance to win that particular Sunday/Monday.

By extension, they'd be willing to part with prominent players who'll be sitting on couches this Sunday, if it satisfied the immediate goal of surviving another fantasy week at other positions.

In my world, this represents a perfect time to strike. It's a slight window of opportunity to obtain productive commodities for a reasonable price...assuming you can live with these acquisitions netting zero fantasy points in Week 5.

That rationale should be reserved for clubs with 3-1 or 4-0 records, or stacked rosters that have under-performed to date, due to ancillary factors like injuries or strength of opponent.

The following slideshow touts seven sluggish talents with Week 5 byes who, for various reasons, can be immediately had on the trade market.

Bottom line: Find a creative way to acquire one of these assets before 1 p.m. EST Saturday—since most fantasy leagues invoke a 24-hour veto period for trades.

Enjoy the show!
Begin Slideshow

»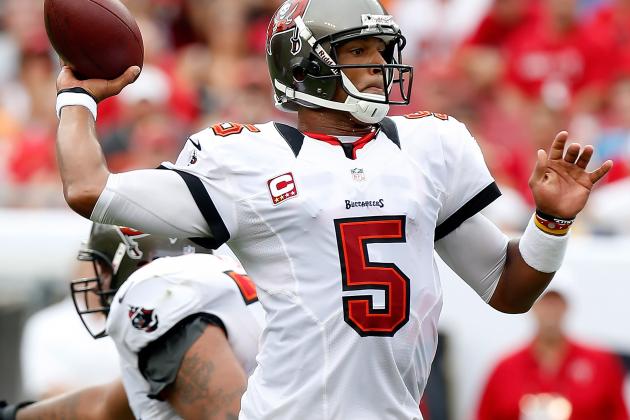 J. Meric/Getty Images

2012 Stats: 790 Yards Passing, 5 TD

Reasons to Buy Low on the Trade Market

1. Of his last six games (dating back to last year), Josh Freeman has crossed the threshold of 275 total yards and/or two touchdowns four times.

2. With the arrival of receiver Vincent Jackson (six catches, 100 yards, one TD in Week 4) and rookie tailback Doug Martin, Tampa Bay's offense has considerably more firepower than last year's middling unit.

As a result, Mike Williams could end up being a top-10 No. 2 receiver by season's end—thanks to Jackson's downfield effectiveness.

3. In some 12-team leagues, it's entirely possible that Freeman sits on the waiver wire today...as fallout from his wretched outing in Week 3 (111 total yards, one TD).

If that's the case, simply pick Freeman up at zero cost.

That's the beauty of acquiring a prominent fantasy contributor who posts the occasional clunker: If you weren't starting him for that week, do you really care what happened one sloppy Sunday?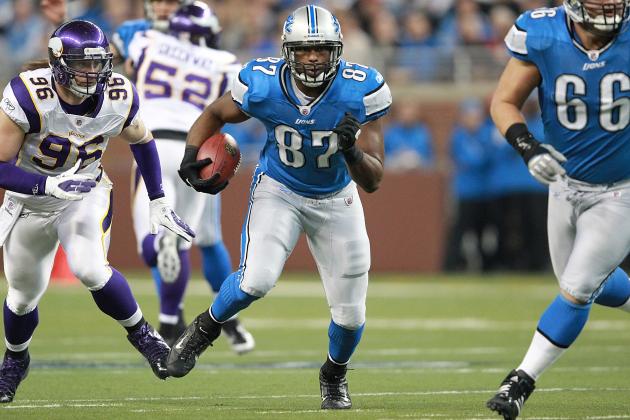 Leon Halip/Getty Images

2012 Stats: 23 Catches, 223 Yards, 1 TD

Reasons to Buy Reasonably Low on the Trade Market

1. Heading into Week 5, Brandon Pettigrew is only one of four NFL tight ends to post double-digit targets in two games, along with Jimmy Graham, Tony Gonzalez and Jason Witten.

2. Pettigrew dropped touchdown opportunities in Weeks 1 and 4, a trend that likely won't continue for Weeks 6-17. Lions QB Matthew Stafford loves targeting the mammoth pass-catcher on third down and in the red zone.

3. With the ascensions of Dennis Pitta, Kyle Rudolph, Scott Chandler and re-emergence of Heath Miller and Tony Gonzalez, it's easy for Pettigrew to get lost in the shuffle when discussing fantasy's second wave of elite tight ends.

But given Detroit's firepower and Pettigrew's magnetic charm for targets, he'll be on the path for bigger numbers in October and November.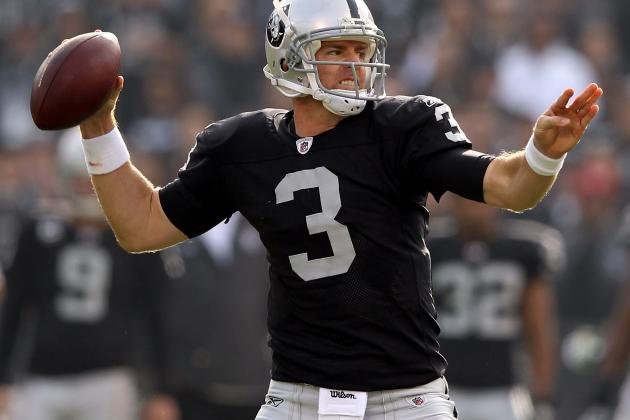 Ezra Shaw/Getty Images

2012 Stats: 1,081 Yards Passing, 5 TD

Reasons to Buy Reasonably Low on the Trade Market

1. In his last 10 games with the Raiders (dating back to last year), Carson Palmer has attempted 34 or more passes nine times.

2. For that same 10-game span, Palmer averaged 292 yards passing and 1.2 touchdowns. That figure was knocked down a bit from the quarterback's last two outings (411 combined yards passing).

3. Call it a West Coast bias, or owners having little faith in the Raiders' playmaking depth, but Palmer continues to fly under the fantasy radar with his new club.

That makes him an easily attainable asset in trade talks.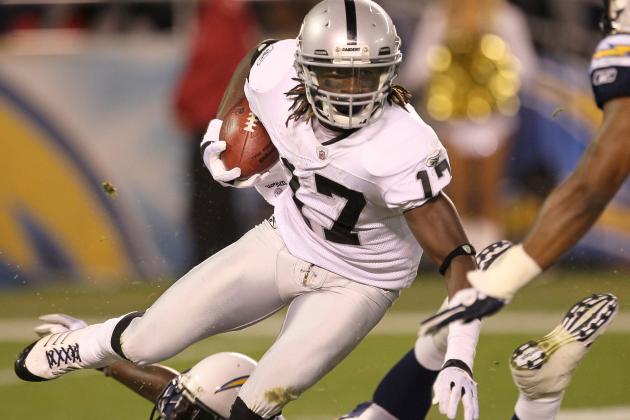 Stephen Dunn/Getty Images

2012 Stats: 12 Catches, 183 Yards, 1 TD

Reasons to Buy Reasonably Low on the Trade Market

1. The Raiders have cultivated sizable deficits in all four games (winning only one), which portends more passing in the third and fourth quarters.

2. For the season, Moore is 3-for-3 in collecting eight-plus targets...and racking up 67 yards receiving and/or one touchdown.

3. Oakland QB Carson Palmer (202 yards in Week 4) was extremely complimentary of Moore's talent and upside when talking to CBS color analyst Phil Simms last week (it's fun to glean things from an actual NFL broadcast).

4. Opposing defenses are singularly focused on stopping Raiders running back Darren McFadden (34 rushing yards vs. Denver).

5. Moore's current trade price should be quite affordable...since he's no longer a flavor of the month at receiver.
Elsa/Getty Images

2012 Stats: 300 Total Yards, 1 TD

Reasons to Buy Reasonably Low on the Trade Market

1. I get the sense that some Doug Martin owners are disenchanted with the explosive rookie back, thinking he'd immediately morph into an NFC version of Ray Rice.

And for that, I'm quick to remind the masses that Rice only had 250 total yards (and zero touchdowns) in his first four games of five-plus touches (2008).

2. Martin failed to collect 100 total yards against the Giants, Cowboys and Redskins for Weeks 2-4, but those clubs are not on Tampa Bay's remaining docket.

From this point forward, Martin has attractive matchups with the Panthers, Raiders, Chiefs, Chargers, Eagles, Rams and Saints (twice). If healthy, he's a lock to be a top-20 fantasy rusher by season's end.

3. Even with LeGarrette Blount garnering touches for the Bucs, Martin is essentially guaranteed starter's reps for the next 12 games (health permitting).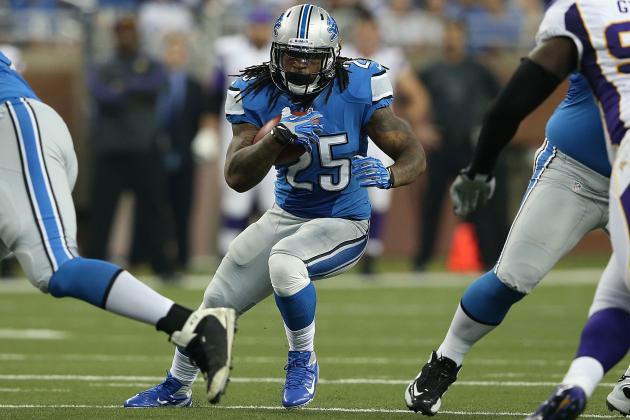 Leon Halip/Getty Images

2012 Stats: 197 Total Yards, 1 TD

Reasons to Buy Reasonably Low on the Trade Market

1. The Lions have waited a long time to possess a power-speed tailback like Mikel Leshoure, and one so-so outing against Minnesota (Week 4) that included his first fumble since pee-wee football likely won't dampen the club's long-term enthusiasm.

2. In just two games, Leshoure has 197 total yards and one touchdown, with per-touch averages of 4.2 yards.

3. The mere presence of Lions receiver Calvin Johnson forces opposing defenses to roll their coverages to one side. Theoretically speaking, this should create wider rushing lanes for high-end talents like Leshoure.

4. Even if Leshoure gets only 18-20 touches per game, he's still a weekly priority in the red zone (rushing/receiving).

5. In keeper leagues, Leshoure has a slightly higher ceiling than Doug Martin—although both backs should be fantasy dynamos, sooner than later.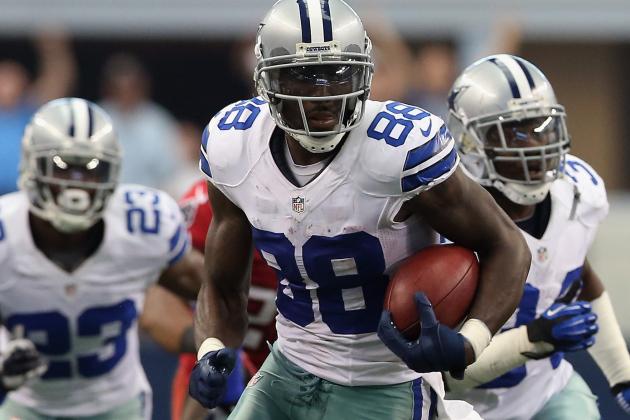 Ronald Martinez/Getty Images

2012 Stats: 21 Catches, 269 Yards

Reasons to Buy Reasonably Low on the Trade Market

1. Dez Bryant's market value may have been markedly lower before he racked up eight catches and 105 yards in Week 4 (against the Bears)...but he still has yet to find the end zone this year.

Prospective owners should drive that point home when trying to land Bryant, via trade.

2. Savvy shoppers should also rejoice in the fact that Tony Romo (five interceptions in Week 4) overthrew and under-tossed two potential Bryant touchdowns against Chicago.

If either one would have connected, Bryant would be an untouchable commodity in trade circles.

3. Bryant has averaged seven targets in his last two games, a sign that his preseason knee soreness has subsided.

4. Very few NFL receivers can match Bryant's physical gifts...and it's only a matter of time before he rewards the Cowboys—and fantasy owners alike—with consistent, top-shelf numbers. (Fingers crossed.)