15 Predictions for the 2012 MLB Postseason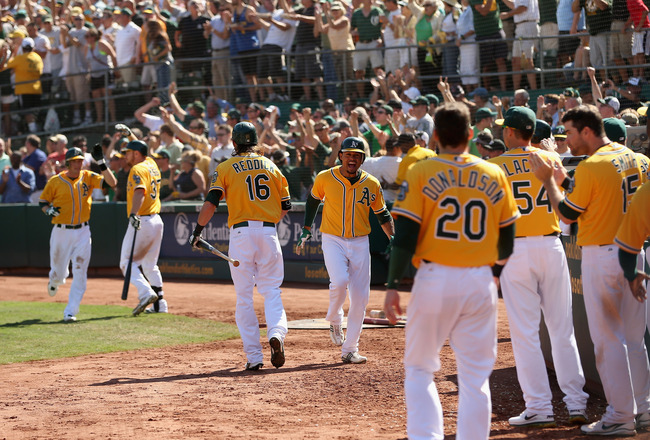 Ezra Shaw/Getty Images
As of this writing, we now know who the postseason participants will be for the upcoming 2012 MLB playoffs. The new format promises to bring even more exciting drama in the month of October.
The St. Louis Cardinals will be vying to defend their World Series championship. The Texas Rangers will be attempting to get back to the Fall Classic for the third year in a row. The Washington Nationals are bringing postseason baseball back to the nation's capital for the first time in 79 years. The Baltimore Orioles are making their first appearance since 1997.
Those are just some of the storylines that loom over the coming days and weeks. Many others will no doubt be discussed as well.
As we wait one more day for the postseason to officially arrive, we will take some time to make some predictions for the 2012 MLB postseason. Some will be silly, some will be completely off the cuff. Some might even be based on historical data.
We'll let you decide which one of the three each prediction could be.
Predictions in baseball are like opinions. Everyone has one. Right or wrong, each fan will stand by their predictions, even if it has no basis in fact or merit.
That's what baseball is all about. After all, did you honestly predict the Oakland A's would win the AL West?
See what I mean?
Roy Halladay Will Not Throw Another No-Hitter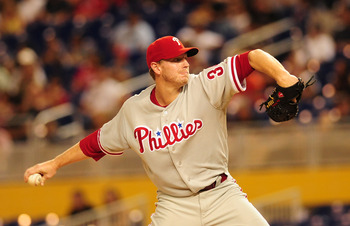 Jason Arnold/Getty Images
Well, thank you Captain Obvious!
That's right, kids, the Philadelphia Phillies are out of the postseason for the first time since 2006, so Roy Halladay will not have a chance to repeat history.
Does anyone have a chance to pitch a no-hitter during this postseason?
Well, considering only two have been thrown in more than 110 years of postseason history, you have a better chance of seeing Kansas City Royals owner David Glass spending $300 million this winter to upgrade his ballclub.
I think that's a scientific fact.
O.co Coliseum Will Magically Transform into a Postseason Palace of Paradise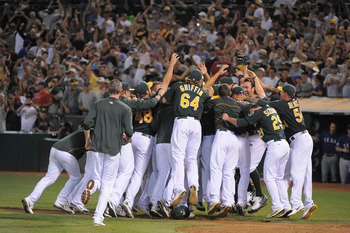 Kyle Terada-US PRESSWIRE
The Oakland Athletics are in the postseason for the first time since 2006, despite the second-lowest payroll in baseball and despite a stadium that's old, decrepit and unwanted.
At least unwanted by A's owner Lew Wolff.
Wolff has been desperate to get his club better home digs, preferably in San Jose. However, the way to San Jose is blocked by the team on the other side of the Bay, the San Francisco Giants.
Very inhospitable neighbors, those Giants.
Wolff now has to watch as his A's play at least a couple of games at his current home. It's almost like watching an action flick on a 13" black-and-white TV. The movie's great, but the screen is all wrong.
That's this year's version of the A's. The team is right, but the stadium is all wrong.
Well, wrong for Wolff, anyway. The A's actually won 50 of their 81 games there, one of the best home records in the AL. For a home no one seems to want, the A's are making the best of it.
President Barack Obama Will Not Throw a Strike at Game 1 of World Series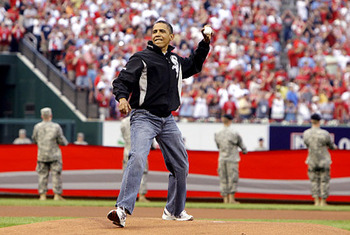 Photo courtesy jaunted.com
Sadly, the Chicago White Sox will not be participating in the postseason, much to the chagrin of President Barack Obama.
A dedicated baseball fan and particularly dedicated to his beloved White Sox, President Obama could still have the opportunity to throw out a ceremonial first pitch.
I would almost guarantee that if the Washington Nationals make it to the World Series, Obama's services will be called upon.
Obama could best be described as a crafty southpaw, somewhere along the lines of a Jamie Moyer.
Heck, he might even throw harder than Moyer.
Unlike former President George Bush, however, Obama will not paint the black, nor will he will groove one down the middle.
My guess is wide left.
And no, I'm not talking about his political leanings.
Bryce Harper Will Become Second Teenager Ever to Homer in Postseason Play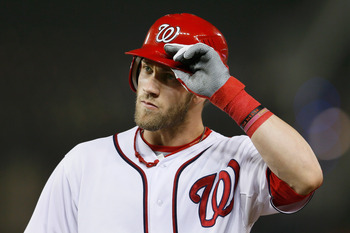 Rob Carr/Getty Images
When the Washington Nationals start postseason play on Sunday, 19-year-old Bryce Harper will likely bat second and play center field.
Not since Andruw Jones in 1996 has a teenager participated in postseason play. Jones was the only teenager ever to hit a home run in the playoffs as well, hitting three of them altogether.
Harper will, in fact, become the second player on that list.
He has only a small window of opportunity—Harper turns 20 on Oct. 16, somewhere in the middle of the NLCS if the Nationals make it that far. Still enough time for the teenaged-Harper to turn on an inside fastball.
Red Sox May Be out of Playoffs, but Drama Will Occur During Postseason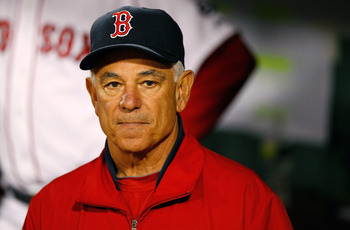 Jared Wickerham/Getty Images
The Boston Red Sox will have played their final game of the 2012 season on Wednesday against the New York Yankees, leaving them out of the postseason for the third consecutive year.
That doesn't mean there won't be drama in Beantown during the postseason, however.
There won't be any chicken wing eating controversy, or beer drinking doings. This will be more like a bad marriage on the scale of some of Marvin Mitchelson's former clients (via LATimes.com).
With former manager Bobby Valentine's season-long vocal misgivings—including his most recent statement about coaches undermining him (via Boston.com)—the city of Boston will not be left out in the cold this October. In fact, things could come to a boil quite quickly.
Considering what we've seen out of Boston over the past year, I would safely guarantee that some mole, or 'inside source,' or 'unnamed team official' will come out with even more juicy tidbits about the goings-on inside the Red Sox clubhouse.
Andy Pettite Will Be Key to Yankees Hopes for Postseason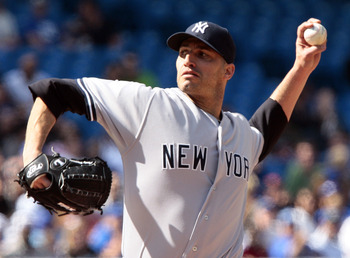 Abelimages/Getty Images
When spring training started earlier this year, Andy Pettitte was sitting home in Texas, enjoying retirement.
Apparently, retirement wasn't all it was cracked up to be.
Now seven months later, the 40-year-old southpaw is trying to help the New York Yankees raise their 28th World Series banner.
Pettitte will likely start Game 2 on Monday in either Texas or Baltimore, and the crafty left-hander is well versed in postseason play. No one in MLB history has more wins or innings pitched than Pettitte in the playoffs, and that experience will certainly come in handy once again.
The Yankees' starting rotation is not considered one of the stronger ones among the postseason contenders. But if Pettitte can once again call upon his skill and craftiness to step it up, he gives the Yankees a much better opportunity to hoist a World Series banner once again.
Detroit Tigers Bullpen Will Determine How Deep They Go in Postseason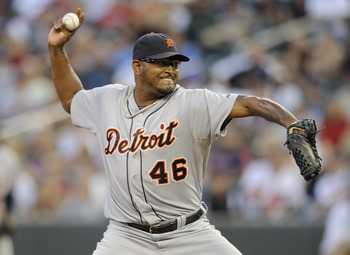 Hannah Foslien/Getty Images
The Detroit Tigers will face off against the Oakland A's on Saturday, and the series could be defined by how deep Detroit's starters can work.
The Tigers bullpen posted a 3.79 ERA this season, actually better than last year's 3.93 ERA. However, this series could come down to Oakland's ability to work pitch counts and get into Detroit's bullpen as quickly as possible.
The deeper Justin Verlander and Max Scherzer are able to work into games, the less likely Oakland's chances of advancing beyond the ALDS.
San Francisco Giants Will Not Get Past NLDS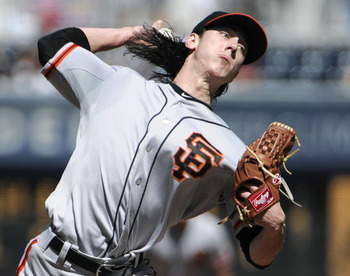 Denis Poroy/Getty Images
The San Francisco Giants are set to face off against the Cincinnati Reds on Saturday at AT&T Park, and the biggest question mark for them right now is their starting pitching.
Matt Cain and Madison Bumgarner will likely start Games 1 and 2, but beyond that, there could be trouble.
Ryan Vogelsong struggled through the final two months of the season with a 5.85 ERA while former Cy Young Award winner Tim Lincecum has struggled all season. In addition, Bumgarner struggled in September as well, posting a 5.47 ERA.
This is not the pitching staff of 2010. The Giants have vulnerability, and the Reds could expose it quickly.
Ryan Zimmerman Will Make the Most of His First Postseason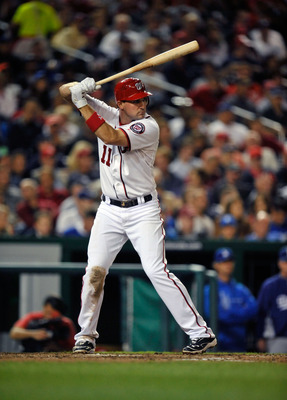 Joy R. Absalon-US PRESSWIRE
Washington Nationals third baseman Ryan Zimmerman waited very patiently for seven seasons, building up an impressive individual resume while waiting for his team to grow and develop.
Now, Zimmerman will have his first taste of postseason action, and he will savor the flavor.
Look for Zimmerman to bust out in a major way. While this team is predicated on pitching, the bats are pretty solid as well. Zimmerman will be the force behind the Nats' offense.
Yu Darvish Will Dominate Orioles in Wild Card Round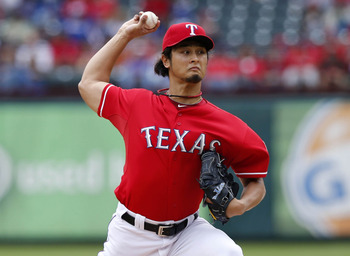 Jim Cowsert-US PRESSWIRE
The Baltimore Orioles are set to take on the Texas Rangers in the Wild Card Round on Friday, and they'll be facing an unknown.
Rangers starter Yu Darvish did not face the Orioles all season, so there's no sample size from which Baltimore hitters can draw from.
At this point, this can only work in Darvish's favor. Darvish finished the season strong after struggling through late July and much of August. This could be a defining moment for Darvish as he seeks to assert himself as the go-to guy in the Rangers rotation.
Aroldis Chapman Will Be a Household Name by Halloween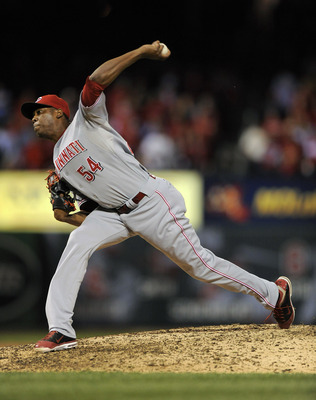 Jeff Curry-US PRESSWIRE
The entire baseball world is well aware of the exploits of Cincinnati Reds closer Aroldis Chapman. Now, the rest of the world will get to know the man known as the Cuban Missile.
Chapman and his low-100s fastball will be on display this month as the Reds march through the postseason. It could well resemble 2002, when Francisco Rodriguez burst onto the scene with the Anaheim Angels on the way to a World Series triumph.
The media outlets—ESPN, TBS and MLB Network—will of course play up Chapman's explosive fastball and highlight each pitch with the radar gun.
Chapman has already opened eyes throughout baseball. Now, he'll open the eyes of the less informed crowd, as well.
Rafael Soriano Will Do His Best Mariano Rivera Impersonation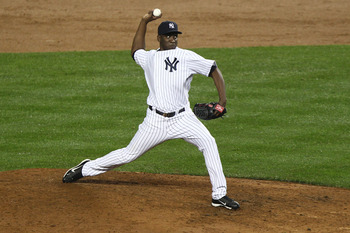 Debby Wong-US PRESSWIRE
The New York Yankees are entering the postseason without a familiar face, and without one of the best pressure pitchers in MLB history.
Closer Mariano Rivera will be sitting on the sidelines when the Yankees open play in the ALDS on Sunday. His postseason 0.70 ERA and 42 saves will indeed be missed.
However, Rafael Soriano has his Rivera disguise at the ready.
Soriano filled in quite capably for Rivera, posting 42 saves with a 2.26 ERA. Soriano will be seen throughout the playoffs ripping his jersey out of his pants, and while that may not resemble Rivera, his performance very well could.
Joba Chamberlain Will Not Succumb to a Swarm of Swirling Gnats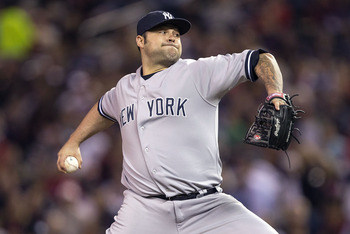 Jesse Johnson-US PRESSWIRE
Reliever Joba Chamberlain and the New York Yankees will be traveling to either Baltimore or Texas to start their postseason and a chance for a 28th World Series championship.
Chamberlain's first exposure to the postseason as a 22-year-old rookie in 2007 was less than memorable.
Well, it was memorable but more in a gnarly, gnatty kind of way.
Gnats got the best of Chamberlain while attempting to pitch in the eighth inning of Game 2 of the ALDS against the Cleveland Indians at Progressive Field. Chamberlain was so bothered by the swarm of gnats that he threw two wild pitches and only 12 of 25 pitches for strikes.
Thankfully, Baltimore and Texas has never reported an outbreak of gnats anywhere near the pitcher's mound.
The Hottest Team Always Wins: Not This Year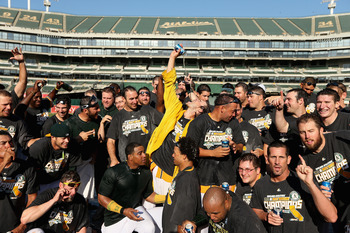 Ezra Shaw/Getty Images
I'm sure you've heard the saying, "It's not always the best team that wins, but the hottest."
That term could easily apply to the Oakland Athletics.
Since June 30, the A's are an astounding 57-26, including a season-ending sweep of the Texas Rangers to capture the AL West Division title.
It stands to reason then that they could be the team to continue rolling in the postseason, right?
Not this year.
Don't get me wrong, the A's are an incredible story, and their 2012 season has been storybook-like. I just don't see them carrying that momentum through the playoffs.
It's too bad. A's owner Lew Wolff could really use the extra money from postseason gate receipts.
Bryce Harper Will Win World Series MVP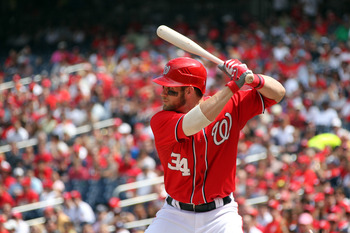 Ned Dishman/Getty Images
Why not end this presentation with a bang?
Think about it—the 2012 MLB season has been all about the youngsters. On April 28, 20-year-old Mike Trout and 19-year-old Bryce Harper both got called up to help out their respective teams, the Los Angeles Angels and Washington Nationals.
Trout went on to not only post one of the greatest rookie seasons in history, but a season that rivals some of the greatest of any player in MLB history.
Harper went on to become only the second teenager in MLB history to hit 20 home runs in a season (Tony Conigliaro, 1964).
While Trout will unfortunately be watching from the sidelines, Harper will go on to glory.
Doug Mead is a featured columnist with Bleacher Report. His work has been featured on the Seattle Post-Intelligencer, SF Gate, CBS Sports, the Los Angeles Times and the Houston Chronicle.
Keep Reading