Bleacher Report's Final 2012 NL MVP Rankings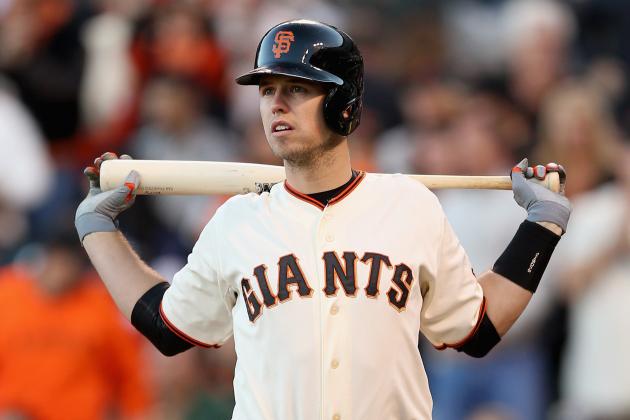 Ezra Shaw/Getty Images
Buster Posey leads the NL in batting average and OBP.
All hail Buster Posey.
Though the race for the National League Most Valuable Player Award still looks to be a close competition between the San Francisco Giants catcher and Milwaukee Brewers outfielder Ryan Braun, Posey has emerged in the season's final weeks as the best player in the league.
The Pittsburgh Pirates' Andrew McCutchen might make it a three-man race, depending on how much credit voters want to give him for carrying his team into playoff contention; but the Pirates' slide to a below-.500 record and McCutchen's September struggles may have killed that argument.
In our view, the following five players are the leading contenders for NL MVP. These rankings reflect how our final ballot would look (minus five other players, of course) if we had a vote.
All statistics cited here are current as of Oct. 3.
Begin Slideshow

»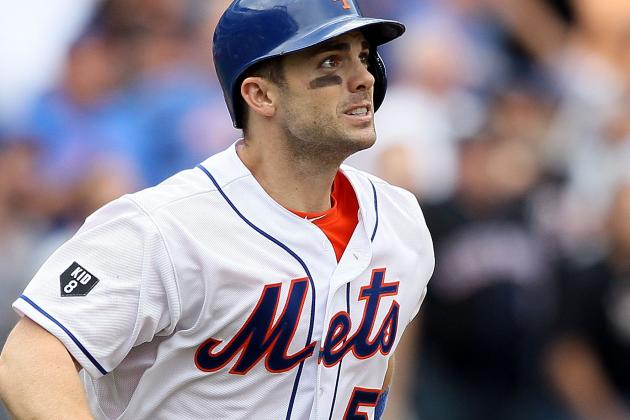 Alex Trautwig/Getty Images

Last week: No. 5.
Though the New York Mets were a surprising competitor in the NL East during the first half of the season, they fell apart in a big way after the All-Star break. At best, they can finish with 74 wins and will finish fourth in their division.
That doesn't help David Wright's case for NL MVP at all, though it depends on whether you think team performance should factor into the argument. (My stance is that previous voting has shown it does, so it has to be acknowledged.)
Wright finished off September strong, batting 8-for-23 (.348) in his past six games with a home run and five RBI.
Batting .307, Wright has the fifth-best average in the NL (if Melky Cabrera is excluded from consideration). His .394 on-base percentage ranks fourth while his .886 OPS is seventh.
Wright should also earn consideration for his defense at third base. FanGraphs' Ultimate Zone Rating rates him as the best in the NL, saving 15 more runs than the average third baseman. For the season, he's credited with 16 defensive runs saved. That's vastly better than any other qualifying player at the position.
He won't win NL MVP, but that performance will help Wright's bargaining position when trying to work out a contract extension with the Mets during the offseason.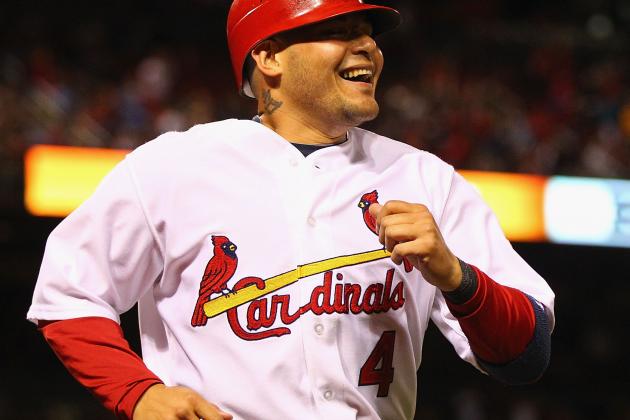 Dilip Vishwanat/Getty Images

Last week: No. 4.
I struggled with whether to rank Yadier Molina or David Wright fourth this week. Molina has a higher batting average and slugging percentage, but Wright is better in on-base percentage and OPS.
It might not be fair (or even correct), but Molina gets the nod for a higher spot due to the Cardinals competing for the second wild-card playoff spot in the NL. St. Louis finally clinched a postseason berth with the Dodgers' 4-3 loss to the Giants on Tuesday (Oct. 2).
Molina has struggled in his past six games, batting 3-for-21 (.143) with a home run and four RBI. But he had a strong second half of the season, compiling a .328/.392/.502 triple-slash average with nine home runs and 31 RBI for a playoff team.
On a team with Matt Holliday, Carlos Beltran and David Freese in its lineup—all three of whom were considered NL MVP candidates at one point or another—Molina emerged as the Cards' best hitter and most valuable player.
Molina is an excellent defender at catcher as well, throwing out 45 percent of opposing basestealers. Cardinals pitchers don't have to worry as much about controlling runners on the basepaths, knowing that Molina will gun down most anyone attempting to steal a base.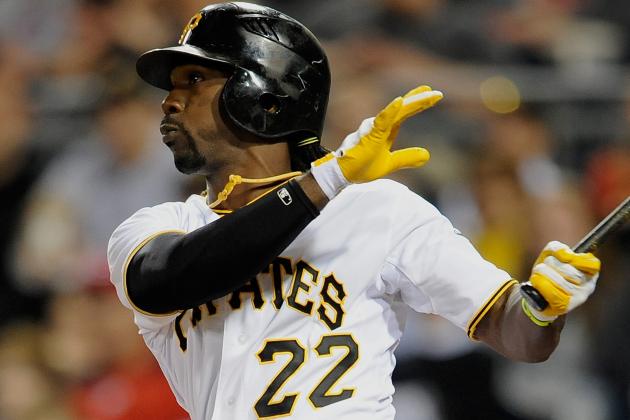 Joe Sargent/Getty Images

Last week: No. 3.
The Pittsburgh Pirates' collapsing in the NL Central race for the second consecutive year was one of the more disappointing developments of the 2012 season. But perhaps even more disheartening was seeing Andrew McCutchen fall out of the NL MVP competition.
McCutchen could still win the award. Voters might look at a lackluster lineup surrounding him and how the Pirates struggle when he's not hitting well and determine that he truly is "most valuable" to his team. But finishing under .500 (the 20th straight losing season for Pittsburgh) doesn't help his case.
The Pirates center fielder finished September with an .866 OPS, seven home runs and 17 RBI. However, he hit .252, which cost him a shot at the NL batting title. Actually, hitting 3-for-25 (.120) in his past seven games really took him out of contention.
At .327, McCutchen is 10 points behind Buster Posey in batting average. But he's still second among NL hitters with a .400 on-base percentage and .544 slugging percentage. His .954 OPS ranks third in the league. He also leads the NL with 193 hits and tied for most runs scored at 107.
Regardless, McCutchen emerged as one of the best players in the NL this season. If his 2011 season of 23 homers and 89 RBI was a breakout, 2012 was the year in which McCutchen joined the NL's elite, becoming a player worth watching no matter how the Pirates are playing.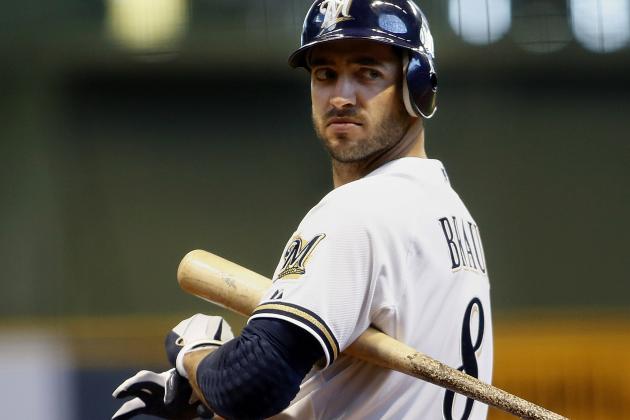 Mark Hirsch/Getty Images

Last week: No. 2.
Ryan Braun is doing his best to make the NL MVP race a serious competition right to the very end of the season.
In his past seven games since last week's rankings, the Milwaukee Brewers outfielder and reigning NL MVP hit 10-for-27 (.370) with three doubles, a home run and four RBI.
That pushed Braun's batting average up to .320, fourth-best in the NL. He's also tied for fourth with a .392 on-base percentage, and he leads the league with a .598 slugging mark and an .990 OPS. Braun also is tied for the NL lead with 107 runs scored and is second with 190 hits.
Oh, did we neglect to mention that Braun's 41 home runs lead the NL? His 112 RBI are also one away from the league's top total.
The Brewers' September surge into contention for an NL wild-card bid should help Braun's candidacy for the NL MVP award. But will Braun really get a fair shot among award voters after his offseason drug-testing controversy? Where he finishes in the final balloting will be very telling.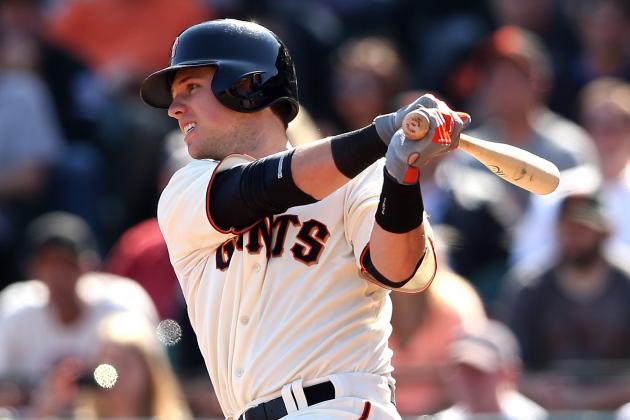 Ezra Shaw/Getty Images

Last week: No. 1.
Though Ryan Braun has a great case for NL MVP consideration and should be competitive in the final voting, Buster Posey is going to win the award this season.
The San Francisco Giants catcher leads the league in hitting—with Melky Cabrera no longer eligible—with a .337 average. He also has the NL's top on-base percentage (OBP) at .410. Posey is also among the top three in the league with a .551 slugging percentage and a .961 OPS.
SI.com's Cliff Corcoran recently argued that the real hitting Triple Crown should be constituted by batting average, OBP and slugging. If that's the case, then Posey being near the lead in each of those three categories—as well as OPS—has to make him the best hitter in the NL, right?
Posey leads the Giants with 24 home runs and 102 RBI and it's really not even close.
(UPDATE: It was pointed out in the comments that Hunter Pence has 24 home runs and 104 RBI for the season, but he has seven homers and 45 RBI since joining the Giants.)
Pablo Sandoval is second in both categories with 12 homers and 63 RBI (though he did miss more than 50 games with hand and hamstring injuries). As we know, Posey was the second-leading hitter on the team until Cabrera tested positive for performance-enhancing drugs.
Posey also excels at the most demanding defensive position on the field. His two passed balls are the fewest allowed among qualifying MLB catchers this season and his 26 wild pitches allowed rank second.
He has thrown out 38 basestealers, the best total in the majors. Unfortunately, Giants pitchers don't help him out by holding runners. That's resulted in 125 stolen bases attempts and a 30 percent caught-stealing average for Posey.
Combine that with the Giants' run to an NL West title and the third-best record in the league, and Posey looks like this year's NL MVP.
Follow @iancass on Twitter