2012 MLB Playoffs: Who Is the Best Team in This Year's Postseason?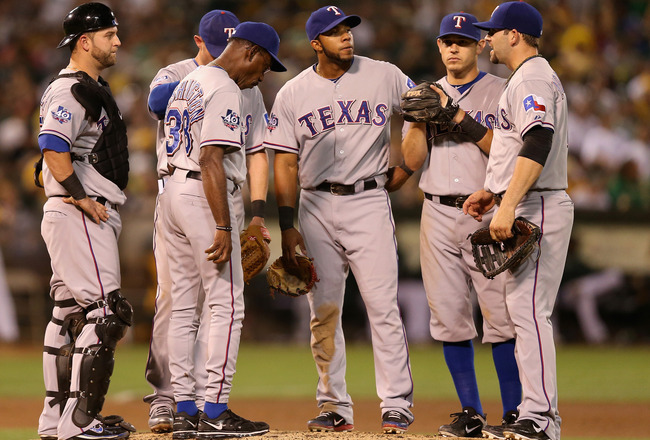 The Texas Rangers talk at the mound during their Oct. 2 game against the Oakland Athletics.
Ezra Shaw/Getty Images
The 2012 Major League Baseball postseason is quickly approaching.
Now that we know who's in, it's time to start figuring out which team will win it all.
Manager Ron Washington and the Texas Rangers have won the American League Championship two years in a row, but can they finally win the World Series this time? Who knows?
But here are the top-six teams in the postseason to help us narrow down our options for the 2012 World Series champions.
6. Oakland Athletics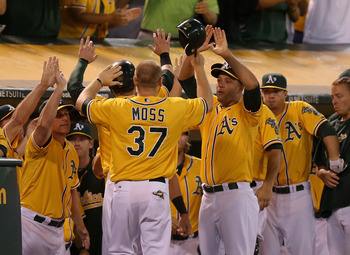 The Oakland A's congratulate their teammate Brandon Moss after he scores in Tuesday's game against the Texas Rangers.
Ezra Shaw/Getty Images
The Oakland A's are a surprise this season, as they weren't even expected to make it into the wild-card race. They were 13 games behind the Rangers at the end of June, and now they're battling Texas for the division title.
The A's don't have star players like the Yankees, but what they do have is a pretty deep bench with players who can step up.
Power hitter Yoenis Cespedes has a .506 slugging percentage and seven home runs in September. Leadoff hitter Coco Crisp has nine hits in his last 21 at-bats, and Josh Reddick, another power hitter, has 32 homers this season.
But the A's pitching is what puts them in a good position in the playoffs. They lost Bartolo Colon to a suspension earlier in the year, but the staff has continued to throw well.
Travis Blackley allowed just one run over six innings last night against the Rangers to get the A's a victory and even their record with the first-place Rangers. Blackley is just 6-4 with a 4.10 ERA, but last night, he showed off his ability to step up when his team was in need.
Grant Balfour is the A's closer who showed improvement in the second half of the season, posting a 1.76 ERA with 17 saves in 17 opportunities after the All-Star break. In his last four innings pitched, he's allowed no hits and has seven strikeouts.
The young Athletics might just surprise us even more with a strong run in the postseason.
5. New York Yankees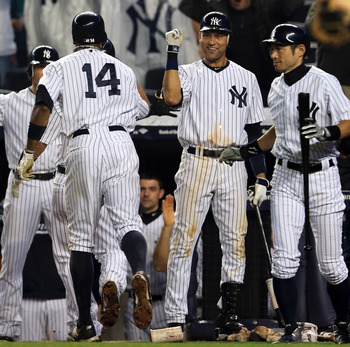 New York Yankees Derek Jeter and Ichiro Suzuki wait for Curtis Granderson at the plate as he scores against the Boston Red Sox Tuesday night.
Elsa/Getty Images
The New York Yankees, of course, are always a threat in the postseason. They have veteran players who know how to play the game, which might explain the number of come-from-behind wins the team has every season.
Last night's game is a perfect example. The Red Sox thought they had them beat with the Yankees trailing 3-1 in the ninth. That is until 40 year-old Raul Ibanez hit a two-run homer to tie it up. The Yankees won 4-3 on another hit from Ibanez in the 12th inning.
The team has depth with different role players capable of stepping up to pound that walk-off hit every night. New York has power hitters like Alex Rodriguez, Mark Teixeira and Robinson Cano (and his .600 slugging percentage), players who are always on base like Derek Jeter and Curtis Granderson, and wild cards like Ibanez and Nick Swisher.
It's never an easy out with the Yankees.
4. San Francisco Giants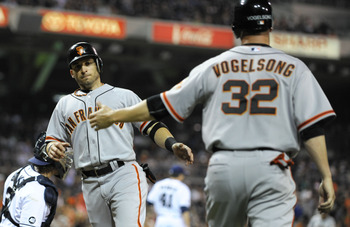 Ryan Vogelsong high-fives Marco Scutaro as he scores on Sept. 28 against the Padres
Denis Poroy/Getty Images
The San Francisco Giants will miss Melky Cabrera and his .346 season batting average, as neither will be accompanying the former world champions to the playoffs this year. But Buster Posey's .337 average and team-leading 24 home runs may stand to make up for what's been lost in Cabrera.
San Francisco's offense has been solid all season. The team's season average is .270, which is ranked fifth in the league. Its acquisition of Marco Scutaro before the trade deadline only made things better.
Scutaro is on a 19-game hitting streak. In 240 at-bats, he's hitting .363 with 44 RBIs and 16 doubles.
Though Tim Lincecum hasn't performed well this year with a losing record and an ERA above 5, the team still has a solid enough pitching staff to fare well in the postseason.
Matt Cain, the new ace, has a 16-5 record with an ERA of 2.79 and allowed just one homer in the month of September. Santiago Castilla has been a solid closer with 25 saves on the season. Sergio Romo has allowed just one hit in his last three innings pitched. Even Barry Zito has looked good as of late.
3. Washington Nationals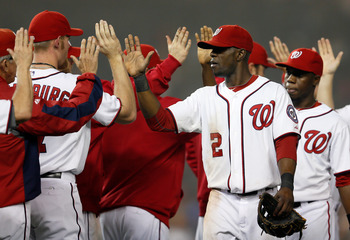 Washinton Nationals players congratulate each other after their win Oct. 2 against the Phillies.
Rob Carr/Getty Images
The Washington Nationals (97-64) are tied with Cincinnati for the best record in the league. And even without Stephen Strasburg, the team is looking like a solid candidate to win the World Series.
Strasburg (15-6) was shut down by the Nats at the end of the season to protect his surgically repaired elbow. While it is a significant loss for Washington, which makes them vulnerable in a starting spot, the team has two solid starters in Gio Gonzalez and Jordan Zimmermann.
Gonzalez has the most wins in the National League with a record of 21-8 and a 2.89 ERA. Not a bad replacement for their former ace.
Gonzalez will start Game 1 of the NLDS and should be rested and ready, as he sat out last night's game against the Phillies.
Zimmermann, who is scheduled to start Game 2 of the NLDS, is 12-8 with a 2.94 ERA.
Edwin Jackson is another pitching option for Washington, though probably not one who the Nats are confident using. Jackson (whose salary is about $10.9 million) went 1-2 in September with and ERA of 7.92. He started the season decently with a 5-4 record, but he went 4-7 after the All-Star break.
Aside from pitching, the Nats have some offense. Bryce Harper, the 19 year-old NL Rookie of the Year candidate (and September's MLB rookie of the month), has 22 home runs and a .330 average in the month of September.
Adam LaRoche, the Nationals first baseman who has 100 RBI and 33 homers this season, and third baseman Ryan Zimmermann have made significant contributions to Washington's offense this season, and I expect they'll do the same in the playoffs.
2. Texas Rangers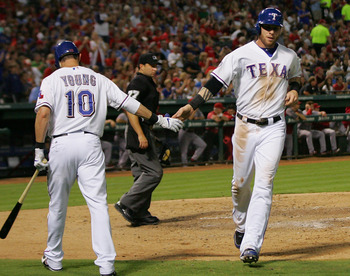 Michael Young congratulates Josh Hamilton after he scores against the Angels on Sept. 28..
Rick Yeatts/Getty Images
The Texas Rangers look good on paper. They may have one of the best lineups in the postseason with Josh Hamilton and Adrian Beltre, who each have more than 100 RBI and 43 and 36 home runs, respectively, for the season.
The team has been in a slump lately, losing four of its last five games and allowing Oakland to tie up the division lead. But the reigning two-time AL champs have experience in the playoffs and have the potential to finally win it all this year.
Other solid hitters for the Rangers include Ian Kinsler, Elvis Andrus and their other power hitter, Michael Young, who only has 8 home runs this season. But Young is heating up, going 4-of-7 with a homer in his last seven at-bats.
The pitching staff lost one of their its in Colby Lewis at midseason, but Matt Harrison (18-11) has been a solid starter for the Rangers. Yu Darvish (16-9) is expected to start Game 1 of the ALDS. Darvish has 221 strikeouts this season and had a 2.21 ERA in September.
Overall, the Rangers' depth and experience are what makes them serious contenders.
1. Cincinnati Reds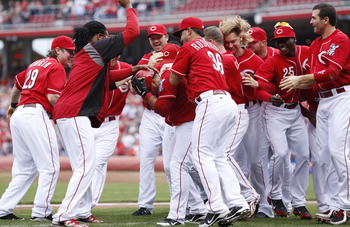 Cincinnati Reds players celebrate their Sept. 27 win against the Milwaukee Brewers.
Joe Robbins/Getty Images
The Cincinnati Reds have it all: Pitching, hitting, and as their manager returns from a stroke, some added motivation to win the title.
Dusty Baker missed 11 games because of an irregular heartbeat, then suffered a mini-stroke (via ESPN.com). The Reds manager returned yesterday to a team that has won 10 of its last 15 games.
Cincinnati's pitching is strong with Johnny Cueto (19-9), who Baker announced will pitch in Game 1.
Bronson Arroyo and Mat Latos will start Game 2 and 3, respectively. Arroyo (12-10) pitched well in September, allowing just two home runs, down from seven in August.
Latos (14-4) has improved significantly since the All-Star break. He gave up eight homers in the second half of the season, compared to more than double that before the break. He was also 2-0 in September and had his lowest ERA of the season.
Homer Bailey, who would probably start Game 4, pitched a no-hitter last week against Pittsburgh, walking one batter and striking out 10.
Of course, there's Aroldis Chapman, the Reds' closer who has 38 saves in 43 chances this season and an ERA of 1.51. Cincinnati has all the confidence in the world putting him in to close out games.
As for hitting, first baseman Joey Votto has a .340 average and a .527 OBP in September. Ryan Ludwick, Brandon Phillips and Rookie of the Year candidate Todd Frazier have also been big on offense for the Reds.
With the team's talent and emotions following Baker's return, I expect the Reds to go far in the year's postseason.
Keep Reading