After Melky Cabrera was exempted from winning the National League batting title following his suspension for testing positive for testosterone, it appeared the San Francisco Giants were out of the running for a batting-title champion.
Fortunately for them, they still have catcher Buster Posey, who captured the NL batting crown on Wednesday with a .336 average after going 0-for-2 against the Los Angeles Dodgers before being taken out of the game in the third inning.
Andrew Baggarly of Comcast Sports Bay Area provides this compelling tidbit of info on the rarity of a catcher claiming the crown:
HSanchez catching, Buster Posey out. He lost one point off his average. Ends at .336 -- officially 1st NL C to win batting title in 70 years

— Andrew Baggarly (@CSNBaggs) October 4, 2012
According to the San Francisco Chronicle, Posey is only the fourth catcher in the 137-year history of the National League to win the title, and the first Giant to do so since Barry Bonds back in 2004.
Posey, who won a ring and captured the National League Rookie of the Year Award in 2010, was an All-Star this season for the Giants. He's bounced back tremendously from last season, when he was forced out for most of the 2011 campaign after sustaining a fractured fibula and torn ankle ligaments in a collision at home plate on May 25.
Posey has been everything the Giants could have dreamed of and more after he was selected No. 5 overall in the 2008 MLB draft, establishing himself as one of the best catchers in the game.
He also caught right-hander Matt Cain's perfect game this season against the Houston Astros and was named the Willie Mac Award winner, given to the Giants player who best exemplifies the team spirit and leadership displayed by Willie McCovey throughout his career.
Posey held off Pittsburgh Pirates outfielder Andrew McCutchen, who hit .327, for the award.
Player
Average
Buster Posey
.336
Andrew

McCutchen

.327
Ryan Braun
.320
Yadier Molina
.315
Allen Craig
.307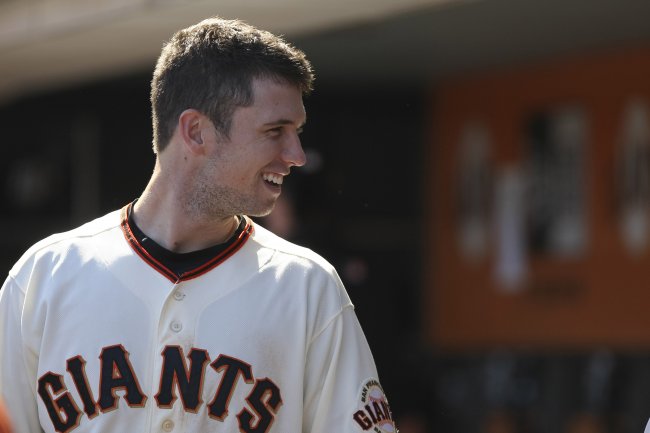 Kelley L Cox-US PRESSWIRE
Before the All-Star break, Posey hit .289, accentuated by his May performance that saw him hit just .253.
But Posey has been fantastic since July 1, hitting .381 in July, .371 in August and .371 in September. He hit 13 home runs and 24 doubles in that span while collecting 41 RBI.
Perhaps what has been so impressive is the fact that Posey has put the Giants on his back since Cabrera's suspension and the Los Angeles Dodgers' flashy trade for Adrian Gonzalez, Carl Crawford and Josh Beckett.
He has stepped up when it has mattered most, which is one of the reasons why he was so deserving of the Willie Mac Award this season.
Posey's play has allowed the Giants to virtually forget about Cabrera's suspension. Cabrera was hitting .346 at the time of his suspension, but the Giants went 29-13 from Aug. 15 to Sept. 30.
Posey is deserving of the NL batting title, but he's also been a hero for the Giants franchise in 2012.