Chicago Bears: Top Five Performers in Last Night's Victory over Dallas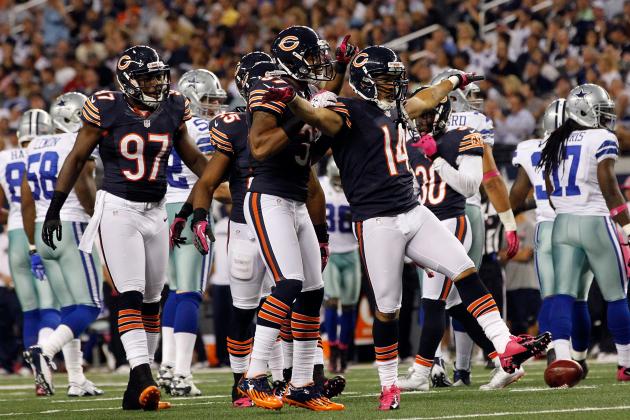 Tom Pennington/Getty Images
The Bears improved their Monday Night Record under Lovie Smith to 8-2 with last night's victory
The Bears defense rose to the occasion once again and the team now has a two-game winning streak. Last night's 34-18 victory over the Dallas Cowboys was the second time this season in which the Bears held a team to under 20 points.
Thanks to Lance Briggs and Charles Tillman, the Bears defense has now scored three touchdowns this year and it's only Week 4.
The Bears collected five picks on the night and returned those INTs for a total of 99 yards. The offense also deserves some credit for their contributions.
Jay Cutler threw for over 200 yards for the first time since Week 1, he also spread the ball to seven different Bears receivers.
The running game also played a part on Monday night. Matt Forte, Michael Bush, Kahlil Bell and Jay Cutler put together a combined 28 carries for 93 yards.
The Bears averaged nearly four yards per carry last night. Credit must also be given to the offensive line as they only allowed Jay Cutler to get sacked twice.
They also cleared the way for the running game. Despite the two sacks, they managed to keep Jay Cutler on his feet for 90 percent of the game.
The Dallas Cowboys came into last night's game as the top ranked defense in the National Football League. That is sure to change once the new rankings come out.
The Bears have a chance to improve their record to 4-1 when they play the 1-3 Jacksonville Jaguars on Sunday.
But for now we will enjoy last night's victory. Here are the top five players that stood out last night...
Begin Slideshow

»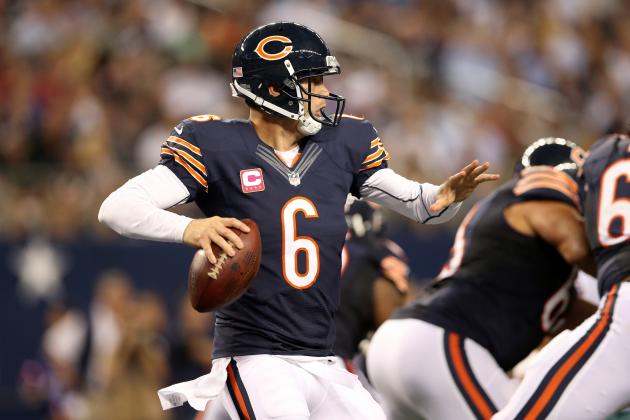 Ronald Martinez/Getty Images
Jay Cutler has thrown five touchdown passes in 2012
As we all know, your offense can't go anywhere if your quarterback isn't performing at a high level. Last night Jay Cutler met those high standards.
He completed 18-of-24 passes for 275 yards and two touchdowns. He averaged 11 yards per completion and finished the game with a passer rating of 140.1.
He also made sure his teammates were involved by throwing the ball to seven different receivers. In my opinion, this was his second-best performance of the year.
If Cutler can keep having games like this then the Bears will be in good shape down the line.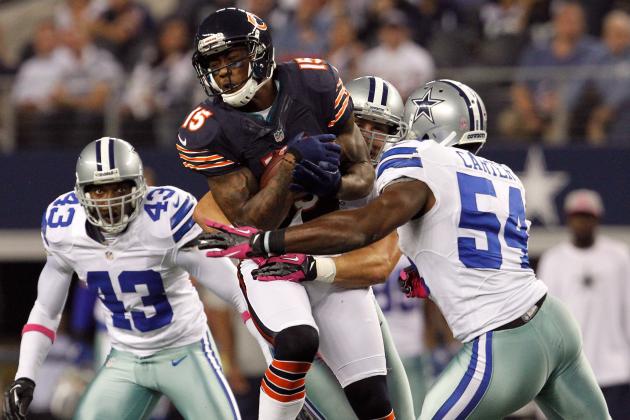 Tom Pennington/Getty Images
Brandon Marshall was the Bears leading receiver last night
Brandon Marshall was brought in to be Jay Cutler's No. 1 receiver, and last night he once again lived up to the high standards that were expected of him.
Against the Cowboys, Marshall caught seven of Jay Cutler's 18 passes for 138 yards and a touchdown. He averaged nearly 20 yards per catch and the Cowboys defense was powerless to stop him.
Marshall has been the Bears' leading receiver for two weeks straight now, and three times this season. When Marshall and Cutler are on the same page the Bears are nearly unstoppable.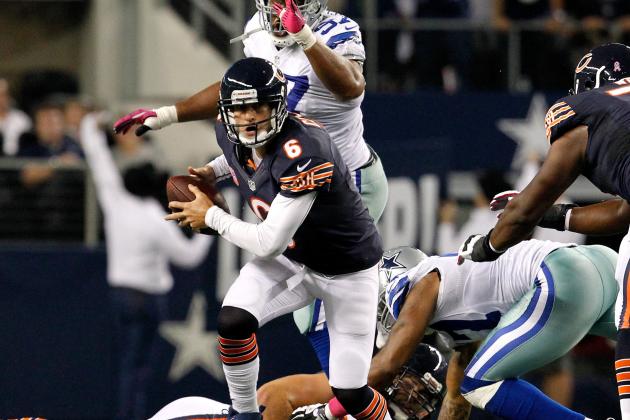 Tom Pennington/Getty Images
The Bears' offensive line has improved since the Week 2 loss at Green Bay
Roberto Garza, J'Marcus Webb, Gabe Carimi, Chris Spencer and Lance Louis had another near-flawless game last night.
Jay Cutler was sacked only twice and the O-line has allowed just four sacks in the last two games.
Of course you would like your O-Line not to give up any sacks, but after the sacks they allowed against Indy and Green Bay, I'm sure any Bears fan would accept their performance over the last two games.
Had it not been for Mike Tice's group, Jay Cutler would have never thrown for 275 yards, and the running game would not have had another 90-plus yards performance.
I think this is as good as your going to get out of this bunch.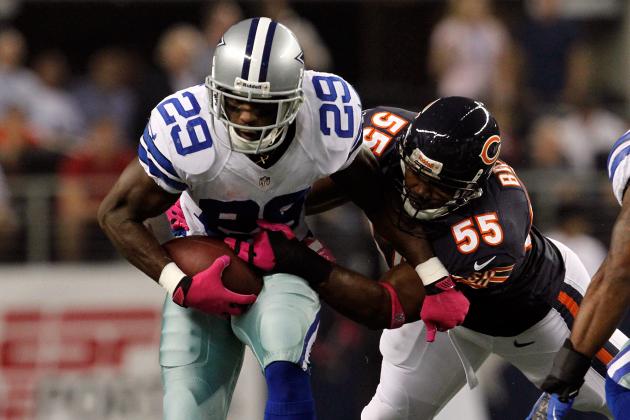 Tom Pennington/Getty Images
Lance Briggs was third on the team in tackles last night with 6
Lance Briggs had the Bears' second defensive touchdown last night as he intercepted a Tony Romo pass and took it 74 yards for a touchdown.
He also had six tackles and a pass deflection. Not to mention the fact that he was all over the field covering Dallas' receivers and keeping them from making an impact.
Briggs is at his best when he can roam free all over the field and make plays. Thanks to an improved defensive line, Briggs will be able to do this all year long.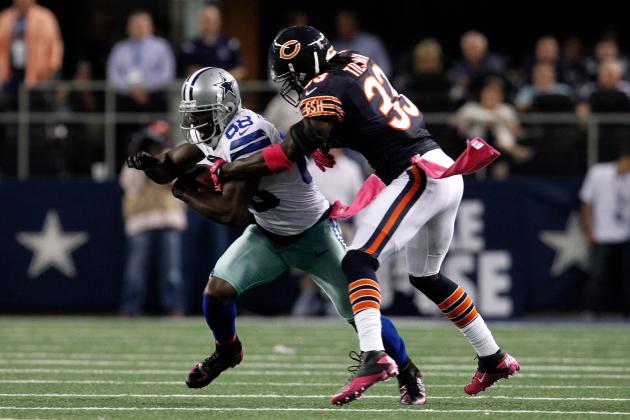 Tom Pennington/Getty Images
Charles Tillman was fourth on the team in tackles last night with 5
The defensive backfield for the Bears led the way to victory on Monday night. Charles Tillman took the group under his wing and set an example for the rest of the team.
Tillman scored the Bears' first defensive touchdown when he picked off a Tony Romo thrown ball and took it 25 yards to the end zone.
"Peanut" also had five tackles and a pass deflection. Major Wright had two interceptions of his own last night and he now has three for the 2012 season.
On top of all that, every member of the Bears secondary that played last night recorded a tackle. Out of the 61 tackles made by the Bears defense, 39 of those tackles came from the seven defensive backs.
It's not often that you get this type of impact from the guys assigned to cover receivers downfield. But I'm sure that Bears head coach Lovie Smith will take it on any given Sunday.